We all want to feel like a hero—the one who gracefully gets everything done for our clients, friends and family even if we have those "frazzled" moments that we all have on occasion. But in order to feel like a hero we have to reach out for help from other creatives.
By reaching out for help we raise the level of our work. We become heroes to the consumer and to our industry.
Doing everything yourself isn't an option if you want to be a hero, and it's not a whole lot of fun to try. It's a never-ending cycle of high expectations of ourselves and an endless to-do list. Most of us get the concept that we're more powerful when we stop trying to do it all ourselves, yet we sometimes resist it. Pride, maybe. Ego, sometimes. Effective and efficient? Rarely! Fear of trusting others in the design community to deliver is why so many of us take on work outside of what we do best.
It is okay to ask for help and seek out the right help. When we let fear dictate our decisions we end up wasting hours of time that we do not have on projects that could otherwise be completed in half the time. Fear drives us to DIY our entire business, or take a course that we don't have time to complete to learn how to do a task we really don't want to do.
As someone who runs an entire business built around training and mentoring others through courses I am going to share something with you that will seem strange: not every solution can be found in a course. For many of you:
A course won't grow your business; you barely have enough time to respond to emails and meet your deadlines.
A course won't serve your customers; in fact, it takes you away from doing what you do best.
And a course won't make you look good or feel like a hero: That only comes when you deliver exceptional products that embolden your creative spirit.
Besides, you're busy designing products, painting masterpieces, and illustrating wonderlands. You don't have the time to make the most of another course.
But imagine… You find a team of experienced designers with the expert skills you need so you can focus on what you do best—whether it is designing apparel garments, illustrating graphics, or painting masterpieces. Imagine creating excellent work, building your reputation, and being the hero to your clients, coworkers, and the consumer.
That's what I want for you. And that's why I created Pattern Observer Studio.
Pattern Observer Studio is for product designers who want a reliable textile design team that they can turn to season after season, without the hefty price tag of an in-house textile designer.
Pattern Observer Studio is for fine artists and illustrators who want to turn their artwork into patterns, but just don't have time for another course.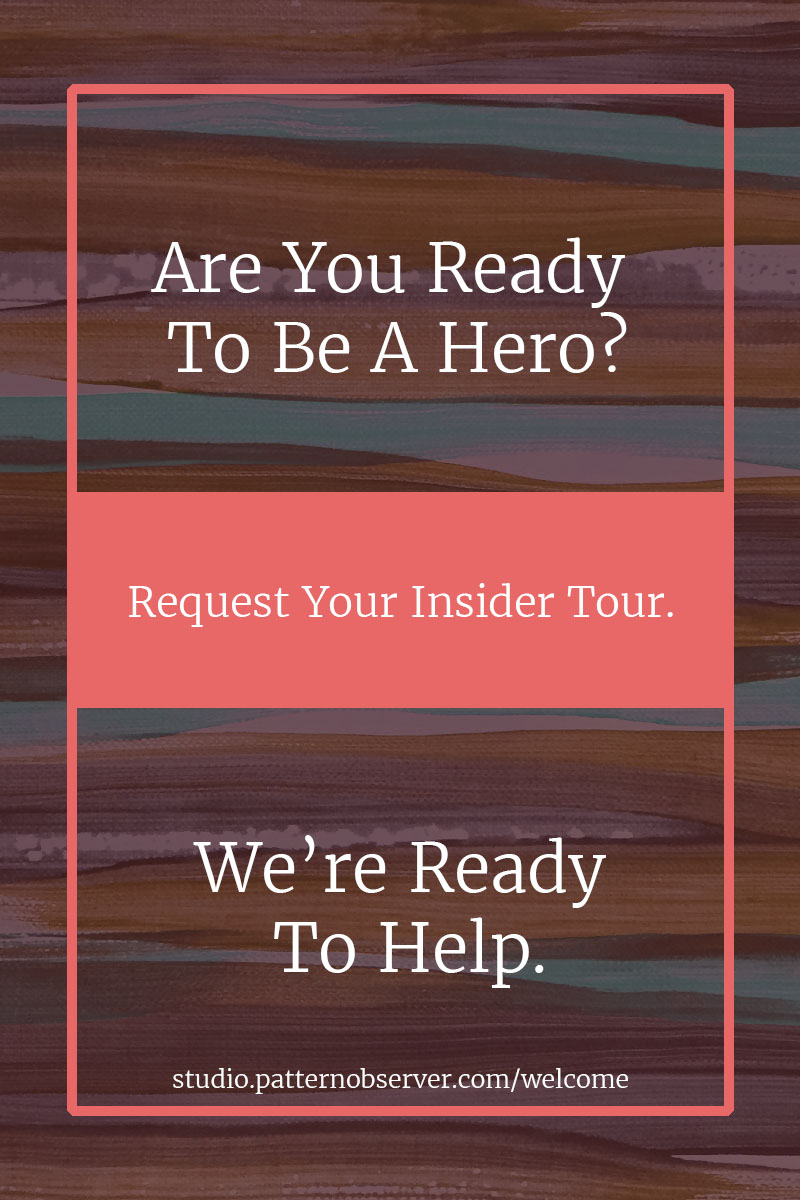 Pattern Observer Studio is a place where super talented, emerging textile designers can take the next step in their career by working closely with clients. Clients get fresh talent and vision for their projects, while knowing emerging designers are supported by an experienced team.
The Studio isn't simply another oversized, impersonal online marketplace for patterns. By going small, working with select clients and hand-picked designers, we are able to make a bigger impact. Clients get the reliable, exceptional service they are looking for season after season and our designers are supported and able to thrive in this marketplace. This is the heart of Pattern Observer Studio.
My team and I get to know the ins and outs of our clients' businesses. It saves us time, and our clients' money because we get to know their brand, their vision, and their customer. We're able to recommend the perfect pattern from our library, or develop the perfect custom pattern because we understand how the pattern will be used by the end user.
Every hero has a sidekick who supports them and empowers them to achieve more than they ever thought possible. Pattern Observer Studio can be your sidekick—the secret to your design success.
Are you ready to be a hero? We're ready to help. Request Your Insider Tour.
Save
Save
Save
Save
Save
Save
Save
Save
Save
Save