Today, I am delighted to feature a new lighting brand, Light Owl, which is a creative collaboration between Rab Moghal and Samantha Foxton. I was immediately struck by the beautiful color combinations and unique pattern styles used on the lampshades. Let's explore their story…
My first question was to learn more about how this collaboration came to be, and this is what Rab shared: "This year my girlfriend Samantha and I have launched our lighting brand, Light Owl, and opened up a retail shop that focuses on double sided lampshades, along with scalloped and bowed empire shades. This has been a wonderful journey and we have focused on double-sided lampshades as a specialty."
Rab said, "We focus on small batch production of designer fabrics working with bold block colors on the outside of the shades and coordinated patterns on the inside. For many of the lampshades we make we sample and try a variety of thick and thin fabrics to achieve the right amount of transference of pattern from the inner lining. We believe this gives a stunning effect that essentially completely transforms the lampshade when lit."
"The yellow and grey lampshades are using Osborne & Little's delightful Ginevra fabric in their yellow and grey color way, which works well with both outer colors.
"One coral fabric image is using an Edinburgh Weaver Plume Ochre feather fabric, which creates a wonderful botanical feeling when lit and the other uses a deep red/pink tropical print, which transforms the lampshade quite dramatically when lit.
"Lastly, our mustard yellow lampshade with the yellow and teal African wax style inner lining really allows the shape and style to pass through whilst protecting the color, providing a lovely boho-chic flair to the color when lit."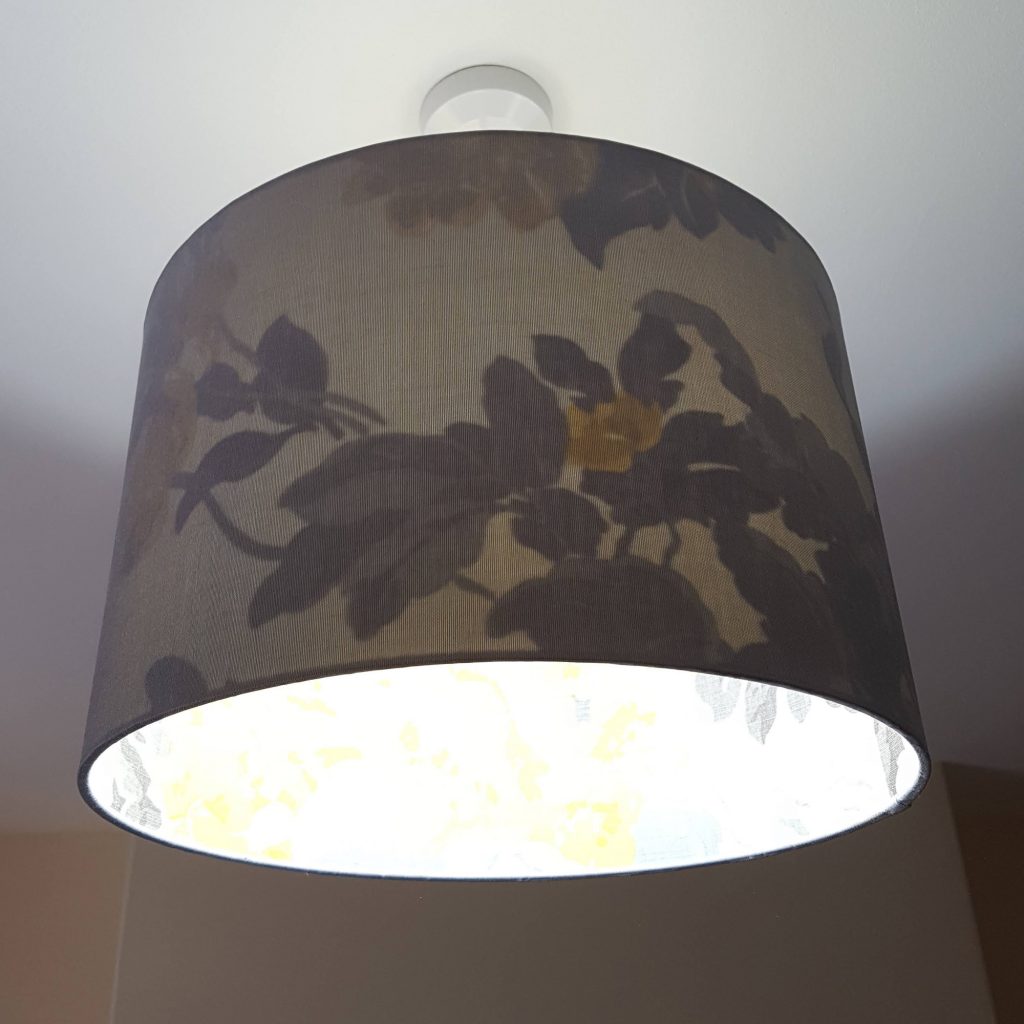 The way these lampshades come together is so entrancing. It made me wonder what they had been up to before this joint endeavor. Rab said, "I have worked for several years in sales for small-to-medium sized designer brands, as well as learning production and manufacturing. Samantha has a degree in fine art and a great eye for color, pattern, and style.
"The brand is really about bringing a new edge to on-trend design, whilst producing in small batch production to keep costs low. We're trying to allow people of all walks of life to have a block color safe lampshade, that still has some designer flair without breaking the bank."
Visit their website to enjoy more insights into Rab and Samantha's work for their brand Light Owl.