Trends are an integral part of the design process and their impact on projects varies with each designer, but they definitely can not be ignored. Most trends evolve from the fashion runways, to ready to wear, and then personal products and home decor. The internet and social media sharing has sped up the influencing process of trends more than ever. It is always a great idea to pay attention to trends in your market because one thing is certain, trends come and go, and usually return again! This June the Textile Design Lab will focus on how to successfully research trends, create mood boards for clients, and share ways to incorporate trends in to your portfolio to sell more art. When a client asks for a trend board at your next design opportunity, you will confidently and quickly be able to give them the vision they desire.
We are especially excited to announce we will have a Guest Expert Presentation from Pattern Curator with tons of tips and information on creating your design story through a trend board. The date and time for Pattern Curator's presentation will be announced soon.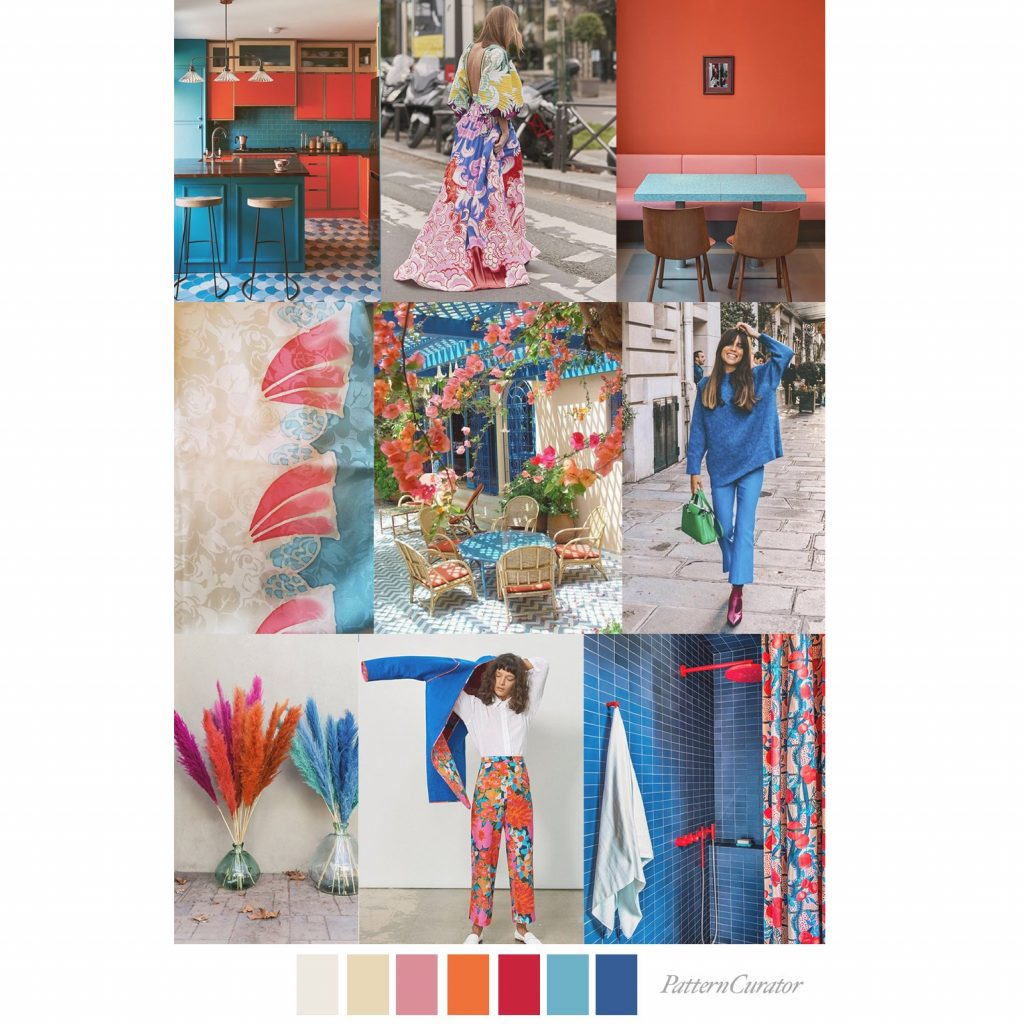 The Schedule : Beginning June 6th
• Week One: We will spend the first week with WGSN, an excellent trend research source. (The first 290 participants to register will receive access to WGSN, space is limited!) You can pick between researching briefs for fashion or home decor. There will be some helpful tutorials on how to use this vast resource the most efficiently. Tutorials will also be shared on how to identify trends and a fantastic exercise for using Pinterest for trend research.
• Week Two: There will be a guest expert presentation from Kristine Go of Pattern Curator. Kristine will speak about creating trend boards like the gorgeous one above as well as her 20+ years of curatorial and textile design experience
• Week Three: There will be a live demonstration from Laura Coyle on how to create trend boards using Adobe Illustrator
• Week Four: A written brief will be provided and students will be challenged to create their own trend board based on the brief.
Join us
Our Trends and Mood Boards month long study will start June 6th, 2022 and is a part of our Textile Design Lab online community. By joining our community, you'll have access to this course, in addition to all of our Textile Design Lab courses, tutorials, and community events such as our weekly live art critique, guest expert presentations, and more. Learn more here.