For week four of the Textile Design Lab's Summer of Creativity "Back to School" summer study we are focusing on how science intersects with textiles. We are considering natural dyes, sustainability, digital printing, chemistry, biology. maybe even some physics! We are looking forward to our August Guest Expert presentation with Kathryn Sanders of Western Sensibility in Missoula, Montana. Western Sensibility is a new kind of printing studio that blends art, sustainability, and textile technology, all while drawing inspiration from the American west. Join us August 3rd at 1pm EST
Can you tell us a bit about your career background and what led you to found Western Sensibility?
Though I'm a third-generation textile printer, I never envisioned being a part of the textile industry. I started my academic pursuits at the School of the Art Institute of Chicago and eventually earned a BA in Anthropology from the University of Montana. I've always found that my interests lie in the cross-section of art and science, which made digital textile printing technology so intriguing to me. I started in textile development engineering fabrics specifically for digital textile printing in the apparel, home, and soft-signage markets. After a few years in that arena, I wanted to hone my design and textile printing skills and had the honor of being mentored by Carol Yeager and Steven Moreno of MY Prints Inc in Los Angeles, California. Western Sensibility was born out of a culmination of my interests and desire to further introduce the technology to the interior design community. From my point of view, I felt that many print studios weren't pushing digital textile printing technology to its full creative potential and I wanted to create a new studio model that puts art and process first.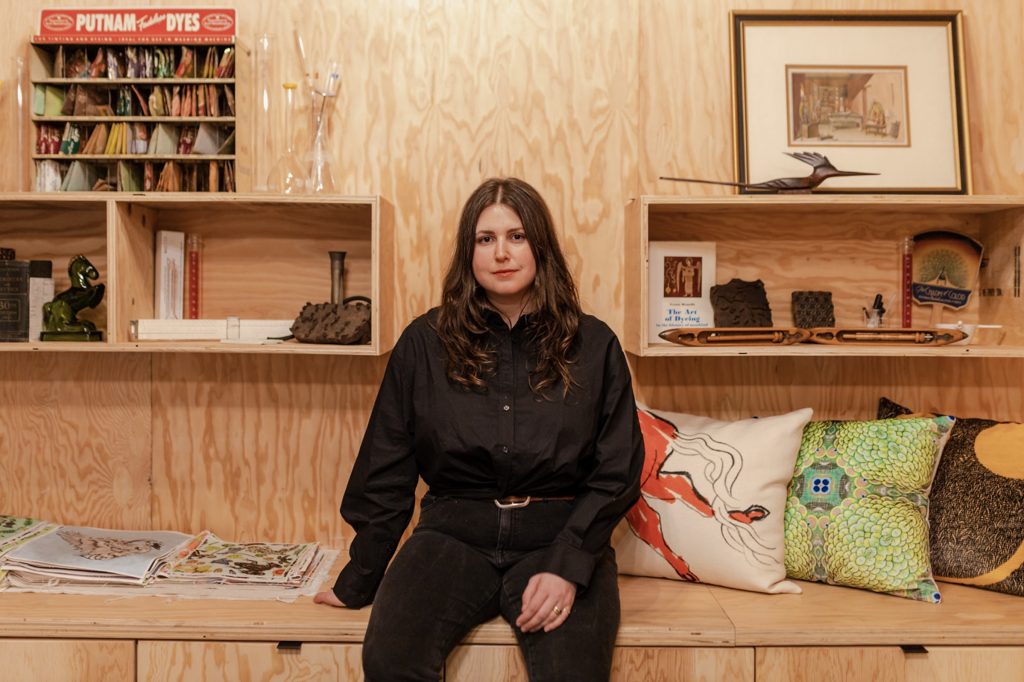 Can you tell us a bit about how you find and work with your artists? What do you look for in an artist to become part of your line?
We don't have a set formula of how we develop relationships and collaborate with artists. Many of our collaborations have developed organically through shared passions, referral, or simply reaching out to artists who we love. As an experimental studio, we're always looking for artists who can push digital printing technology and not simply reproduce what is possible in the analog textile printing processes (ie. rotary screen or flatbed printing). Artists who work with a larger color gamut, create intricate details, and play with scale and photographic elements is always exciting for us because these designs are only possible by utilizing digital technology.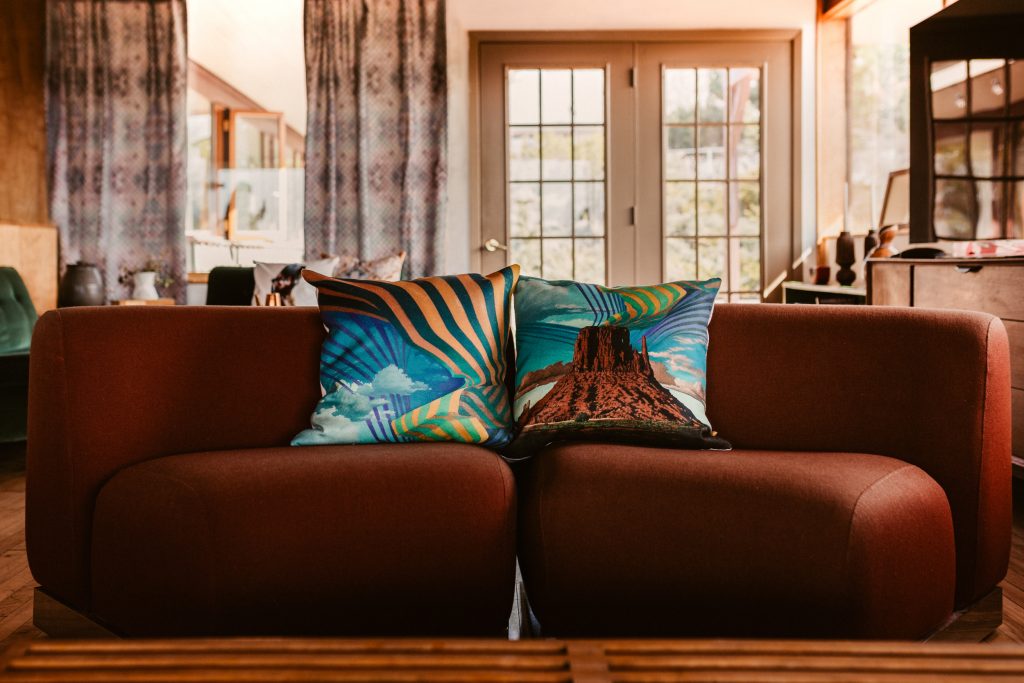 Can you tell us a bit about the role sustainability plays in your business?
Sustainability is a core pillar of our studio. Quite frankly, if not for the sustainability components of digital textile printing, we probably wouldn't be doing this. Digital textile printing is the most sustainable way to print textiles today. At Western Sensibility, we're currently focused on the dye-sublimation process, which uses significantly less water and electricity than conventional printing methods. The only water we use is in our inks that are actually aqueous water-based disperse dyes.
What does an average day look like for you at the studio? What are the different hats you wear?
We wear a lot of different hats at Western Sensibility and no two days look the same. We typically start the day with production and work on design projects, artist collaborations, marketing, & R&D in the afternoons. We take our production process very seriously and are absolute quality control geeks. We spend a lot of time making sure we've translated artwork properly to the textile print medium and love nothing more than introducing artists to the technology.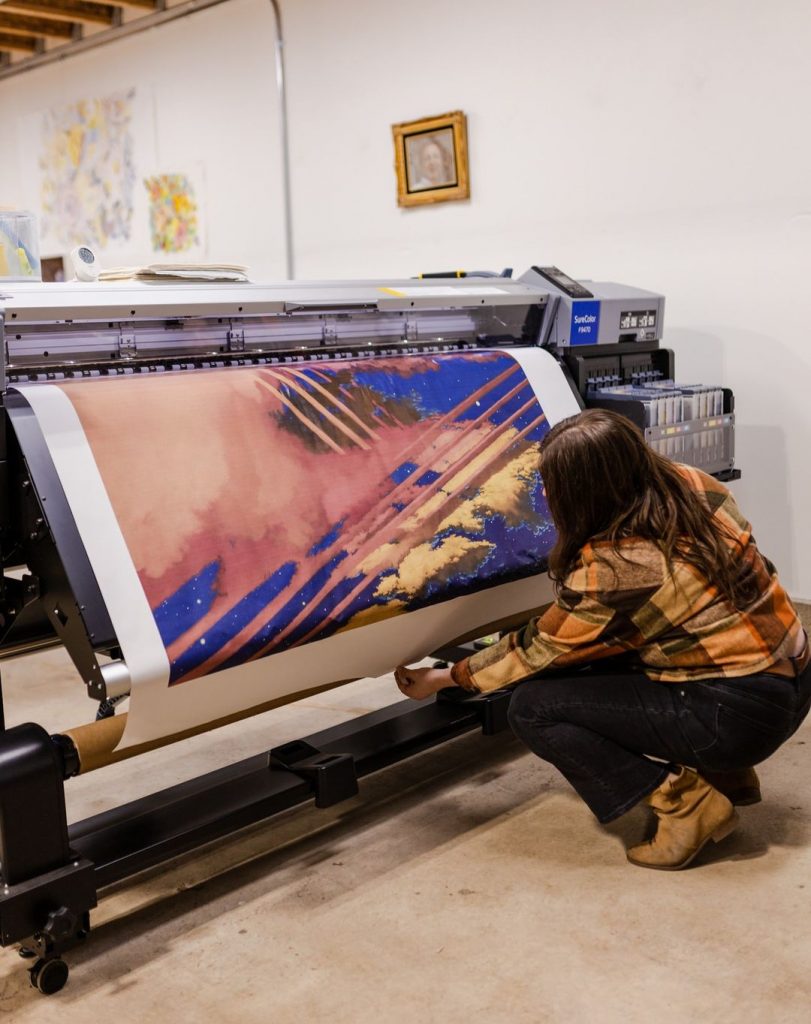 What do you enjoy most about your work and what are some of the challenges?
Sharing the digital textile printing process with newcomers to the industry is by far the biggest highlight for us. When we go into the R&D testing phase with new artists, there's truly nothing more rewarding than presenting them with their work on textiles for the first time. We get to witness a physical shift in how they think about their artwork and it's such a privilege for us that never gets old.
As far as challenges go, if you want to be in textile production you have to be comfortable with troubleshooting and problem solving. From Photoshop limitations to understanding three-phase power for our heat calender, there are a lot of variables that we need to stay on top of. It's not always easy and fun (or cheap!) but when we're able to solve problems it's a great feeling of camaraderie and accomplishment.
What would you consider to be your proudest moment(s) or greatest success(es) in your business so far? What are your goals for the future of Western Sensibility?
Until we got Western Sensibility off the ground, we didn't quite understand how painstakingly inaccessible this technology can be for artists and designers. However bad we thought it was we quickly learned the problem was much more severe. We are most proud of the model we've built, which is focused on true collaboration with artists that makes the process more accessible and affordable. In the future, we plan to grow our production capacity by bringing in new machinery that will allow us to print wallpaper, outdoor textiles, and even vegan leather. We're also excited to launch more products, such as table linens, and grow our roster of artist collaborations.
What actions or decisions have made the biggest impact on your business? Do you have any words of advice for designers who are interested in starting their own businesses in the textile industry?
It may seem straightforward or obvious but it's really important to pay attention. I fully believe that my superpower lies in my ability to be highly observational. Even if you're witnessing bad habits, you can learn what not to do. Earlier in my career, I would go so far as to take notes of things I observed others doing that I felt were successful or not so that I could someday implement them into my own projects and studio.
It can be quite difficult to get your foot in the door of the textile industry but I believe there are more and more of us trying to make information and opportunities more accessible. Try to build your network, resource list, and technical understanding so that you can plug and play wherever you go. I work with a lot of people who feel stuck straddling the idea of being an artist vs. a designer. In my opinion, throw out that limitation. You can absolutely be both. Also, if you can swing it, try to attend the AATCC & PRINTING United Digital Textile Printing Conference in North Carolina this December. It's great to be in the room with industry thought-leaders.
Can you give us a quick preview into the presentation you will be sharing with the Textile Design Lab community? What can people expect to learn?
We can't wait to bring the Textile Design Lab community into our studio! We're going to give you a behind-the-scenes look at our studio and process of dye-sublimation printing. We'll focus on the new design toolkit that digital textile printing provides and we'll even print some yardage in real time.
Find Western Sensibility on Instagram!