Welcome to the vibrant exciting world of Maria Montiel! Maria is an exuberant watercolor painter and surface designer who grew up in Venezuela and works in Barcelona, Spain. We have featured Maria's work a few times on the Pattern Observer blog and have admired her art for so long, which is why we are thrilled to announce a two part Guest Expert series from Maria coming up in the Textile Design Lab, on June 7th at 1pm EDT Maria is going to do a live presentation on painting with her signature watercolor style. So grab your favorite water based paints and some quality paper to paint away an afternoon! Maria will follow up at the end of June with another tutorial on how to transform your hand painted watercolor motifs into half drop repeats using Photoshop on June 30th at 1pm EDT.
What brought you to Spain from Venezuela?

After I graduated from graphic design in Venezuela (Maracaibo) I spent a couple of years traveling and just exploring within my profession. I started my personal brand, CAYENA BLANCA, stamping t-shirts and bags with silkscreen from home. I developed a love for illustration and watercolors at the end of my university career and I wanted to find a specific job where I could mix my knowledge as a graphic designer and my love for painting, that's when I started to have an interest in designing for specific surfaces through pattern design. Looking to specialize myself in this field, I found a masters degree in surface design at the IED in Madrid. After finishing my masters degree the political situation back in my country was very heated and it was dangerous for me to go back, so I decided to stay and I have been living in Spain since 2007.

How did you land your first collaboration with a client like Paperchase or RipSkirt?

My first contact with a big client was through a print agency I was working for. I worked with them for 5 years and my prints were on pretty amazing products, I was compensated well but not getting any credit for my designs. So I decided to start working on my own, trying to deal with clients directly and it took me a couple of years to get a really good client like RipSkirt. I was contacted by the RipSkirt owner through my Instagram profile and we started our collaboration back in 2020.
What have been the biggest challenges you have faced in your career and how have you overcome them?

I think the biggest challenge for me has been cultivating the business mentality. I am more of a free bird and always want to paint and create, but in order to bring my art to life I have had to learn about finances, marketing, sales, dealing with clients, and promoting myself in order to keep my business going. I try to keep myself active by creating, promoting, and contacting clients.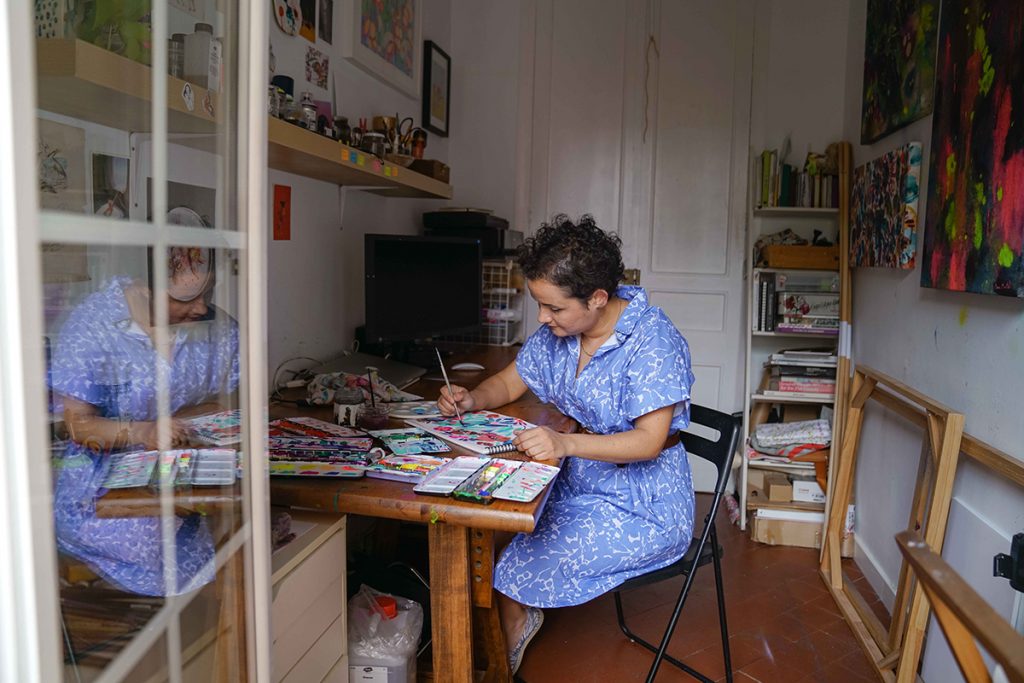 Do you find it difficult to work across many markets like wall art, apparel, home decor, fabric?

Not really, I try to focus on the project and the client. I adapt my designs to the surfaces these are going to be printed on. Before I start a design for a client I learn as much as I can from the client- their story, their product, and the printing method they are going to use. All those things will define how I approach each project. All the markets have unique challenges to overcome, I try to navigate them by keeping the clients' demands in mind.
A few years ago you were searching for an agent, did you find one or are you still working independently?

I have not found an agent that is willing to represent me, I worked for a print agency but as I said before my designs were not selling under my name. Currently I work independently and deal with all the pros and cons of being a print designer with a very unique style.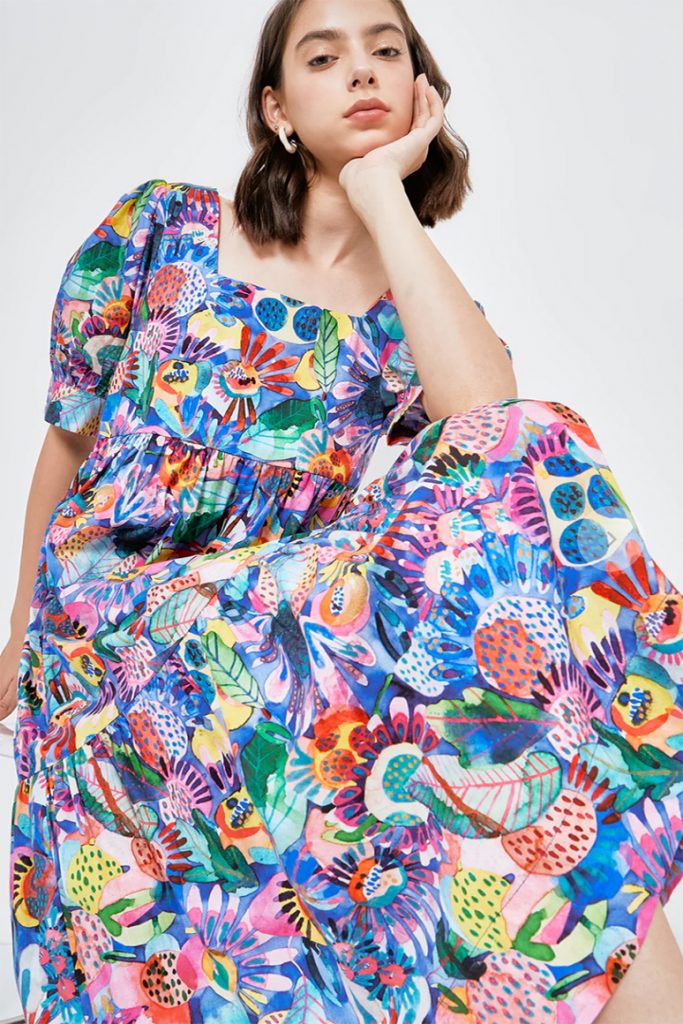 Tell us about making a quilting collection with PBS fabrics using watercolors. Was it difficult to get the colors accurate working with watercolor and digital printing? Are you going to make more quilting collections?

I created the fabric collection " Bright Forest " after I had a bad experience working for a big brand that got me very frustrated. I decided to create a very unique collection with my signature style, this was like a healing personal project. Once I was happy with the collection, I sent a presentation to Paint Brush Studio, it was really the perfect place for this collection to live! Working with all the team at PBS was easy and professional. Their design team helped me create coordinating blender prints necessary to round out the collection. In terms of color, they did the very few adjustments needed to nail the colors. I am pretty sure they use digital printing, I delivered all my prints in .psd in layers. I have another collection almost finished and I am looking to make it a reality soon!
How do you push yourself to create new ideas while maintaining your brand and personal style?

I love experimenting; trying new things within my work keeps me active, interested, and looking forward to a new discovery. I recently worked on my first art installation that I presented during the opening of my last solo show here in Barcelona, Spain. This was something completely new for me and I really enjoyed the process and the results. And of course constancy, I believe it's the only way to improve.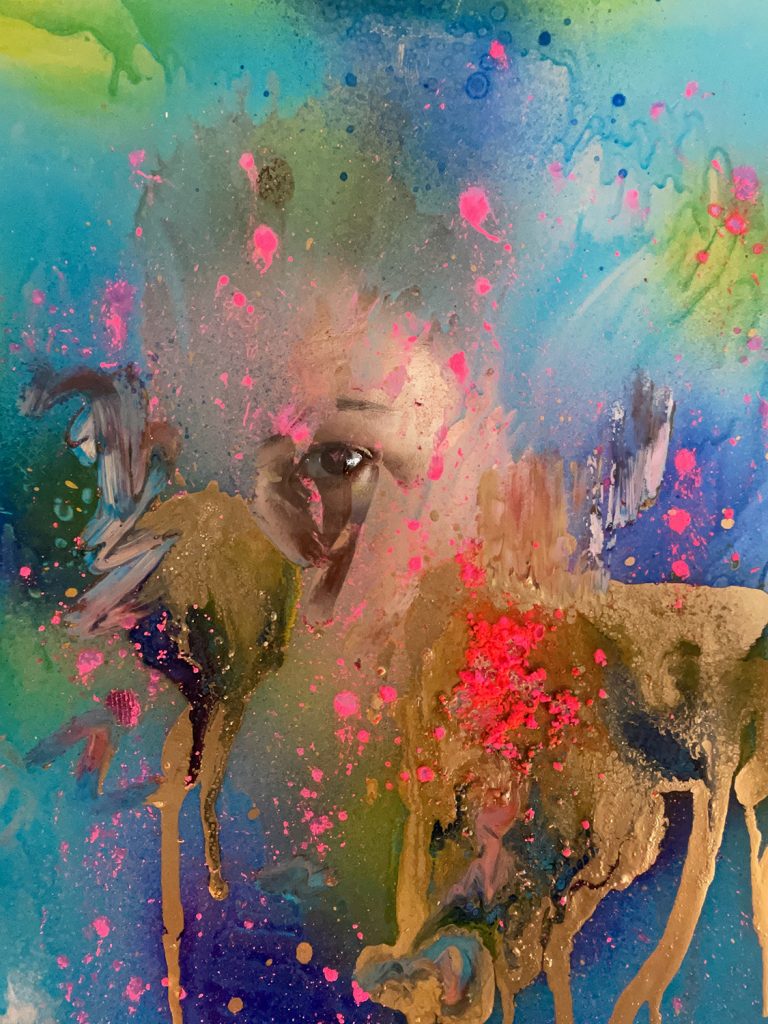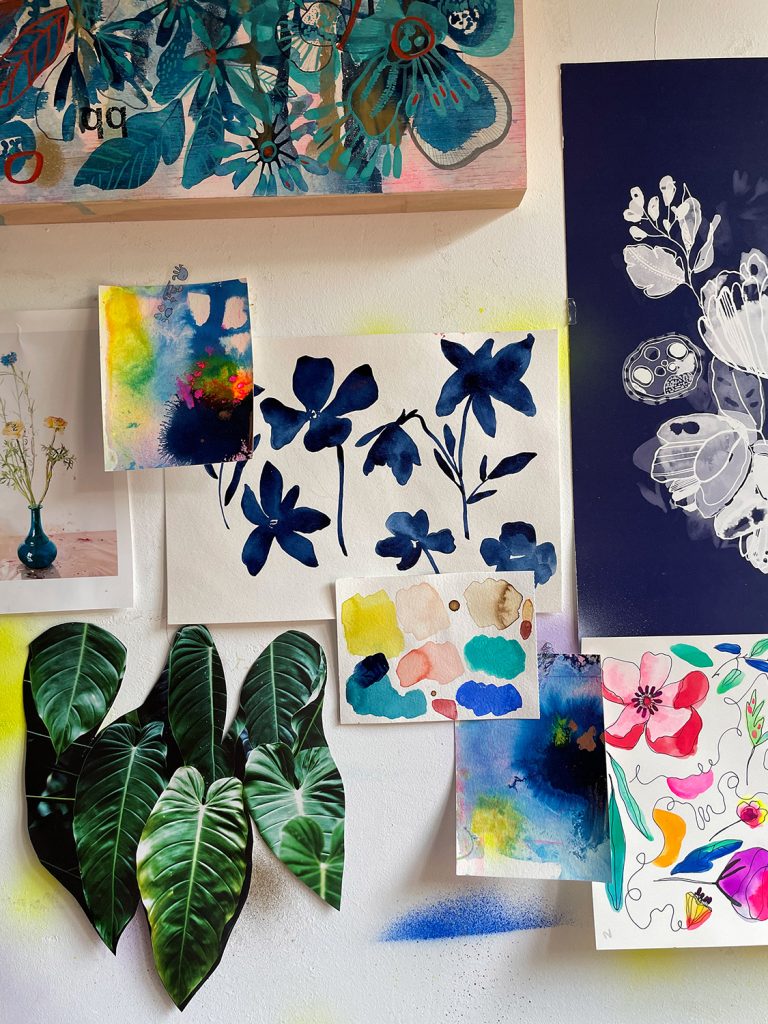 What does creative success look and feel like to you? What are your goals for the future?

After many years working so hard, I can finally see my prints on amazing products around the world and proudly announce it, I even have some of these products to show off my designs. It's been a really long process but I feel happy with where I am now. Now that my kids are a little older, I have more time to invest in my career. I want to keep pushing my art out there and continue finding trendsetting clients 🙂 Are you this client?!? You can find Maria's contact info….
Contact Maria: info@mariamontielstudio.com
Join us for our Guest Expert series from Maria coming up in the Textile Design Lab, June 7th at 1pm EDT. Maria will guide us through a watercolor painting workshop and then she will follow up at the end of June with another tutorial on how to transform your hand painted watercolor motifs into half drop repeats using Photoshop on June 30th at 1pm EDT.