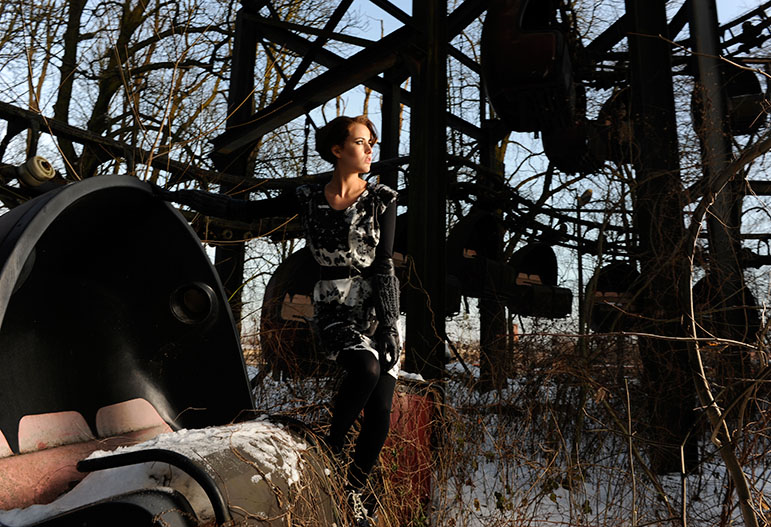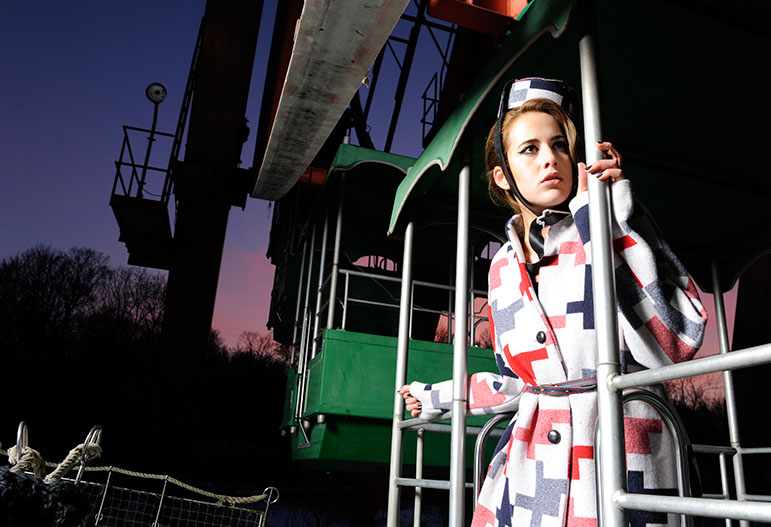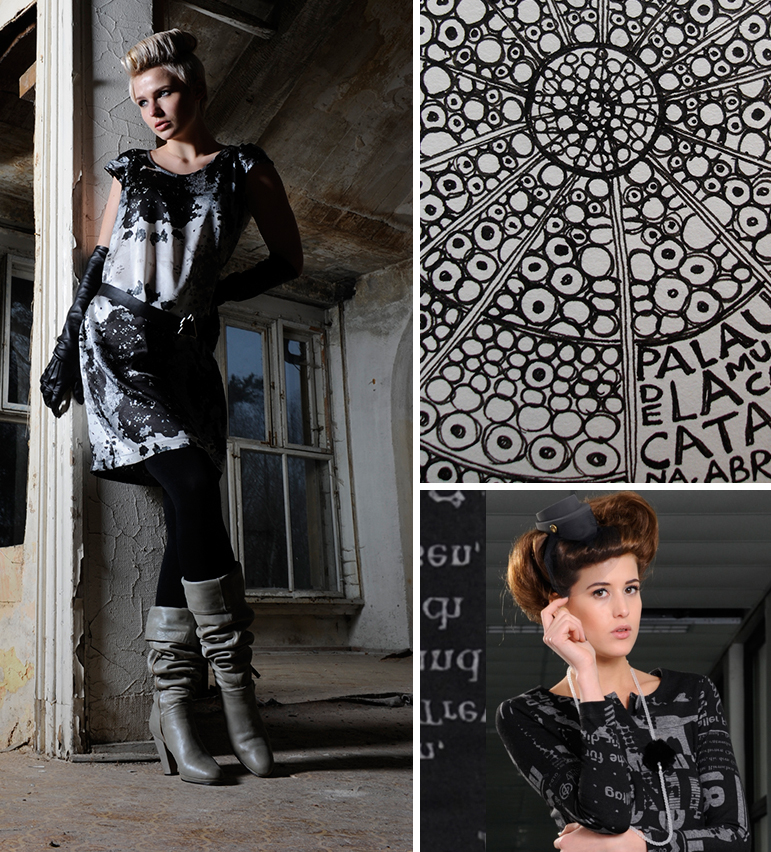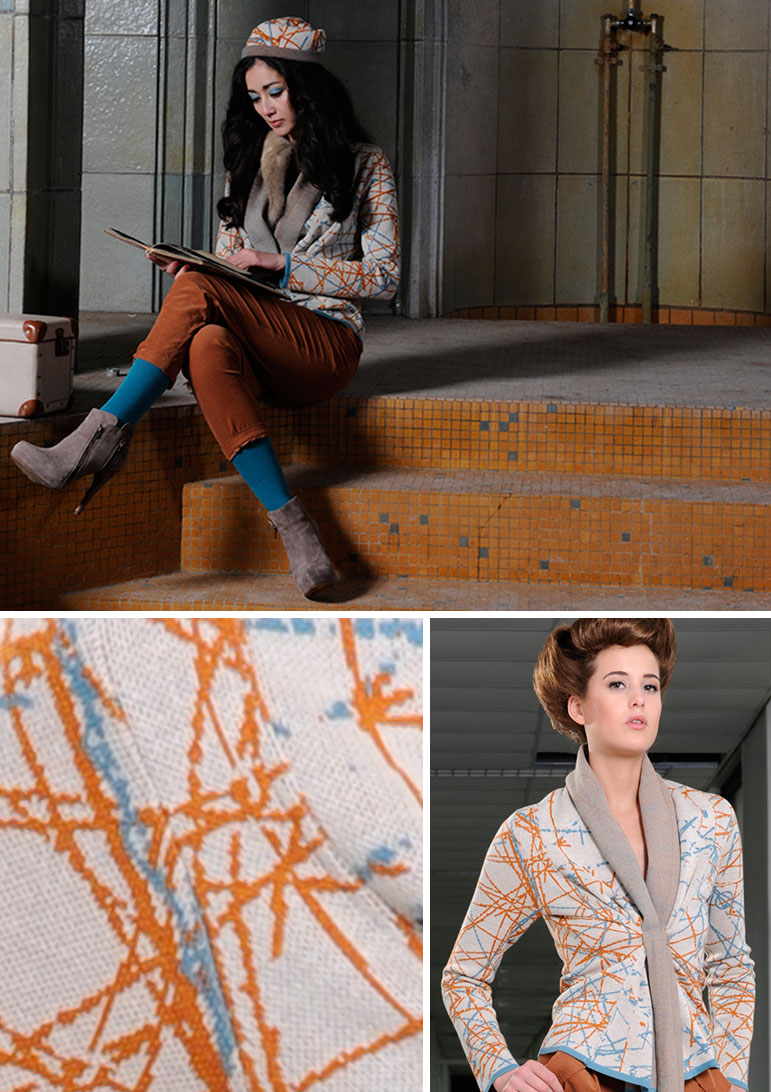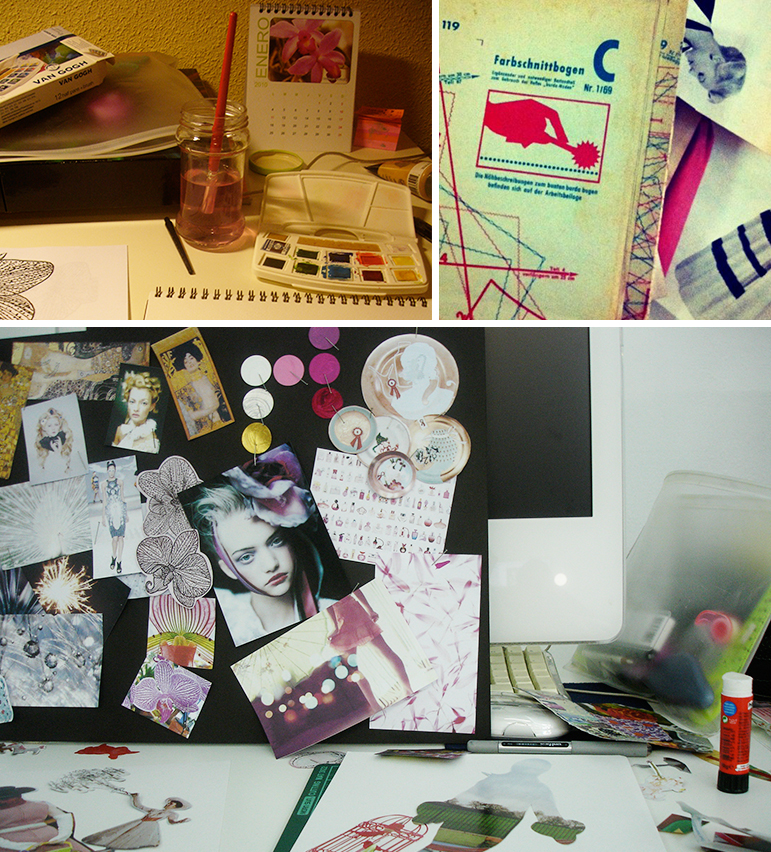 *MLY photos via Catherine Hermans
Hello readers! This week's featured designer is Carolina Ochoa. Carolina was born in Medellín, Colombia, lived in NYC for a while, and now resides in the Netherlands. These cultural experiences have been very influential and are part of what gives her work such interest and depth. Carolina took a bit of time to talk about what inspires her work with MLY, which is a Netherlands based line that is run by designer Emily Hermans.
Can you tell me a little bit of the inspiration behind your work for MLY?
This collection is a reconstruction of the past. Inspiration was taken from history, from traces of the past in walls, from MLY's past collections, and the city of Berlin. Silhouettes and sewing magazines from the 50's were also key. I used sewing patterns from magazines to create new prints and knits. I made a collage of interesting texts, textures, and advertisements from 50's magazines to make a new print.
Reinterpretation and enlargement of classical and traditional patterns, like the harringbone and pie de poule, were also used. Harringbone is in our daily life. I translated a floor made with bricks that were organized in the harringbone shape into a knitted fabric with harringbone tiles in vertical and horizontal directions. I did my own version of the pie le poule, called "Colombian"; it's a reconstruction of a square design that Emily made in a previous collection (Painting Pictures). For the digital prints I used images of cracked and rusty walls
Are there certain designers that you follow for print inspiration?
There are many designers I admire. I think Alexander McQueen is in the top of my list. I also love Marc Jacobs' prints and Missoni's knits.
What inspires you?
I find inspiration in my daily life. I find interesting shapes and colors in nature, in animals like a bird at my windowsill or a rabbit running free in the fields. I find food really inspiring. I like to cook, to eat and to try food from many places; I love to visit markets, bakeries. In my sewing box there are also many buttons, medallions of saints and religious objects… I also get inspiration from an art piece, a visit to the museum, a movie, specially from Amélie, which is my favorite one! Or a picnic in the park, a bike ride, a garden with flowers, an envelope with stamps… I like to travel, to learn about different cultures, I like to see people, what they wear, I love folk and everything that is colorful… I also admire my sister, and have found her to be an inspiration and an influence during my whole life.
I admire, perceive and get inspiration from the world and its diversity. I'm obsessed with patterns and I see patterns everywhere!
When in a design rut, what sort of things do you do to get the ideas flowing?
I always take my camera with me, and take lots of pictures, I use a lot of these images for my work. I also carry a notebook all the time, so I write and draw what I find interesting or whatever crosses my mind at any moment.
Do you have any future aspirations for your work/ career?
I'm looking for challenging new projects and opportunities to work with different materials and techniques related to prints, patterns and illustration.
The only tip I'd like to give readers is that they have to do whatever makes them happy; I feel lucky to enjoy and love what I do!