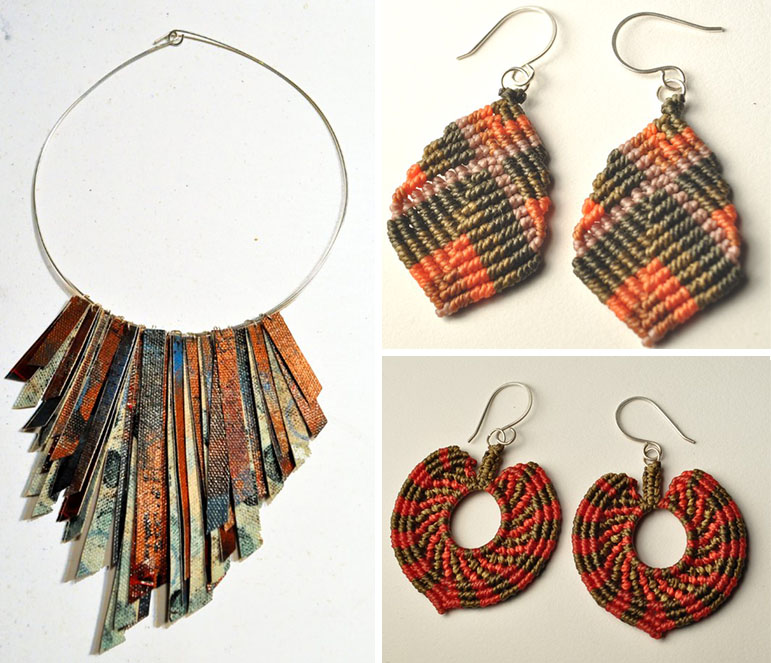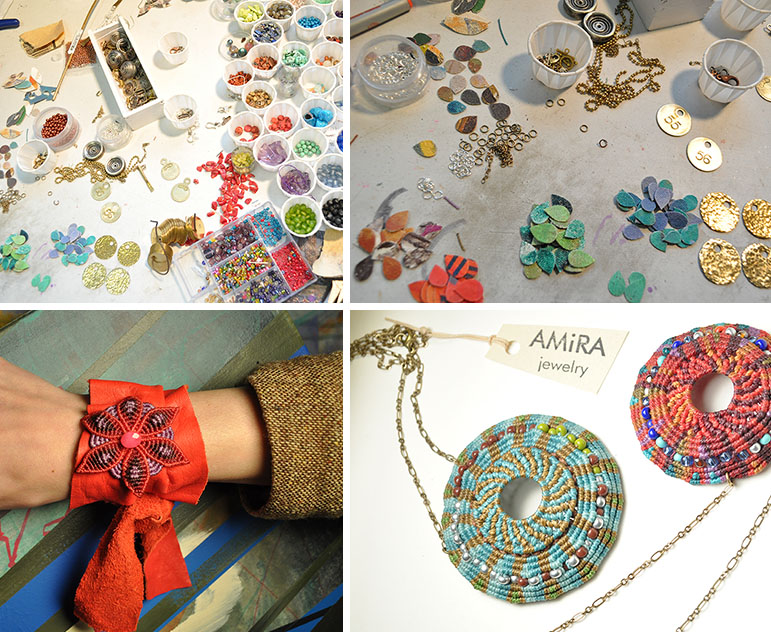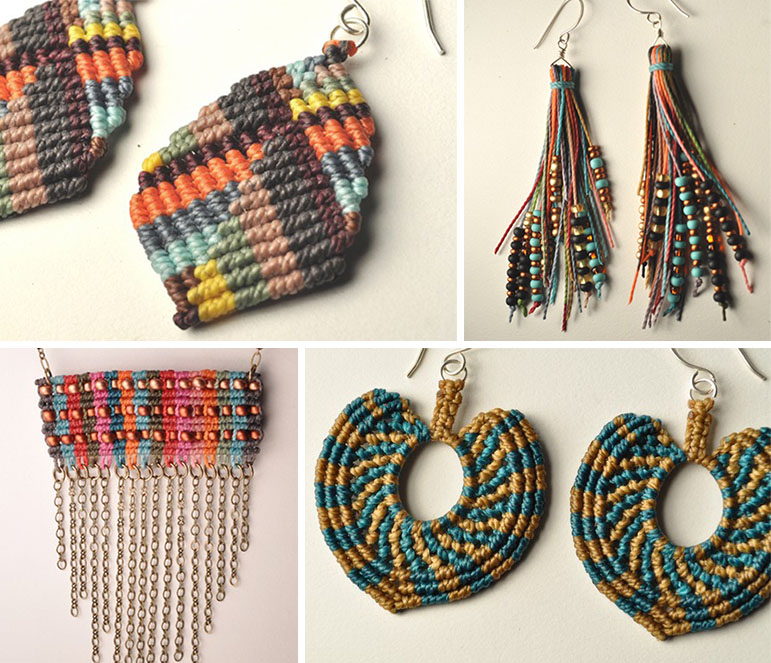 I love, love, love Amira Mednick's beautiful work! She uses color and texture in such a brilliant way and when I saw her pieces on Big Things I was just smitten! Amira learned to craft these pieces while traveling after college and currently lives in Portland, Oregon where she balances her time between designing and teaching. Amira was nice enough to answer a few of my questions concerning textiles, teaching, and showing her work at the Portland Saturday Market.
1. Can you tell me more about your interest in textile design and how this influences your work?
I am attracted to fabrics, patterns, textile materials – the tactile experience of this form of art is very appealing to me – wools, silks, canvas, leather.  I have also been interested in fashion, in experimenting with clothing, making it and wearing it in ways that combine different colors, textures, prints.
I am inspired by Missoni, a body of work that is fashion and art using color and pattern in a striking, daring and somewhat primitive way.  My work draws upon many different influences.  I look at painters, fiber artists, metal artists, clothing designers, outsider art, architecture, and design.  I want to share my love for travel and other cultures through my wearable art.  Creating something that you can wear close to your body is sometimes more meaningful than something you look at.
I am drawn to the color, richness and life of South American, African and Indian textiles.  My travels in Argentina, Chile, Peru and Bolivia brought me close to elderly women hand dying alpaca yarn, selling small jars of brightly colored pigment, and weaving elaborate belts and bracelets on the sides of cobble stone streets.  The way these cultures work with their hands is impressive, inspiring and humbling.
2. Can you tell me more about your role as a teacher?
While I was finishing college I taught art to young children ages 18 months to 9 years old.  We worked with many materials and explored many different ways of making art – drawing, painting, sculpting, photography, and collage.  I enjoyed all working with all these ages, but found the most spiritual of experiences when working with the youngest kids.  Watching a child paint for the first time is pretty extraordinary. Watching them mix blue and yellow paint together to make green reveals the magic of art and science, and reminded me everyday how much I love making art and being creative.  My students inspire me to this day.  I currently teach preschool and enjoy the challenge of explaining something about our world to my students through an art project, and watching them work with their hands, figuring out ho to cut, how to wrap yarn around a bottle, glue wood together, draw a tree.  Art is so important to life, and I think I see this most when I am working with kids.  My need to create allows me to connect with my students because I understand their deep desire to paint, draw, cut, explore and investigate.
3. You show your work at the popular Portland Saturday Market. Is this how you sell most of your work? Is this a route you would recommend to other artists that are just starting out?
The Portland Saturday Market is a great place to get started!  I have learned so much about selling and presenting my work from my experiences at the Market and greatly from other Market artists.  I think it is important to know yourself and know how you want your professional life to be. There are some vendors at the Market who sell every weekend and that is the way they have formed their business, and they are very happy.  I prefer to change my scene by traveling and selling at different shows.  I have loved meeting new people and seeing new places through my business.  There are so many details about being a professional artist that I have learned from bringing my work to the public.  Working in the studio is just one facet of being an artist.  I sell my jewelry in boutiques in Portland and other states in the U.S., I sell online through Etsy, and at various art shows and fairs in Oregon, Washington, and Idaho.  I hope to participate in shows on the East Coast and in California in the near future.
Be sure to check out Amira's Etsy shop!