Hello there! I am thrilled to announce a six part series on the history of the American quilt brought to us by Molly Williams. Over the next six weeks Molly will explore the people, politics, patterns and processes that informed the development of the American quilt. She will take us from early African-American quilts to the 21st Century Art quilts that we see today. I find the history of textiles inspiring and fascinating and I hope you enjoy this series. Take it away Molly!
Early African American quilts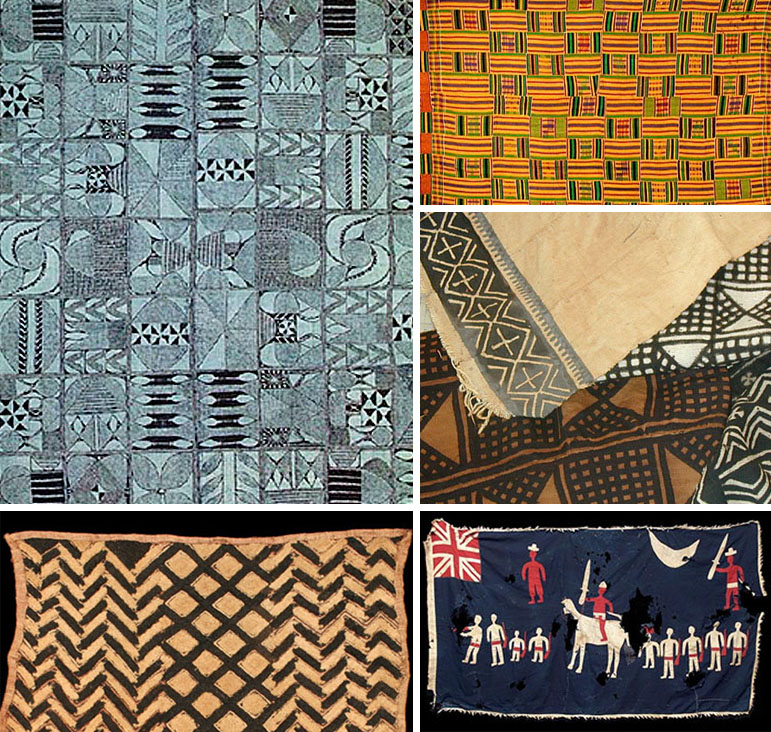 * images (clockwise): Starch-resist dyed Adire cloth, Kente cloth Ghana, Mali mud cloth, Fante Asafo flag Ghana (These war flags record historical events), Kuba cloth made from raffia – Zaire
A key component of the history of the American quilt was the arrival of enslaved Africans to America. They brought the customs, signs and symbols of their culture, which included textiles and fabrics. African textiles have large asymmetric designs that ensure the pattern can be recognized from a distance and in the glare of sunlight; as well as sharply contrasting colors which enhance the visibility of both the cloth and the symbolic patterns. Asymmetrical deviations in the patterns are designed to confuse the path of evil spirits. In West Africa, strip weaving is the fabric construction process most used, where thin lines of fabric, which consist of symbols and patterns, are stitched together to make a wider cloth. Abstract, figurative and geometric designs portraying secret tribal symbols are incorporated into textiles, which can be seen in the Starch-resist dyed Adire cloth from Yorubaland, Nigeria.
In America, the traditional woven strips were substituted by fabric pieces and the subversive nature of African coded language continued. This enabled Africans to remember their roots and combined tribal histories, as seen in this piece by Harriet Powers. Although very few slave quilts have survived, two bible quilts made by Harriet Powers hang in the Smithsonian Institute. Powers was born into slavery in 1837, her appliqué quilts depict Christian biblical stories and may have been used as teaching tools; on the other hand, the crosses, stars and moons may represent the symbols of secret West African societies.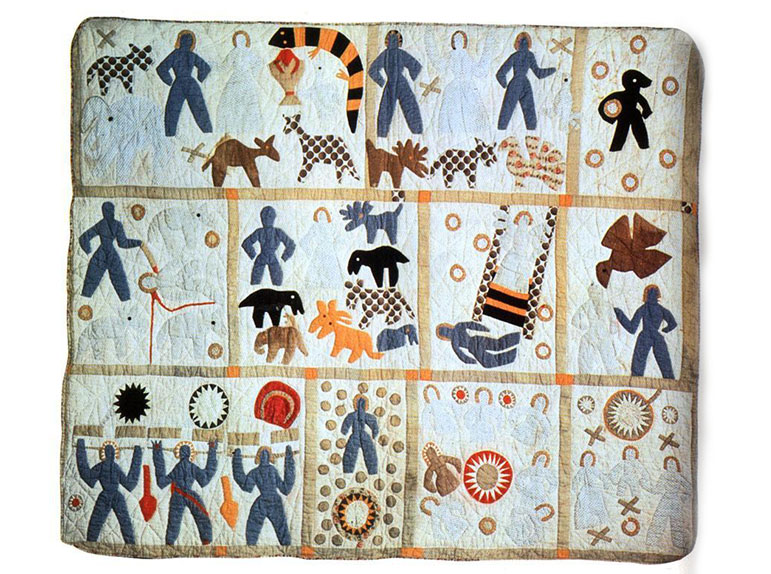 * image via: 'Quilt' by Harriet Powers 1886
The Underground Railroad Quilt
African American folklore records a system of quilts used to direct escaping slaves to freedom in Canada. Ozella McDaniel of Charleston, South Carolina, was taught the story of a system of quilts used to direct escaping slaves to freedom by her grandmother, a former slave. According to McDaniel, ten quilts where used to signal the journey plan. Different quilt patterns conveyed specific instructions for each stage of the journey.
#1) Monkey Wrench, Gather your belongings together #2) Log Cabin, A "safe" person to speak to #3) Bear's Paw, Follow the bear tracks over the Appalachian Mountains #4) Shoofly, A friendly guide #5) Flying Geese, Points to the direction to follow #6) Drunkard's Path, Travel in a zigzag path to avoid pursuers #7) Bow Ties, Dress in disguise #8) Star, Follow the North Star #9) Crossroads, Routes to Cleavland, Ohio (freedom)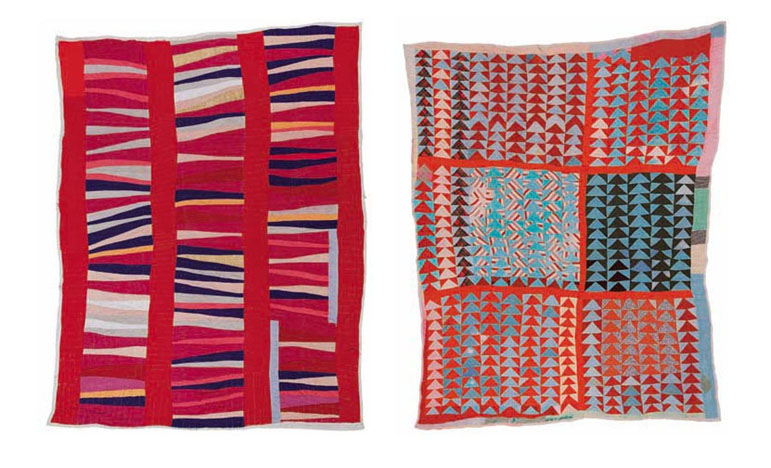 *images via: The Quilts of Gee's Bend
Despite their importance, there are very few early utility quilts left. Slaves, treated as possessions and commodities, were often sold on to other plantations; families were separated and belongings were shared or lost. Quilts, once irreparable, were recycled as the batting for new ones.
One small Alabama community, isolated since the civil war by the geography of the area, has retained a link with their African roots. The Gee's Bend plantation was founded in 1814 by Joseph Gee. Although typical of many southern plantations, Gee's Bend is remarkable in that after the Civil War of 1861 – 1865 it became an isolated backwater where generations of former Pettway slaves were left to develop their own style of quilts uninformed by the changes in the traditional American quilt.
Jessie Pettway's 'Bars and string-pieced columns' 1929, illustrates the classic African aesthetics preserved within the Gee's Bend quilt:
Asymmetric patterns and lines
Large bright blocks of color
A marked resemblance to the tradition of strip weaving
Seventy Gee's Bend quilts were exhibited at The Whitney Museum, New York in 2002 and their popularity continues today. – Molly