Mario Troise specializes in product and brand development, and recently published a short video showing some of the process behind the famous Hermès scarves. This video showcases the level of care and detail that goes into creating an Hermès scarf, and was such a treat to have land in our inbox! Read on for Mario's explanation of this inspiring process:
I travel a lot and I'm fascinated about fine art, design and creative projects. I attended the Festival des Métiers organized by Hermès in San Francisco. Hermès is famous for being one of the few fashion houses to still value hand made products and I was interested in the processes behind the products.
The Festival included products from each department. There were craftsmen showcasing glass products, there were jewelry designers, watch designers, leather artisans and the artists involved in pattern design.
The silk screening process is fantastic. I am very familiar with industrial screen printing, but I have never seen something as intricate as that. They are extremely concerned with details – from sketching to the final product.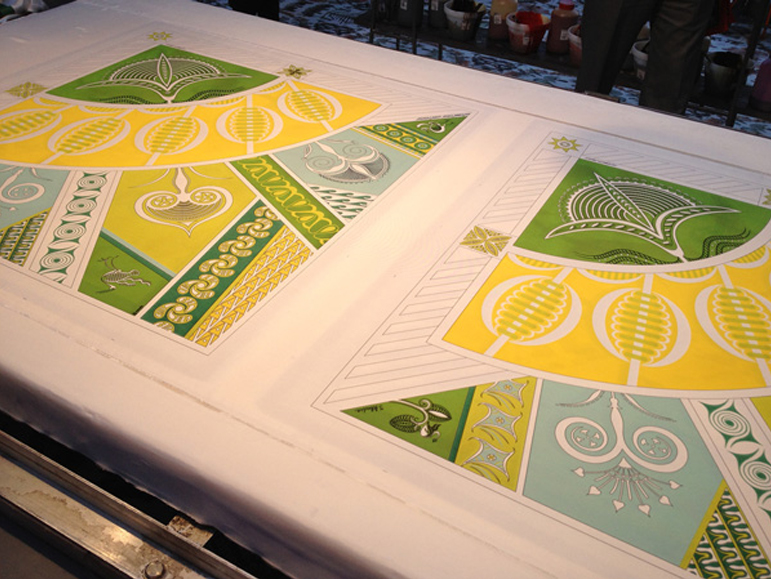 A silk scarf begins with a square pattern designed by one of their artists. The image is divided in screens (usually 10 to 20, but it could go up to 40 screens) according to color and size. Yes, they could make a silk scarf with only a couple of screens, but they prefer to separate colors as much as possible.
Each layer of color is applied meticulously. Despite using the best technology available, they rely on experienced artisans to control the process. Each scarf uses around 300 silk cocoons (imported from Brazil).
Unlike industrial screen printing, this process involves a lot of human decisions. A seamstress takes 40 minutes just to hem one scarf. Can you imagine how many t-shirts are made in China in 40 minutes?
The demonstration took just about 30 minutes, but a real scarf would take hours to be produced, dried and finished.
You can see more of Mario's work at imagimario.com
-Chelsea