The basik 855 weaving center in Takeo, Cambodia.
Today we are pleased to share an interview with Leigh Morlock, the Creative Director behind basik 855, a Cambodia-based brand known for their bold handwoven textiles and chic accessories. Read on to learn more about the workings of this awesome socially responsible company.
What made you decide to start this business? Why did you choose to base the business in Cambodia?
Our weavers and artisans inspired our business. When the original cofounders (including myself) first visited Takeo, we were struck by the poverty in a region where nearly everyone is trained in an intricate and complex art form.
The initial challenge was to see if we could connect our artisans, who are masters at what they do, with a global market. We realized we could when our sarongs (as Push Pull Cambodia) were included in the Wanderlust for Madewell Collection in spring of 2010.
There was never any question that our business would be based in Cambodia. This is where our artisans are. This is where we learned first-hand about ikat. Cambodia has captured a very special place in each of our hearts.
What is a typical workday like for you? What are your favorite parts of the job and what do you find most challenging?
Oh, this question is always a bit tough! Typical depends on what we're doing and where we are in the design and development of a season.
I'm a night owl, which actually has benefits when you're working across the world from where you're selling. It means that there's usually overlap between when I'm online and when our partner in NYC is available.
Since we are an intentionally small company, there's a lot about my workload that is atypical for most Creative Directors (but probably relatable for most entrepreneurs). For instance, in addition to my design and creative work, I'm also the keeper of expenses and accounting, as well as production coordinator for our outside sewing vendors.
My absolute favorite thing to do is create a seasonal trend concept. This allows me to exercise my trend research muscles as well as a bit of fashion intuition. Plus, it's always an amazing day when we present it to our Khmer design team.
The most challenging parts are usually the ones that require the most flexibility. Like, a phone call from the bank requesting I drop everything and go to the local branch because my signature on a check is slightly different from what they have on file, therefore they need me physically present to cash a check I've written.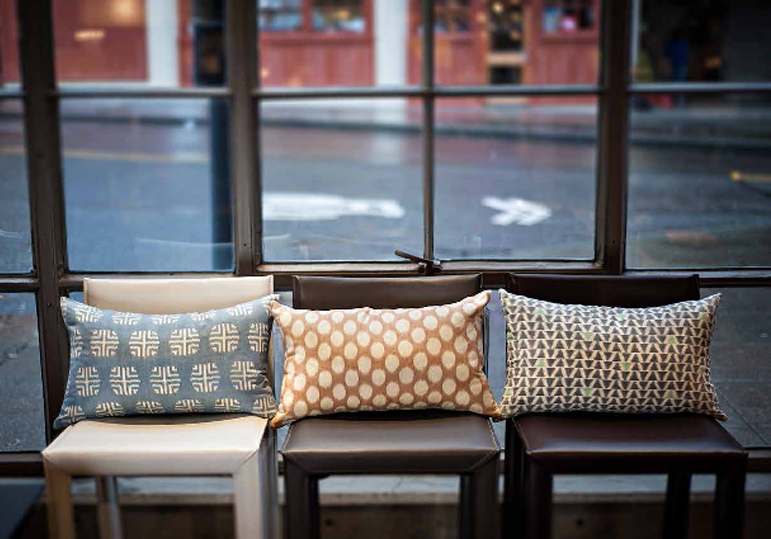 Could you tell us more about the process of designing one of your collections and how you collaborate with the Khmer design team?
This is one of my absolute favorite parts of what we do. After scouring inspiration and design trends, I create a presentation for our Cambodian design team outlining pattern trends for the upcoming season, important color palettes, and key moods.
For Heirloom (our Fall 2013 collection), we identified dark romance, urban prairie, and graphic overload as the key themes for the season. From there, we looked at specific pattern trends, including zebra, brocade, houndstooth, herringbone, lattice-work, ditsy, quirky polka dots, interrupted chevrons, honeycombs, diamonds, and triangles.
In Heirloom, we have two color palettes. One was derived from a photo of a black & white boat floating in a lake with a very dark sky. It evoked the idea of midnight while still being graphically surprising. Starry Night with a touch of oxblood inspired the second palette.
After our design presentation, the designers have two weeks to sketch patterns based on everything we discussed. Usually, they each sketch 9-12 new designs, which we review as a team at our weaving center. At this point, we choose 10 to 15 to proceed developing.
This is the part that I find most mind-boggling – our designers use the sketches and experiment with how to tie each pattern into the cotton threads that will eventually become a woven piece of fabric. From what I can tell, there are equal parts geometry, intuition, and artistry involved in this stage.
From here, we continue refining the design and execution until we have a final pattern. The process of developing the patterns and colors for a season takes three to four months.
Where do you draw inspiration for your patterns and colors?
My former boss and mentor called me a Creative Dumpster Diver, which is absolutely true. I am an inspiration-hound. In addition to using TrendStop, a trend forecasting service, I am an avid blog reader.
Here are a few of my recommendations: Maquette, The UltraBright, Pattern Observer (imagine that!), Patternbank, Plenty of Colour, Blog.Stylesight, Stylesight's Tumblr, BOOOOOOOM!, Pattern People, and Trend Land.
Could you talk a bit about being a socially responsible company and what that means to you?
One of the reasons we started basik 855 is because we wanted to do business as we think it ought to be done.
What does this mean? First, we pay our employees a fair living wage that they wouldn't receive in garment factories.
Beyond a living wage, we believe in offering a competitive benefits package that includes medical reimbursements, annual eye care exams, public holidays, paid time off, and maternity leave.
When we outsource work, we collaborate with like-minded partners. We work with sewing enterprises that employ people from vulnerable backgrounds to develop their skills in order to build better futures.
We're not a charity, but we respect our artisans. This simple vision has guided us from the very beginning.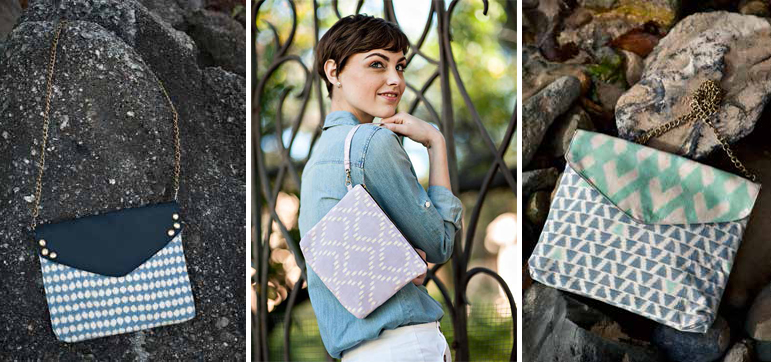 What would you consider to be your most proud achievement/greatest success so far in your business? What are your goals for the future?
Heirloom, our newest collection, is by far our proudest achievement because our Khmer design team created most of the patterns. Our goal has always been to promote a renaissance of ikat and foster the creative talent that exists here in Cambodia.
After working together for a few years, we are at a place where we are practicing this daily. The designers are beginning to understand my Western aesthetic, and what our customers want to buy. I've become familiar enough with the process and our designers that I know when I can push creatively, and when a request is truly impossible.
Do you have any advice for aspiring textile designers hoping to build successful businesses of their own?
Since I came into textile design in an unexpected way – a theater director turned creative assistant at a handbag company – I would say, don't let a lack of experience or education get in the way. If you have a degree or coursework in textile design, then I am mildly jealous. You are one step ahead of the rest of us!
However, one of the most important things I've learned since moving to Cambodia and embarking on this business is that there is always a way. There are great mentors, courses, and (often free) resources available to get you from where you are to where you want to be.
In fact, you might just see me in the August offering of The Ultimate Guide To Repeats where I'll be augmenting my own knowledge of this amazing industry we all love!
Thanks for sharing Leigh! You can see more from basik 855 on their website. -Chelsea