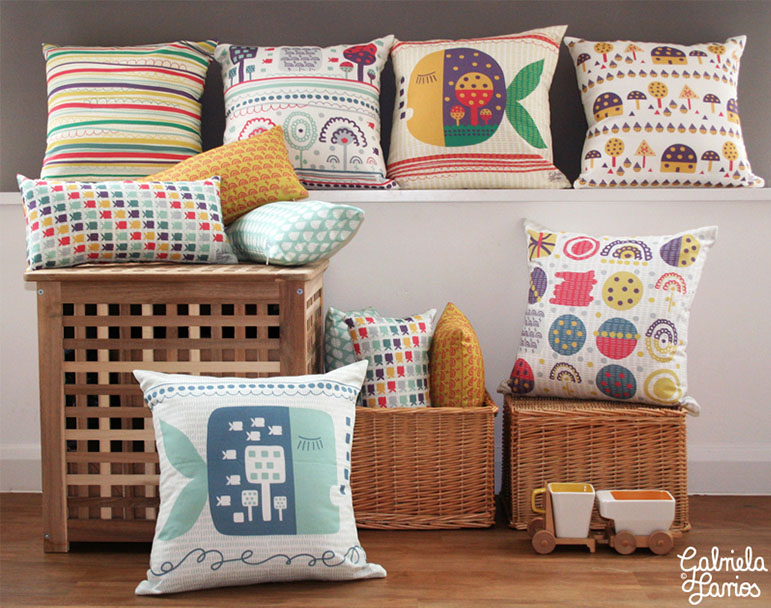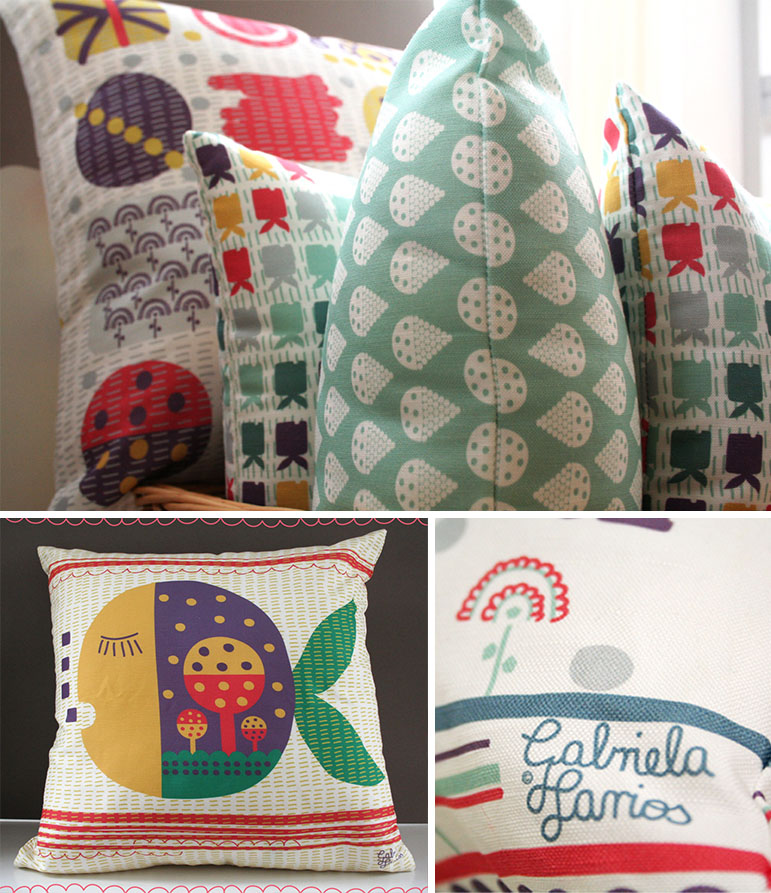 I can't think of a better way to wrap up this week than by featuring these adorably cheerful pillows from Gabriela Larios. Gabriela is a London based designer who creates pattern designs and illustrations for a range of products and international clients. She recently launched a line of limited edition pieces, which can be found on her new Gabote shop.
"My inspiration for this collection was the natural and marine world, my love for bold graphics and illustration and colours that cheer you up. When you come from a tropical country like El Salvador and you live in a city like London where you scarcely see the sun especially during winter time you feel the urgent need to escape to brighter, warmer and more colourful places and sometimes the only way to do it is with a little bit of creativity and imagination. The inspiration that an artist receives by living in London is at the same time inexhaustible."
Gabriela has generously offered Pattern Observer readers an exclusive 20% discount on any of the designs on Gabote shop. Just enter Gabodiscount4PO at checkout. The coupon is valid for one month, until 21st of July.
You can also visit Gabriela on her new facebook page, where people can be updated about news, interesting finds and her new fabric collection (currently under development) to be released soon with Modern Yardage fabrics.
Gabriela is a true talent and I am thrilled to see her taking the industry by storm!
Have a great weekend and if you haven't done so already, PLEASE send the Pattern Industry Survey to your agent or clients. Designer response has been phenomenal, but we need more buyer and agent input to make the results as accurate as possible. Thank you so much for your help with this project which is so near and dear to my heart!