If you have taken any of our workshops you know that I strongly encourage designers to focus their business in some way. This industry is simply too vast, too complex, to become an expert in everything! That being said, there comes a time in every designer's career when they simply want to try something new, either as an inspirational exercise, or to expand an existing business. These explorations can be small, such as trying a new painting technique, or larger, such as leaping into a new market.
These leaps, these explorations, are exactly what we uncover in our upcoming workshop, The Sellable Sketch 2: Mastering Your Market. Through design tutorials, such as digital painting and using photography, to market explorations that answer questions such as, "What makes a print perfect for the apparel market?" you'll bring new opportunities to your business.
Leaps are scary, which is why our team, alongside experts from the home, apparel and quilting markets will be there for you along the way. Every two weeks you'll explore a new market, create a small collection and then submit it for evaluation from an industry expert. You'll grow, you'll be challenged and you'll be inspired to create.
To get everyone geared up for the SS2, which begins on January 6th, we are sharing three exciting interviews with experts in the apparel, home and stationary markets. We asked these experts how trends influence their work and how they uncover the perfect trends for their customers.
Today we are excited to feature Aaryn Nutter, the founder and creative director of Aaryn West Surface Design Studio based in Los Angeles. The studio maintains a library of original prints and offers consulting services to clients in the fashion, home furnishings and paper goods industries. We really admire Aaryn's eye for trends and are excited to share her words of wisdom on the trend researching process.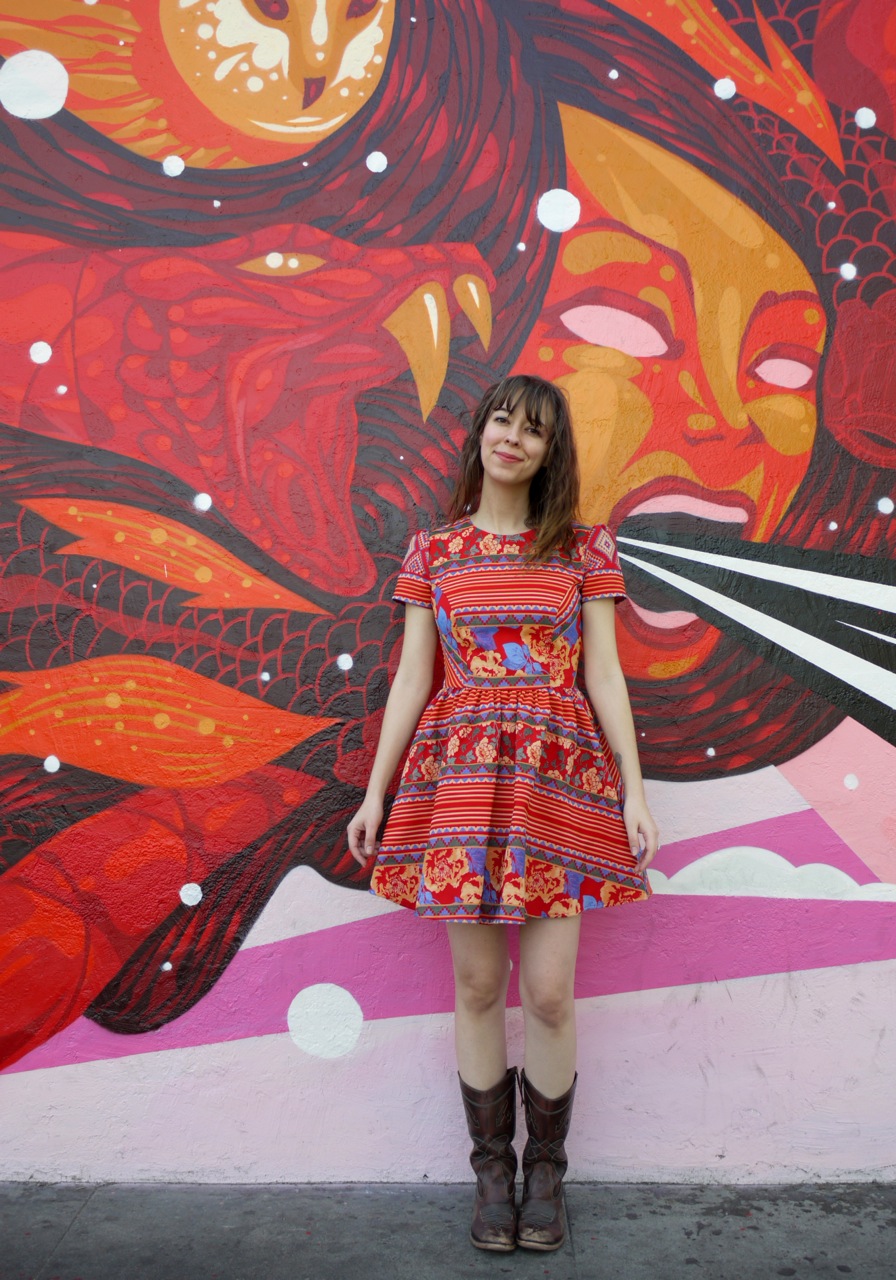 Can you tell us a little bit about your professional background? How did you discover your passion for patterns?
I went to school for Graphic Design, but never had a strong sense of what industry I might end up in. My best friend in college was a fashion major, so with a little encouragement from her I began applying for apparel graphic design jobs found in the local trade magazines, and was lucky enough to find work right away. I mostly created tee shirt graphics, but as all-over prints became more popular I expanded my skill set to include textile design. As I began creating more challenging prints, I fell in love with my job even more. It soon became clear that textile design was my true passion, and when I looked back at my youth and my personal style I realized that I had been obsessed with textiles my whole entire life.
How important are trends to your work?
For better or worse, trends are increasingly important to my work. When I started the company I was creating the kinds of prints I wanted to see in the market, essentially designing for myself. I received many compliments, but sales were slow to begin with because my prints didn't exactly correlate with the trends that my clients were designing around. If you are launching your own collection or brand you have more freedom to disregard mainstream trends, you can go wild and do your own thing. But if your desire is to work with a print studio that sells to major designers and retailers, you'll want your prints to be more relevant to what is actually selling for those clients.
When forecasting trends, where do you typically start your research? Do you base decisions on prior sales? Do you research online? at trade shows, etc?
I absolutely love looking online at all the runway shows each time a new season comes out. I pull images and take notes about what trends I see the most of, which trends are emerging, and in general whatever I find the most exciting. In-store shopping is also crucial for trend spotting, although I admittedly have a hard time pulling myself away from the computer to do this as much as I should.
I also have to consider what kinds of prints have been selling well for the studio. You never want to compromise your integrity by knocking-off one of your own designs, but if tribal geometrics are your best selling category, you'll want to find new ways to update the trend and create fresh interpretations for your collection. Combining different trends is one of my favorite ways to do this.
Do you have any go-to resources that you can recommend?
There are so many! If you can spend a little money the trend reports by Patternbank are great and very affordable. Some of my favorite websites and blogs for inspiration include http://www.stylebubble.co.uk, http://lpd.com.au/2013/, http://www.thejealouscurator.com/blog/, http://honestlywtf.com/, http://thethoughtstudio.tumblr.com/, and of course Pattern Observer!
Are there any trends that you feel are emerging? What do you see on the horizon?
I think we have only skimmed the surface in exploring photographic and digitally manipulated prints. As digital printing becomes more affordable and accessible we will see more and more of it on nearly every type of printed surface you can imagine. Trends come and go, but technology tends to move forward so I'm inclined to think there's no going back once we head down that road. Designers like Basso & Brooke, Clover Canyon and Milleneufcentquatrevingtquatre are some of my early favorites in this category.
Any final words of wisdom for designers interested in incorporating trends within their work?
Learn how to research trends and apply them to your work, but always stay true to your own aesthetic. Learning how to marry your own style with the current trends will open you up to more opportunities and financial success, without making your work look like everyone else's.
The SS2: Mastering Your Market is a six week workshop that will open up a world of new opportunities for your business. You'll dig deeper into a market that you already love, explore new markets, try new artistic techniques and make new industry contacts. You'll grow, you'll be challenged and you'll be inspired to create. Learn more here.