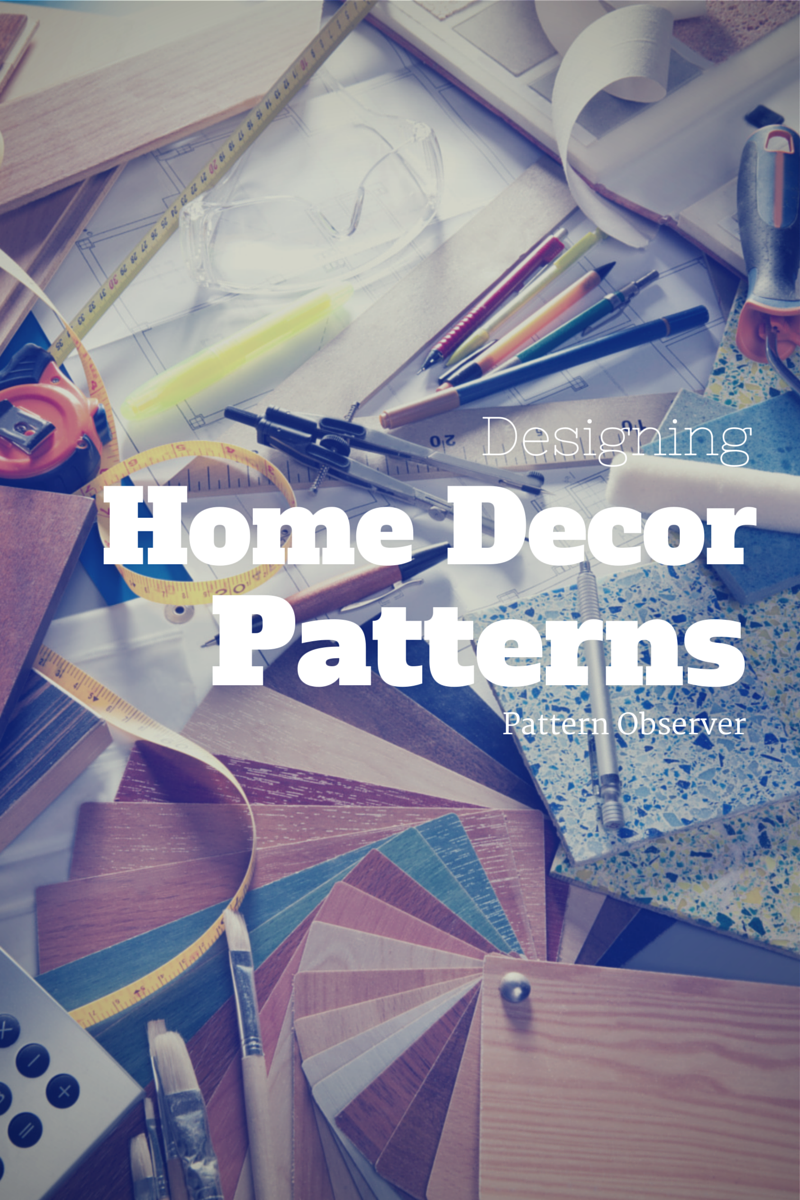 Designing home decor patterns is a nice, happy medium between the more extreme fashion and quilting industries. For example, trends are more important in the home decor industry than they are in the quilting industry, but slightly less important than they are in the fashion industry. Tight collections, with a strong main print and coordinates, are used more often in the home decor industry than in the fashion industry, but a little less than in the quilting industry. Do you see what I mean? The home decor industry seems to take cues from the other textile markets, and has found a nice balance that works well for their customer and product use.
Here are a few tips for those of you who might be just getting started designing home decor patterns.
Get Specific
The home decor industry is vast, including everything from kitchen towels to shower curtains. When designing home decor patterns, I recommend getting more specific with identifying how the pattern will be used. Is this pattern intended for the kitchen, bath, or bedroom? Getting specific with this vision will help you to create the perfect pattern for its intended place in the home. Judy D'Este of Keeco offers these recommendations:
1. Window coverings often have a lot of solid, textural, and surface manipulations, as well as print offerings. Look at a general retailer such as Bed Bath and Beyond to see the wide range. Window coverings for the living room tend to be more "formal", while windows in the kitchen could have novelty prints, and windows for the bedroom would coordinate with the bedding.
2. Youth bedding collections can also include coordinated window coverings, dec pillows, and even area rugs to complete the look in the bedroom. Look at Pottery Barn Kids or Land of Nod to see how designers can pull a room together using their textile and surface design skills.
3. Pillows can be made for on top of a bed, making them accents much the same way jewelry compliments and accents an outfit. Pillows can also be made in their own collections to help accessorize a home and complete a color feeling in a room. Knowledge of fabric applications and embroidery techniques—both hand and machine—is helpful if you have an interest in this category, as well as knowledge of other fabric manipulations such as flocking, pleating, quilting, etc.
4. Kitchen and bath products follow kitchen and bath trends, and are merchandised alongside their respective products. These textiles often have novelty prints and can be more playful, as well as more trend specific. Look at Sur La Table (for kitchen) and Macy's to see the current trends in those markets.
5. Whatever your area of interest in the home textile market, the most important thing to remember is to KNOW WHO IS BUYING your product. Is it a young couple just starting out with their first home? An older couple buying bedding for the guest room, who might want something a bit more traditional? A single adult looking for something that is more trendy? A parent buying for a young child's room? Also, keep in mind the general marketplace trends that influence people's buying decisions in fashion as well as home. Global/ethnic patterns as well as animal skin prints are trending right now and can be seen on bedding as well as on clothing, for example. Modern and updated traditional looks are also continuing a long term trend in the home fashion market. If you want to design for a mass market audience you need to do your homework so that your designs fit into what is already being merchandised on the shelves, or that looks like it might be the "next in line".
Research the market
You have probably heard this tip a hundred times, but I'll repeat it: Get out in the market and do your research. We are lucky enough that we get to work in an industry where shopping is actually beneficial to our work, so take advantage of this job "requirement!" Judy agrees:
"Designers should do some research regarding what is in the stores/online right now to see if what they are designing is a good fit. Designers should really look at and study colors to see what is most popular/best selling to get an idea of how to design for home (most websites have search features that include searching with these criteria). I would have loved this advice when I was first starting out. I learned over time – with lots of practice – how to design for different age groups and demographics, how to work in different styles and techniques and not just to do "artwork" that would ultimately sit in a drawer or as a digital file on my computer desktop."
Think Long Term
When designing home decor patterns, create something that can stay on the sales floor and in someone's home for several seasons. Most people do not completely redecorate their entire home every year, so think long-term. Again, do your market research, and make creating the perfect pattern for your ideal customer's home your number one priority. If you have difficulty finding your ideal customer when shopping the marketplace explore all the online options which are available to us today. Challenge yourself to create patterns that your customer wants to live with and cherish.
Save
Save