Bryna Shields is a Portland-based illustrator, surface designer and photographer. The images in this post are part of the pattern series Bryna created for a 100 Day Project. She writes, "I start off cutting out various shapes on watercolor paper, with no particular plan ahead of time. Then I color the shapes with gouache, watercolor and india ink. Then I scan the shapes into my computer and build the patterns from there. This new process has provided some pleasant unexpected results. For instance, some of the paper scraps and negative shapes left over from the cutting process end up in the patterns – shapes I wouldn't have discovered had I simply created the pattern straight on the computer."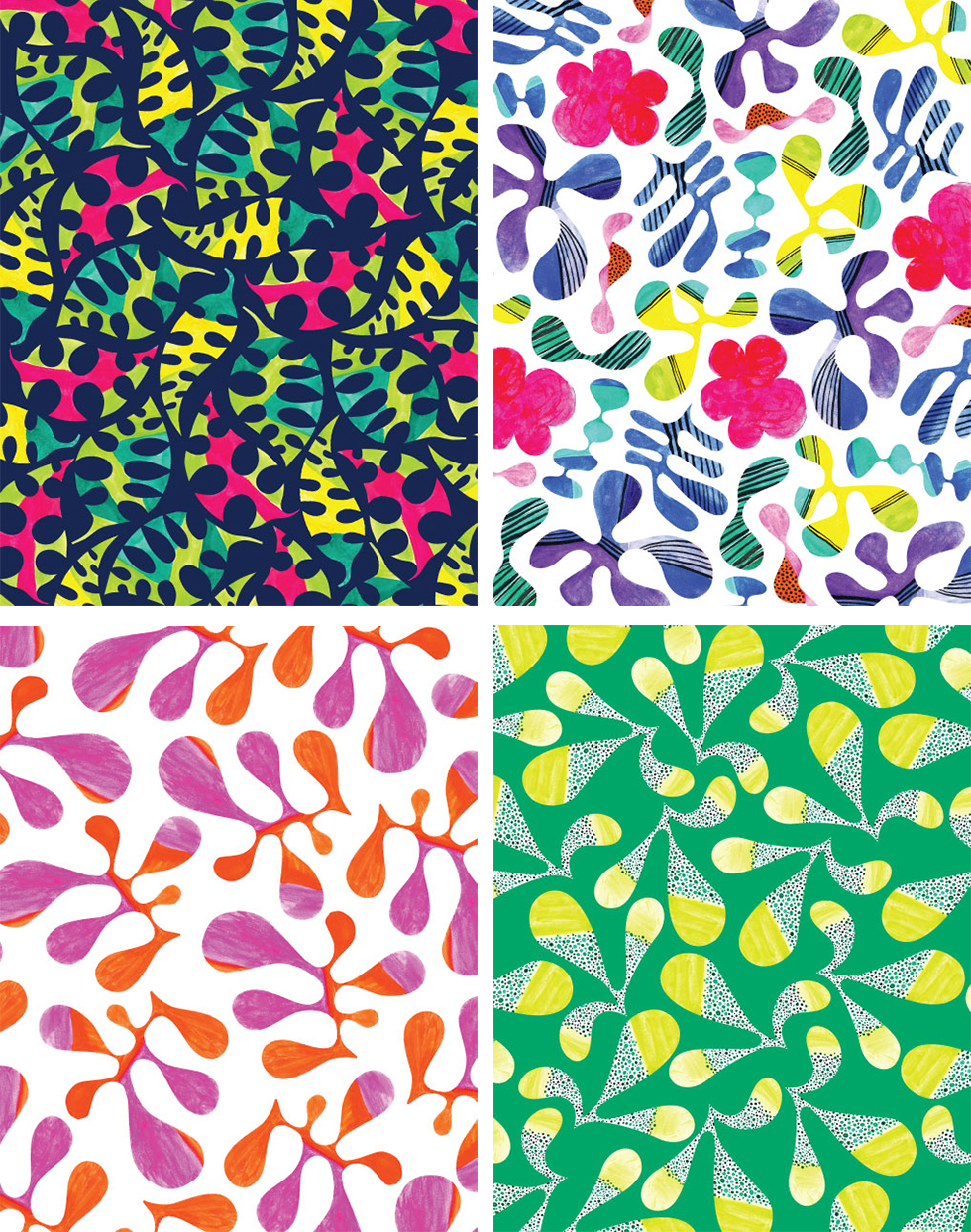 "I studied Graphic Design and Photography at Michigan State University, and spent a few years after graduation pursuing freelance work designing magazines and print collateral in a variety of industries. Even though it was my initial dream, I quickly realized I didn't love it. I'd always been fascinated with patterns – constantly bookmarking, collecting and pinning them in my visual research. It never really occurred to me that I could actually create patterns for work, but the more dissatisfied I became with print design, the more I began seeking a new creative challenge. One day, seemingly by serendipity, I found a free course on pattern design on Skillshare. As soon as I started making patterns, I was obsessed and couldn't stop making them. I decided that I would transition away from my magazine work and focus on illustration and pattern design. I expected it to take many months and possibly years before I got paying work for my illustration/pattern work, but about two months after I'd started my pattern rampage, I landed a gig with Crate and Barrel. I got to work on a variety of exciting projects from their holiday gift wrap to designing plates. It was here that I really learned about the world of surface design, and it's where I improved my skills in creating patterns using a variety of different methods.
I left my gig at Crate and Barrel inspired and empowered to continue down this path. While planning my recent move from Chicago to Portland, I fell out of my art practice. Once I got settled in to my new apartment, I was eager to get back into creating, and found out about the 100 Day Project through The Great Discontent on Instagram the day it started. The idea for papercut patterns was inspired by a number of illustrations I'd recently come across in my visual research that utilized paper cuts in their work. I was intrigued by the method, and wanted to try and translate it into pattern design in order to incorporate a more handmade process and feeling into my work.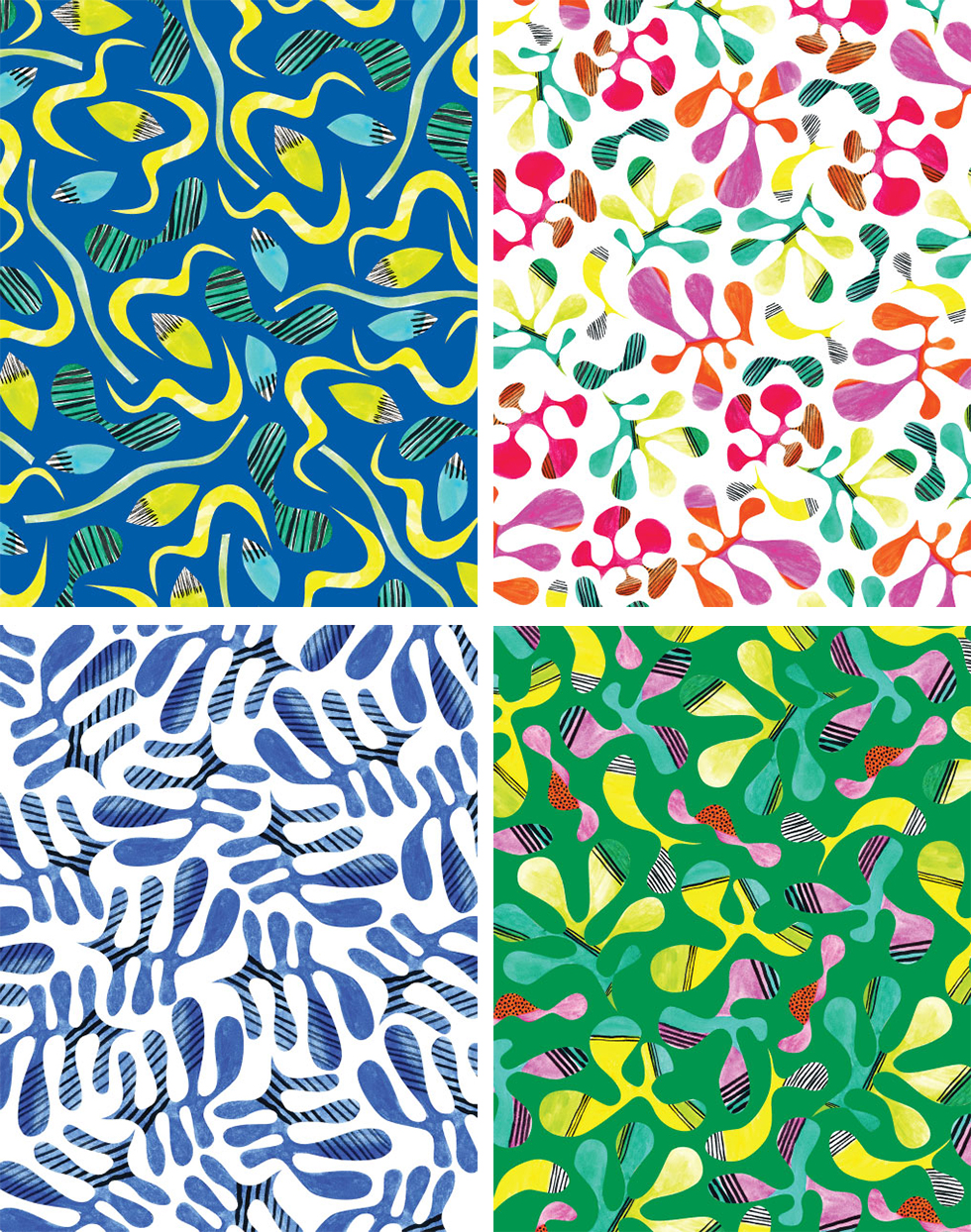 Although I maintain a disciplined art practice, working on a 100 day project taught me even more about the benefits of discipline. I've learned to let go of perfection; I think often when we share work with the public, we want it to be perfect. When you have to deliver a piece every single day, the bigger picture is easier to see. You become less precious with your work, not every piece needs to feel like a masterpiece. This has been especially liberating. The most exciting part of participating in this project has been connecting with other artists on Instagram, seeing the brilliant ideas other people have. This project has introduced me to a whole new audience, and even led to a few partnerships with companies and blogs! The response to these patterns has been so positive that I'm currently working on turning some of them into scarves and other physical products."
You can find Bryna online at:
Here's to a creative weekend! -Chelsea
Is your eye drawn to the colors and patterns you see on clothing or in home decor? Do patterns fill your doodles, drawings and artwork? You could make money in the textile design industry. Get our FREE video training today!