Esther Jongste is a long time member of Pattern Observer and the Textile Design Lab and we are honored to welcome her to the blog today. Her passion and enthusiasm are contagious and she is a true gem in our community. Read on to learn more about Esther's surface design business and what inspires her!
About Esther
"Esther Jongste is an energizing textile designer and illustrator working from her home studio based in the Netherlands. She currently designs for home decor, as well as for the activewear and childrenswear markets.
After working for over twelve years as a photographer and graphic designer at a Dutch toy and leisure retail company, Esther went on to develop her graphic design work to the profession of surface design.
The professionalism of the motivated Pattern Observer team provided her with encouragement to explore her vision and expand her knowledge and experience in this particular part of the industry. This resulted in the Pattern Observer Award of Excellence.
In 2014 she founded her own studio, EM | Surface Design and so she brought her professionalism as a surface designer to the next level.
In 2015 Esther started to cooperate with a Dutch agent for home decor. Working with her agent has given her the time and space to experiment with several mediums. She loves to combine painting, hand drawing, photography and collage within her digital artwork."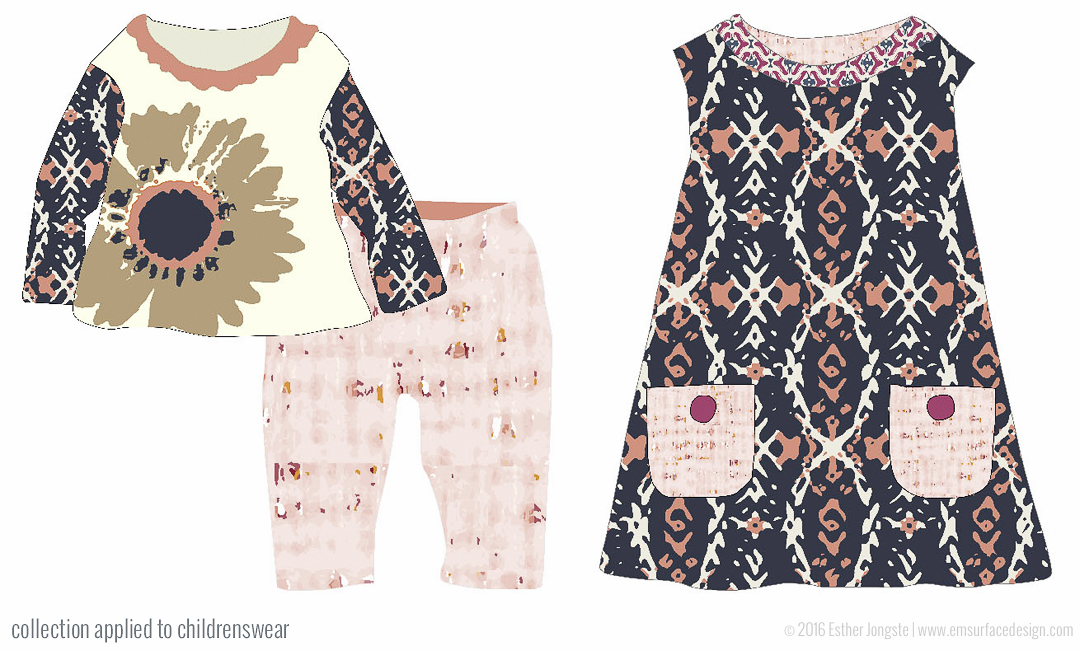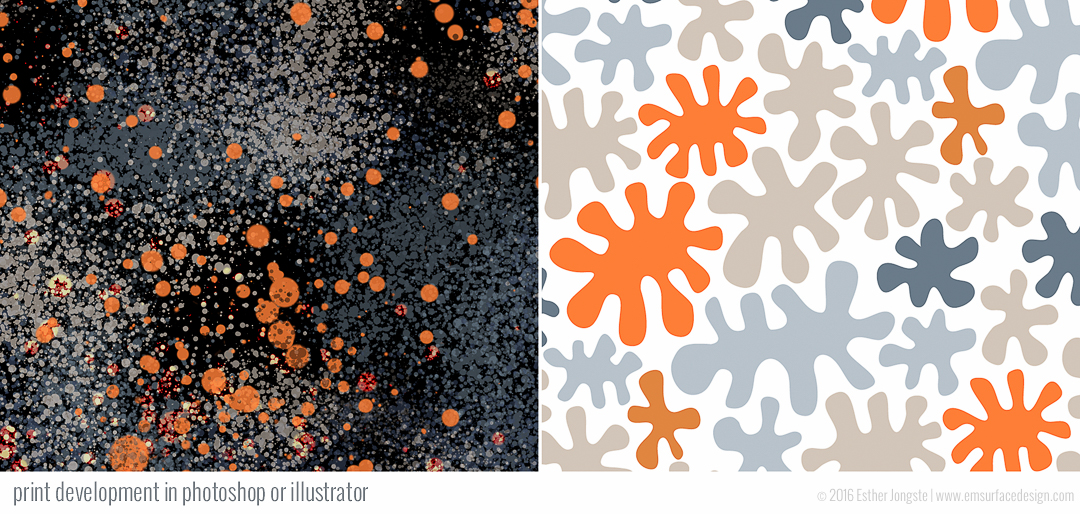 "Inspiration comes naturally when she is creating a mood board for a new project or experimenting with new techniques, materials or newly found ideas. Because she is naturally inspired by almost anything, she prefers to design with specific design directions. An indication could be a specific question from a client, a fixed season, customer or trend; to name a few. Daily life, Pinterest, movies, books and magazines are a terrific source for inspiration as well.
She is at her very best while cooperating with clients, studios or fellow designers. She likes to get other people involved in her design work. She has an attractive personal and professional style of interaction. Esther loves to brainstorm and she comes up with fresh ideas and solutions. She excels when she is allowed to imagine. She can bring fresh out-of-the-box perspective and seeks work that demands untraditional thinking.
In-depth research is her way to start new work. She likes to experiment with several options and ideas, exploring how to integrate ideas, style and trends. This results in artwork that is energetic, sophisticated, balanced, lighthearted and fresh.
She is currently working on her own line of products incorporating stylish bags, distinct cushion covers and whimsical illustrated postcards.
Esther's artwork and illustrations are available for purchasing and she is also available for freelance and custom design work."
Visit Esther at EM | Surface Design or check her out on LinkedIn, Pinterest, Instagram, or Facebook.
Esther recently shared a tutorial in the Textile Design Lab as part of our Summer of Creativity course. If you are familiar with the burn and dodge tool, it is a tool to darken or lighten up bits of your design. In this tutorial Esther shows you a way you can make your adjustments on a separate layer, so you can make changes afterwards, rather than being directly (and permanently) applied to the layer. Join us in the Lab to check it out, along with six other member-created tutorials, (and more on the way!)