In the world of textile designers, the definition of frustration is: trying to determine which patterns to show in your portfolio and where they should be shown. This is an overwhelming and frustrating experience for many that leaves you mentally tangled up and stumbling to decide what to do.
As a mentor, portfolio curation is a difficult topic to cover because there is no one size fits all solution. There is no one perfect portfolio template for all designers, and there is no one perfect portfolio curation formula for all designers. This plight is where the frustration begins. You see, depending on your style as a designer, you might need a different variety of patterns within your portfolio from someone else. This type of individuality is both the joy and frustration of creativity!
As designers, we want our passion, experiences, and talent to shine through in our portfolio. This is how we attract clients, agents, or just anyone…But how can we package a lifetime of experiences into a few website pages?
Sonya Percival came to the Art of Portfolio Curation with an amazing body of work. She was born in St. Petersburg to a family of artists and has worked in a variety of media over the years, such as analogue photography, 35mm and medium format, digital collages, sketching, printing, jewelry, and pottery. All before coming to textile design.
Through her textile design work, Sonya uses watercolor, ink, pencils, gouache, wax, and charcoal to explore her major sources of inspiration. These inspirational sources include: flowers, plants, and the Great Lakes.
Her work is breathtaking and emotive; her passion for nature comes through in every piece she creates. Not everyone knew this right away, though!
Before taking the Art of Portfolio Curation, Sonya Percival found herself struggling with what so many designers do—including myself—which was how to attract the agents that would definitely love her work.
According to Sonya, "I couldn't decide what principle to choose for organizing my works, it seemed quite an overwhelming task." Skilled and talented individuals like Sonya were the inspiration behind the Textile Design Lab creating the Art of Portfolio Curation course.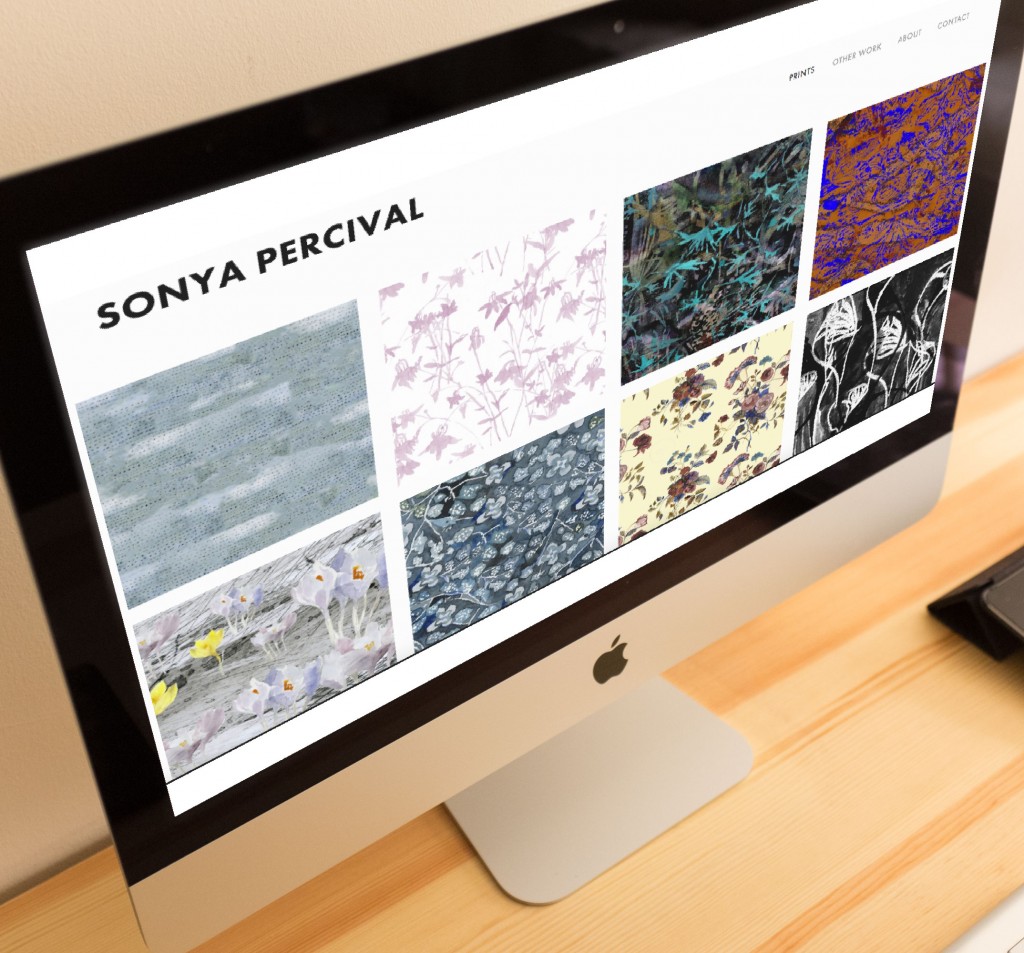 After working through this 5-week course, Sonya now has a clear and well-structured print portfolio. "The online class taught me how to curate and organize, and currently my selection of works is presented much better. I believe the audience responded to this, as I received two offers from agencies to work on a consignment basis.
"The class gives you very clear step-by-step instructions and ideas on how to better structure the content and how to curate, so it becomes so much clearer, less stressful, and, eventually, quite manageable."
With a lifelong passion for the arts and a well curated portfolio by her side, Sonya hopes to continue to grow her business by working with a studio or agent on a full-time basis. She'd love to license her art to make it her main source of income. Making money doing what you love—this is something that creative people are always excited about! A well-structured portfolio that represents the best of your creative work is a powerful way to draw agents in that would love to do business with you.
Find out more about Sonya at her website: http://www.sonyapercival.com/
Ready to discover a step-by-step to help you curate your portfolio with ease? Grab your spot in the Art of Portfolio Curation.
Save
Save
Save
Save
Save
Save