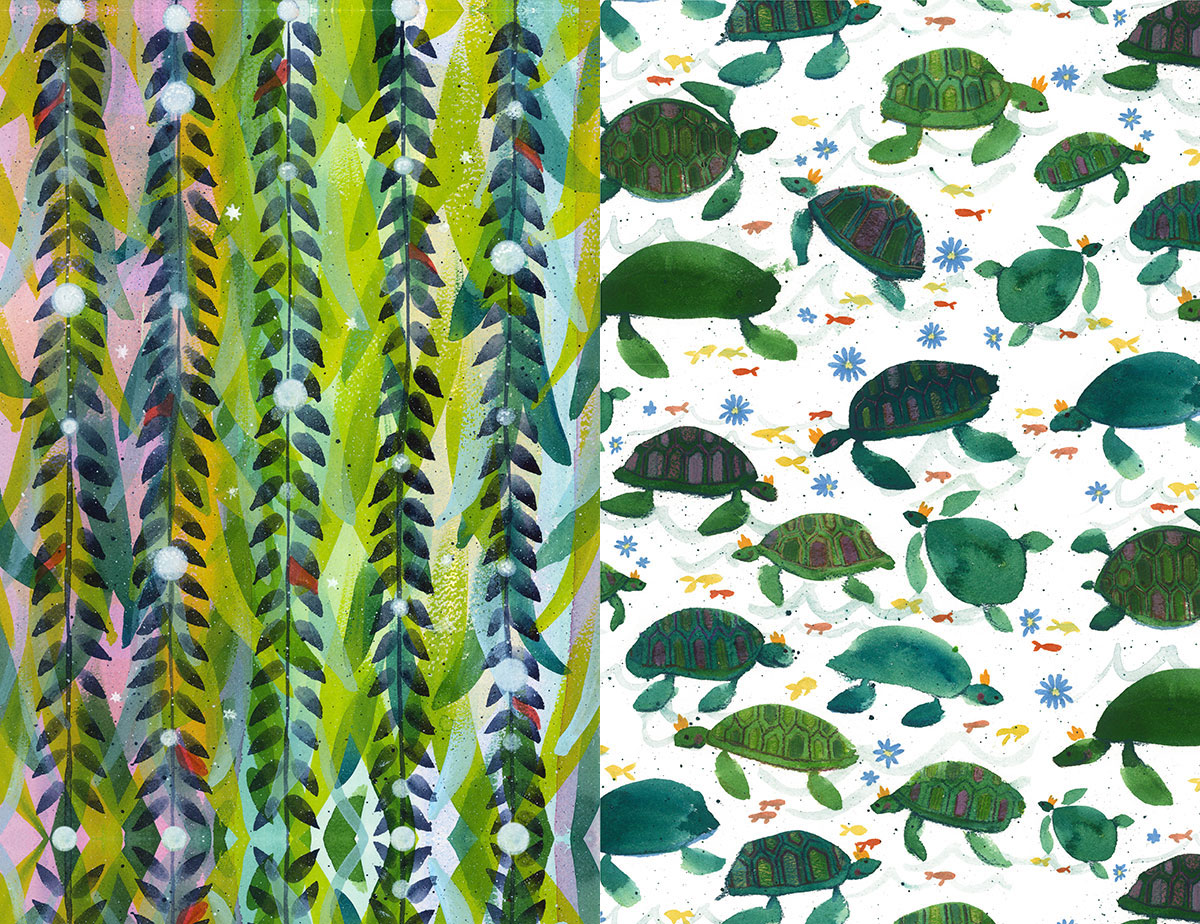 There is a special quality to Margie Tillman Ayres work that I noticed right away when I was preparing this post. I love her handcrafted style, as well as her watercolors and all the little details she includes in her illustrations. Margie is the owner of Margie and the Moon, a children's art and pattern design studio in New Orleans, LA. And has a B.A. from Tulane, as well as  B.F.A. from Savannah College of Art and Design. She is also a former painter and sculptor for the New Orleans Jazz and Heritage Festival, where she shared that her favorite project during that time was painting the backdrops for the Kids Tent—all which hang there each year to this day. She's also worked as a scenic artist/sign writer on movie sets for the many films that have been shot around the New Orleans area.
Margie describes her life affectionately: "I love being the mommy to two very sweet little boys and married to one very sweet man. We share a shotgun house with our hound dog B.B." The area that Margie grew up in has played a significant role in her inspiration. She shares: "I grew up on the Mississippi River swinging from vines on camping trips with my dad, and fishing for catfish and trout with my brother. I spent hours staring in awe at the swirling water of the Mississippi River, the webbed branches of oak trees, and the Kodachrome colors of the wildflowers in the hills surrounding Natchez, MS.
"I later moved a little farther down the river to my adopted city of New Orleans, LA, where my artwork is inspired by its vivid colors and extraordinary culture. I'm still mesmerized by the rhythm of the patterns I find in the flora and fauna of Louisiana. My work is heavily informed by the wild and boundless imagination of my two boys, the psychology of color, and the endurance of the human spirit."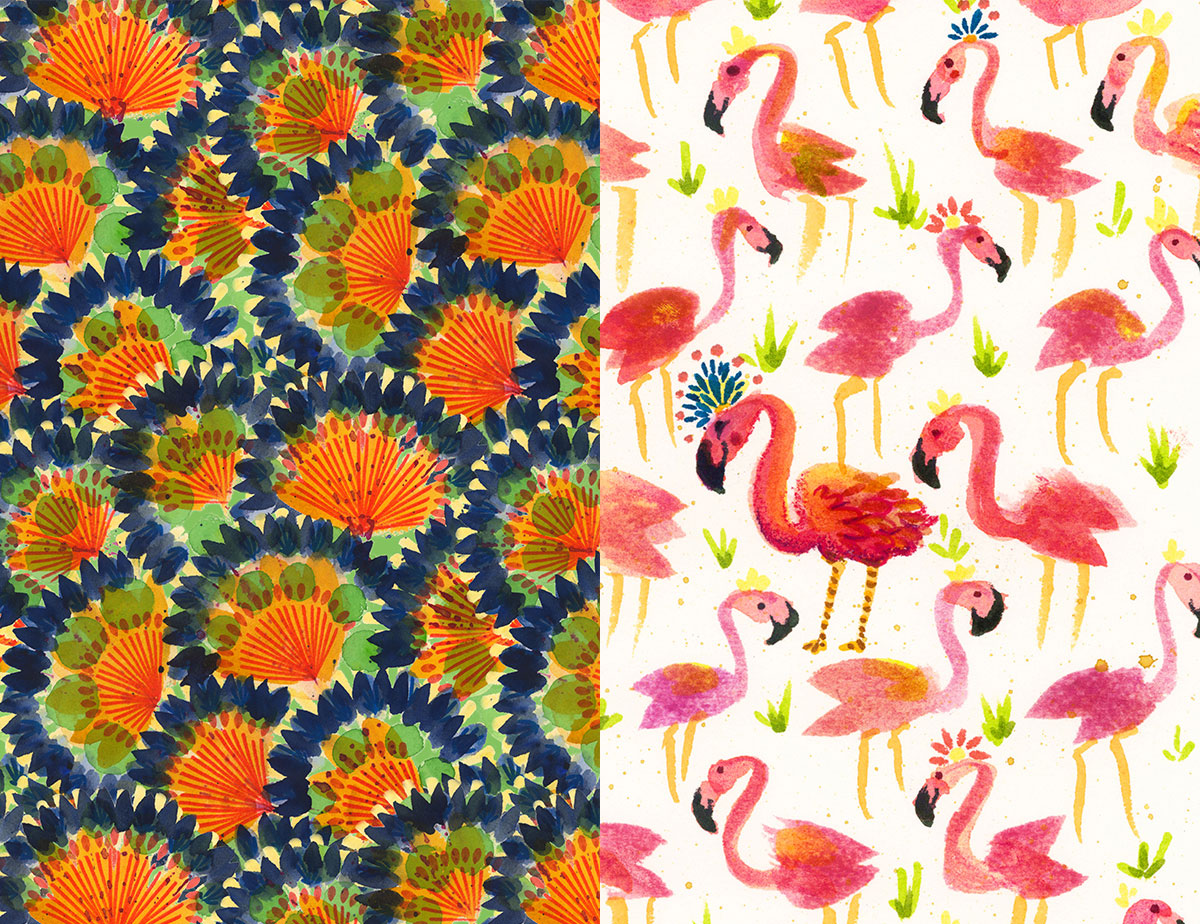 Margie also works as a Coordinator and Manager of the Kids Tent for the New Orleans Jazz and Heritage Foundation festivals. What she loves about this is: "I get to dream up crafts like alligator castanets and red beans and rice paper collages. Each festival that I work, without fail, crack open my heart and mind because of the art and creativity of the kids that visit the tent."
When it comes to SURTEX, Margie is excited because: "The images I have included are heavily inspired by my second son's growing vocabulary and sheer delight when he sees these animals, in particular. They represent snippets of our life in New Orleans: the wild tropical vegetation, our trips to visit the animals and fish at the Audubon Zoo and Aquarium, as well as the willow tree that shades our front yard where we draw pictures in sidewalk chalk. The bear and the frog are whom my older son imagines live under the giant elephant ears in our neighbor's back yard." At this year's show, Margie will be bringing mostly animal patterns for children, as well as her new line of "atmospheric" patterns where she played with the experience of color and its relationship to a place.
Here's one last thing about Margie that's sure to spark inspiration for her future work: "I am a traveler at heart! I am a native English speaker, but I speak Spanish. I study Italian when I can't sleep. I dream of swimming with whale sharks with my boys in Belize, staying in a cloud forest in Costa Rica, or visiting the puffins in Iceland!"
Marge would love to meet you at SURTEX, which is being held May 20-22 in New York! You can see her amazing work at Booth 2556.