This month we are delighted to welcome Ana Davis to the Textile Design Lab as our guest expert.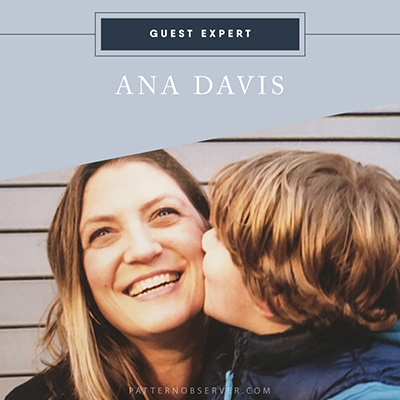 A fine artist by education, Ana got her feet wet in the professional world at a children's book publisher, where whimsy and playfulness filled her days (and her heart) for many years. The result is a traditionally trained painter with a well-honed eye for fun. Ana's patterns are inspired by architectural details and vintage elements. Humor peppers her work, as do flowers, bunnies, and rainbows.
In addition to her fabrics, gifts, and home decor products, Ana develops bespoke products for high-end retailers. Branded lines of tabletop and glassware are headed to stores near you this spring and summer.
We are so excited to bring Ana's wealth of experience to the Textile Design Lab guest expert role. On Friday, March 29th, Ana will be speaking about working as a Creative Director in the publishing field, and how that informs her approach to making art as a licensor, from building a portfolio to making a style guide and directing product to fit the brand. We invite you to learn more about Ana in today's interview!
Tell us a bit about your design background and career path. How did you become interested in surface pattern design and licensing your work?
I worked in the publishing industry for 16 years. At first, I worked with licensed children's books with brands like Sesame Street and Disney. Later, I worked on licensed gifts and stationery. During this time, I learned about our side of the industry and how small artists could build a career in licensing.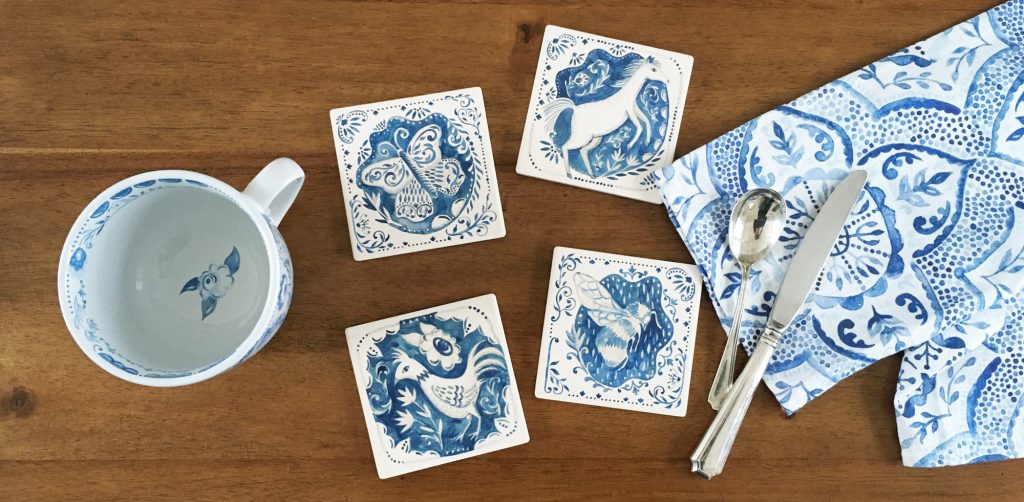 Tell us about some of the different products/markets for which you currently license your patterns. What are your favorite products/markets to design for and what makes them so enjoyable for you?
Some of my current licenses include gift manufacturers, glassware, and tabletop. It is all very exciting to me because I love thinking about how to use different materials with my work. How can I apply my pattern to ceramics? Glass? What about wood or metals? It is really fun to think about how texture plays with pattern and color. I can really nerd out on it. 🙂
How did you arrive at your unique design style that defines your brand? Was this something you had to intentionally cultivate or did it come naturally?
I think I've always had an inclination toward patterns. I was an art major in college and often used patterns as a tool to experiment with process. My intention was to take the content out of my work, and just work on the HOW of making something. So, I picked a pattern and photographed it, printed it, painted it, carved it out of wax, and ultimately cast it in bronze. I loved that work so much, and I think it was the first time I really played with patterns and realized how much fun they are. I haven't stopped since.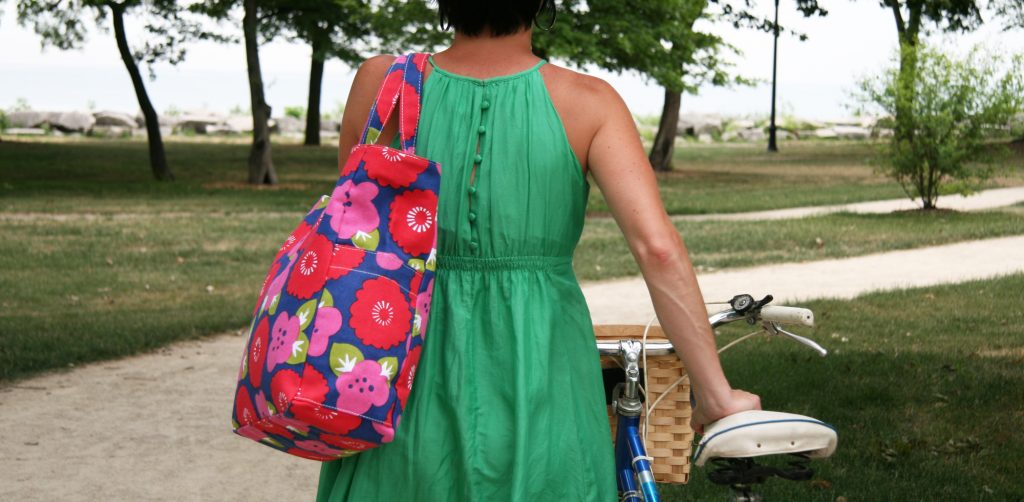 Do you have any advice for designers who struggle to put forth a consistent brand image or feel lost about their artistic style?
I find this exceptionally difficult. I often feel torn between wanting to follow trends and be accommodating with my licensing partners, and then thinking I must to follow my instincts. So, I constantly think about these questions: Where is your voice? Is this me? By doing this, I keep myself in line. But I also love following trends. It is fun to get lost playing with them because they are inspiring. The trick is to find your voice in the trend and not let the trend drown your perspective.
Who are your design heroes? What about them inspires you or influences your work?
There is no lack of talent out there, so I could list about a trillion people, but I will stick with one for now: I love Molly Hatch. Her product lines seem to have organically grown from her fine art/ceramicist self. I admire that she has been able to develop her licensed lines while maintaining her gallery and museum work, and it is all so holistic. Plus, her hand has a wonderful balance of natural touch and trained eye.
What would you consider to be your most proud achievement or greatest success so far in your business?
Just even trying it seems like a great leap of faith. The fact that I've made any progress at all, in retrospect, seems miraculous! That said, I really do love my current product lines. The glassware is just as pretty as I imagined it. And there are new gift and home decor pieces that are funny and pretty. What a treat to be able to say that!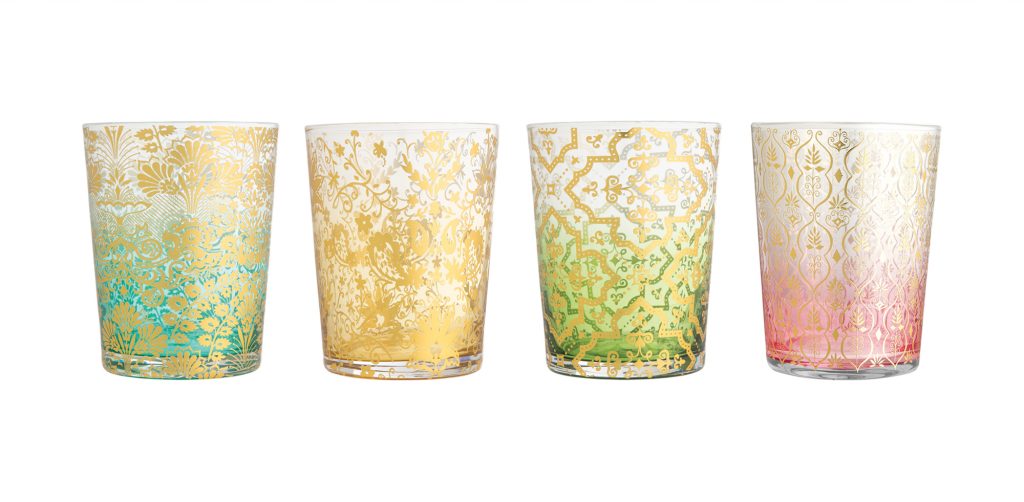 What have been the biggest challenges you have faced in your career and how have you overcome them?
Keeping faith when things are slow is pretty darn hard. I have also been in a contract with a company whose ethics I doubted. It is hard to be obligated to work when you doubt the forthrightness of those you are working with. 
What's next for Ana Davis Design? What direction do you see your brand taking in the coming years?
I hope to keep growing the home decor end of my business, and I want to do more with my online store in terms of promoting and growing what I sell. I am really loving it and I have so many ideas! 
What advice have you received in your career that has stayed with you or influenced you? Do you have any words of advice for aspiring designers trying to build successful careers of their own?
At the very beginning I was told "It takes 5-10 years to build a licensing business." I remind myself of this constantly. This business is a marathon, not a sprint. There are ups and downs. It does not come easily, and there is no guarantee that it will all work out perfectly in the end. That's a pretty tough story, but it is a true one for most artists.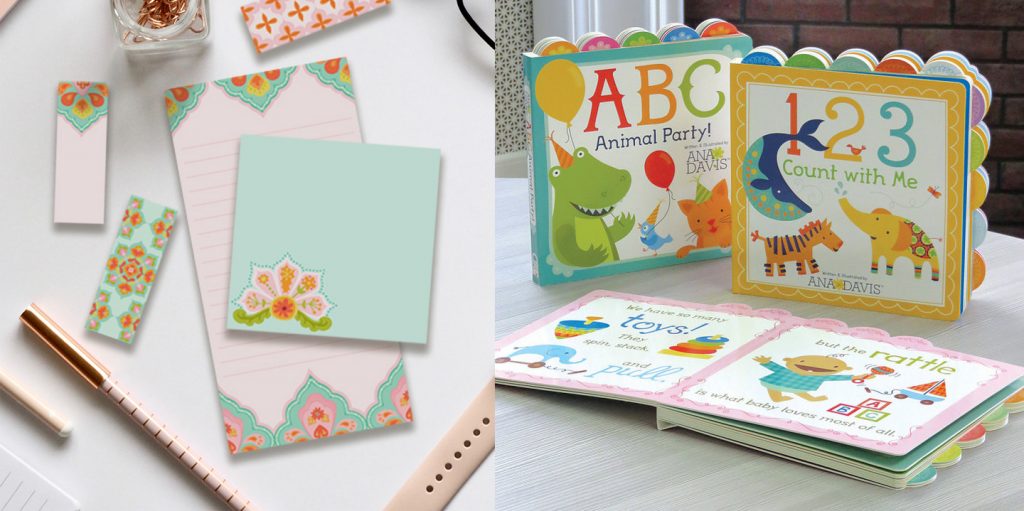 Can you give us a quick preview into the presentation you will be sharing with the Textile Design Lab community? What can people expect to learn?
I am looking forward to sharing my experiences as a Creative Director in the publishing industry where I worked on children's books and then stationery and gifts, and how that led me into my own art licensing business. Having access to the work of so many brands and artists gave me exposure to all kinds of portfolios. I knew what structures worked best for our design team, how to make my work easy for other designers to pick up and run with, and how to give design teams at different companies a style guide that would allow them to brand my products consistently. I will share my thoughts on all of this.
You can learn more about Ana on her website. TDL members, please join us on Friday at 1pm EDT!