Chelsea's Challenge is our monthly design challenge in the Textile Design Lab, in which we provide inspiration and trend direction for anyone who is feeling stuck about what to design, or just wants to work through the pattern development process within a supportive group. Throughout the month Lab members receive feedback from their peers and our team of experts, workshopping their designs until they arrive at a completed collection of 3-5 patterns by the end of the month. These professional, cohesive collections are then ready to be shown in their surface pattern design portfolios, and presented to clients for sale or license.
During the month of April our Chelsea's Challenge focused on kitchen towels and linens, which was such a fun opportunity for our members to explore a variety of motifs, colors, and techniques, and allowed lots of room for their own personality and artistic style. Today we are delighted to share a small sampling of these beautiful collections with you!
Marci B. Designs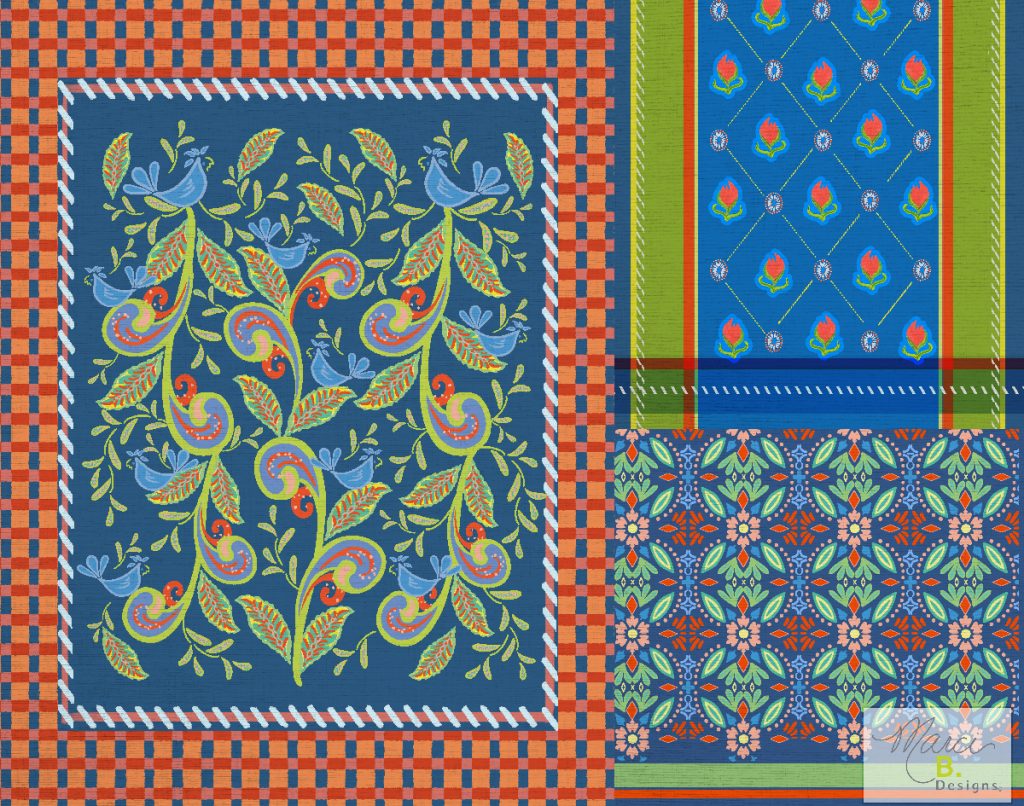 "I zeroed in on wanting to design a collection intended for the "family" market. This is the
common theme that stood out to me as I was sketching thumbnails. It is the reason that I love
food. Food IS family, food fills the soul, food is joyful, food is a festival of colors, and nowadays,
food is a fusion of cultures. I wanted to keep the motifs simple to allow bright colors and simple
hand drawn motifs to reflect this. I used brushes in procreate and had to work doubly hard to
make it look hand done! The icons were then manipulated into pattern within PS and quite a few
filters to manipulate the plaids on the towels."
See more from Marci at www.marcibdesigns.com and on Instagram @marci.b.designs
Emma Bresola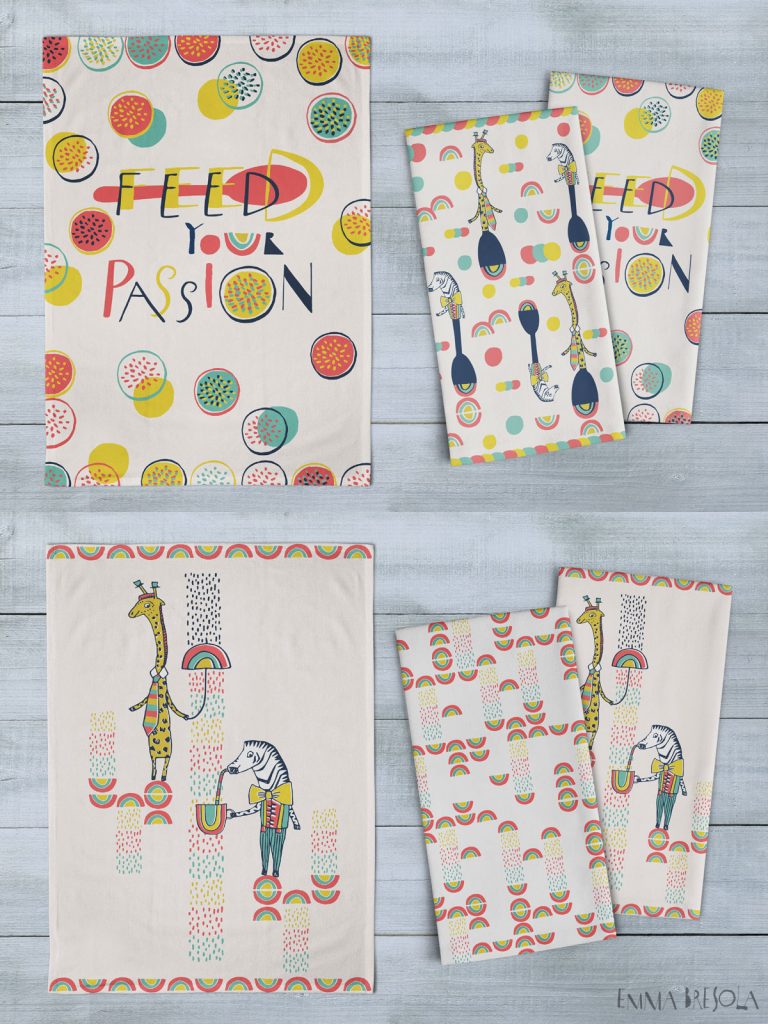 "My tea towel collection is a jump into imagination through a rainbow with a limited color palette.
I love creating fun characters that play with simple shapes, as children do. 
The illustrate lettering Feed Your Passion was inspired by a reflection about passion. I associated the word passion with passion fruit. 
I played with circles and small marks using markers and ink brush for designing passion fruits and animals. Finally, I colored them digitally.
I designed this collection for the family kitchen market, engaging customers with a sense of humor."
Visit Emma at www.emmabresola.com or on Instagram @emma.bresola
Dora Font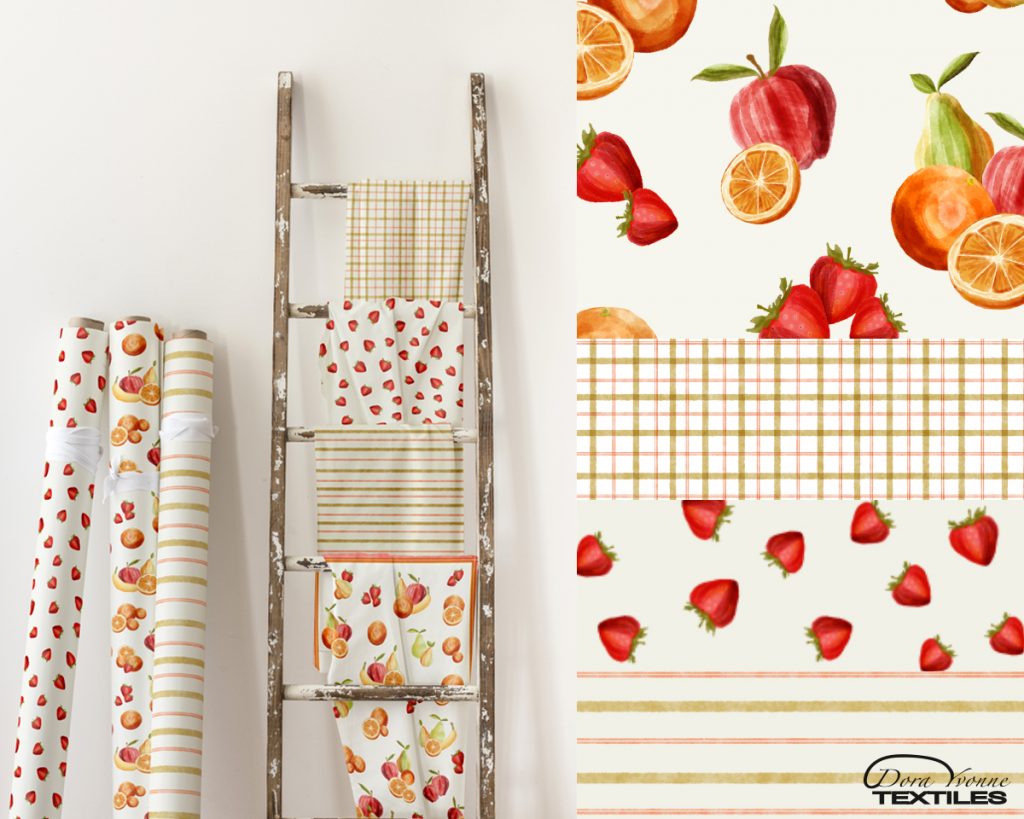 "I'm often inspired by different techniques or tools, and in this case it was the digital watercolor brushes in Photoshop! I tried several techniques and styles and settled on this watercolor version. Then I grouped the fruit to create the main pattern and added a border for the towel. I continued with the watercolor technique for the stripes and plaid. These designs were created for kitchen towels."
Find Dora around the web at https://jeweldancer6.wixsite.com/dorayvonnetextiles or visit her on Pinterest or Instagram @dorayvonnetextiles
Marti Betz Design/Illustration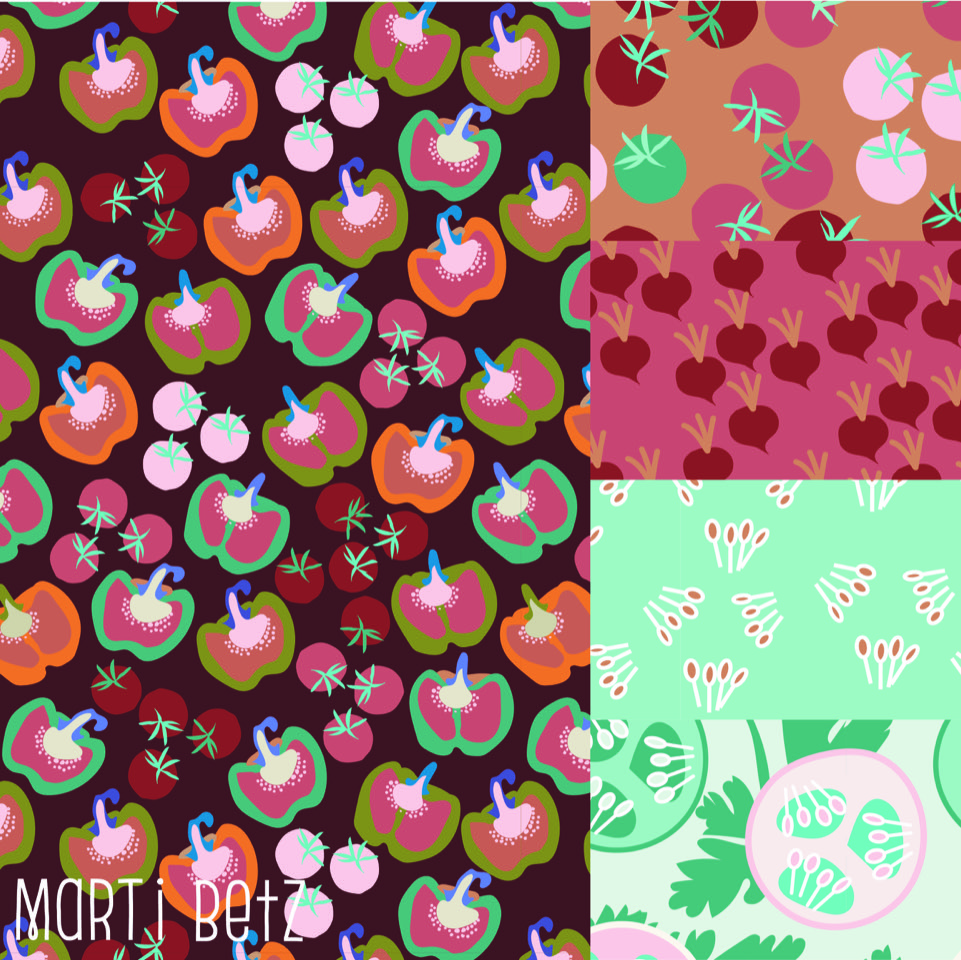 "My Tossed Salad Tea Towel Collection was inspired by vegetable shapes and the cross cut patterns found when various vegetables are sliced apart when making a salad. Green, pinks are earth tones work to stitch the different designs together. My style is simple in design and created in Adobe Illustrator vector drawing. The tea towels were designed with the kitchen decor market in mind, appealing to a customer looking for a modern graphic presentation."
See more of Marti's work at https://martibetz.myportfolio.com/ and https://www.spoonflower.com/profiles/martibetzdesign
Feeling inspired? It's not too late to take part in our May challenge in the Lab–join us here!