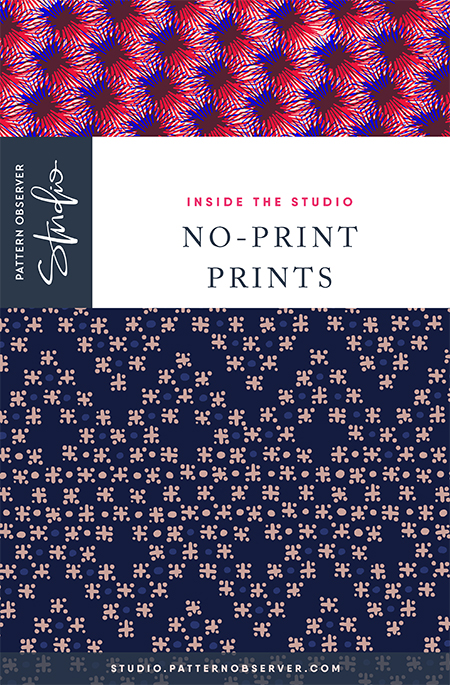 "No-print" prints are a hard to define and often overlooked pattern category, but they are one of our favorites! These are the rule breakers of the pattern world, prints that don't quite fit into another established category like geo, texture or conversational. Perhaps they have some geometric elements but don't quite fit the mold of a classic geo, or maybe they appear as a texture when viewed from a distance but when examined up close have more defined elements. They often (but not always) are composed of smaller scale motifs in all-over layouts. They might be painterly or more graphic, a simple two color print or a more nuanced, colorful composition. No-print prints make excellent coordinates to more complex patterns, yet they can also stand alone as sophisticated main prints at the center of a collection. This style is a great fit for a wide range of applications–it's easy to picture the above prints on a gauzy blouse, or bed sheets, on men's swim trunks, or printed on yardage for quilting fabrics. It's a truly versatile pattern style!
We will be exhibiting a range of new no-print prints, along with trends like tie dye, modern toile, moody roses, Y2K, and lots more at Premiere Vision in less than two weeks! The show takes place at Pier 94 in NYC on July 16th and 17th, and Melissa and Chelsea will be in booth K14 with the latest and greatest in the Pattern Observer Studio collection. Swing by the booth to say hi and to grab a complimentary wildflower seed pack!
Not attending the show? You can always reach out to us at info@patternobserver.comto inquire about a custom pattern presentation. We will be happy to curate a selection of designs that suits your needs.