Our Textile Design Lab community recently had a Speedy Design Challenge based on hearts and I am thrilled to share some of the designs in today's post. Members were asked to create heart designs for the Streetwear industry for A/W 22/23 (Autumn/Winter 2022/2023) season and had just a few hours to complete the designs that you see here. The image that you see above was created by Rita Patel. You can read about her process below.
Heart Designs
Designer: Stephanie Chauvel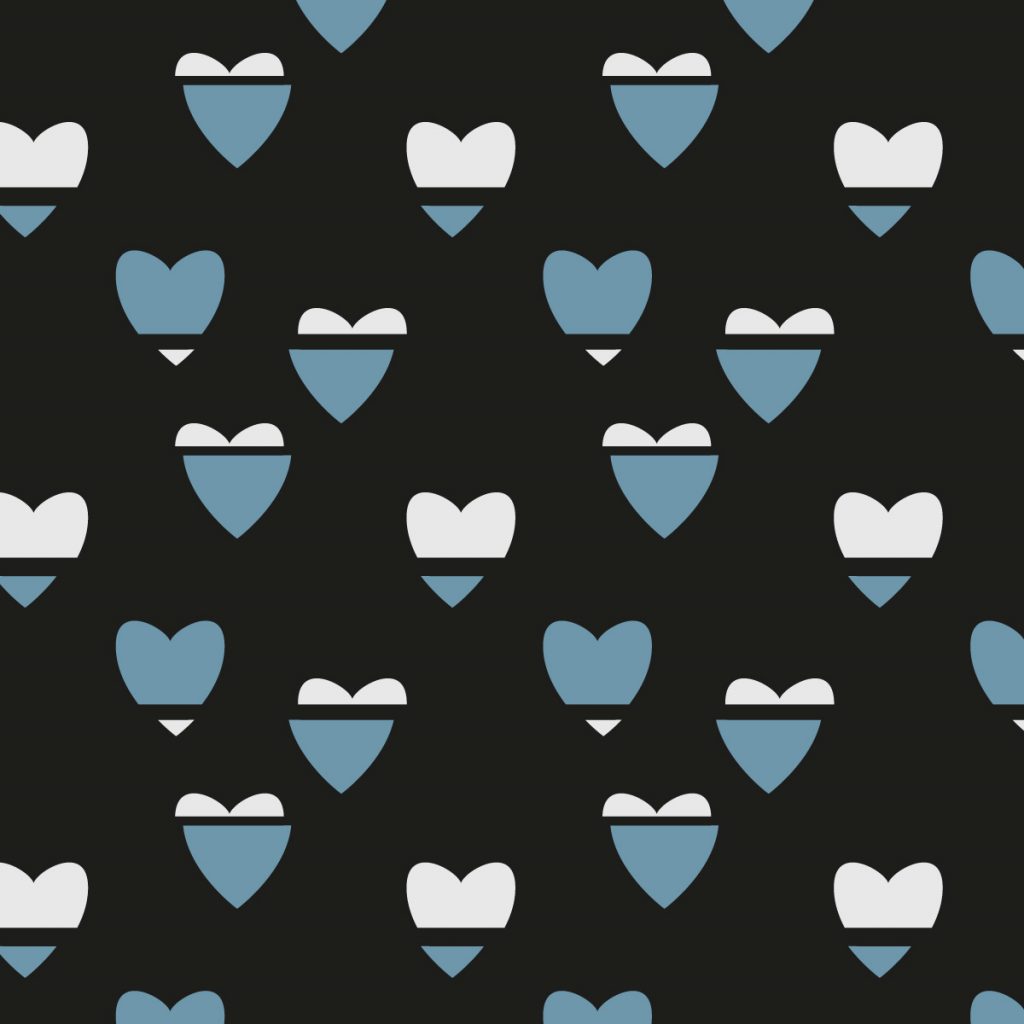 Heart Design Inspiration: In these disturbed times with an ever stronger human need for connections I opted for hearts that – despite being cut in two pieces- are yet close to get reconnected and reunited. The slight shift in different directions also gives an edgy look for modern streetwear style! I used Adobe Illustrator.
About Stephanie: Rendered in a modern, simple, and yet sophisticated style, my designs are often playful and surprising, evoking a lively and cheerful feeling. Driven to create for the apparel and home markets, my designs combine natural and abstract shapes to create a modern aesthetic that fits right in with today's trends. Geos are a favorite. I love playing with colors, layouts and scale for strong impact, effects, and emotions! Connect with Stephanie here.
Designer: Rita Patel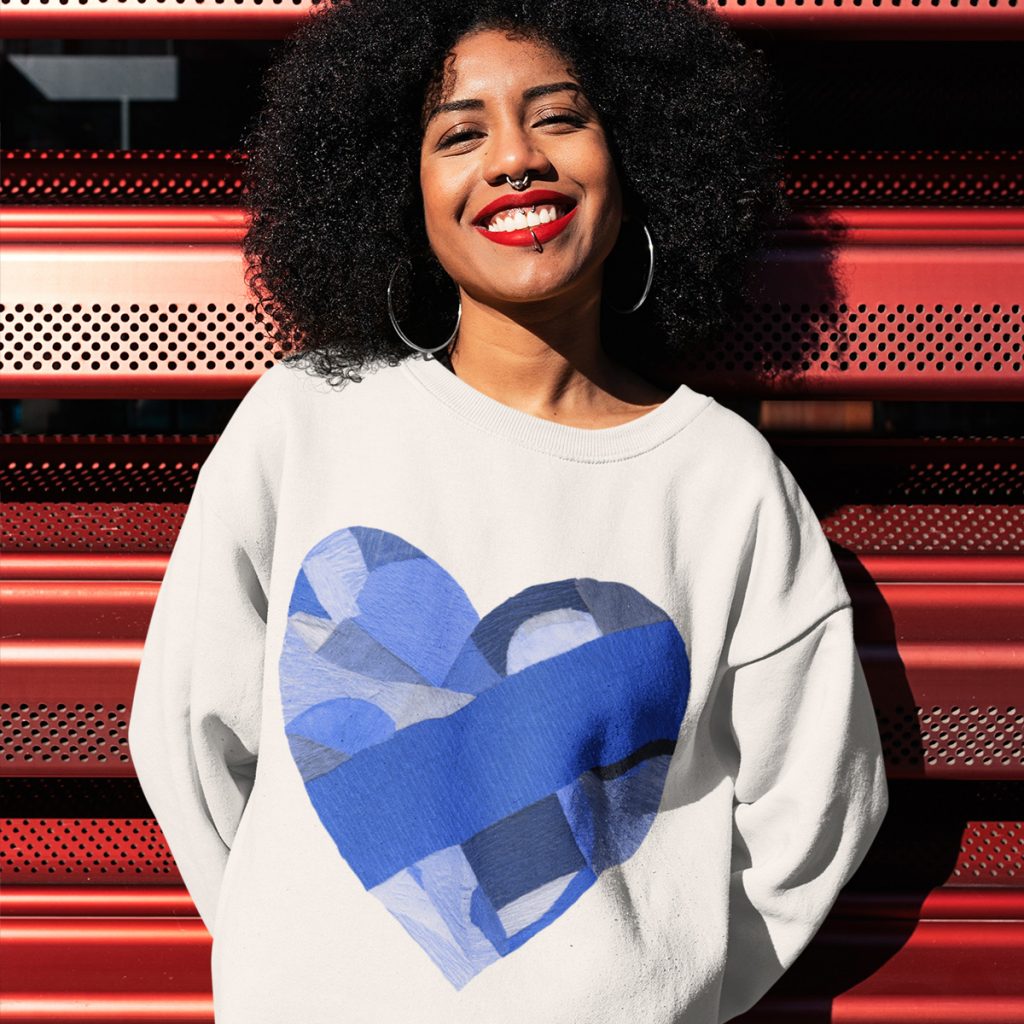 Heart Design Inspiration: I was thinking about how our hearts are whole but are made up of parts (our different experiences). Some are larger, some smaller, and some a little rough and jagged. I love to collage and I felt my stash of leftover crepe paper from my flower making projects would be an ideal way to express this concept. The varying textures and and weights give an uneven but aesthetically pleasing effect. Also, a little like coloring pages I find collaging soothing in stressful times. So personally it is a way to soothe my heart and soul.
About Rita: Beauty is the foundation of my work. Being in conversation with beauty in my process is how I live an artful life. Through my work I aspire for people to experience beauty and come into relationship with it in their own way. I aim to create work that is attractive and opens them to imagine something new. I work in a variety of media to give shape to that idea. Through my fine art and surface pattern designs I aim to bring beauty into our spaces and places. Connect with Rita here.
Designer: Milo Tsukroff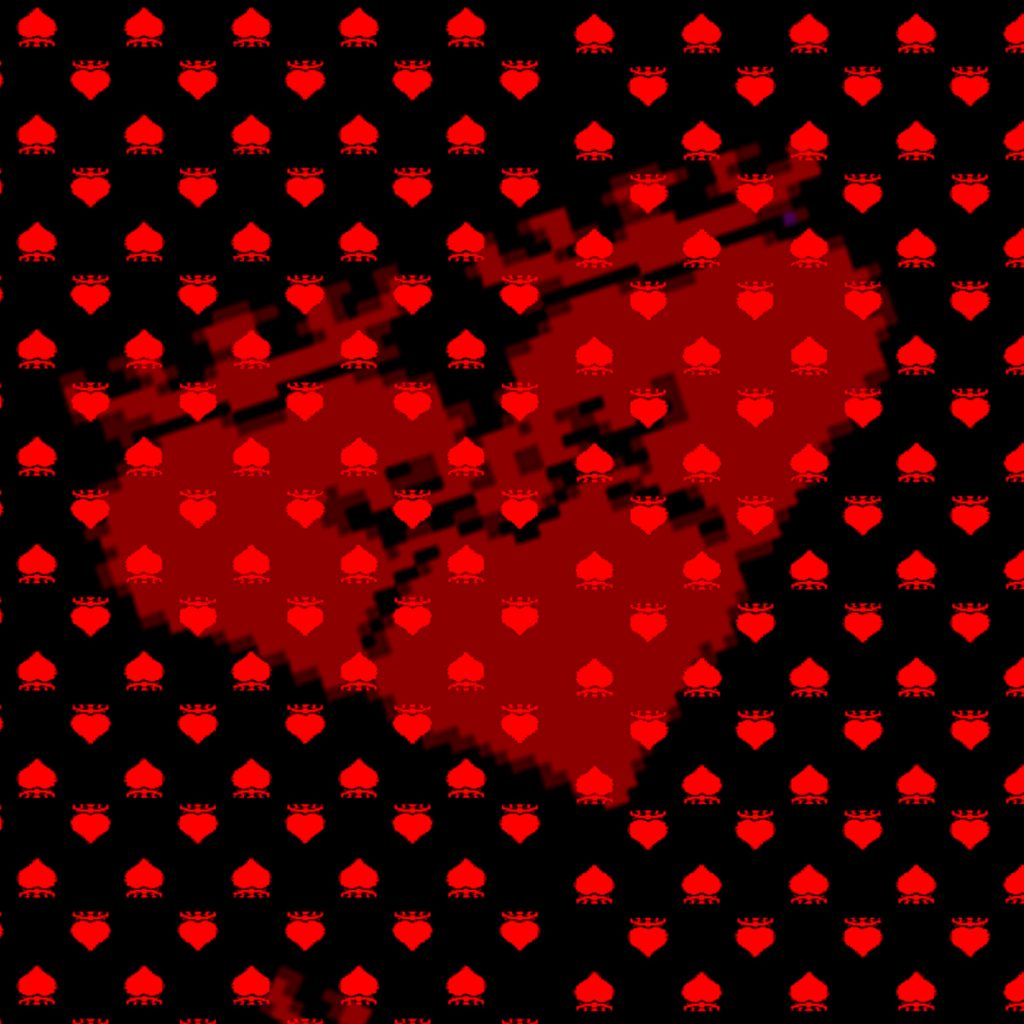 Heart Design Inspiration: Hearts – First I drew a heart as a starting graphic, 32 pixels square. I added a crown at the top. I ran the "crowned" heart graphic through iterations of several programs, varying the input parameters, looking for fascinating and pleasing designs. Finally, taking 'the best of the best,' I put them together in PhotoShop. I look for hearts that are full, clearly visible, where the crown seems to create a halo directly above it. A fascinating thing happened at the bottom of one pattern — three crowned hearts merged into one larger heart! I separated it out and used it as a separate motif.
About Milo: A professional Father, now suffering from empty nest syndrome after sending 7 kids out into the world. Always wanted to become a teacher, but playing with computers has always paid better. Involved with raising boys in scouting organizations. A small computer program written decades ago creates fascinating repetitive designs and unexpected symmetries, which I am working to bring to the public with the help of the Textile Design Lab. Connect with Milo here.
Designer: Karolina Sato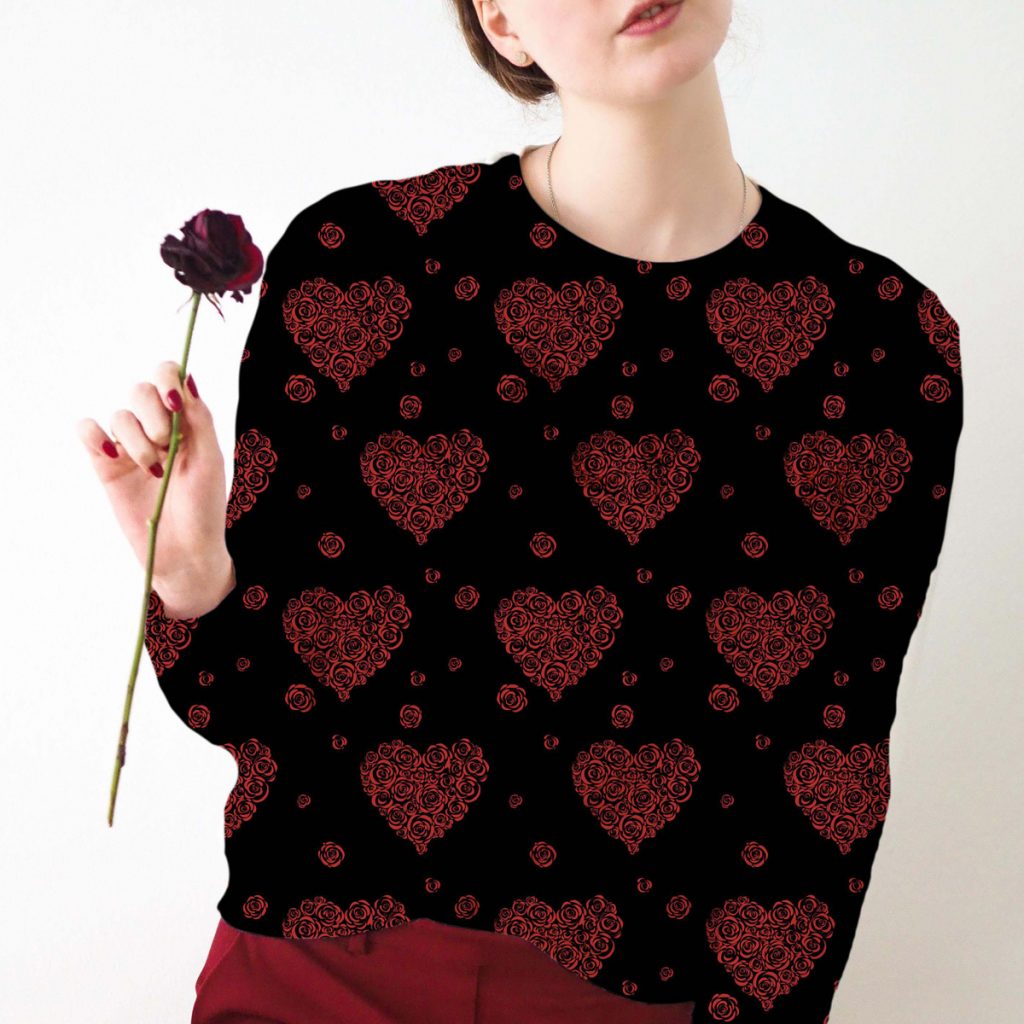 Heart Design Inspiration: "Heart in bloom" in a collection inspired by a flower arrangement in roses I made; When we love, we are in bloom. The collection includes patterns, graphic placement motifs, bandana design, and mockups.
About Karolina: Karolina Sato ( Karolinko ), b. Poland is an artist and designer in Tokyo, works in traditional Japanese painting, watercolor, ink, and digital media. Her works are whimsical and joyful. Her inspiration usually comes from cultural anthropology, the relationship between humans-nature, ethnic art, animals, plants, and carnival culture. She experiments with pigments, rich textures, and dynamic color. Her love for patterns started with her exploration of oriental decorative arts. Before she worked for 15 years as a designer, art director in Tokyo. Connect with Karolina here.
Designer: Bia Andrade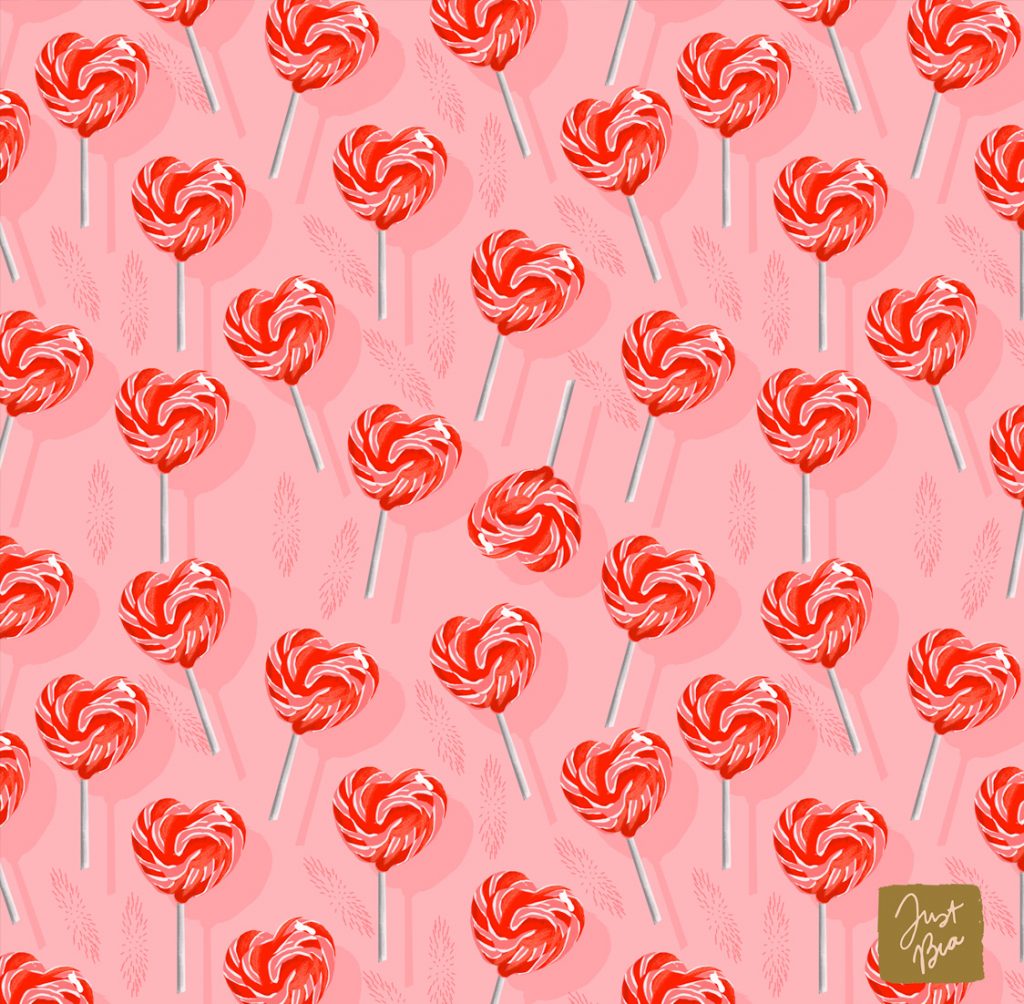 Heart Design Inspiration: Digital painting of heart motifs
About Bia: Bia Andrade is a brazilian surface pattern designer and illustrator living in Italy. Her style is hand-drawn, organic and colorful and she specializes in illustrated patterns. Connect with Bia here.
Designer: Veronica Jamison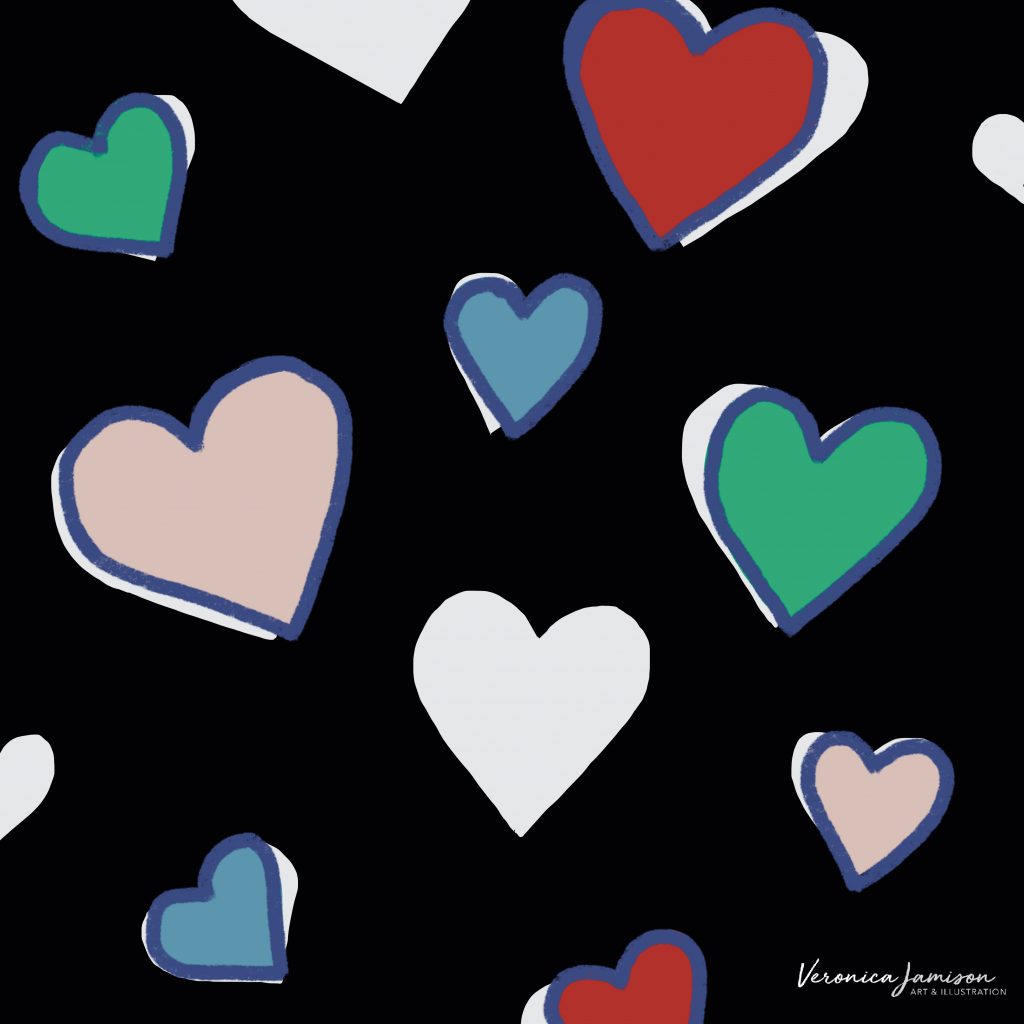 Heart Design Inspiration: I began this pattern by painting the ground in watercolor and leaving negative space for the white hearts to create the layout. Then I finished the pattern digitally in flat color, adding layered hearts in blush, red, periwinkle and green.
About Veronica: Veronica Jamison is a textile designer and illustrator living in Philadelphia, Pennsylvania. Connect with Veronica here.
Designer: Helen Fahler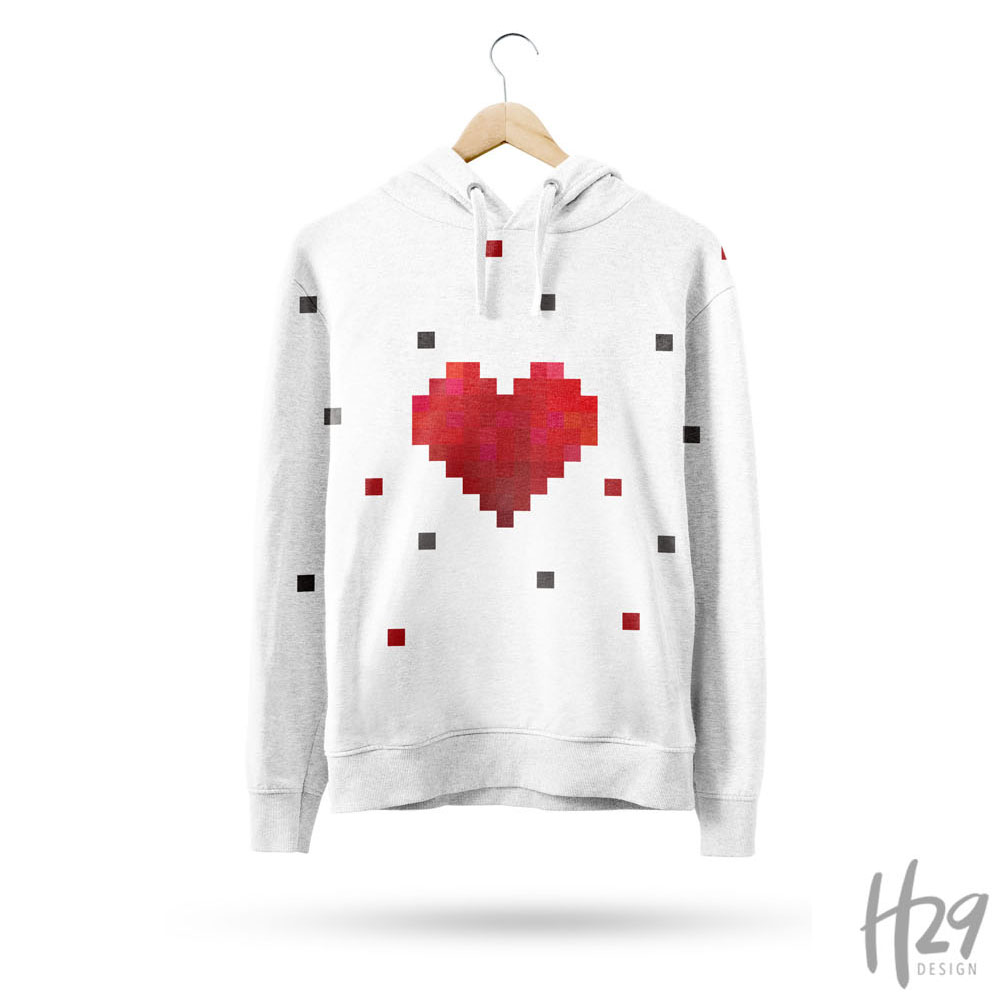 Heart Design Inspiration: For this speedy design challenge, I was inspired by the simplicity and comfy look of street-wear fashion that is trending. I started from a single pixel. Using the pixels as building blocks, I created a bold heart pattern. This digital design based on a pixel simplicity also echos a retro 80's video-game look. Each pixel is slightly different (in color) but when nested side-by-side, create a harmonious, heart shape that exudes a positive vibe.
About Helen: I recently retired from a 30 year career with company that highly values creativity. After art directing and leading internal design teams, I am loving the process of creating my own work for fun and for new clients in my freelance business. My motto is, "Do something creative every day" – and that's just what I am doing! Connect with Helen here.
Designer: Michele Kellett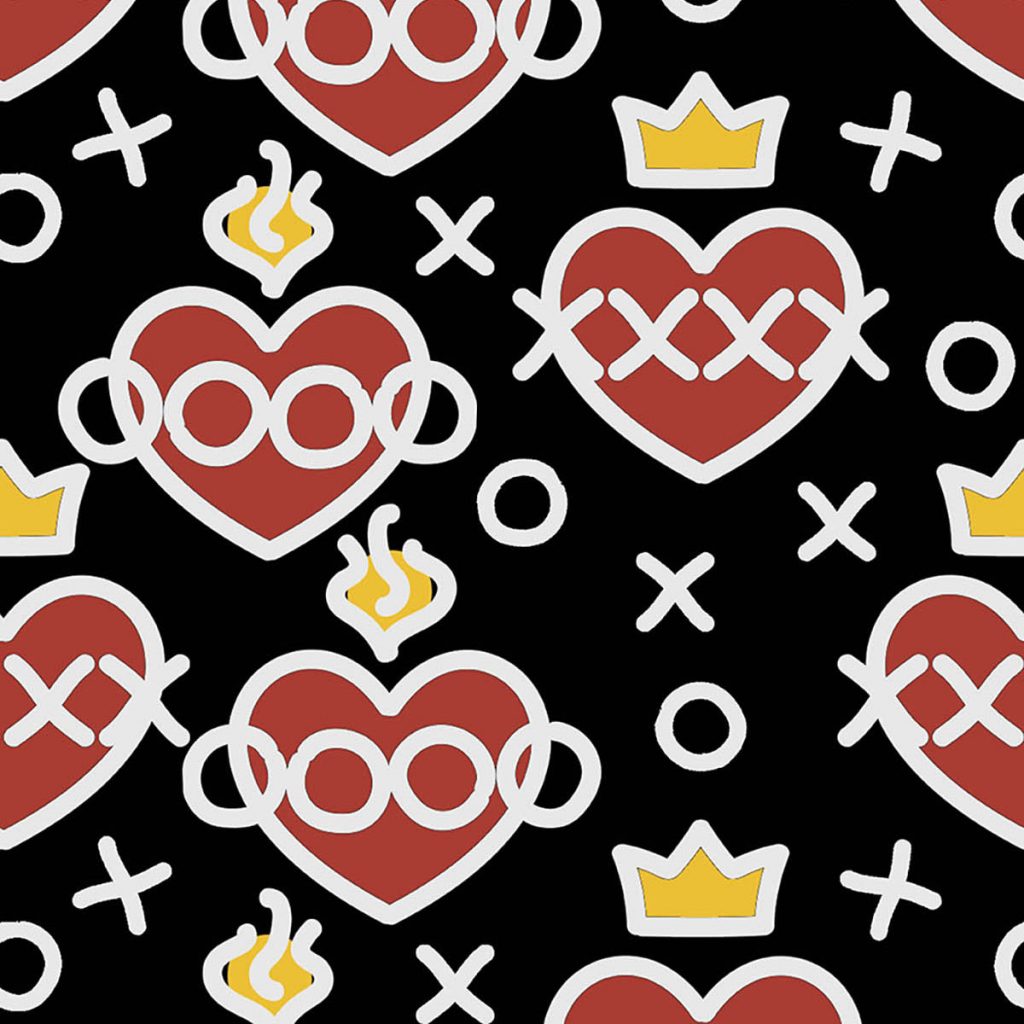 Heart Design Inspiration: I was inspired by old-school tattoos of the Sacred Heart, but simplified and made more graphic, i.e., not so gory. The crown of thorns that circles the heart in those tattoos became "x"s, which of course brought to mind the "hugs & kisses" symbols of "x"s and "o"s. Drawn with Illustrator, colored and put into repeat with Photoshop.
About Michele: I have worked as a designer my entire adult life (wearable art, dance costumes, graphic design, art direction, interior design) — despite a degree in English lit. Somehow I thought that was a practical fallback. Design is better. Connect with Michele here.
Designer: Renée Stramel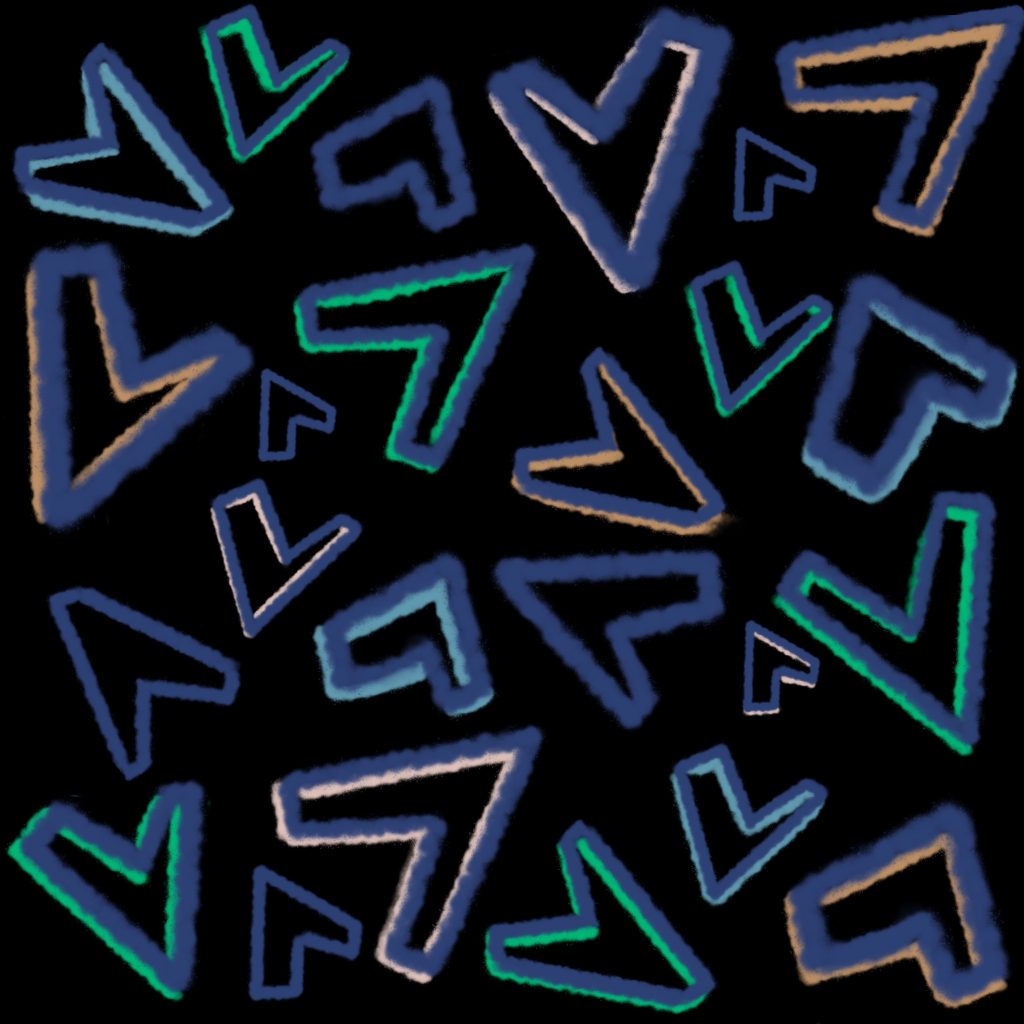 Heart Design Inspiration: I was inspired by fuzzy teddy bears for the texture – but digitally painted them using hard angles to keep it tough, but soft.
About Renée: New to the industry multi-discipline artist and photographer from Richmond, VA. Connect with Renée here.
Designer: Päivi Eerola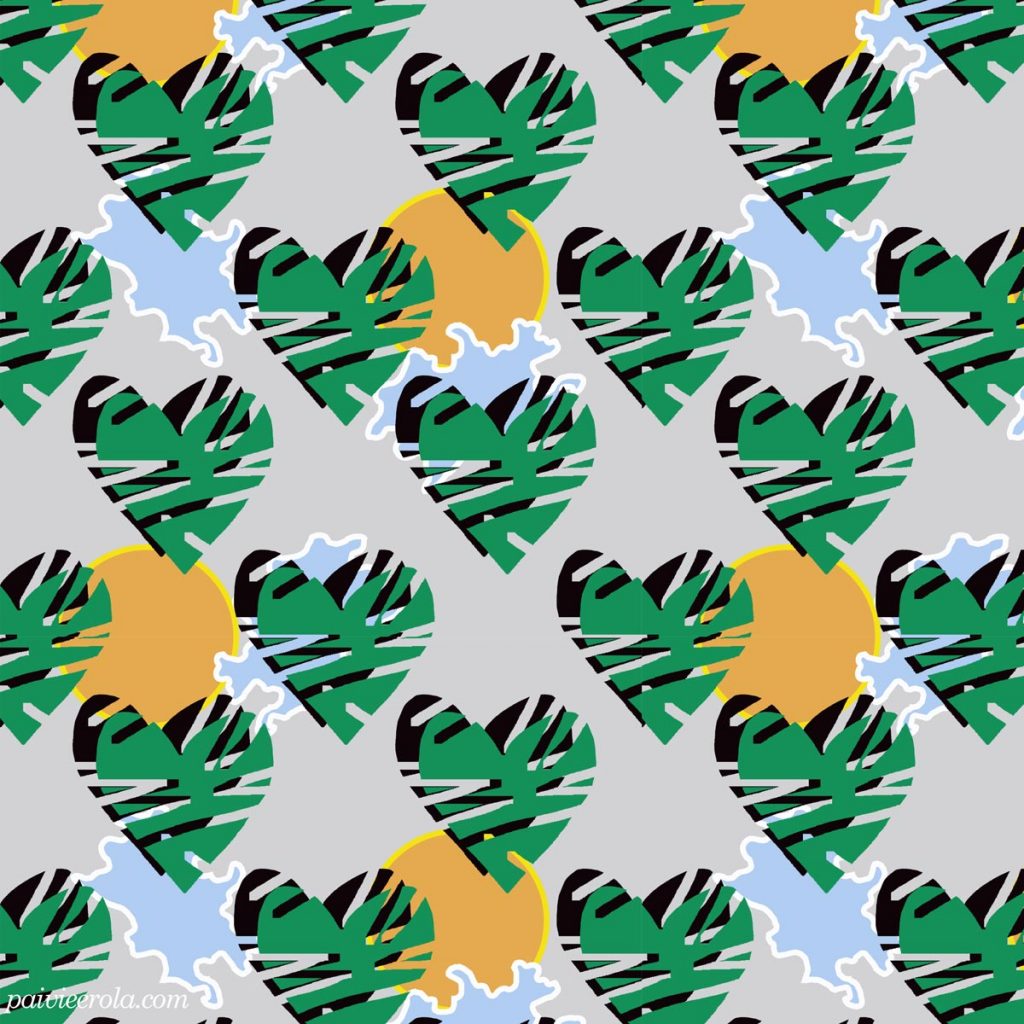 Heart Design Inspiration: Sporty Hearts Challenge. I was inspired by rich illustrations on skateboards but also tried to follow the assignment as closely as possible. I admire skaters' fashion because it's colorful and unapologetic.
About Päivi: Päivi Eerola is a Finnish artist and designer. Connect with Päivi here.
Designer: Jill Craig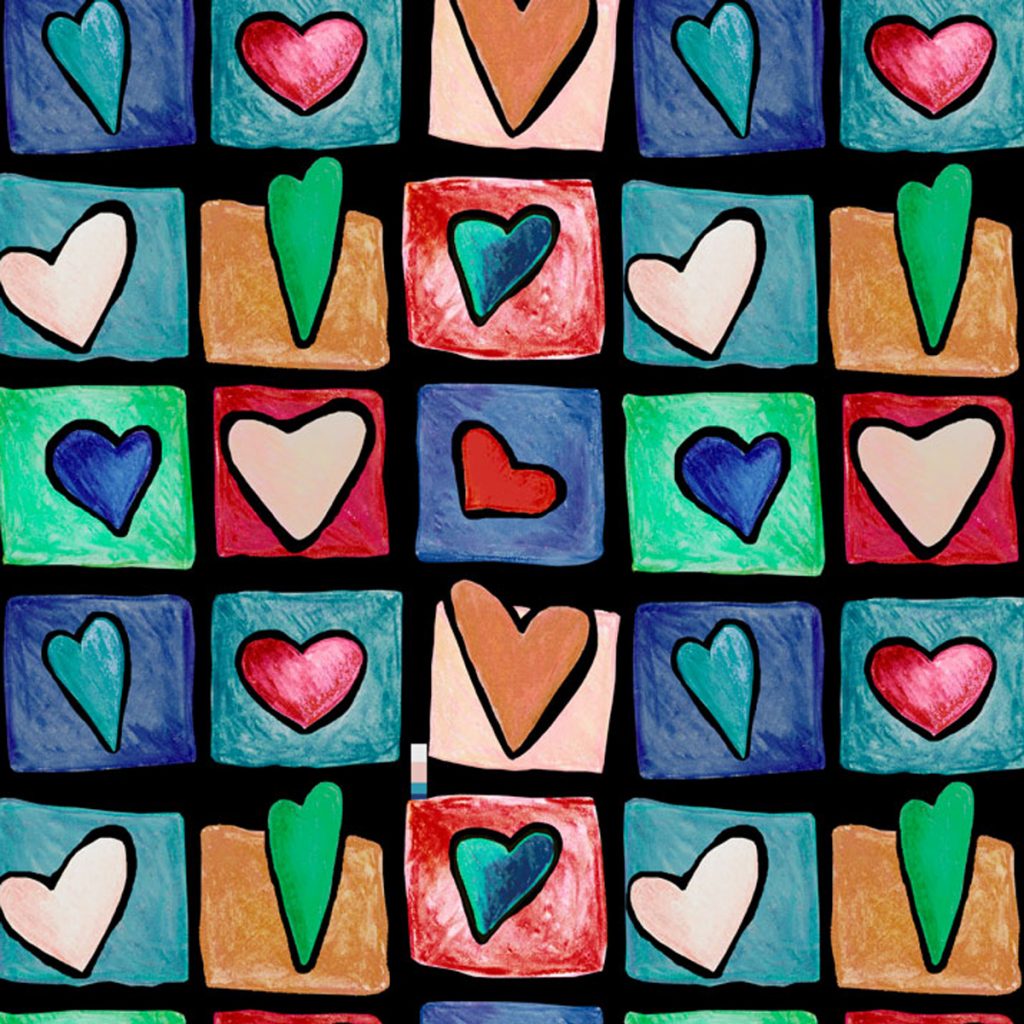 Heart Design Inspiration: Inspired by the Speedy Challenge I used chalk as my medium to create a graffiti like or roughly sketched pattern of hearts. I wanted to use texture as though it had been drawn on the street or a concrete surface which seemed fitting for the concept of Street Art = Street Wear.
About Jill: Jill is a freelance pattern designer living in Northern California. She is always ready to take on a new challenges and enjoys working with clients on collaborative projects. Her style ranges from whimsical and graphic to realistic and painterly. Any hint of an opportunity to try new styles and techniques she considers an adventure too difficult to turn down. Connect with Jill here.
Designer: Heather Pierce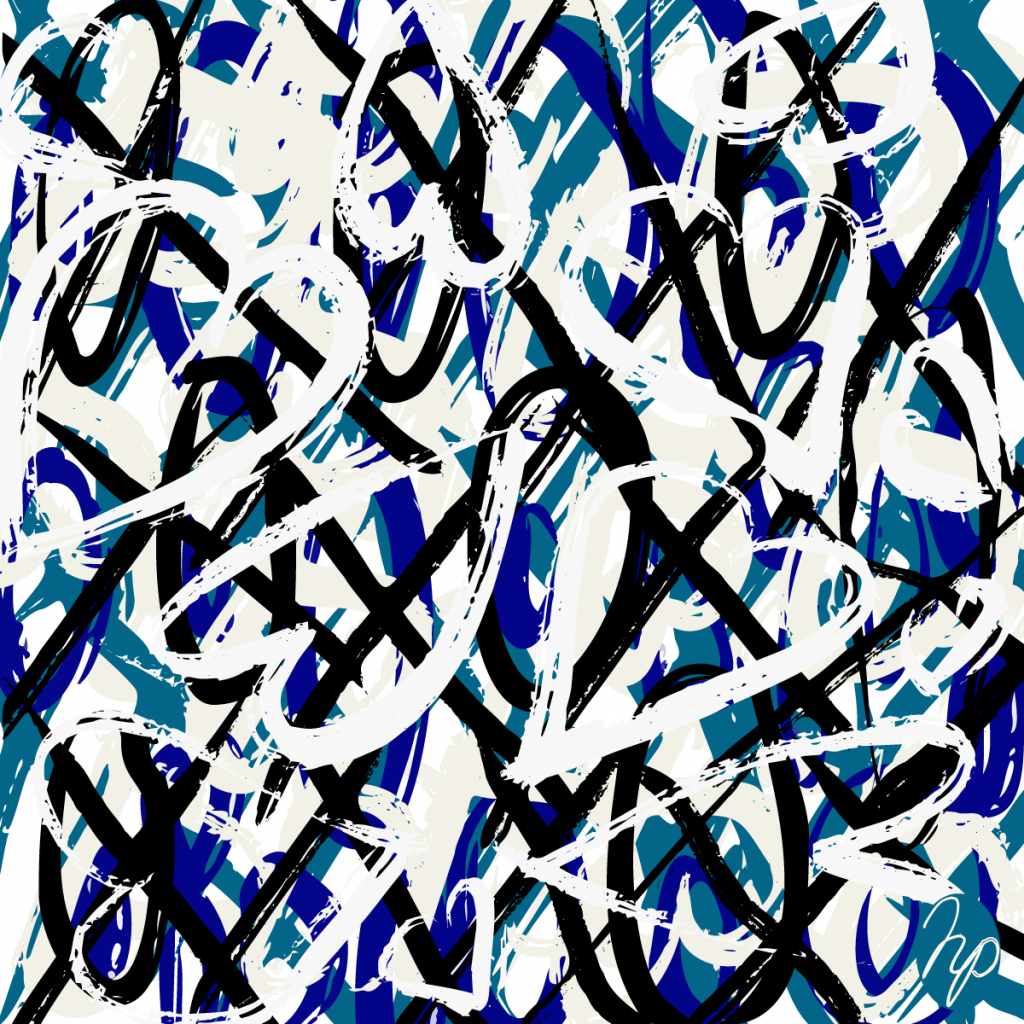 Heart Design Inspiration: After making several traditional Valentine's Day patterns – using pinks, hearts and lips – I wanted to make something different. Hence the blues and black and gritty texture with a graffiti look. Originally, I conveyed the love theme through Xs and Os only, but added hearts for the Sporty Hearts Challenge.
About Heather: Heather lives in Connecticut with her husband and two cats. Fascinated with patterns since childhood, she is a late-blooming surface pattern designer. Heather likes making mixed media collages and painting with acrylics and digital tools – sometimes in combination. Her analog art has been shown at Weir Farm and the G&B Cultural Center in Wilton, CT, and the CH Booth Library in Newtown, CT. Her work was briefly shown at the Salomon Arts Gallery in New York, NY, in a benefit for Artists for World Peace. Connect with Heather here.
Designer: Suzanne Rigsby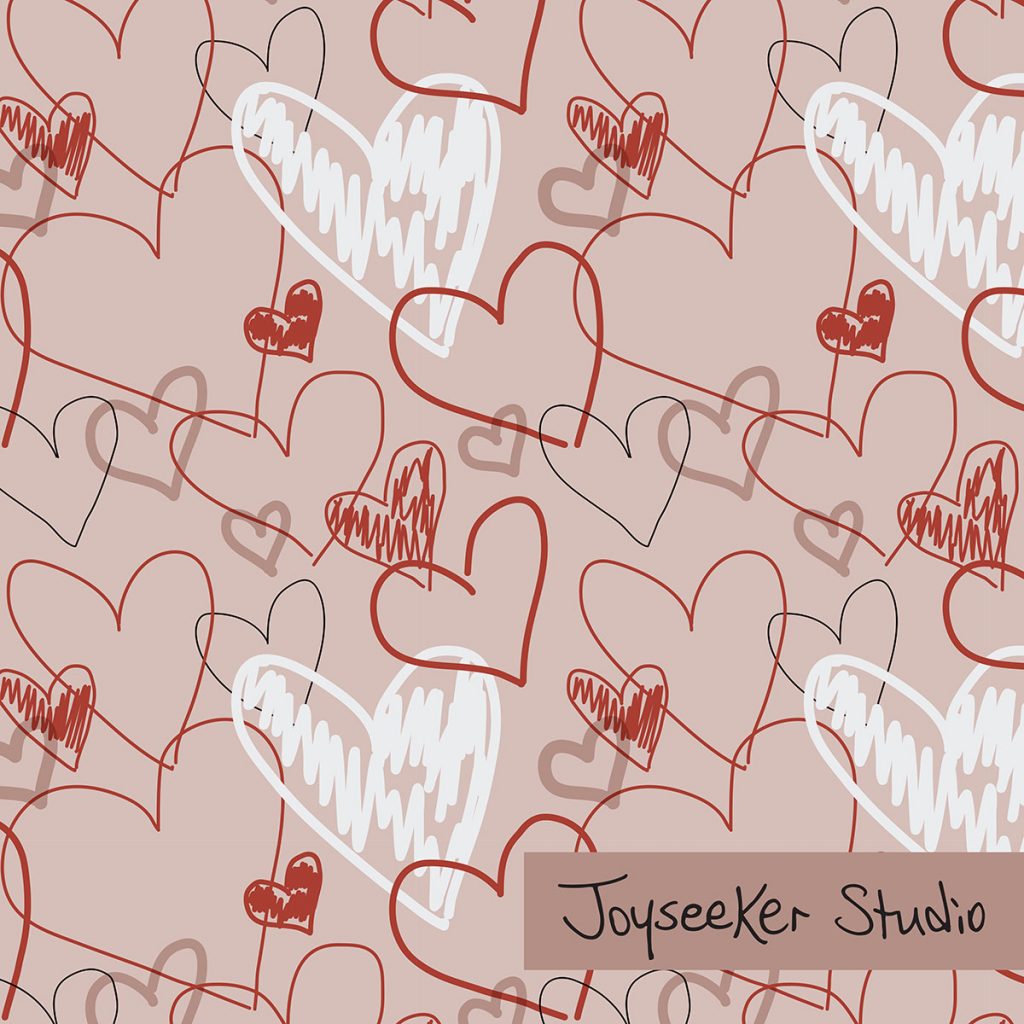 Heart Design Inspiration: The creative brief direction was to create a sporty heart pattern for active and streetwear. My design incorporates action by using hand-drawn, doodle-style elements, drawn out quickly and imperfectly on a Wacom tablet. I used several different hearts that overlap and vary in color, size and thickness, set on an angle to create movement.
About Suzanne: Creating joyful artwork in Nashville, TN, USA. I find joy in vibrant colors, patterns, nature, music, love, and ice cream. I have been a graphic designer in the corporate world for 20 years. I recently discovered the Surface Pattern Design niche in the industry, and it has filled me with renewed inspiration for art and design. Connect with Suzanne here.
Designer: Ashley Jeziorski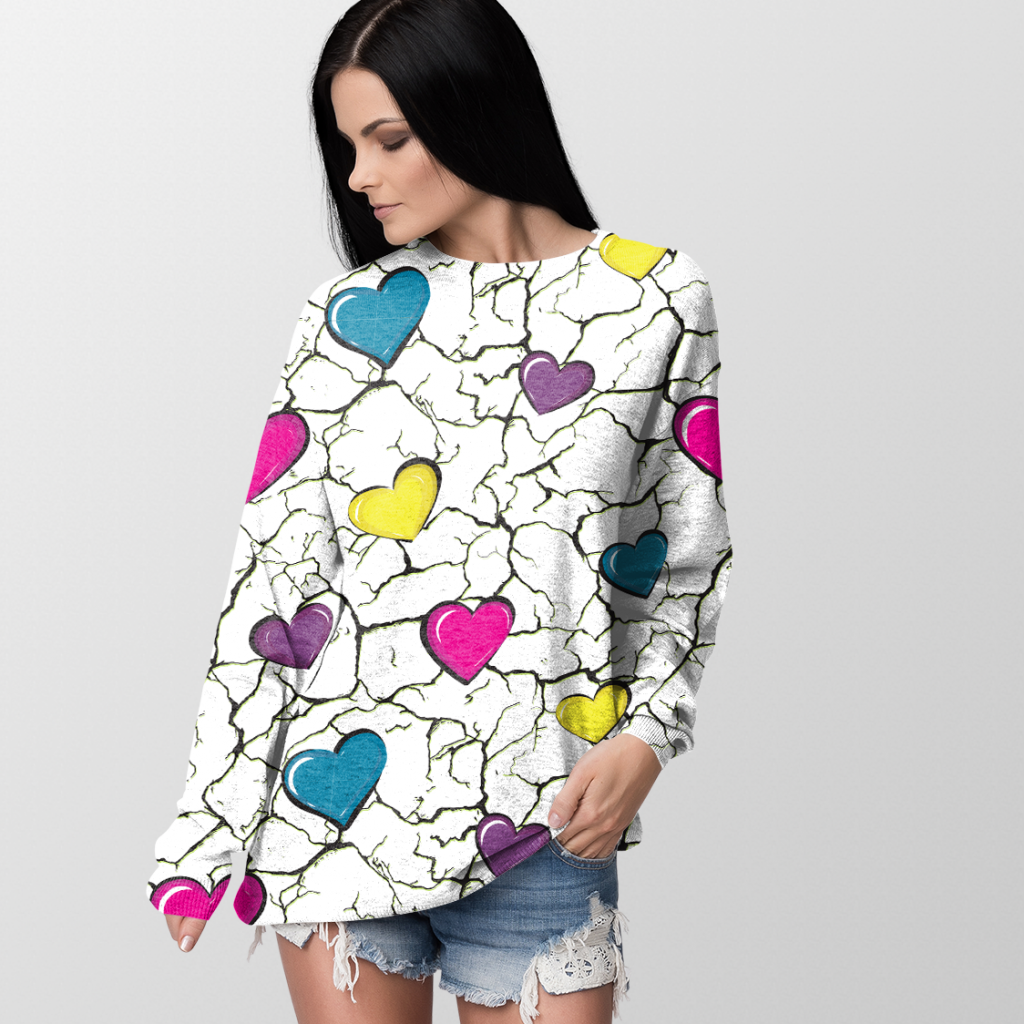 Heart Design Inspiration: I was inspired by the large and vibrant prints I found in urban street fashion. Bold graphics using bright contrasting colors that are eye catching and "in-your-face." I did additional research in the athletic market and found crackle / marble prints are trending in FW2022. This inspired me to hand draw my own crackle texture which paired really well with my contrasting hearts.
About Ashley: Freelance artist based in Hoboken, NJ with a background in both fashion design and fine art. Skilled in creating wearable fashion, textile prints, and promotional accessory design. Ashley's designs are used in women's, men's and children's fashion, activewear, loungewear, pet apparel, and surface pattern prints. During her career she found her passion in surface design and continues to build her skills by working on more textile pattern projects for various clients and for her own brand. Connect with Ashley here.
Designer: Alice io Oglesby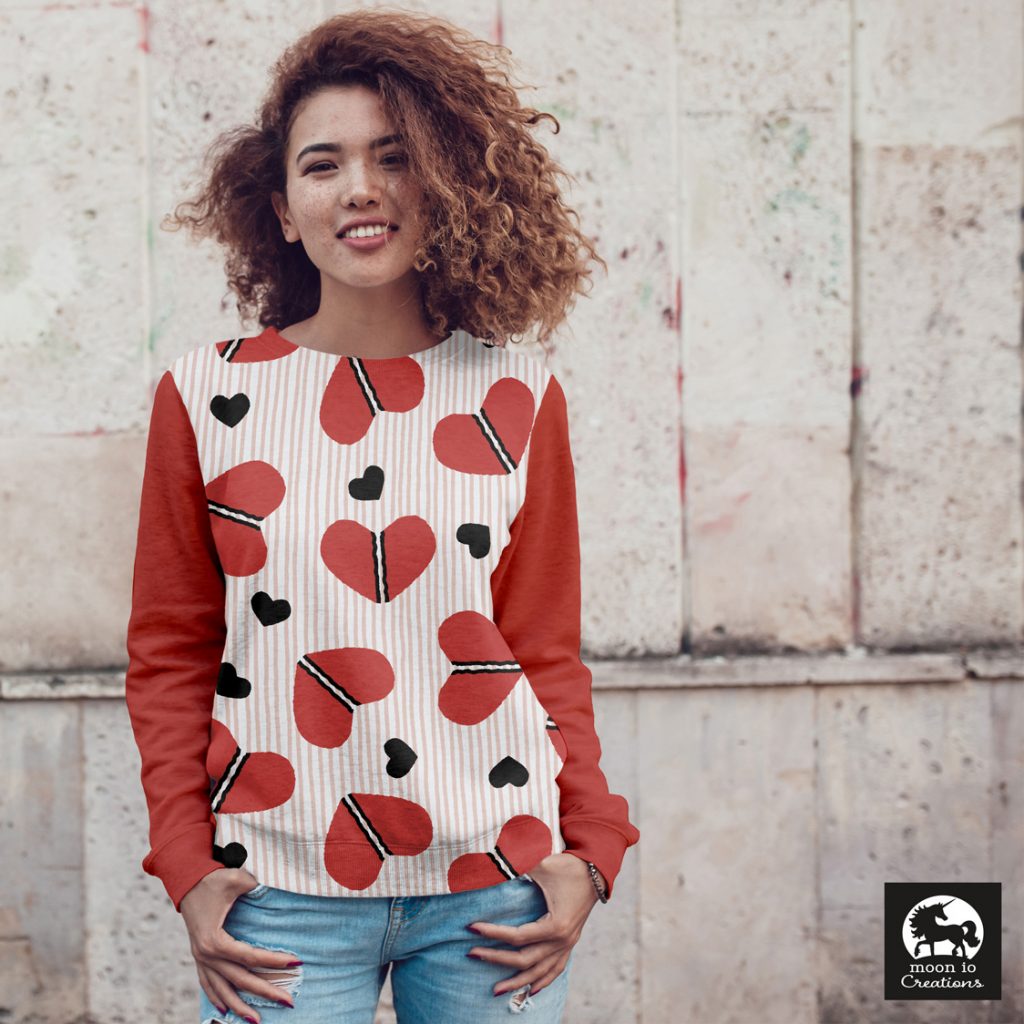 Heart Design Inspiration: The hearts were originally drawn in Procreate and then traced in Illustrator as I wanted rough edges reminiscent of torn paper. The remainder of the design was created in Illustrator. A divided heart, almost meeting, but retaining a separation between the two halves, is the common element used in the patterns created for this challenge.
About Alice: Alice io Oglesby is a designer who spends most of her time managing a restaurant garden which is an endless source of inspiration for her art. Along with drawing and designing surface patterns, Alice io enjoys sewing, knitting, hiking, and fostering neonatal kittens for the local animal shelter. Connect with Alice here.
Designer: Sarah Nussbaumer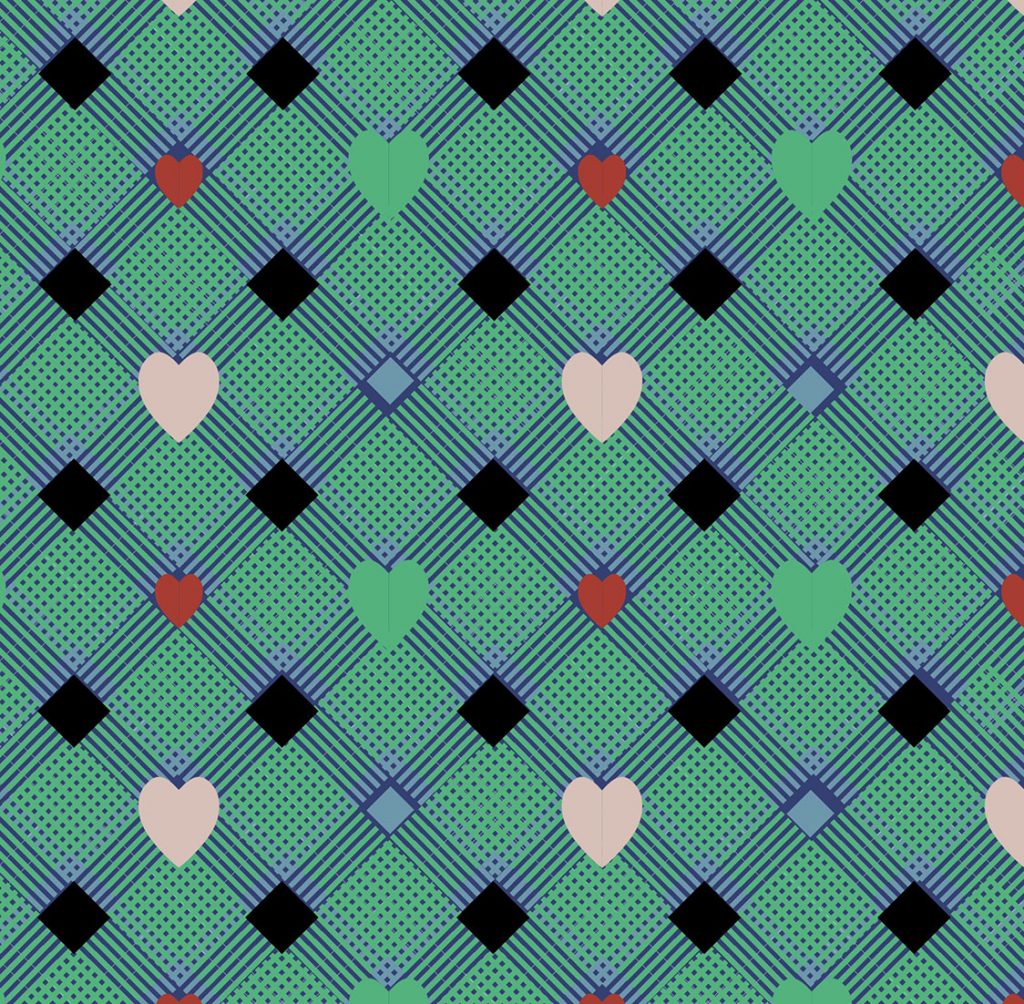 Heart Design Inspiration: The colors in the brief were traditional and contemporary at the same time. It seemed that the mix of hearts and sportyness would make and interesting mix with a plaid of some sort. Golf wear seemed a good place for this design. Fun, different and shows the wearer's love of the game.
About Sarah: Sarah is a surface textile designer who brings years of creative exploration as a printmaker and graphic designer to bear developing multi-layered patterns. The process of layering images, shapes and textures that are juxtaposed leads her to discover interesting unexpected combinations. Working between hand drawn traditional mediums and digital methods further expands the range of visual possibilities available when creating patterns. Her style ranges from delightfully simple to richly complex. Connect with Sarah here.
Designer: Sandi Maxwell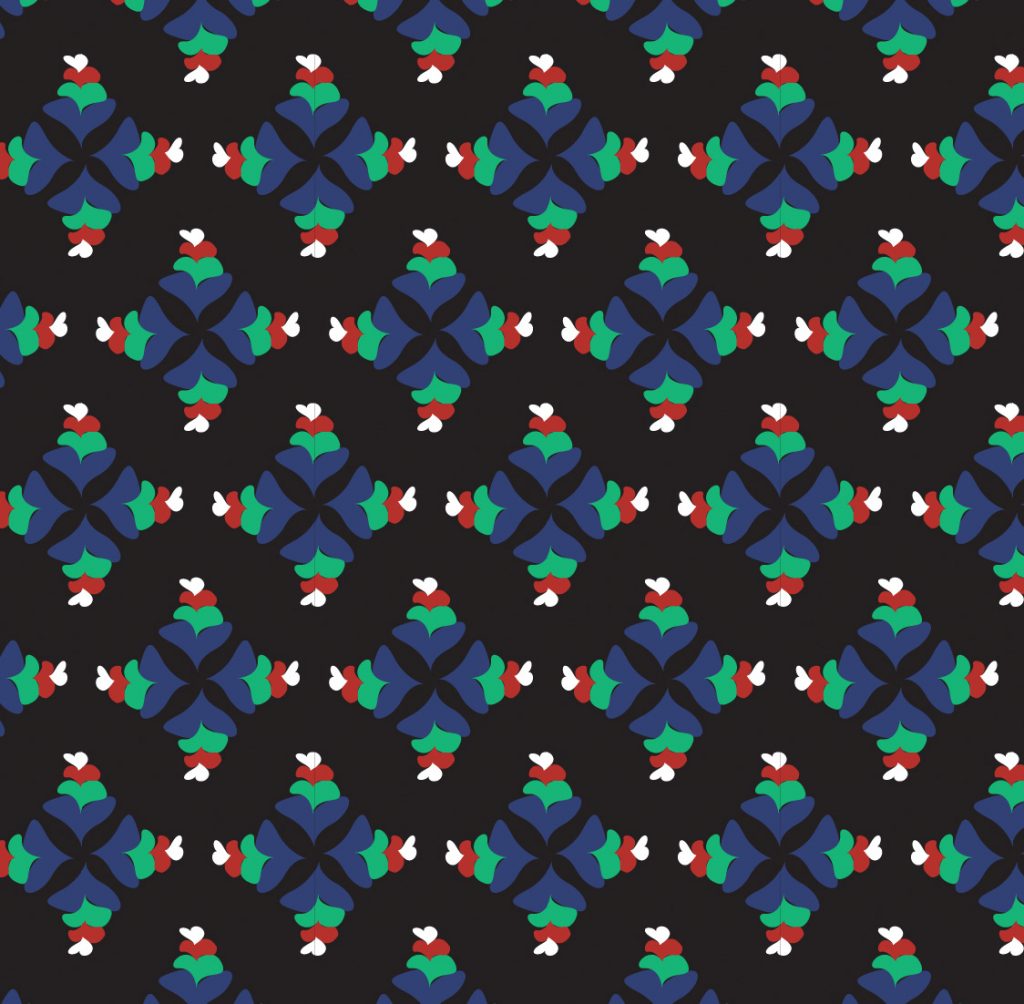 Heart Design Inspiration: If you quoted your heart, what would it say? Sing? I'm sad? I'm part of a family? The graphic prints tell your heart's story. The Overall Patterns show how hearts come in all shapes and sizes, but can fit together to make things more beautiful. Designs created in Adobe Illustrator.
About Sandi: SMax is a contraction of Sandi Maxwell. Fab refers to 2 things: her love of fabrics and the vibe of her surface pattern designs. FAB! The growing thought bubbles in the logo refer to the bubbling up of SO many ideas. SMaxFab starts with a blank space and ends with a fully conceived design. Clean and elegant style, confident colour and approachable motifs characterize her work. Connect with Sandi here.
I hope that you enjoyed this presentation of heart designs by our Textile Design Lab community. If you are interested in purchasing or licensing any of these designs please reach out to the designer. Thank you!