Our Textile Design Lab community recently had a Speedy Design Challenge based on abstract art patterns and I am thrilled to share some of the designs in today's post. Members were asked to create pattern designs for printed blankets for Autumn/Winter 2022/2023 and had just a few hours to complete the pattern designs that you see here. The image that you see above was created by Sandi Maxwell. You can read about her inspiration below.
Abstract Art Patterns
Designer: Päivi Eerola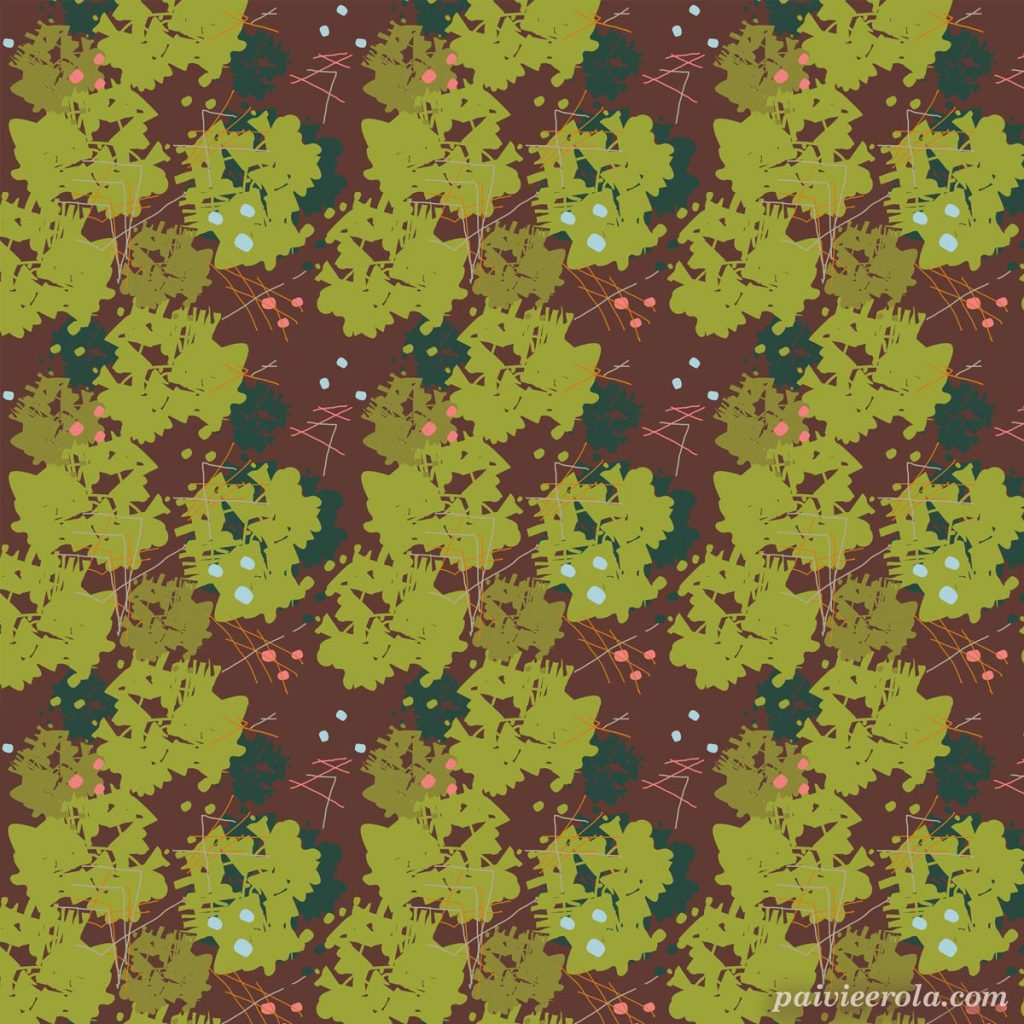 Abstract Art Pattern Inspiration: I get ideas from my paintings that are filled with all kinds of abstract organic shapes. In this design, I also thought about fall and the first snow, arriving a little too early, and how comforting houseplants are during the dark times.
About Päivi: Paivi Eerola is a Finnish artist and designer who loves plants. Connect with Päivi here.
Valentina Tansley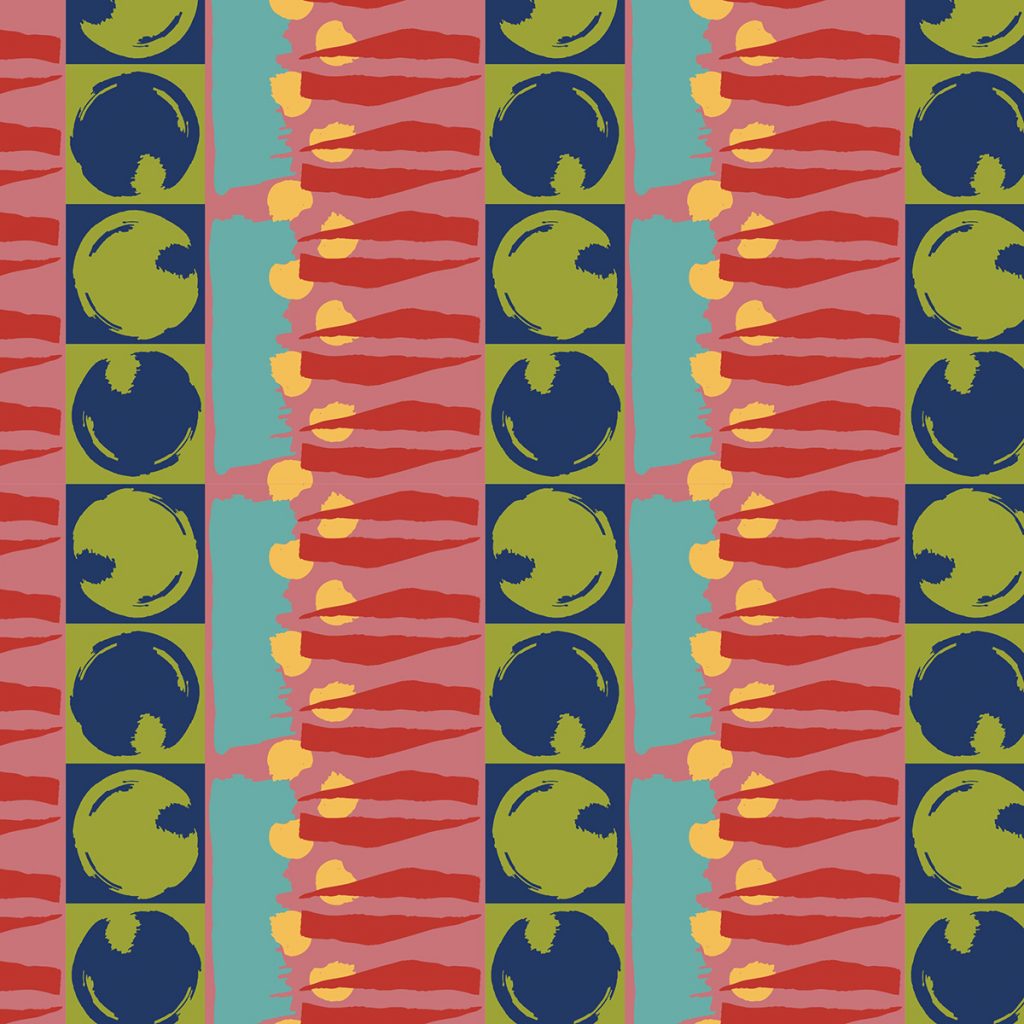 Abstract Art Pattern Inspiration: I used the design challenge moodboard as inspiration for this work, with the aim to create a bold vibrant fun and engaging design for a blanket. I used digitised motifs developed from ink drawing and torn paper fragments to create the design in illustrator.
About Valentina: I'm a freelance surface designer and artist from Melbourne, Australia. I create bold energetic patterns and dramatic designs inspired by my background in music and theatre. My vibrant designs always start out by hand or with a tangible physical connection. I often create handprinted monotypes, paper collage and abstract paintings, which I then manipulate into digital repeat patterns. Connect with Valentina here.
Deb Stewart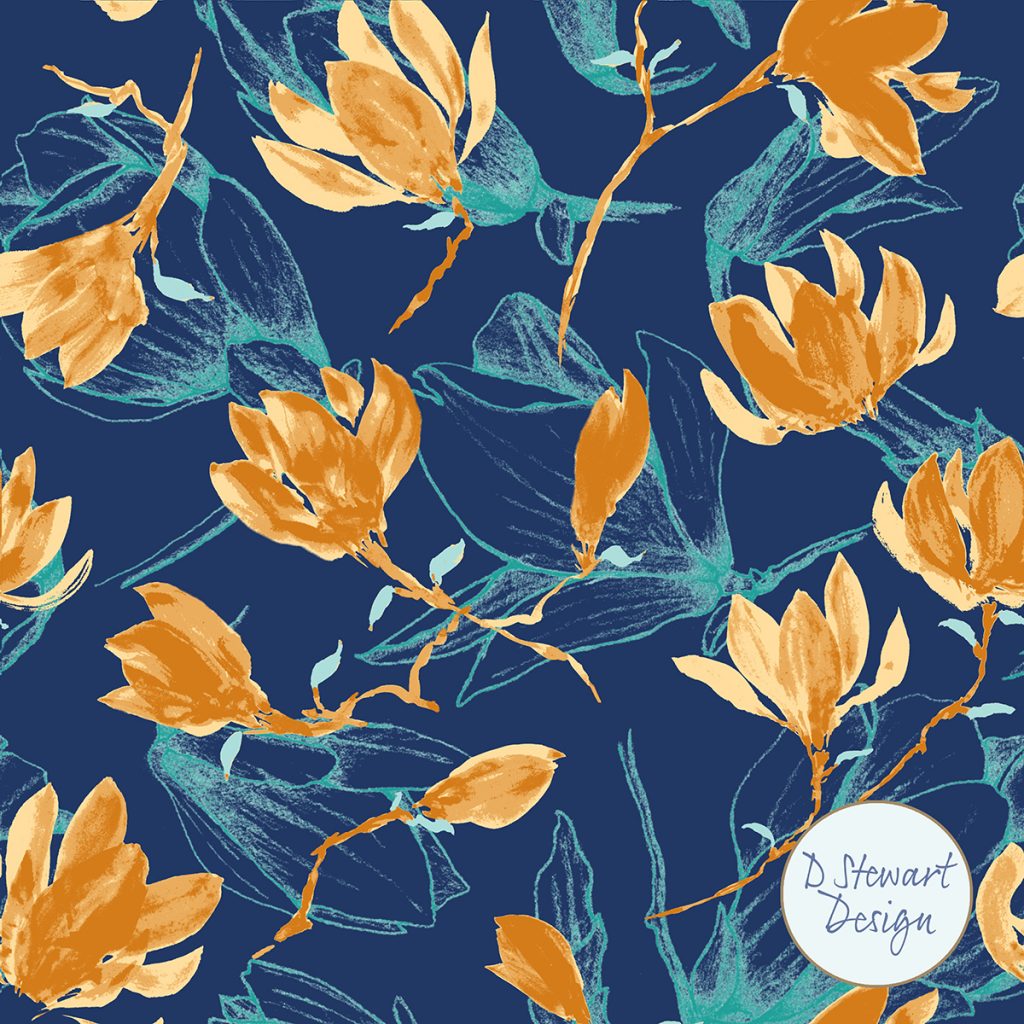 Abstract Art Pattern Inspiration: Seeing the magnolia trees in bloom in New York after a cold winter is always so uplifting, and I'm especially looking forward to the blooms this year. I love painting with both watercolor and gouache, and I also love drawing with ink. I've been thinking about ways to combine these mediums, and decided to try with this challenge. I pulled out a collection of ink drawings of magnolia blooms that I made last year and used them as a background for some abstract motifs I painted in gouache for this challenge.
About Deb: I've always had a passion for wallpaper and textiles, collecting samples and researching historical pattern designs over the years. While on a career break from my job as a lawyer, I decided to take a wall covering history and design class at the Fashion Institute of Technology in New York. I made my first two patterns during that class and have not stopped since. I'm now working on a collection of wallpapers and fabrics, and plan to launch my collection online later this year. Connect with Deb here.
Suzanne Rigsby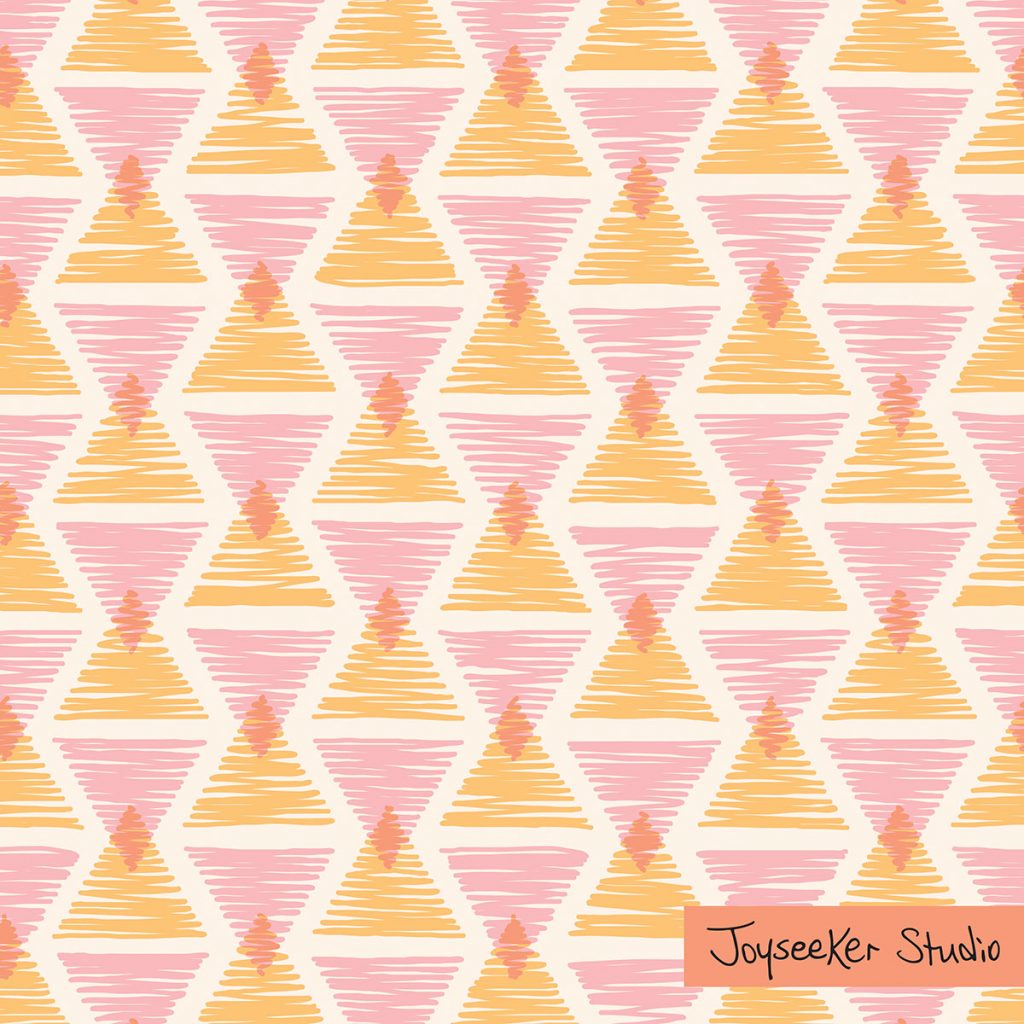 Abstract Art Pattern Inspiration: This is for the Abstract Art speedy design challenge. It was created in Illustrator. Within the program, I scribbled the line work by hand to create the fill for the triangles, therefore softening the geometric pattern. I then used an overlay on the colors where the triangles overlap. I am very pleased with how it turned out.
About Suzanne: Creating joyful artwork in Nashville, TN, USA. I find joy in vibrant colors, patterns, nature, music, love, and ice cream. Connect with Suzanne here.
Fern Leslie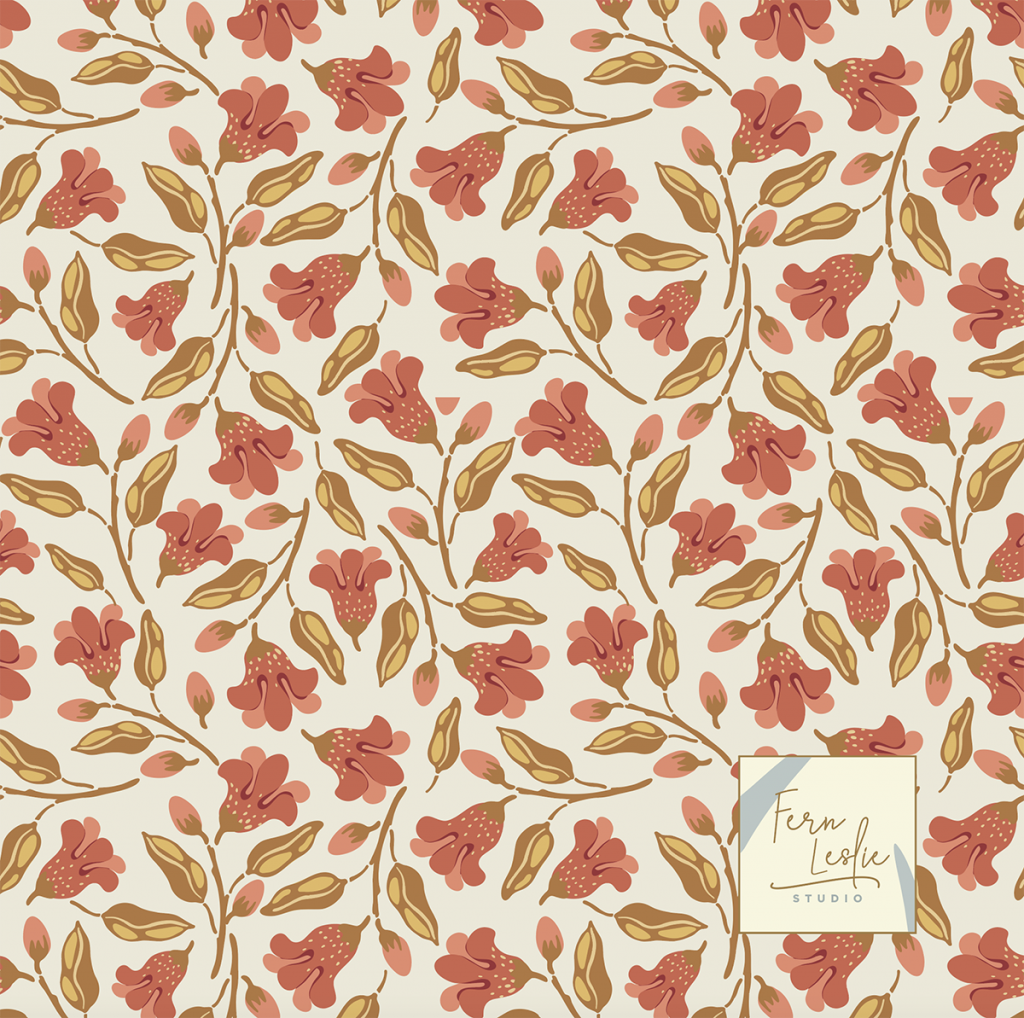 Abstract Art Pattern Inspiration: I wanted to go with the red/pink/yellow/orange colors from the brief. When I opened my email I saw the rug and chair in an Anthropologie advertisement and thought it the perfect bedroom accompaniment for the blanket design I was envisioning. I created the whole design – from drawing the floral design on my iPad during my morning coffee, to the finished pattern – in two hours. I usually labor over details all day! I need to do these speedy design challenges more often. Working with an I-have-no-time-so-I have-to-make-this-work mindset is challenging and exciting.
About Fern: I am a surface pattern designer as well as run two Etsy shops – one selling baby quilts; the other selling coordinated sets of Christmas stockings of my own designs. I've been learning surface design the last few years and finally feel like Adobe Illustrator is firmly in my control. I look forward to expanding my surface pattern design business. Connect with Fern here.
Karolina Sato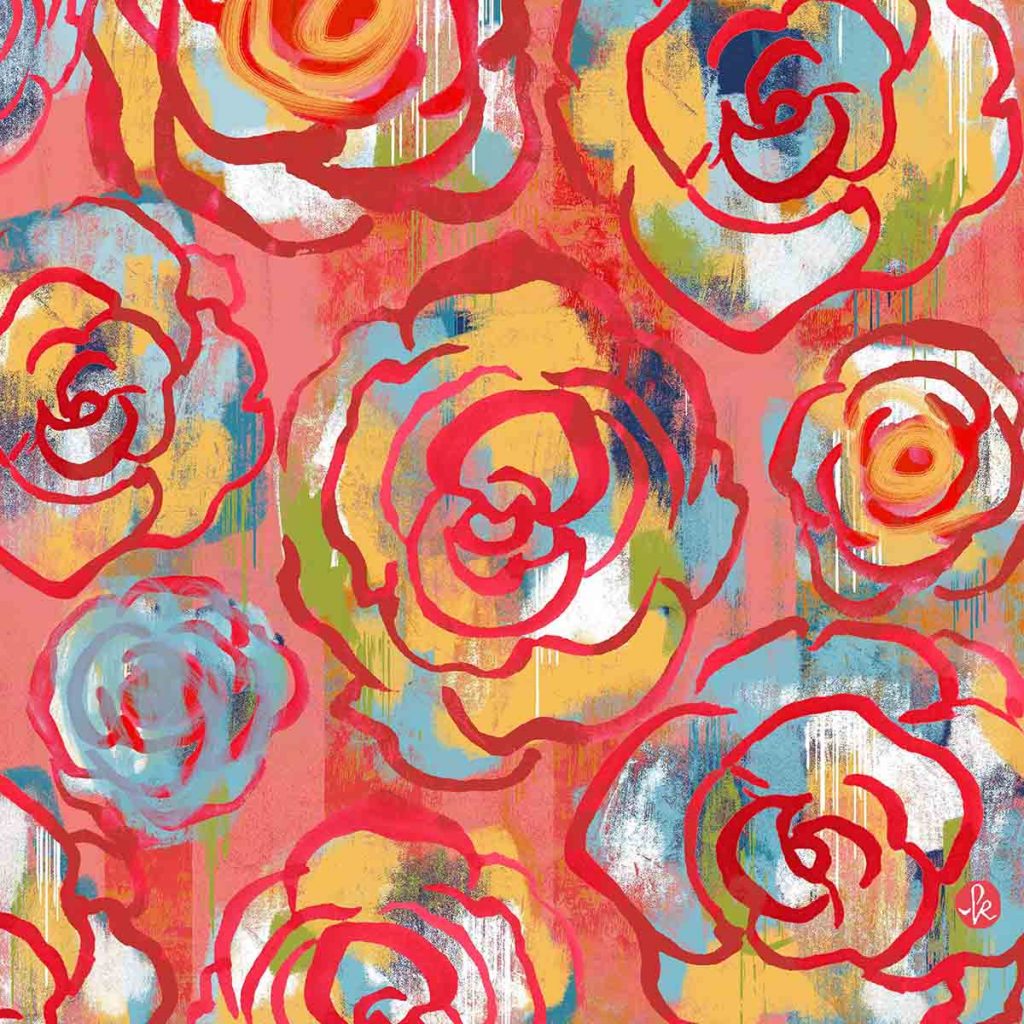 Abstract Art Pattern Inspiration: The pattern was inspired by the walls in my grandmother's house, they used to be painted with a paint roller. This is more messy version of such work. I used watercolor to create the rose motifs, then worked digitally with the whole using different textures.
About Karolina: Karolina Sato ( Karolinko ), is an artist and designer in Tokyo; she works in traditional Japanese painting, watercolor, ink, and digital media. Her works are whimsical and joyful and vibrant. She is interested in cultural anthropology; her inspiration comes from the relationship between humans-nature, ethnic art, animals, plants, and carnival culture. She experiments with pigments, rich textures, and dynamic color. Her love for patterns started with her exploration of oriental decorative arts. Connect with Karolina here.
Efrat Ofek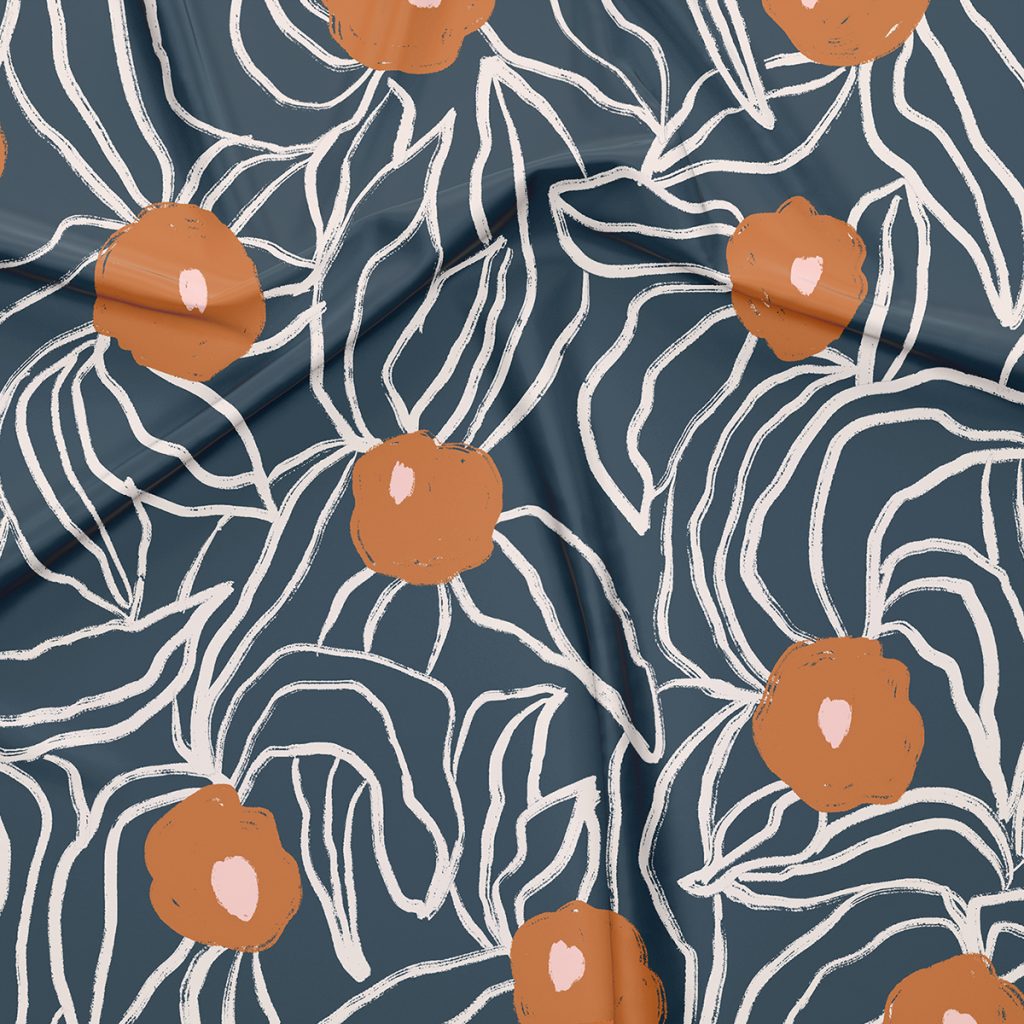 Abstract Art Pattern Inspiration: For this challenge I was inspired by our need for contact, especially these days. I drew plants that strive for contact, touching and wrapping each other. I chose a warm color palette to provide a cosy wintery atmosphere.
About Efrat: My name is Efrat Ofek, I'm a freelance graphic and pattern designer based in Geneva, Switzerland. After working as a graphic designer for nearly 15 years, I began to experiment with surface design and illustration, which enable me to express my passion for art and design through lines, colors and textures. My artwork is mostly inspired by shapes and colors in nature and everyday life, which I translate into a clean, fresh and modern style. In my work, I use hand-drawn lines, paper cut-outs and collages, which create imperfect aesthetics. Connect with Efrat here.
Sandi Maxwell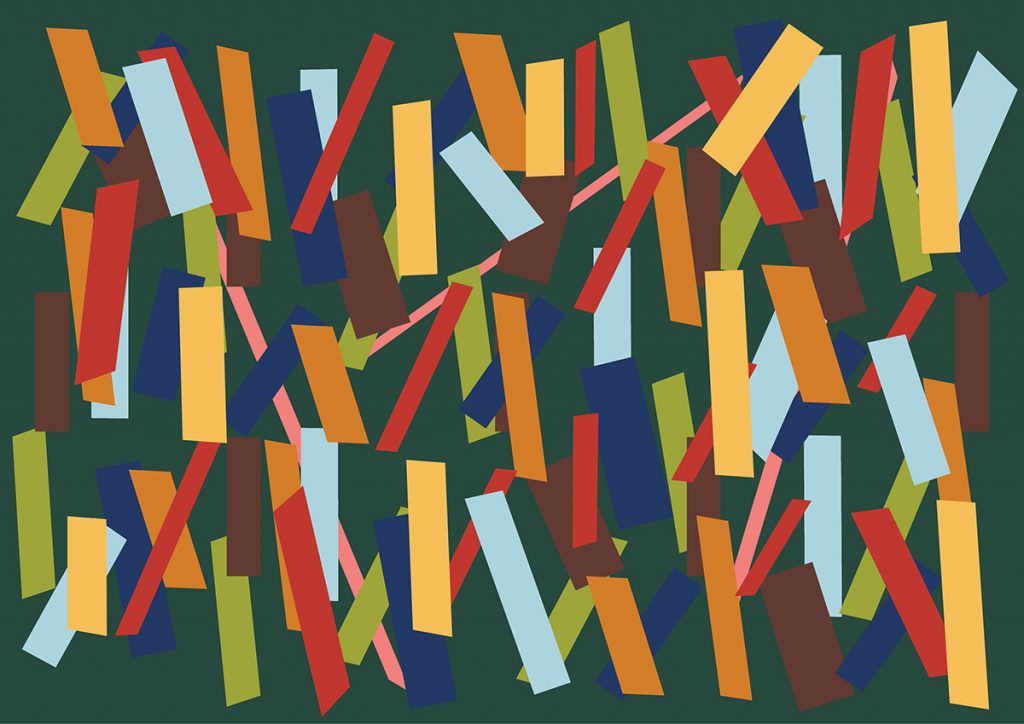 Abstract Art Pattern Inspiration: In Cuisenaire Rods the patches are unsorted – like the box of Cuisenaire Rods was dropped and they landed all mixed up.
About Sandi: Living in the (best) Australian City – with 265 days of sunshine a year, could be why Sandi keeps going to bold, beautiful colour. Sandi's 1st career was as a Physiotherapist, the 2nd as Owner and Manager of a Natural Fabric Import and Wholesale Business, and her 3rd is Surface Pattern Design. Creating has always been part of her life, including Photography, Sewing and many forms of art. Nowadays she often misses mealtime, or misses sleep because she is so absorbed in a design. Connect with Sandi here.
Rita Patel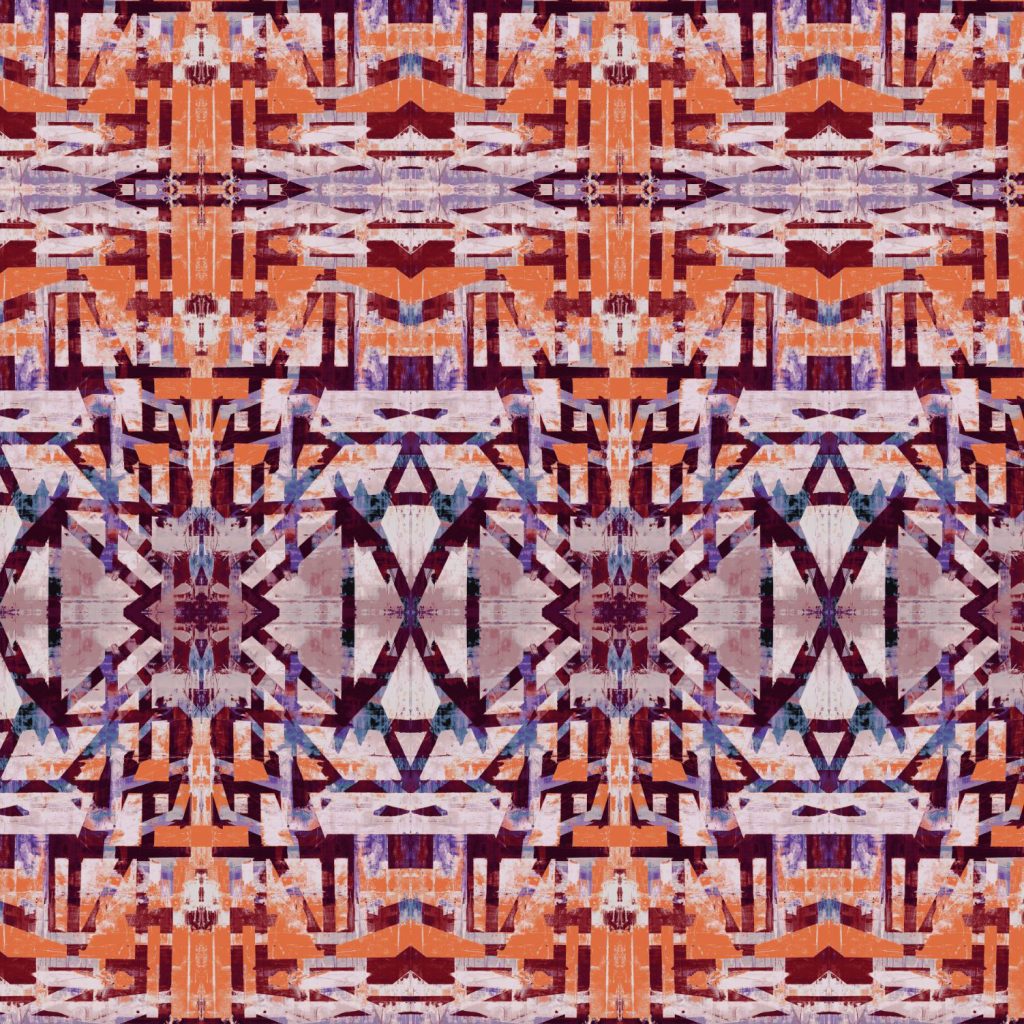 Abstract Art Pattern Inspiration: I enjoy creating harmony from disparate pieces and using line work or different techniques such as embroidery to do so in my abstract painting and collage. The patchwork abstract with subtle vintage pattern effect really appealed to me. I adapted some of my previous fine art pieces to design a surface pattern for a blanket that had depth to feel grounding for that cozy feel.
About Rita: Beauty is the foundation of my work. Being in conversation with beauty in my process is how I live an artful life. Through my work I aspire for people to experience beauty and come into relationship with it in their own way. I aim to create work that is attractive and opens them to imagine something new. I work in a variety of media to give shape to that idea. Through my fine art and surface pattern designs I aim to bring beauty into our spaces and places. Connect with Rita here.
Michele Kellett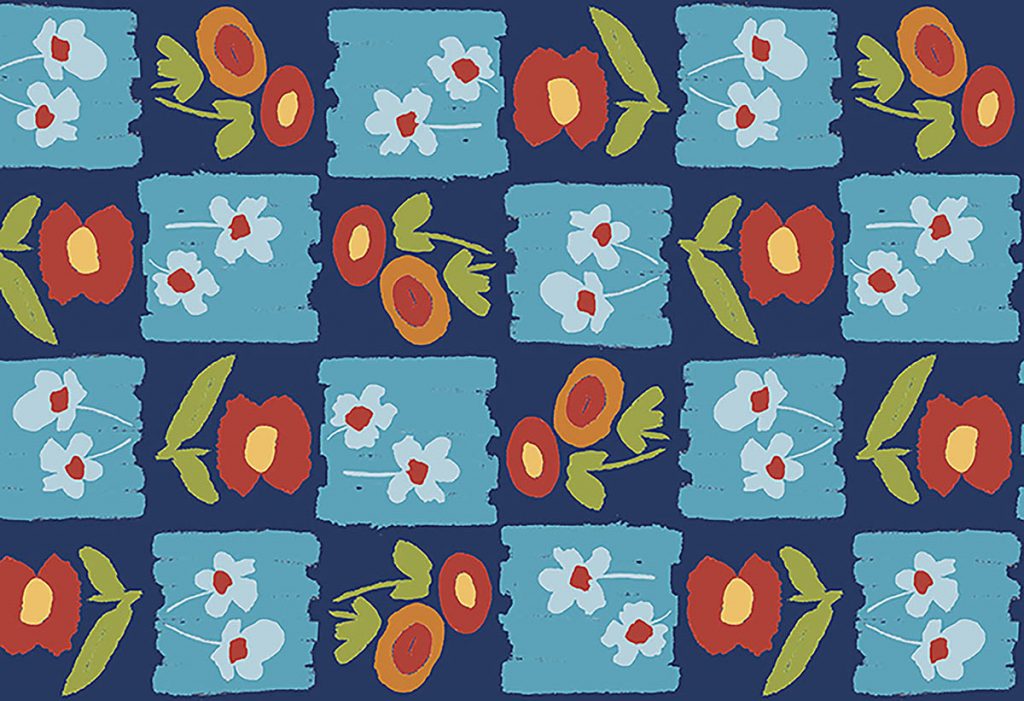 Abstract Art Pattern Inspiration: The mood board referenced a lot of abstracted florals, and the written brief alluded to home, coziness, and handcrafts, especially quilts. So I decided to create an abstracted quilt. I pulled a few old floral drawings, and re-colored, re-sized, and re-arranged them in Photoshop.
About Michele: I have worked as a designer my entire adult life. Except that one time when I was a writer. Connect with Michele here.
Heather Pierce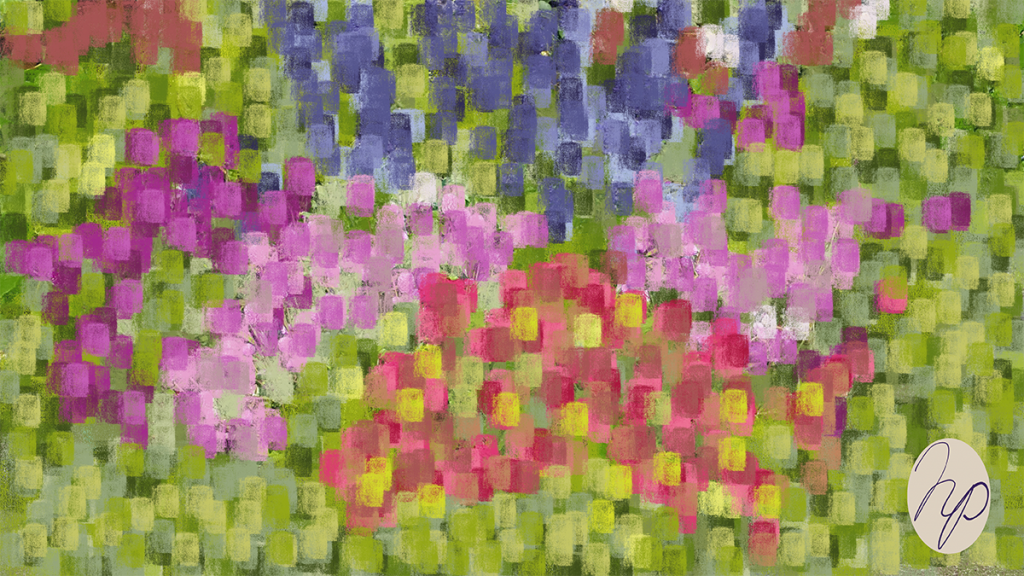 Abstract Art Pattern Inspiration: I was looking to bring the outdoors inside for use in home decor. One of my many garden photos provided the inspiration and colors.
About Heather: Heather lives in Newtown, Connecticut, with her husband and two cats. She enjoys creating art in a variety of styles and media. Heather's work has been shown at Weir Farm and the G&B Cultural Center in Wilton, CT, and the CH Booth Library in Newtown, CT. Her work was briefly shown at the Salomon Arts Gallery in New York, NY, in a benefit for Artists for World Peace. Connect with Heather here.
Julie MacDonald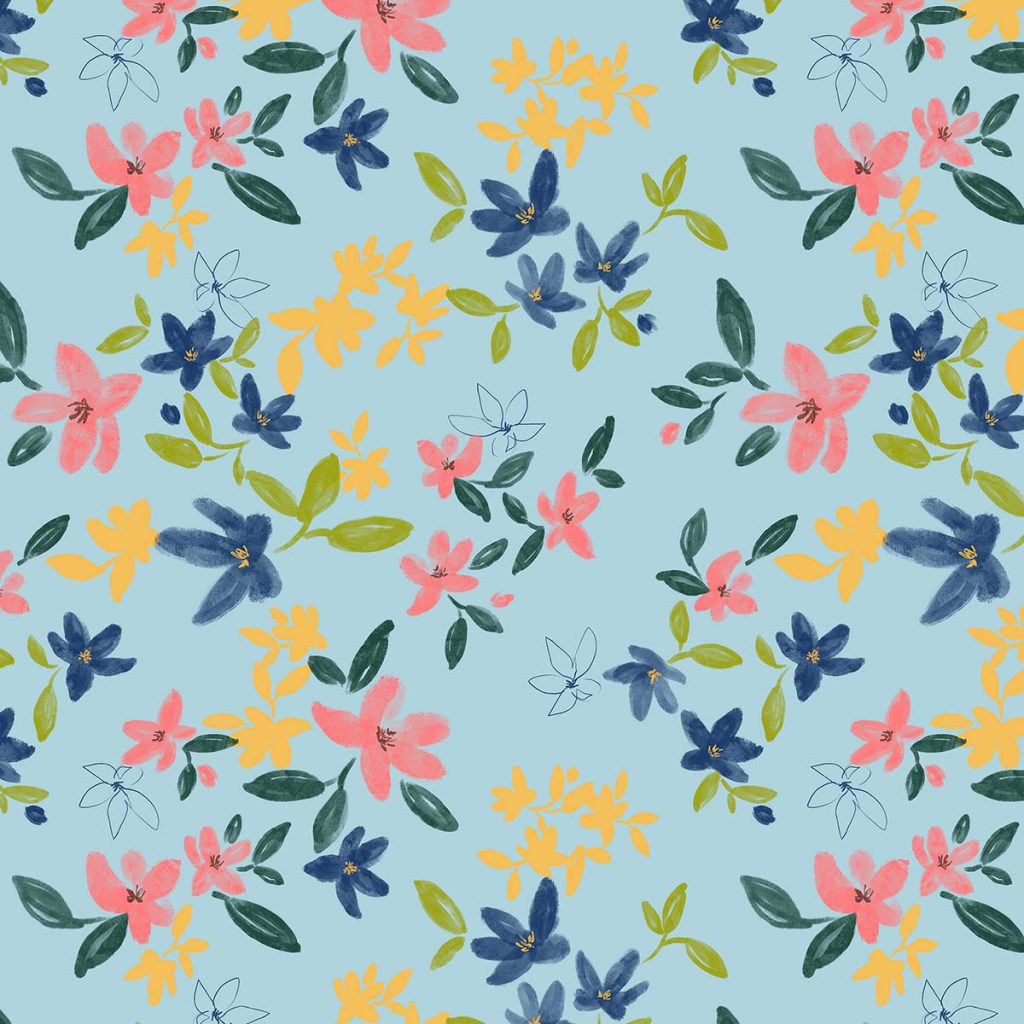 Abstract Art Pattern Inspiration: After reading the brief I knew I wanted to do clusters of clear, bright, painterly flowers that would pop on a blanket and feel familiar but still fun. The hardest part was not overdoing the "brushstrokes". This was my first time doing motifs in Procreate and also my first Speedy Design Challenge.
About Julie: Surface Designer living in Fredericton, New Brunswick, Canada. She has enjoyed many years designing carpet for commercial interiors. Besides all things pattern and colour her interests include the outdoors and traveling. Connect with Julie here.
I hope that you enjoyed this presentation of tropical patterns by our Textile Design Lab community. If you are interested in purchasing or licensing any of these designs please reach out to the designer. Thank you!