We are ending 2023 with a special project! We have invited Amanda Kammarada, an expert on hand lettering inspirational quotes to be our Guest Expert in the Textile Design Lab on November 29th at 1pm EST. After learning tips from Amanda, members will be challenged to create their own personal work of hand lettered art with their main goal or mantra for the coming year! Find out more details on the project from our interview with Amanda below. And if you need help to clarify your goals and organize your thoughts, join us for our two week goal setting group study December 4th-15th in the Textile Design Lab.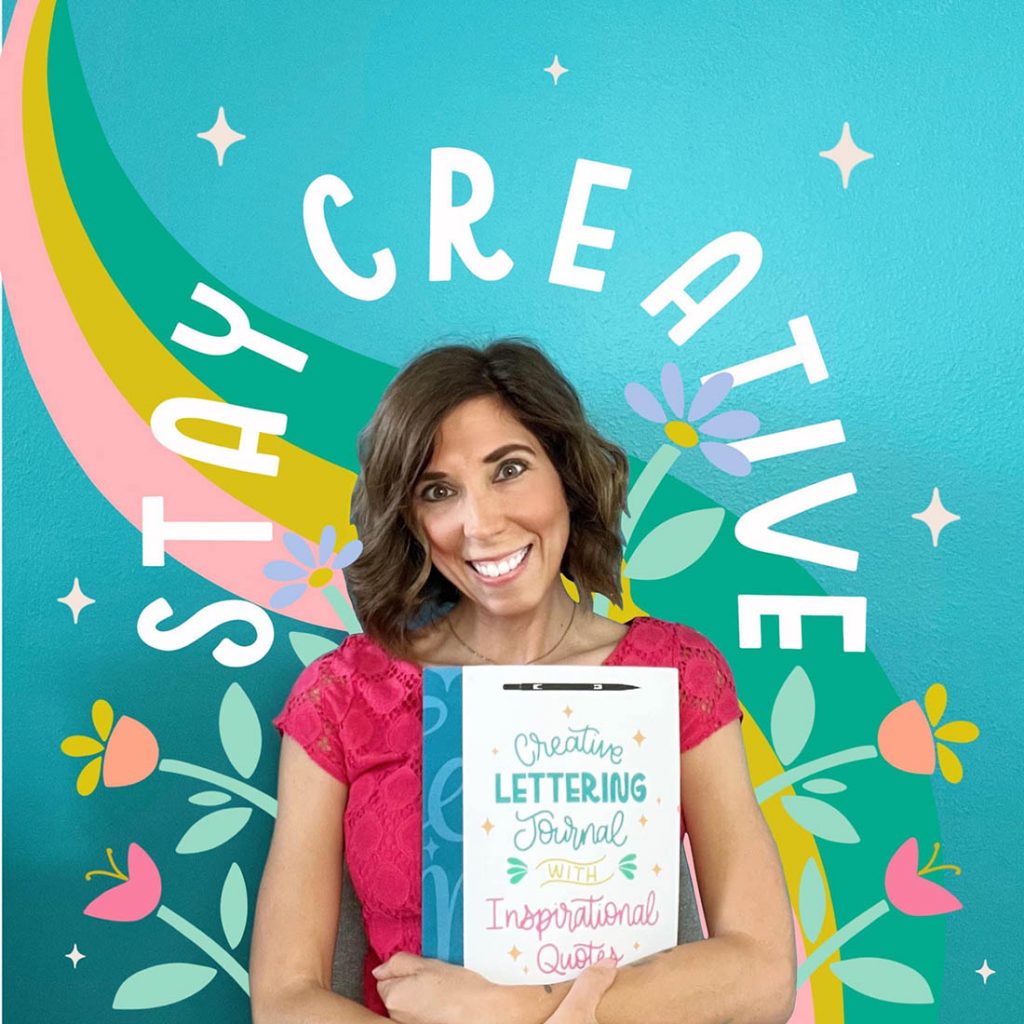 You teach lots of hand lettering workshops, how did you learn this creative process?
I'm a self-taught lettering artist. Art has always been a part of my life, especially drawing. In 2016 I saw hand lettering on Instagram and fell in love with it. I knew I had to try it, so I taught myself by watching others. I love teaching others how to do it- it's an amazing art form.
Tell us about being a Brand ambassador for Tombow, how did that start out and what are some perks?
Tombow Dual Brush Pens were the first pens I ever used. As I kept getting better with lots of practice, I decided to start sharing my work on Instagram. Tombow took notice and offered me the opportunity of being an ambassador. I receive products each month and share how to use them on social media. Tombow is a great company and I'm so proud to be a part of the program.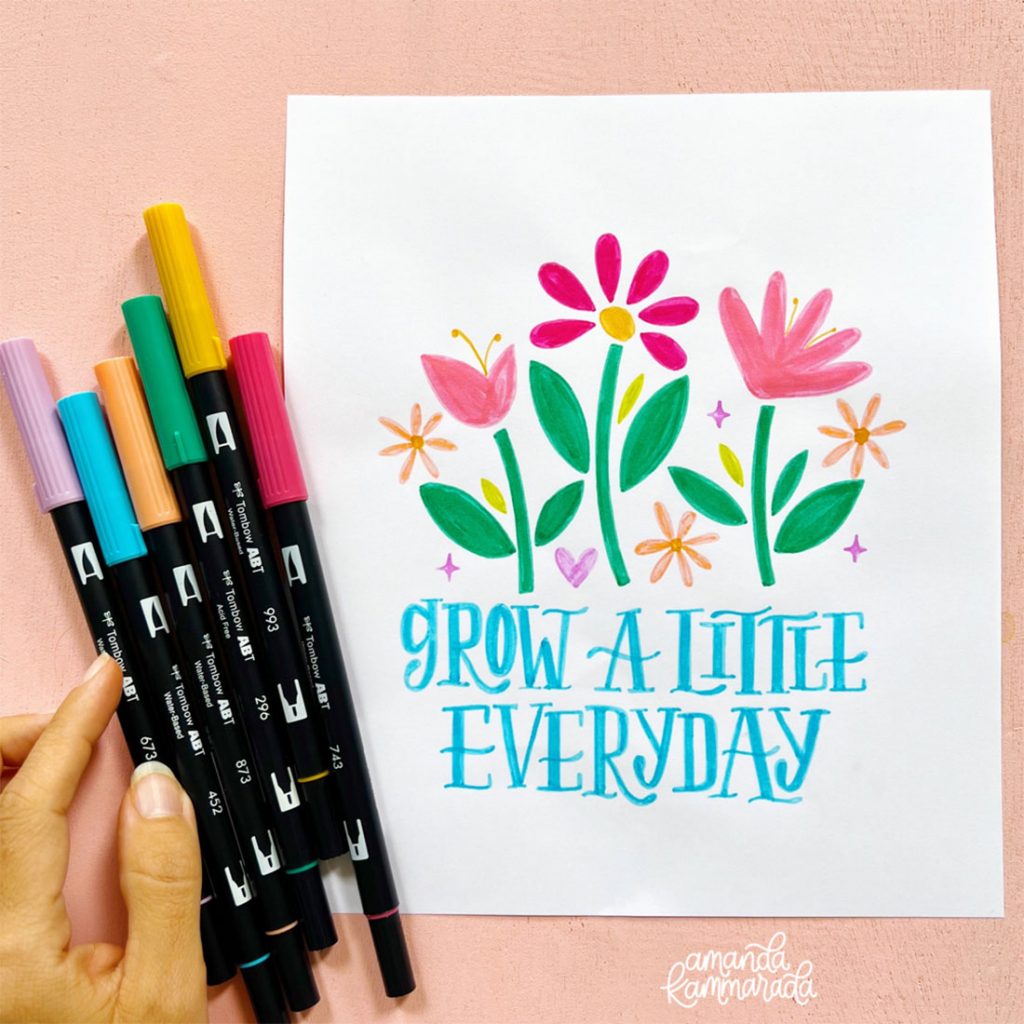 You recently relocated to Germany from Florida! Have you noticed any changes to your style or creative endeavors from this big move?
I was initially worried about how the move would affect my creative process, but it's actually been really great. Nature and the outdoors is really valued over here. I've found myself being so inspired by what's around me. The flowers, the changing of the seasons, the gorgeous leaves & the magic of nature. I'm looking forward to incorporating that into my art.
What part of a hand lettering business is the most lucrative for you? Licensing/royalties, teaching, commissions, outright sales, other?
Throughout the years my business has gone through many changes. When I first stared out, Etsy was my main source of income, custom orders especially. As I grew as an artist, new opportunities came. I've written two hand lettering books, which allows me to earn commissions (as well as being paid for writing the actual books). Adding teaching to my business has been a great bonus. Now I'm moving more into freelancing & licensing, which can be very lucrative. I've found that I'm constantly growing and what I want to create and how I create changes. You have to find what works for you.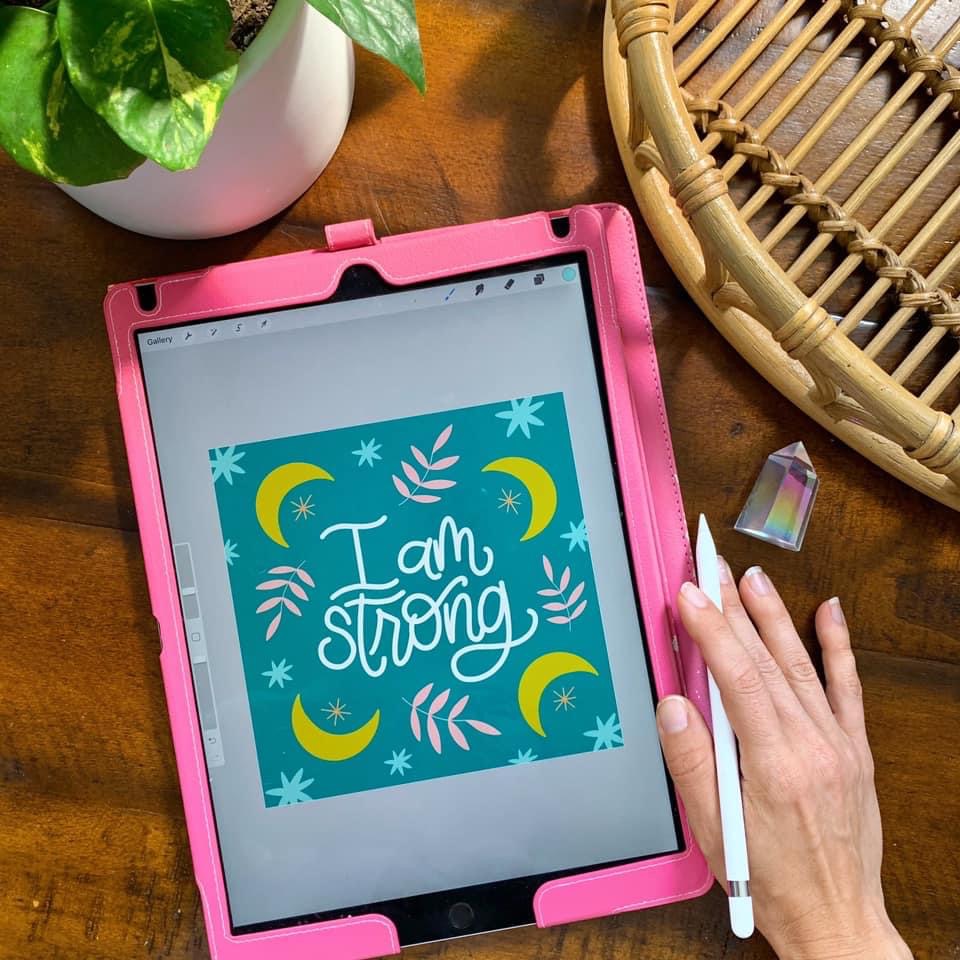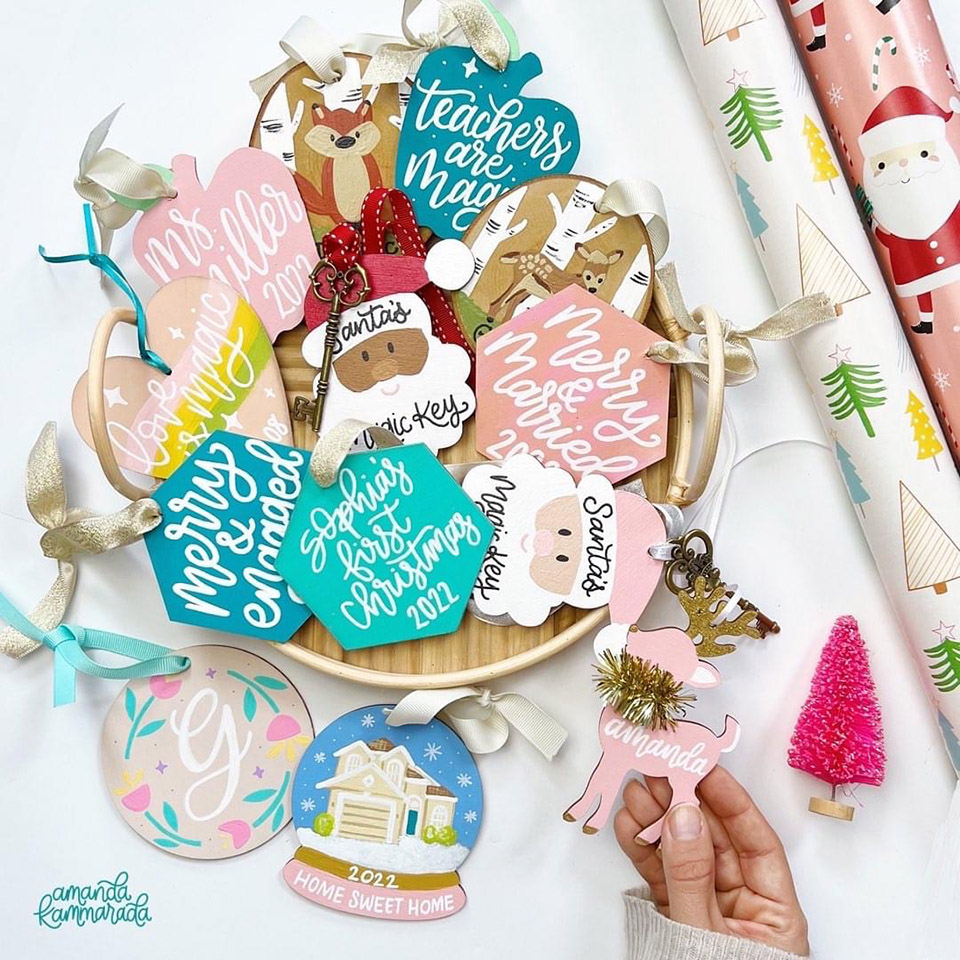 Congrats on publishing your books! Can you share how this opportunity came about and the process to publish it?
Thank you! I've published two hand lettering books. The Hand Lettering Workbook and The Creative Workbook Journal with Inspirational Quotes . My first one came out in Spring 2020. It was the most challenging, but most rewarding experience. Many months prior, I received an email from a publisher who had seen my work on social media and was wondering if I would be interested in writing a book. Of course, I said yes. The process goes by quite quickly- I actually wrote the entire book along with all the art in just a few months. My editor was great and I was able to create the chapters, topics, as well as all the art. I was provided deadlines for each section. After the rough draft was submitted, changes would be made if necessary before publishing. Holding my published book in my hand for the first time is an experience I will never forget! Then in 2021, they reached out to me again with another idea for a book. My second book came out in 2022.
What actions or decisions have made the biggest impact on your design business over the years?
Honestly, I had to stop doubting myself. I mean, I still do, but I'm always working on not comparing myself and my art to others. There's room for all of us. We each offer something unique to the art world. Second thing… learn to say no. Especially no to projects that you aren't passionate about or that you don't feel comfortable doing.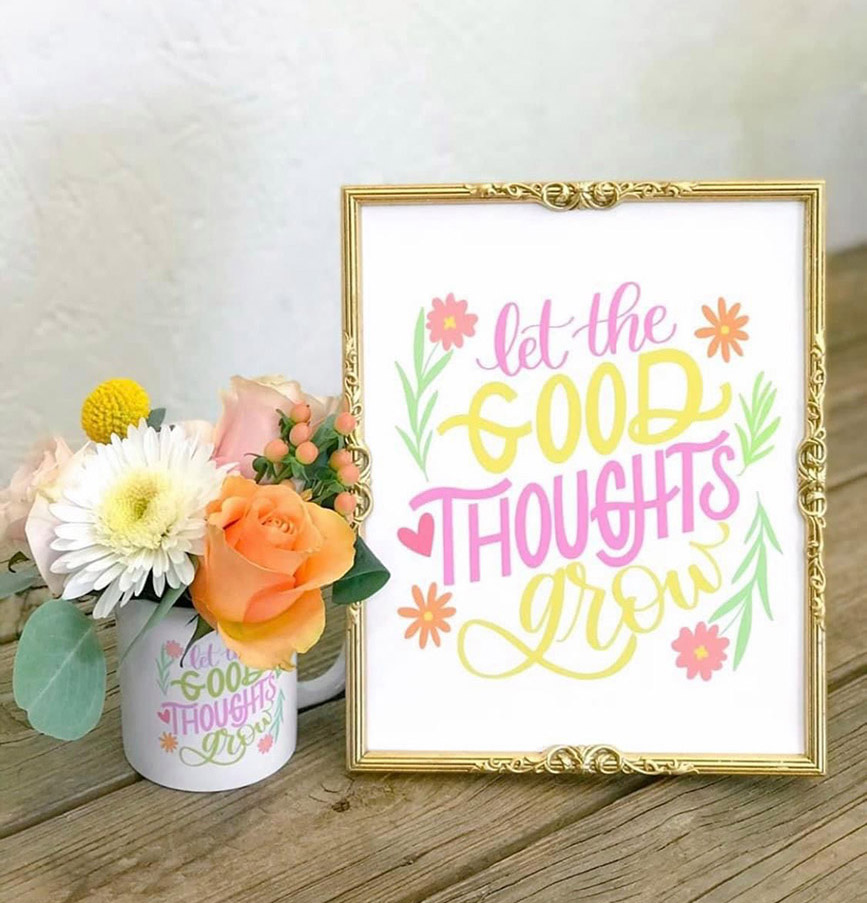 Can you share what projects you are currently working on or what are your exciting plans for the future?
Currently, I'm working on getting into the world of art licensing. I've been working on my portfolio. And I'm excited to start working on creating surface patterns!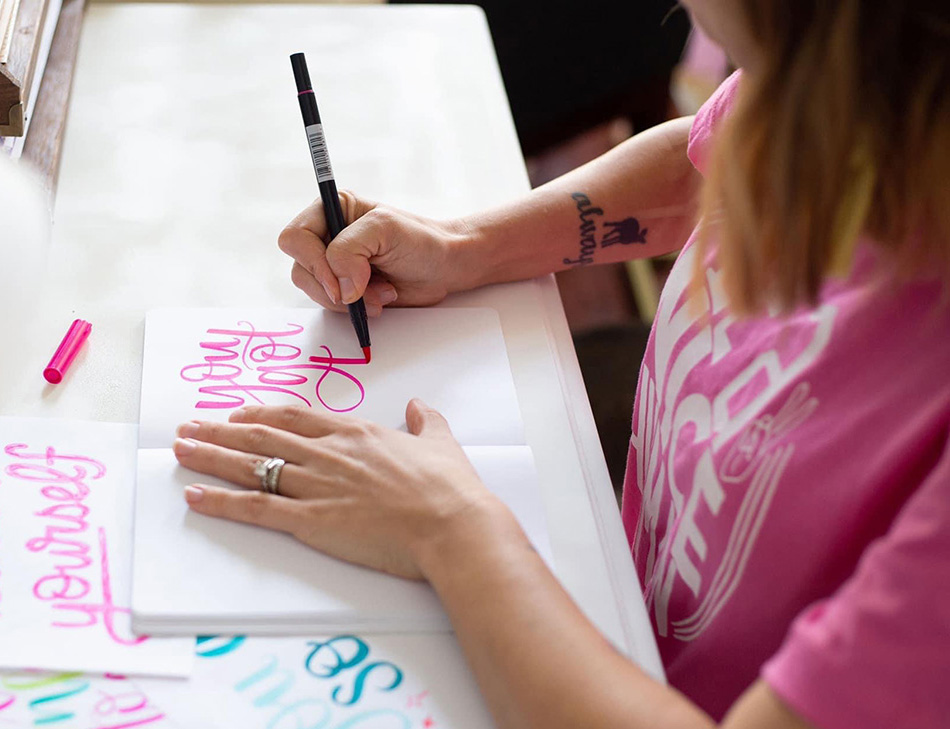 Can you give readers an idea of the workshop you will be hosting in the Textile Design Lab.
A majority of my work is lettering inspiring quotes- words that are meaningful. Mental health is so important to me and a big part of what I share to the world. I will be showing you how to create a lettering piece with a goal or mantra for 2024 using the iPad Pro and the app Procreate. I'll be walking you through my process from idea, to sketch, to choosing colors & style of lettering, to making the final piece. I'll also give you an idea of how I use paper & pencil too. And I look forward to sharing with you the great benefits of hand lettering.
You can follow along with Amanda's adventures in Germany and her latest projects with hand lettering and surface design on Instagram and her website. We hope you can join us for Amanda's live presentation on hand lettering, there will be time for questions of course. Then you can put these concepts into practice as you make a personal art piece to motivate you for creative success in 2024! Find out more in the Textile Design Lab.