It's technically easy to start a blog. There are countless free platforms, services and tutorials to walk someone through the process, but once a blog has been created, what happens next? Many designers blog for several weeks or months only to find that they run out of post topics or never grow past a handful of readers. Does this sound familiar?
Have you always dreamed of starting a blog that would bring clients to your website on a continual basis?
Do you have a blog that seems to be going no where and is simply no longer fun to operate?
Do you struggle with what to write and who to write for?
In Blogging for The Pattern Industry, you'll learn how to build a blog that helps you stand out in the marketplace and grow your business. With the right systems in place, blogging can be a painless, fun method to expanding your network and serving a community of readers.
This course will enable you to:
Blog with direction and vision
Use your blog to target a specific customer or industry
Develop content on a continual basis
Enjoy the blogging experience!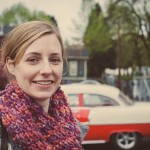 In 2010 I founded Pattern Observer as a way to stay informed on the latest trends in the textile design marketplace. I had recently left my corporate textile design job and was concerned that I was going to lose sight of emerging pattern trends in the market. Since that time Pattern Observer has grown into an internationally recognized resource for designers and has been featured on Stylesight, Print Magazine, Nordstrom Blog and Elle Decor. I am excited to share my experiences with you (both good and bad) and will be available throughout the course to answer questions and guide you through the materials.
This course is now part of our Textile Design Lab. Get started here!