Happy Friday everyone!!!! I am delighted to announce Pattern Observer's first guest post. Jessica Shipard has compiled this wonderful trend report on patterned leather that I think you will all find inspiring and informative. Take it away Jessica!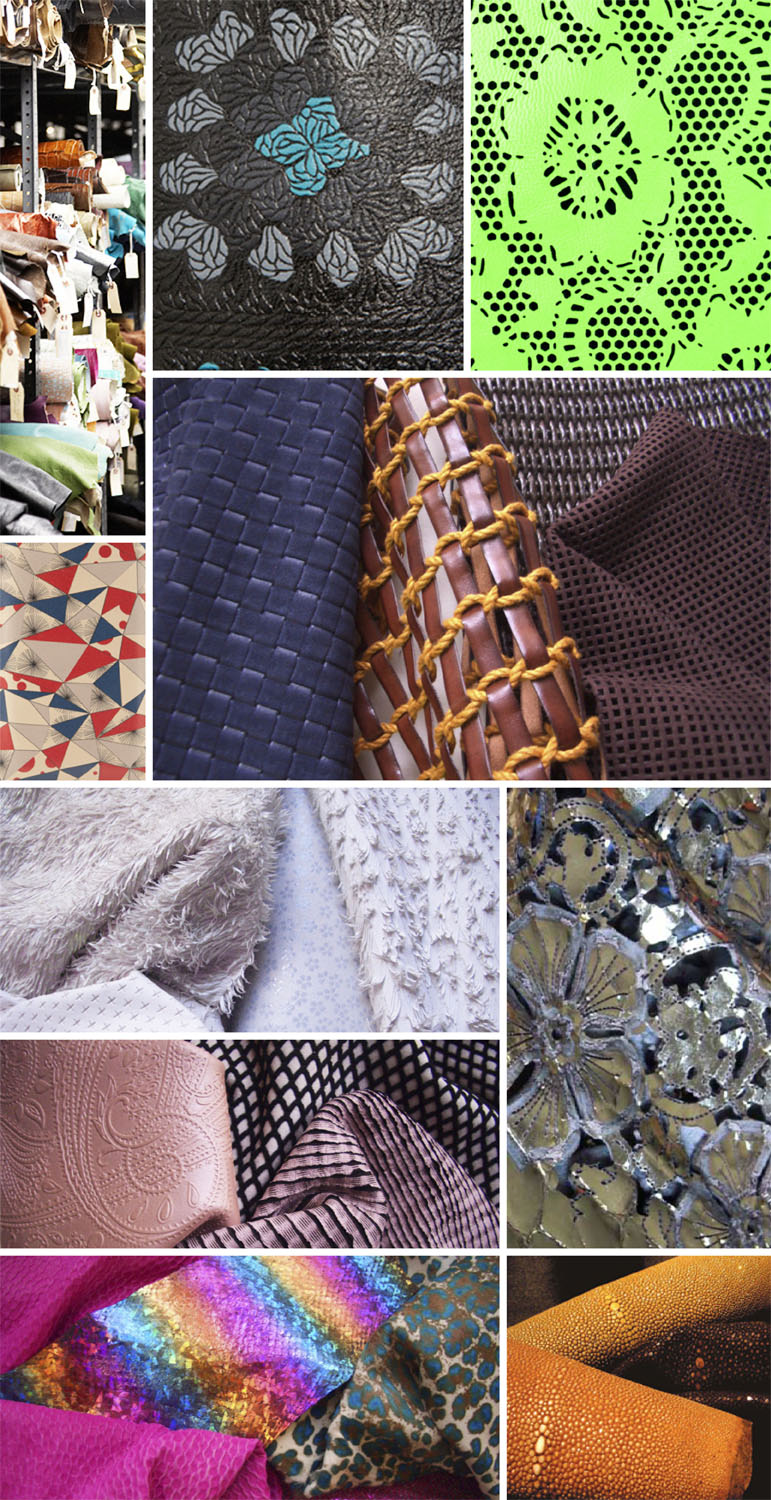 *images via: Libra Leather Studios photographed by Todd Selby, Embossed crochet-effect leather from Christopher Kane F2011RTW, neon laser cut lace leather from Christopher Kane S2011RTW, Digitally printed leather products by Tovi Corrie, complex woven leathers, feathered leathers, film transfer on leather, embossed leather, holographic and sequined leathers, stingray leather photographed by Taneka at the LE CUIR A PARIS leather & fur trade show.
Trend Report: Patterned Leather
For the past three years leather has been a key textile in fashion trends, and this isn't about to change.  Increasingly designers and leather makers are experimenting and innovating with the natural textile to create printed and patterned leathers.  For Fall and Spring 2011 the ever inventive Christopher Kane offered neon laser cut lace-look leather and crochet-effect embossed leather.  These are hinting towards future fashion trends that use patterned leathers instead of block colors or instead of printed fabrics.
Is the patterned leather trend generated by the new techniques or have the techniques been created by the trend? Claude Vuillermet, an expert in leather and trends (who designs the forum for the LE CUIR A PARIS leather & fur trade show) says "There is no doubt that technical creativity is inspiring innovative experiments and creating new desires, such as that of leather decorated in a variety of ways. But it is also important to underline the growing influence of fabric, which has played a large part in bringing leather closer to fashion."
There are great opportunities for designers to apply their surface design concepts to leather using techniques such as laser-cutting, plate-embossing, screen-printing, digital printing, film transfer, hot gold stamping, shriveled leather, modern patchworks, complex weaves and perforation.