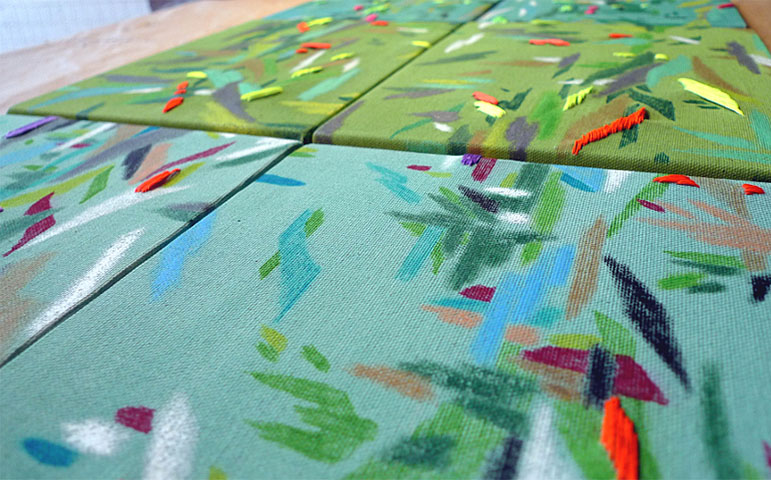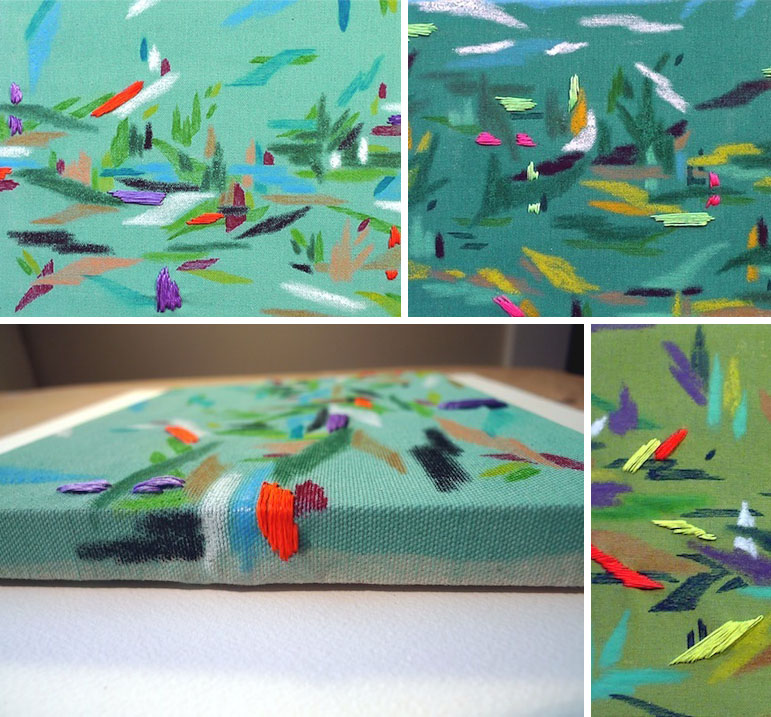 Update: Great news! The artwork is available at BSDA for another three weeks. Run on over there!
Ok. So let me start out by saying that I failed on this post. I was sooo excited to share these pieces with you and hoped that one would end up on your living room wall by the weekend. Well….I didn't realize that BSDA (awesome site, check it out) is so limited with their timeframe and I am sad to say that the pieces are no longer for sale on the site. BUT, I am sure that Tyson and Joana would be happy to sell you a piece if you contact them directly.
So back to the amazing artwork you see above..
These pieces are a collaboration between Tyson Anthony Roberts and his wife Joana Chavez, and in their own words…
"The works in this show were all made using canvas, acrylic, crayon, sharpies and thread. We started with un-stretched canvas, painted the background color with acrylic paint and applied crayon markings. Joana then hand-stitched selected areas to give the overall piece a textured look. Lastly, we balanced everything by shading areas with colored sharpie fine point markers.
We have been collaborating on various projects over the past few years, however these works are the first time that we have "married" our preferred mediums (Joana's stitch-work, Tyson's painting and drawing). Our goal with these was to find a balance between the characteristics of these mediums while pushing our individual styles beyond the comfort zone. Trusting what each other was doing was a huge part in making these pieces work…creating these was a good practice in translating a life skill into something tangible."
BSDA also has a wonderful interview with the couple. Here is my favorite Q&A:
Question: "What can't you live without?" Answer: "Each other."
P.S. You may remember Tyson's work from a few months back..(check that post out here).