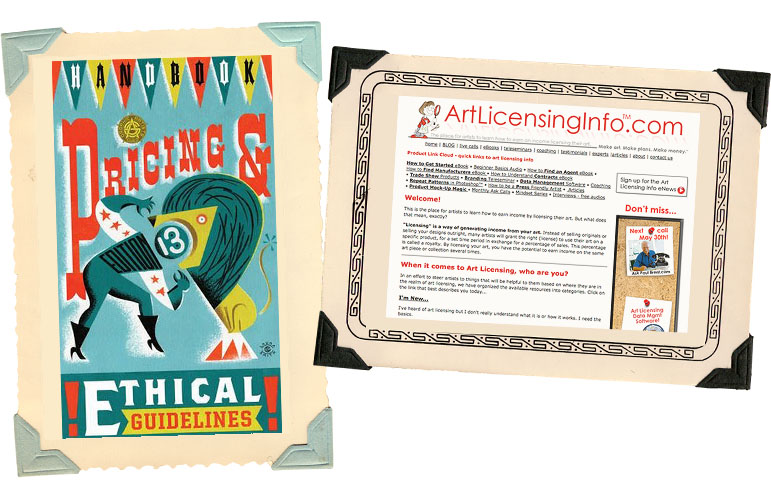 Hi there! A few months ago I posted my thoughts on pricing exclusive textile designs, and in response I have received several questions on how to sell one's work in a licensing or royalty capacity.
For those of you not familiar with art licensing, it is when you grant a company the right to use your artwork for a limited amount of time. You maintain the copyright to your artwork and are paid either a flat fee or through royalties. My background is rooted in the apparel world, where licensing is rare, so I have done a little research and compiled my favorite resources for those of you who are interested. Even if you do not plan on licensing your work, I recommend getting familiar with the process so you are prepared if the option ever arises!
My first recommendation is to check out The Graphic Artists Guild Handbook of Pricing & Ethical Guidelines. There is only one chapter devoted to Surface Design, but I find the information invaluable and a great place to start your pricing research. The chapter is broken down into a general industry overview, the types of surface design markets and full time, hourly and flat-free salaries. The only component lacking from the material is information on hourly rates for designers at the entry or assistant level.
My second recommendation is the Art Licensing blog, which is produced by designer Tara Reed. Tara's blog, monthly calls and other free resources are the perfect place to start learning about this side of the industry. I also HIGHLY recommend her ebooks, which are a wonderful value and filled to the brim with helpful tips and tricks.
Do you have any art licensing resources to share? Let us know in the comments below!

Save