Welcome to Part Three (19th Century Quilts) of this series brought to us by Molly Williams. Over the next six weeks Molly will explore the people, politics, patterns and processes that informed the development of the American quilt. She will take us from early African-American quilts to the 21st Century Art quilts that we see today. I find the history of textiles inspiring and fascinating and I hope you enjoy this series.
19th Century Quilts
Four distinct types of quilts developed during 19th century America: the American Pieced Quilt, 9 patch quilt, Album Quilt and the Victorian Crazy Quilt. The American Pieced Quilt, which was designed to accentuate the contrast between colors and patterns, began with a central medallion that spread out evenly over the quilt.
The 9 patch quilt
It was the change in construction, from pieced medallions to nine-patch blocks that revolutionised American quilting. While bed-size quilts required a lot of room to piece, pieced patterns could be assembled in a relatively small space and easily carried until stitched together.
The Oregon Trail opened up the American West, where settlers carved out a life for themselves in the harsh wilderness. Quilts were made on the wagon and in the dugout and things of beauty were created from scraps of old clothing and feed sacks. Patterns, such as windmill blades, barn raising, straight furrow and court house steps, developed from the landscape.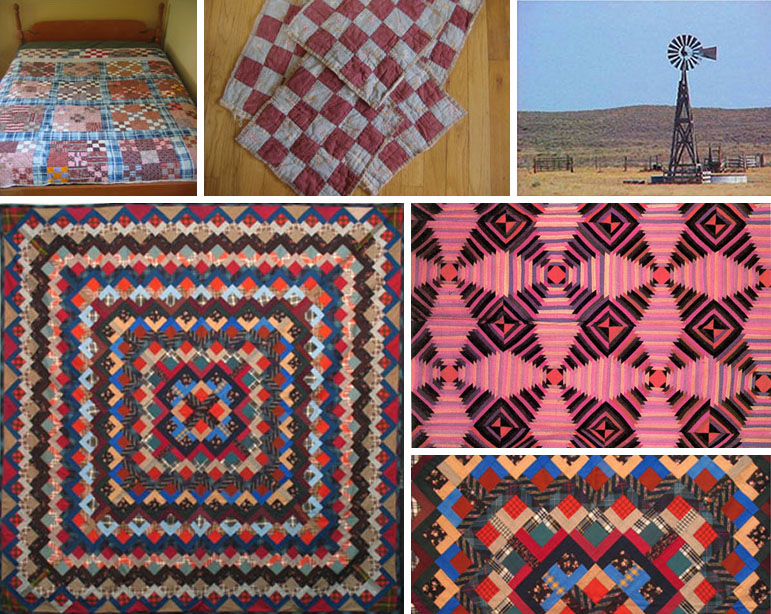 * images via: https://www.quiltcompany.com/, Windmill Quilt from Ben Mildwoff Collection, Straight Furrow Log Cabin Quilt?c. 1870, Barn Raising Log Cabin quilt
Album quilts
For more formal occasions, such as weddings and christenings, elaborately appliquéd Album Quilts were made to commemorate the special day. The detailed appliquéd tops were further embellished with intricate stitching as seen in the close-up image of this patriotic eagle and floral quilt.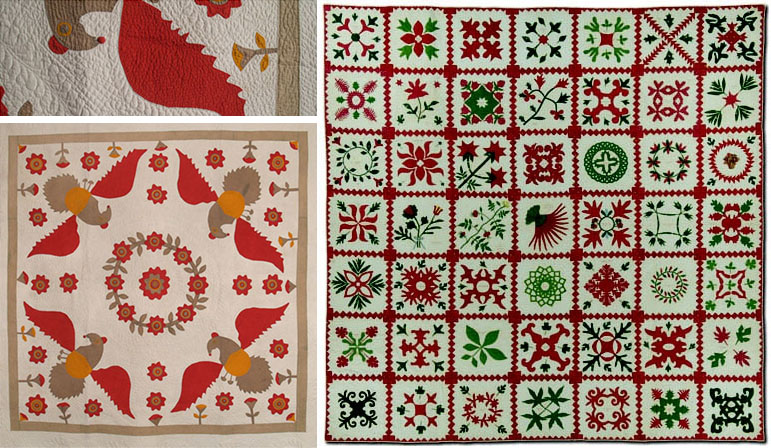 *images via: Eagles with Floral Wreath Applique Quilt c.1875, Album quilt. Made by a member of the Hargest Family, Baltimore, Maryland Dated 1845
The Victorian Crazy Quilt
The Victorian Crazy Quilt was very different with its flamboyant pattern of rich silks and velvets embroidered together to make a contemporary display. It was a passion that began towards the end of the 19th century in response to the influence of Arts and Crafts movement and American Aesthetic Movement… change was in the air. – Molly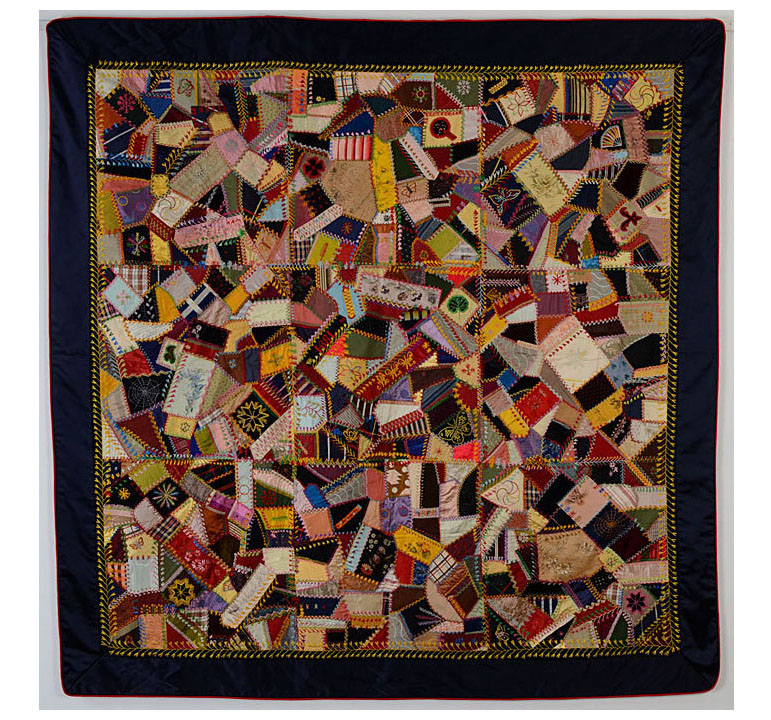 * image via: Victorian Crazy Quilt c 1890