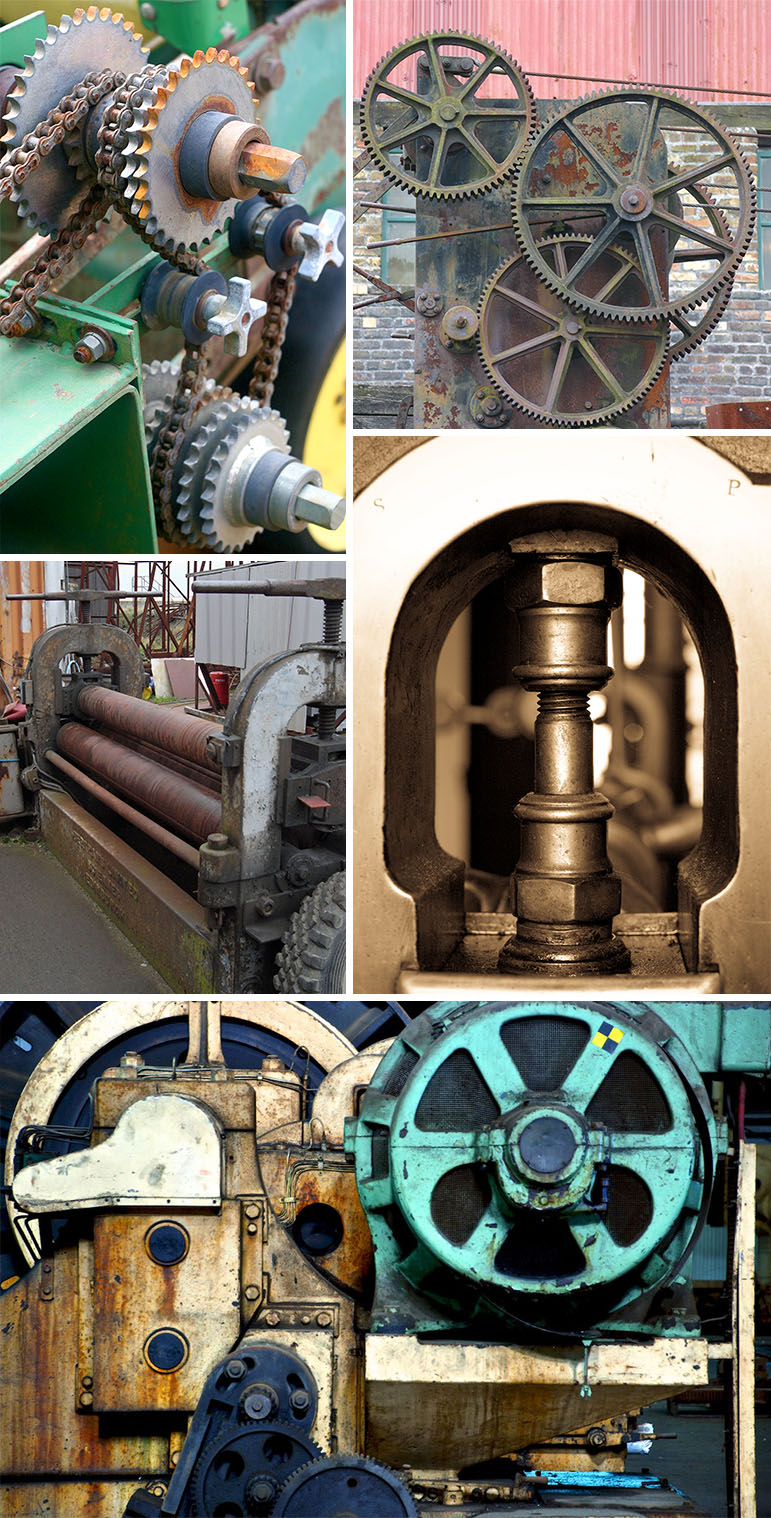 images via: "Gears" by Liz West, "Cogs" by Kevin Walsh, "Steam Engine Machinery" by William Warby, "Photowalk 141" by Chris Betcher, "Plate Bending Machine" by David Wright
Hi there! Chelsea found these amazing photos of machinery and it was such a great reminder of the endless opportunities that there are for inspiration. The shapes, colors and movement within these pieces are fantastic! Speaking of fantastic, the weather here in Portland has been a stunner and I had a wonderful weekend filled with shopping for the nursery, music and a little bit of work. My business is not yet at the point where I can take the entire weekend off, but I am making changes to do so soon! Some examples are:
Automating emails: I love connecting with clients and Pattern Observer readers, but I find myself writing the same emails over and over again. I knew google canned responses was an option, but I struggled with feeling unauthentic. My solution? Using canned responses as a starting point for common emails and then editing and adding to the draft for a more personal touch. You can read a how-to here.
Using more freelance help: The big business guys and gals all preach the powers of outsourcing, but hiring freelancers can be scary!!!! It took a while to find the right "team," but I can now see that hiring out tasks that I have been doing for years: repeats, data entry and more is the only way to grow my business and offer a higher quality of service to clients, students and readers. I still struggle with the "I can do it all" attitude, but if I ever want to take a weekend off, let alone maternity leave, I know I have to let go and trust those around me!
Developing systems for frequent tasks: I am slowly going through each aspect of my business to see how I can more efficiently work and get even better results. In the past couple months I have streamlined my invoicing process, started using an amazing project management program called intervals and have scheduled out my blog posts months in advance, which is nice, but is still difficult for me to follow ; )
Do you have a 3-month goal for your business? What steps are you taking to accomplish your goal? I would love to hear all about it..