Welcome to Part Four (Amish Quilts) of this series brought to us by Molly Williams. Over the next six weeks Molly will explore the people, politics, patterns and processes that informed the development of the American quilt. She will take us from early African-American quilts to the 21st Century Art quilts that we see today. I find the history of textiles inspiring and fascinating and I hope you enjoy this series.
Amish Quilts
The Amish came to America in the mid 18th century and settled in Lancaster County, Pennsylvania. As the country opened up, they began to move to the Midwest, where they lived their lives according to the Bible and were the tillers of the soil, living close to the earth in a simple, ordered way.
Amish quilts are known for their solid colors and clear geometric designs. The stark colors resound off each other and the intricate loops and swirls of the quilting design mirror the contradiction between the severity of the Amish life and the rolling contours of the natural world, in which the Amish work year in year out.
These quilts were status symbols and ceremonial textiles to mark life stages: birth, marriage, death and each one was signed by its maker. A woman could expect to be judged, however discreetly, by the quality of her quilt. The traditional Lancaster quilts have a central medallion design and sombre colors were preferred.
As Amish communities migrated to the Midwest some women began to use brighter fabrics and developed more intricate patterns. Small, fine, evenly spaced stitches are the hallmark of any Amish quilt; the most experienced Amish quilter can stitch eight to ten stitches per inch in her quilting.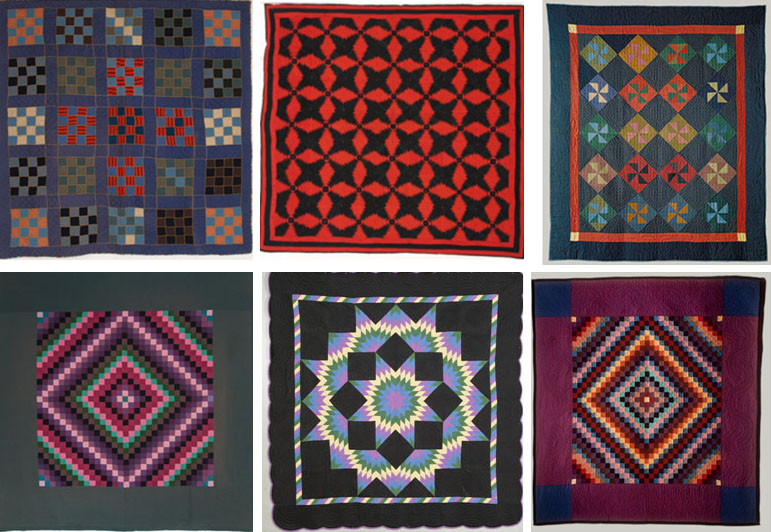 * images via: Amish Wool 16 Patch Quiltc.1928,Amish Pineapple Log Cabin c.1890-1910, Pinwheel quilt, 1930, Sunshine and shadow quilt, ca. 1940 Amish, Lancaster County, Broken Star 1920–30 Ohio, Amish Trip Around the World with Hunter Green Border c.1945 Lancaster, Pennsylvania
There are recognizable differences between Amish quilts. Quilts from the Midwest are made in block formation with more white and light green pieces, while Pennsylvania quilts are known for their large, bold designs and elaborate quilting.
Despite their traditional design Amish quilts remain fresh and surprisingly contemporary when compared to modern art. —- Molly