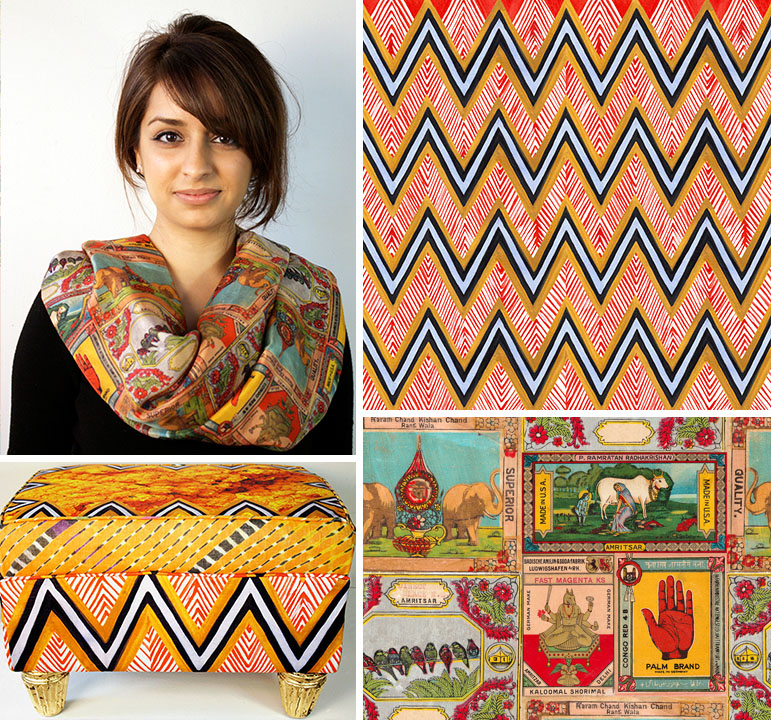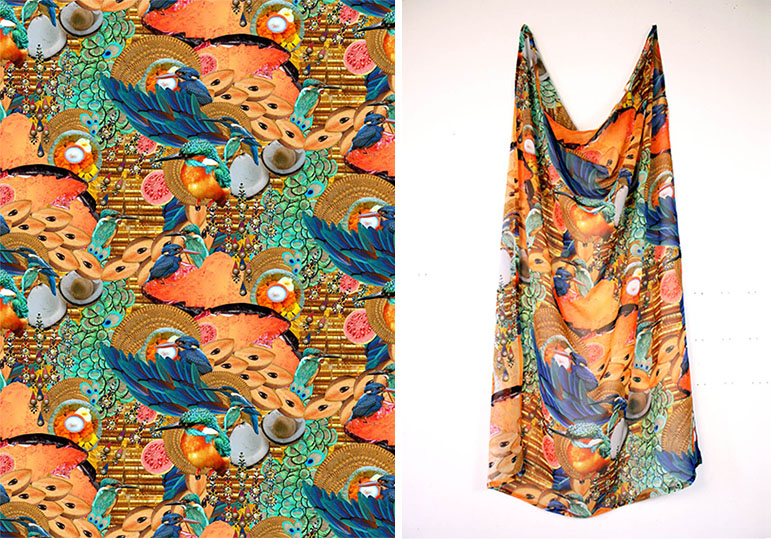 Today's featured designer is Rachel Clore who recently graduated from the Maryland Institute College of Art in Baltimore, Maryland. Rachel has lived all over the United States, from Charleston, SC to New York City, but it was a recent trip to New Delhi, India that changed the direction of her design inspiration and lead to the fantastic prints that you see here today.
During her time in New Delhi, she had the opportunity to explore bazaars, markets, temples, as well as India's festival of color–Holi. She also traveled to other Indian/ world heritage sites such as the tantric temples at Khajuraho, the Ganges, and the Taj Mahal. During her last month in India, she traveled "to the desert of Kutch (West India) and the city of Jaipur (North India) to study bandhani (i.e. Indian tie and dye) with two Orthodox Muslim families. I studied bindi bandhani while in Kutch (the square dot) and lahariya and mothara (diagonal stripes and checks achieved from rolling fabric into a rope)."
"While living in India, I was inspired by everything–birds (most often the colorful kingfisher), mangoes, the chikoo (a type of fruit), gold jewelry, temple architecture, the electric colors, painted elephants, marigolds and other flowers, truck decoration, ornamentation and  decoration in every sphere, and everyday people. When I returned to the US, the culture clash made me examine what I found most amazing about India. My memories, sketchbook pages, paper clippings, photographs, and writings then helped inform my digital repeats for fabric as well as my lithographic, relief, and screen printmaking projects. As I get further away from my time in India, my work has been turning to my most vivid memories of color, food, and visual clutter that I feel embodies India"
Rachel Clore is currently living and working in New York, and is always looking for new contacts, employment opportunities, and freelance work. To learn more about Rachel, please visit her website.