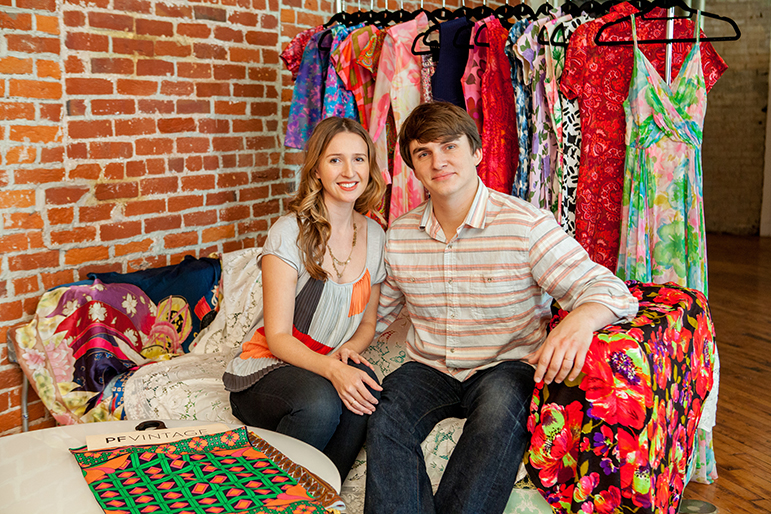 Amy Voloshin is the creative director of PF Vintage and Printfresh Studio, based in Philadelphia, and we are lucky to have scored an interview with her to share with you today! Recently PF Vintage started a new wide-format digital scanning service called Dots Per Inch, which aims to "help designers work with the art and Vintage pieces that they love, while eliminating the hassle of getting the artwork into a digital format." As anyone who has spent countless hours trying to scan and piece together a vintage piece of fabric knows, it can be tedious and frustrating! The Dots Per Inch service "not only makes the design process more efficient, it eliminates the costly hours that it can take to scan vintage prints or antique documents on an average office scanner." Read on to hear what Amy has to say about the service, as well as a taste of what life is like in her textile design studio!
What is your background in textile design? How did you get into the field?
I have my undergrad from RISD & have designed apparel for Urban Outfitters and Free People & formerly I was an art director for a major print studio based in NY. However, Philadelphia had my heart & I wanted to bring business to the area. So 6 years ago I opened my own print studio, which has grown to 19 employees with Print designers, Embellishment designers & an entire Vintage archive & our hard-working sales staff.
What made you decide to start this scanning service? What are your goals for the business? My personal collection of prints became our Vintage archive & with our vintage sales growing we wanted to make it easier for CAD artists to use the Vintage prints that they love to creative new motifs with some beloved elements. Previously designers would have to use a regular office scanner & have to piece together their work in photoshop to get a seamless file. This service now allows designers to immediately have a seamless file for their artwork in up to 600dpi.
What is the most difficult part of scanning artwork? Do you have any tips to share for getting a good scan? Honestly, sometimes the sheer size of some of the artwork we have to scan is a task unto itself. But once you get the piece completely lined up & correctly in place then the process can be fairly smooth. Our scanner is such a high resolution you have to prepare whatever the object is that you are scanning, for example if there is a wrinkle in the fabric, the scanner will pick that up, not just the artwork. Like many new ventures in life, a great tool to have with scanning large artwork for people is patience.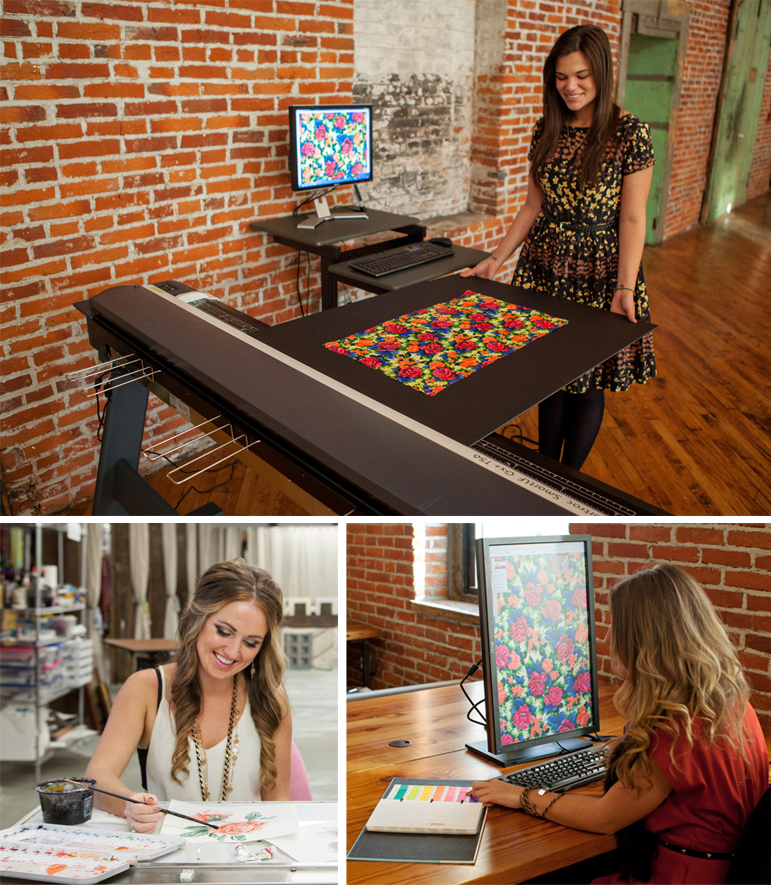 Could you describe a typical day in the studio? What are your responsibilities? What are your favorite parts of the job? Our studio is a lovely place to work, we have our sales team, our designers & our production team and we are all a great group of young fun creative people. It really is a lovely place to come to work every day. I am the Creative Director & co-owner of Printfresh with my husband. I work with our artists & our two Art Directors to create a cohesive collection of prints, graphics & embellishments for our wide array of customers. My favorite part of the job is seeing what amazing things all of my designers come up with & getting to work with a great team of creative people that really do love producing art.
What would you consider to be your most proud achievement so far? In business, I would say in a matter of years going from artist to business owner & helping young artists get their start in surface design is very fulfilling.
What is the atmosphere/energy like in your studio? Frantic? Zen? Is your workspace messy or does it stay very tidy and organized? Our atmosphere here, although it has it's very brief moments of being frantic, on the whole it's a really great place to work. I don't think I would describe it as Zen, but it certainly is relaxed & for the most part quiet. My personal workspace is always pretty tidy. I need it to be to keep my head on straight. It just keeps me clear to have my workspace & my day to stay organized to achieve everything I need to do.
Do you listen to music while working and if so what's usually playing? I personally do not listen to music while I am working, but almost all of the designers either listen to music or podcasts while they are working on their designs.  We are huge NPR fans, This American Life, The Moth, and How To Do Everything are our studio favorites.  Our pandora station is always set to a mix of indie stuff, old school soul like Sam Cooke, 90's jams, and Rihanna.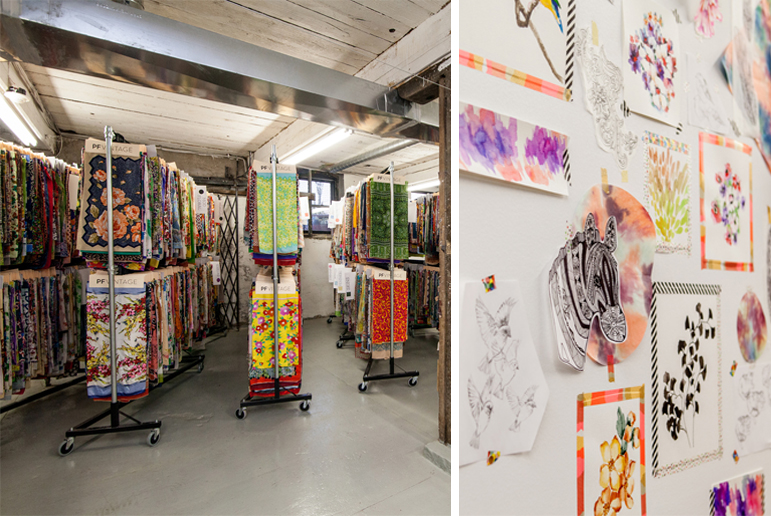 What are your favorite sources for design inspiration? Favorite print & pattern trends? I love getting out to stores and boutiques to see what's new and to be able to see and touch the fabrics.  Looking online is great, and I love looking at the runways for a lot of our trend direction as it tends to be more conceptual, but there really is something wonderfully tactile about going to a store and seeing something in person.  In the studio we are loving geometric prints right now.  For a long while we were working on watercolor florals, but now we are seeing a drastic change to clean geometric designs.  We are also doing a scenic trend of photo-real tropical and desert scenes, which I'm totally obsessed with, it's very playful and fun.
Do you have any advice for aspiring designers hoping to break into the textile field?
Having a great portfolio is the best way to get into a position within a company.  It's really important to show beautiful painting and drawing abilities and then demonstrate how you would put those into a print.  Going to tradeshows like Printsource and Indigo by Premier Vision can be very inspiring and can be a good way to see what the textile industry is doing.
Thanks for sharing Amy! Have a great week everyone. -Chelsea
P.S. The first Sellable Sketch workshop of 2013 starts in just a few weeks and we would love to have you join us for this 6 week design intensive. Find out more here.