Today we are pleased to feature the textile design collections of two incredibly talented designers from two of our students: Lisa Rivas and Femi Ford. Lisa and Femi both created stellar collections in the course and were kind enough to share several of their prints with us today along with some insights into their Sellable Sketch experiences.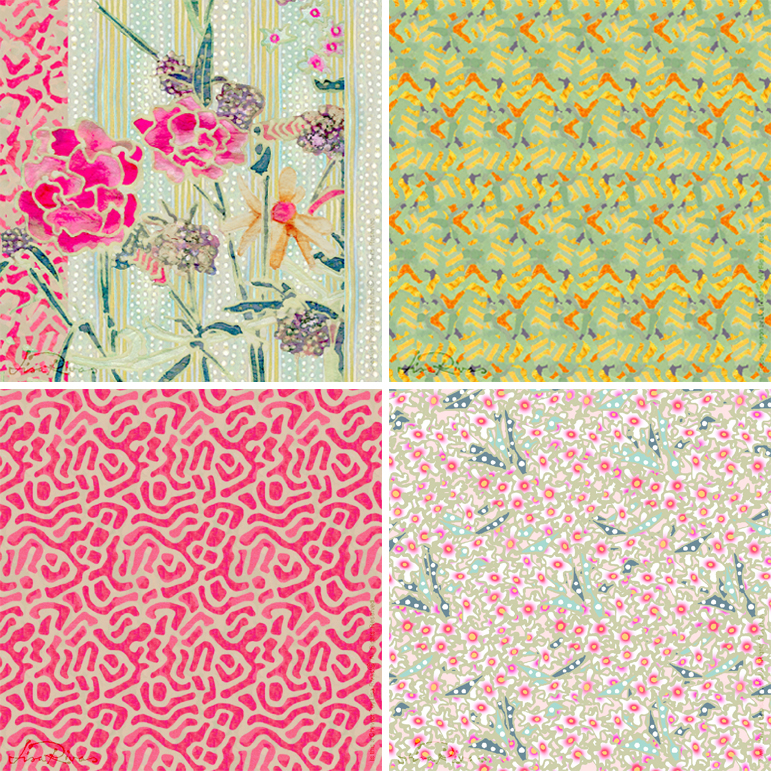 Prior to taking the Sellable Sketch, Lisa Rivas "had no idea how to handle the field of Surface & Textile Design and had come up to a blank wall." Over the six week workshop we watched her thrive in the "small and serious" course environment, with "individual attention that makes students deliver and show-up." Lisa's collection started from images of her customer, "a sophisticated and well known elderly super model for the high-end fashion houses," and grew into the lovely, carefully crafted pieces seen above. Lisa was inspired by "a piece of artwork done with my signature method of batik and watercolor and I was determined not to lose my personal style." Lisa not only stayed true to her fine art roots, but was able to leave the course with "an amazing "blueprint method" in designing a successful and desirable textile collection. I gained the knowledge of how to go about gathering and assembling information on a specific client or market and then creating the designs that would be a perfect fit for them."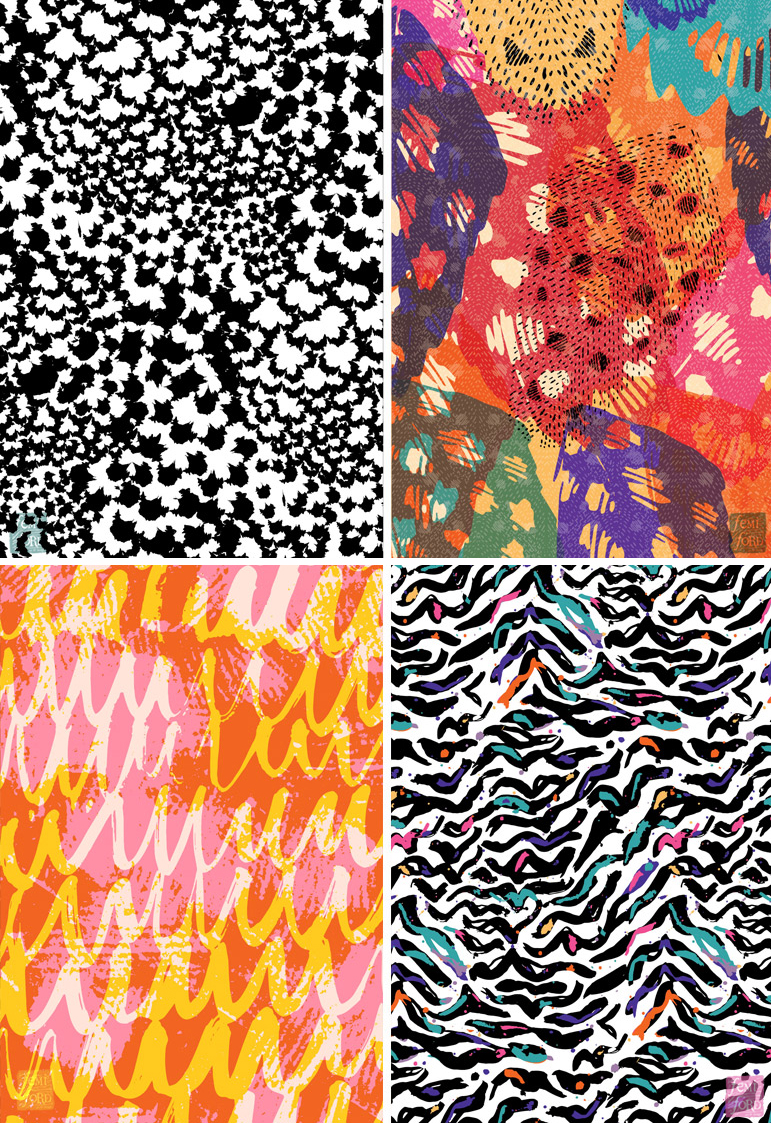 Femi Ford
 created these energetic, colorful pieces as part of her 'Stripes, Scales, Scallops, and Spots' collection. "My inspiration during the Sellable Sketch was to incorporate my loose, handmade style into an 'animal camouflage' collection suitable for women and juniors. I ended up creating ten prints in this collection which are available through 
hunt+gather studio
." Femi's biggest challenge was "focusing in on a trend and sticking with it. Also, deciding what style to apply since I have a range of ways I like to create work. My biggest takeaway from the course was Michelle's method of analyzing past and current fashion trends and how to translate it into patterns that work with my style. The course helped me to zero in on what I really wanted to create and stick with it."
Are you ready to design your eye-catching textile design collection? Get started with our
Sellable Sketch course
inside the Textile Design Lab.