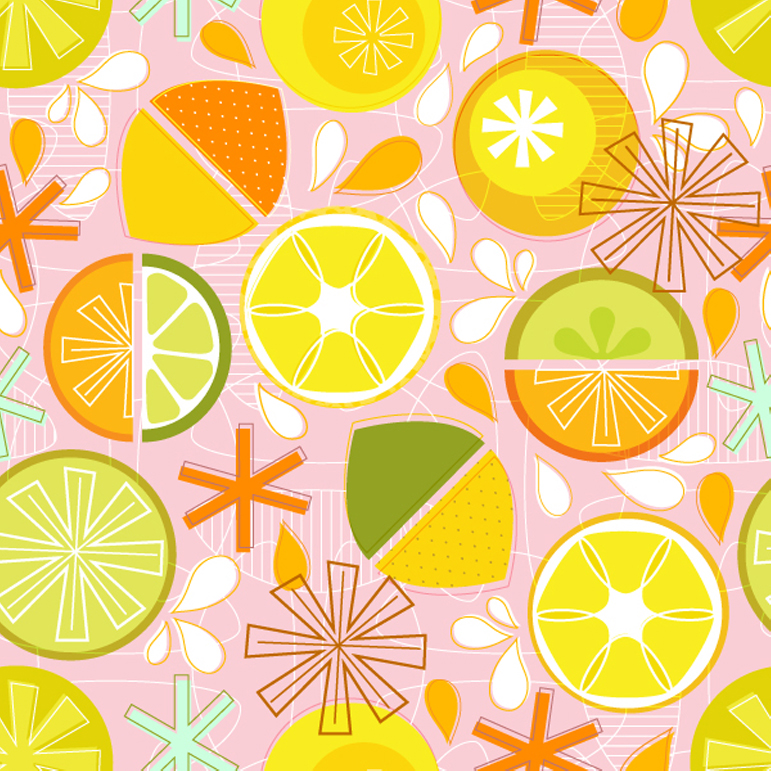 Nadia Hassan is a self-described "pro-am" fabric designer with a true passion for pattern. Michelle and I instantly fell in love with her cheerful designs and her can-do attitude! One of the ways Nadia is working to improve her craft is through her Pattern of the Week project.
What inspired you to start your Pattern of the Week project? What are your goals for the project?
Inspired by some of the now-famous daily-installment projects (Collection a Day, Daily Drop Cap, etc), the Pattern of the Week project is my win-win solution for achieving a set of related goals. The ultimate goal is to transition into a full-time role as a fabric and surface pattern designer. With this project, the worst-case scenario is that I continue to hone my craft, and walk away with 52 new designs in my portfolio. That doesn't sound too bad to me! However, as much as this project is about making more and better designs, it's also about overcoming shyness, and the fear of making myself vulnerable (to public failure, or to being ignored, dismissed, or out-right rejected). I set out to prove to myself that the reward of sharing my work with others outweighs the potential risks, and so far that's been the case.
Can you tell us a bit about your design process? Your preferred media, favorite design tools, etc?
Many of my designs are like journal entries – I often use pattern design to visually articulate an idea or to explore a current obsession, though sometimes I create designs for themed contests (such as Spoonflower's weekly Design Challenge). Usually I start with a sketch or a photograph – it could be something beautiful or strange, or something perfectly mundane. I try to do as much planning (making notes, sketching, etc.) as possible before I move into digital territory. Of course there have been exceptions, but I've found that for any design more complicated than polka dots, planning always helps. To create the final artwork, I work almost exclusively in Adobe Illustrator. Perhaps my most important "tool" is keeping my files organized. I don't know whether I should be proud of or embarrassed by my meticulousness, but I'd rather spend my time experimenting with colors and shapes than trying to locate the files in the first place!
How has the Pattern of the Week project helped you grow as a designer and what have you learned about your style along the way?
The most noticeable difference I see in my work since beginning this project is that I am able to create more complex, multi-layered repeats that feature a variety of textures and shapes. I have always tended toward a clean, minimal style, but in the past it was as much due to ability as choice. I've spent years admiring other people's work, and, no doubt with the help of this project, I'm finally able to incorporate into my own work all that I've internalized about what makes a great repeat pattern. Like any other skill, it's darn near impossible to get worse with practice. By experimenting with some techniques and color palettes that are outside of my comfort zone, I'm learning how to work within a style that is authentically mine, but that also leaves room for growth and exploration.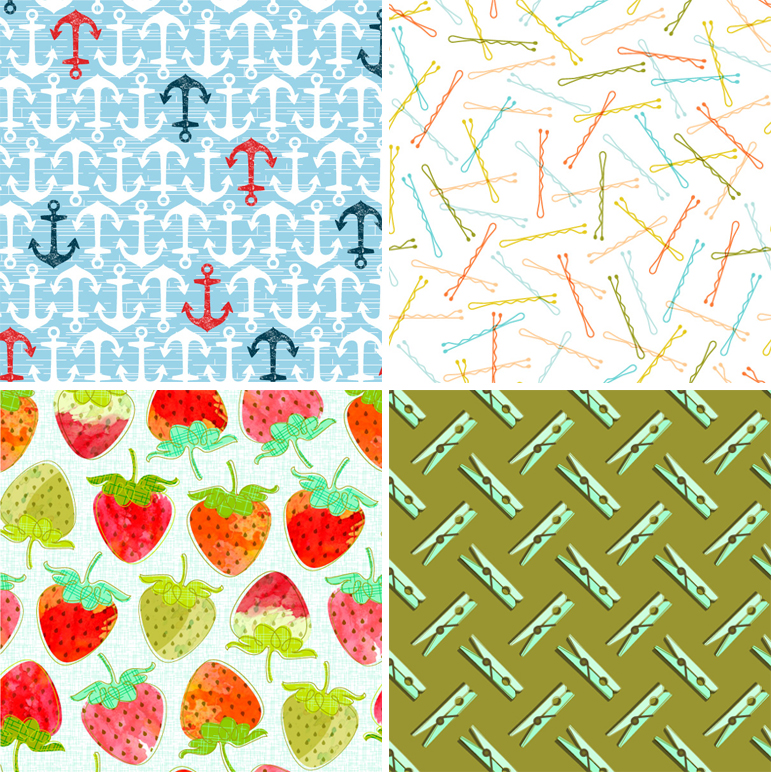 Do you have any suggestions for designers interested in taking on a similar challenge? What do you do to stay motivated and keep the creativity flowing?
Since I've made a public commitment to create a new design each week, everyone will know if I drop the metaphorical ball. This is an important source of motivation for me, but I suppose it may not be as effective for every individual. Though I create each pattern the week before it's posted, I have a (very tentative) schedule planned out for the upcoming 8-12 weeks. It changes all the time, as new ideas and inspiration come along, but even a tentative plan does a great job of preventing last-minute scrambling for ideas. Also, having a system for capturing inspiration when it strikes is critical! Like many people, I use my smartphone as a digital sketchbook, because it's perfectly suited for the task and it is always with me. Lastly, for anyone interested in taking on a similar challenge, remember that you don't owe anybody anything – all you're promising is a new design each day/week/month, not that it will be great, or that everyone (or even anyone) will like it. Push yourself, but also savor the wonderfully self-indulgent process of exploration and play.
What are your go-to sources for design inspiration? Favorite books, blogs, designers, etc? Favorite print & pattern trends?
My two most reliable sources of design inspiration are nature and thrift stores. Both are full of the unexpected, and I love being surprised by what inspires my next favorite design! I love the mid-century/mod aesthetic, elements of which often show up in my work. As for favorite blogs/artists, it's hard to know where to start! I've long been a fan of Jessica Jones, Holli Zolinger, and Helen Dardik (all for their unmistakable styles applied in endless ways). Besides Pattern Observer, printpattern.blogspot.com and trueup.net are good for getting the latest scoop on current trends and beautiful pattern designs. Finally, I have to mention House Industries, because for a type foundry, they sure do love patterns!
Be sure to check out Nadia's Pattern of the Week project along with her growing collection of seamless repeats on her portfolio website. Have a great week everyone! -Chelsea