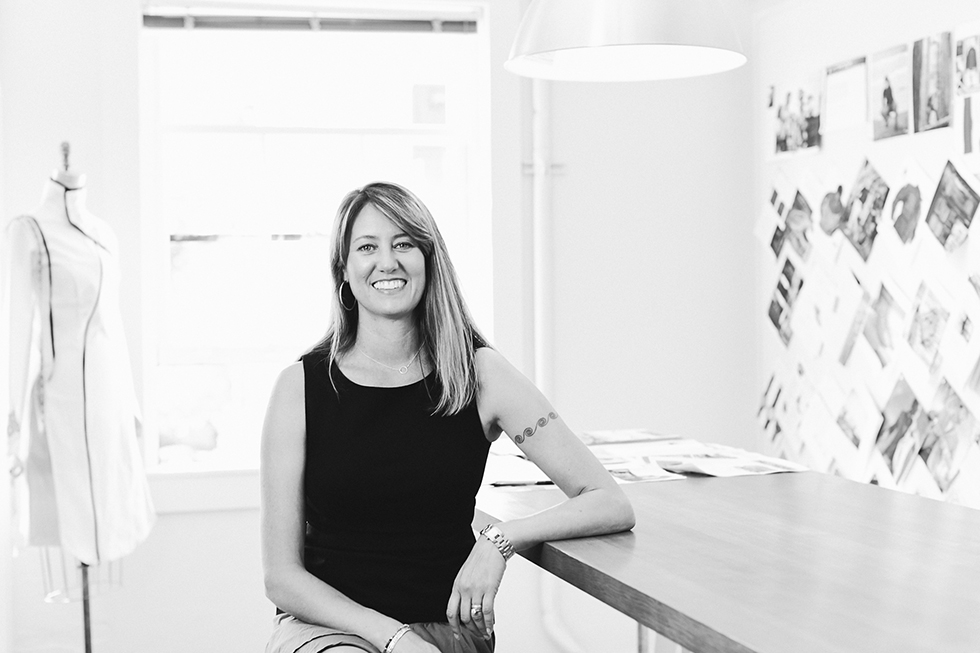 Britta Cabanos (pictured above) is the Chief Design Director of Creative Capital Design, a Portland, Oregon based design consulting studio specializing in athletic women's product. Britta has over 20 years experience as a Leading Swimwear Design Director and together with partner Rebecca Kaufman Ward, launched Creative Capital this past October. Creative Capital offers services from design strategy, to product development to production ready product.
Britta will also be joining us as a buyer in Sharing Your Work, which starts on Tuesday, May 26th (there is still time to apply!) Read on to learn more about Britta's fascinating career and the work she does at Creative Capital Design.
Tell us a bit about your design background and career path. How did you make your way to your current position at Creative Capital Design? What drew you to the swimwear market?
After I earned my BS degree in Apparel and Textiles, I moved to NYC to attend FIT to get a Associate degree in Fashion Design. Being from Minnesota, I knew it was my best chance of getting a job in the industry. After I graduated, I landed my first job as a Design Assistant for a women's sportswear company. I knew I wanted to focus on Activewear and after gaining a little experience, landed a job at Danskin. While there I worked on Dancewear, Bodywear and Swimwear categories. It was my first experience working with athletes who were the authentic customers of our product. The swimwear we developed was worn by triathletes and my love of athletic apparel was born. I fell in love with the swimwear market and eventually made my way to a swimwear company where I worked for several years and became head designer. We produced several brands including licensed product where I gained the experience of acting as a liason with outside companies. I also gained the experience of working with mass market companies where our volume grew to 60 Million dollars. After a few years of mass designing for the masses, I felt it was time to get into higher end brands so searched out and found my next job designing for the launch of Donna Karan Swimwear that included DKNY and DKNY Active which had an athletic appeal.
My real passion and dream was to create my own swimwear line. So after gaining several years of experience I decided to take the leap. After a lot of planning and research, I launched my own swimwear collection and sold to boutiques, retail chains including Victorias Secret. This was my greatest learning experience as I did everything from sourcing to working with factory on production, shipping, selling and marketing. Things were going well and started to build a foundation for the brand, and I most likely would have continued with the business but I had been approached for a position to design for Tommy Hilfiger through Jantzen, based in Portland, OR. This required a relocation from NYC and after several interviews and discussion with my husband, we agreed it would be a great opportunity and move for our family. After a few months working with Jantzen, I was moved to the position of Nike Brand Manager, where I designed for all categories of Nike swimwear. This was an amazing experience and I gained the knowledge of working on technical product for elite athletes. After 8 years of designing Nike swim, I felt it was time to re-prioritize and spend more time with my growing children. Again I knew I wanted my own business and decided to leave my full time corporate career and work as a design consultant. I reached out to former employers and the relationships I had built over the years to offer consulting services. Within a year, I gained clients in NYC and Australia working on swim brands.
During this time I was also introduced to Rebecca Kaufman Ward- who I partnered with and together we launched Creative Capital Design- a design consulting studio specializing in athletic women's product. Our official launch was this past October and we are currently consulting with apparel companies who need outside design services and networking to gain new clients.
What is a typical day like for you on the job? Could you talk about about your consulting work and what you do for your clients?
Our clients are varied and we custom tailor to their needs. We offer services from design strategy, to product development to production ready product. A typical day includes a lot of networking as we are in the early stages of our business as well as designing actual products. Developing products includes color and trend research, illustrations, creating story boards and presenting concepts to a client or buyer. I may also be doing fittings and working with a technical designer to finalize fit of the designs.
What are some of the challenges of designing for swimwear?
Differentiating the product from the competition- it is a constant challenge to design product that gives the customer the reason to buy over other brands. Fit is also crucial and fitting a swimsuit is much harder than people think!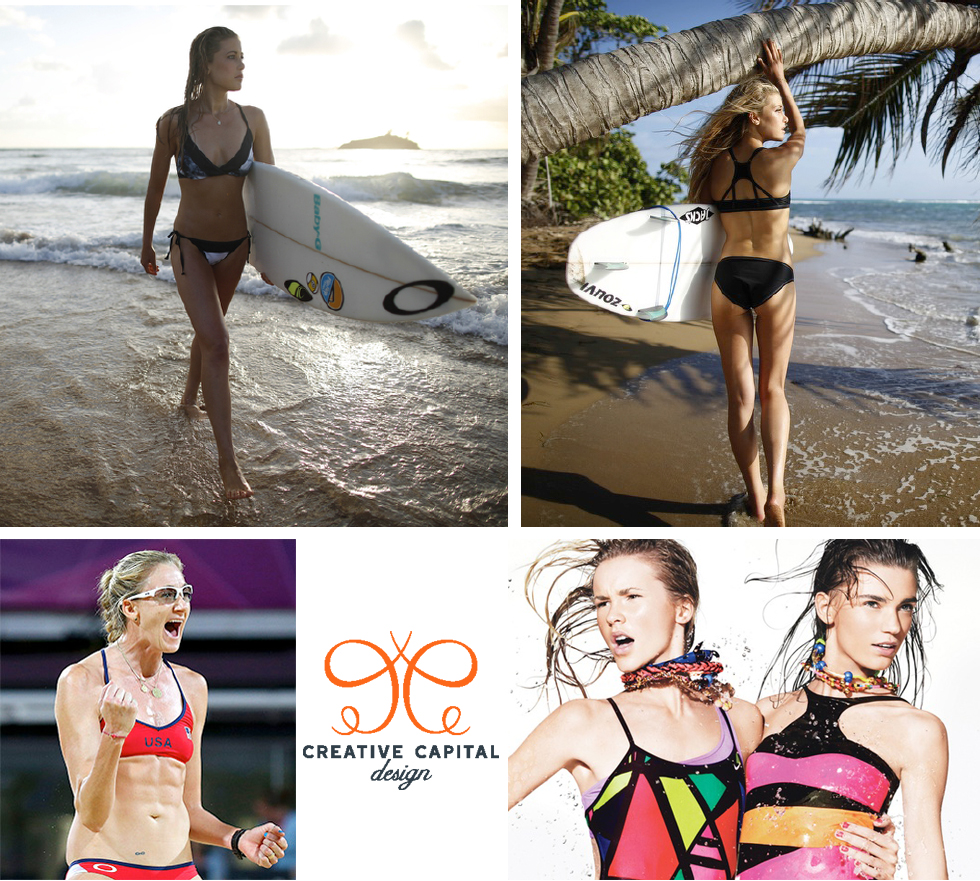 What do you feel makes a successful print for swim, or what do you look for when buying prints?
It is driven by what brand I am working on and the end use consumer. Whether its a mass market or a performance swim consumer, will determine the type of look I am going for. The print has to be trend right in motif and color as well as the right scale on the body. I personally like prints that look more fashion forward, yet not so forward that the consumer wont understand it- It has to be a print that can be put in several colorways and still work. I often look to the runways to watch what is trendy as the consumer now is very savvy and aware of what's happening in fashion.
What role do trends play in your design process? Do you subscribe to any trend or color forecasting services and if so, how does this affect the way you design? What are your current favorite print and pattern trends for swimwear?
Trend services: Stylesight and WGSN. I love these services for their research. They forecast trends in many different markets, have information on trade shows, material and technical development and market info in cities around the world. I look to them for information on what they predict a year from now and what is happening in other parts of the world. Favorite prints: I always love graphic and bold prints- right now I am still liking the Ethnic trend but also the digital abstract looks.
Where do you gather inspiration for your work? Are there any books, blogs, magazines, etc. that you recommend?
I use Stylesight for trend forecasting, but I am constantly looking- I look anywhere from boutiques, to online shops, high end designers as well as swimwear shops. Its important to keep up on whats happening in the stores as well what the trend forecasts are. The internet is now a wealth of information and you can find many runway shows on Youtube as well as images of the shows on fashion magazine websites. There are also amazing Pinterest sites that have become very inspiring as well.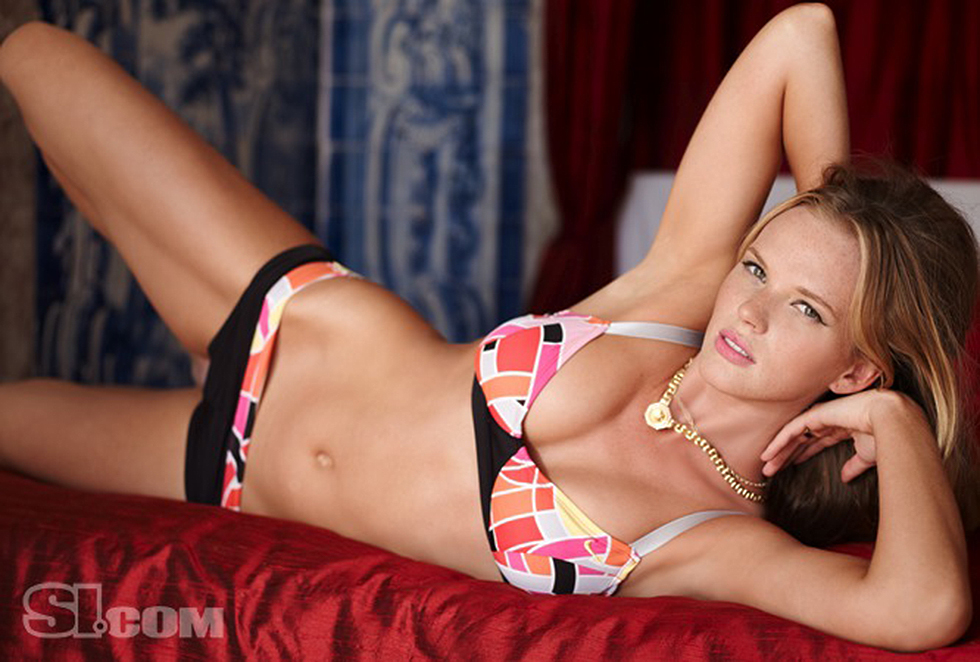 Who are your design heroes? What about them inspires you or influences your work?
Donna Karan is always at the top of my list- she has been an inspiration to me ever since I was a student. She worked her way up and built her own brand. Her designs are made for real women and I am always impressed by her collections. But other favorites vary from season to season; Matthew Williamson will create amazing prints, Jonathan Saunders designs dresses with sporty influence and in the past few years I have fallen in love with VPL. One other designer I love is Max Azria because the clothes are very graphic yet feminine and beautifully constructed.
Over the course of your career, what one action has made the biggest impact on your design business?
Building good relationships along the way. I have a strong work ethic and have worked hard to build a good relationships and a good reputation in the industry.
What are your goals for the future of your business? What would you like to be working on a year from now or five years from now?
Along with my partner, we are working towards building Creative Capital Design to be a well-known and successful design studio specializing in athletic apparel with an emphasis on women's product. In addition, I am also working on designing a new brand that will have a philanthropic aspect to it. Five years from now I hope to have the company and brand established with continued growth.
Do you have any words of advice for aspiring designers trying to make their way in the apparel industry?
Start as an intern if you have to. Volunteer at a company, a fashion show, anyway you can get your foot in the door. Then work work work- work hard while you are young. I have met many students or young designers that assume they know enough to make it on their own- you dont really know the industry until you have worked in it and gained some years of hands on experience. There are many aspects to design- most of which you can't learn in class- you need to learn it by doing it and living it. Learn every aspect of the process that you can, even if it's not your main interest. The more you understand the industry and the process of development, the stronger your knowledge of your product or service will be. Through my jobs I also got to travel many times to Asia and other parts of the world. I never would have been able to do that on my own. It's also important to learn how to work with many different types of people and build those relationships. Learn from the people that have been doing this longer than you- ask questions, absorb as much as you can, go above and beyond your job description to expand your knowledge as much as possible.
Sharing Your Work begins on Tuesday, May 26, 2015. In this four week course we walk you step by step through the process of developing professional marketing tools which will allow you to confidently grow your business. The workshop culminates with the opportunity to have your artwork reviewed by three buyers from companies such as Pink Light Studios, Hunt+Gather, Pendleton, Keeco, Creative Capital Design, Modern Yardage and more. In addition to your review, these buyers may become vital industry contacts. Spots are limited so don't wait to apply!