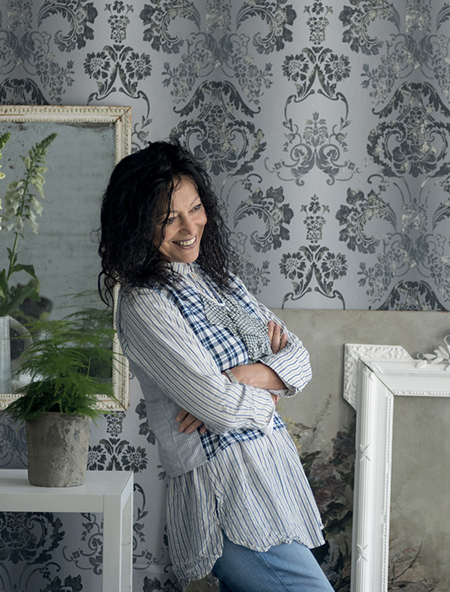 *Post by Manisha G. Harkins. 
Tricia Guild OBE is famous worldwide for her singular sense of colour, pattern and style, with more honours to her name than one can easily list. She's considered one of the most influential forces in textiles and interiors, ever since she established Designers Guild on the Kings Road in Chelsea, London in 1970 — which designs furnishing fabrics, wall coverings, upholstery and bed and bath collections. Her latest book Colour Deconstructed has just been published, hot on the heels of her AW13 collection.
Why do you feel we are instinctively drawn to certain colours and patterns over others?
Choosing colour is, by its nature, intrinsically personal and subjective. There is an energy and a mood that surrounds each shade, colour and pattern with which, at some primal level, we make a connection when we make our choices; a connection that ultimately says something about who we are, what we love and how we want to live.
Your latest book unlocks your application of colour to interiors and your feelings on colour.  How is it different to your earlier works on colour?
It is more analytical – I have tried to dissect my own instinctive response to the colours that I love and am currently using, in the hope that you too can find your own colour sense and enjoy expressing it as much as I do.
Can you connect your colour explorations within 'Colour Deconstructed' to your latest collections: not solely in terms of pure colour, but also in terms of pattern and choices of colour for specific patterns within various ranges in the collection?
Yes and the book is filled with imagery from our collections. Although each new collection has something unique to offer, there is a handwriting and a feeling that does run through the designs. Whether it be the colour palette that we use or perhaps the painterly effect seen in some designs, the combination of textures or the use of pattern, but of course the combinations and the way to use the collections is limitless.
In many instances, one particular range for a seasonal collection may be quite different to another (e.g. Royal Collection as opposed to Unlimited or Essentials).  However, do you find a connecting colour thread through all whether via a glimpse within a pattern or pure colour gradation?   Or do you try to keep each range fairly distinct?  If so — how do the colours make sense within the larger collection?
We offer a broad range of collections and have different brands within our range. From the more classical and rich Royal Collections, the thousands of plain and semi plain textures of the Essentials, the more decorative Designers Guild designs, fun and quirky kids ranges, contemporary handwriting within the Unlimited collections, as well as William Yeoward and Christian Lacroix Maison – the offer is varied and I hope that there is something for everyone.
Can you talk about where your inspiration for this collection arises and the process behind the patterns/designs/colours within them?
The Silk Route has been a huge source of inspiration for centuries –that mystical and exotic trade route winding its way through China and central Asia to Europe bringing silk to the west but all the while trading ideas and philosophies, traditions and customs too. This season, it was the costumes of the lands and tribes throughout the silk route that we found fascinating and of course the incredible textile – Damask. Originally from Damascus on the silk route, damask is almost symbolic of the ancient culture and tradition. This season, we wanted to re-invent it a little and give it a more contemporary flavour. And there is a play on scale and a dynamic colour palette – ranging from jade and emerald green through to amethyst, cobalt, fuchsia, black and white and greys and neutrals.
Manisha Harkins is a recent textile design graduate with a love of screen-printing, texturing and colour.  Her long-held career as a design and lifestyle writer with hefty stints of prop styling have probably influenced her current path: that plus painting and drawing incessantly as a kid.  In between procrastinating and having way too many ideas, she is quite productive!