*Post by Tennyson Tippy. Missed Part I? Check it out here.
SCREEN PRINTING
Perhaps the most widely known and understood printing process, flatbed screen printing was developed in the 1940s and quickly became a popular printing method, still in frequent use today. It can produce truly incredible prints, with very opaque colors. However, the process is very labor intensive, and flatbed screen printed products are often quite expensive.
Flatbed screen printing requires a large mesh screen, typically 54" wide (with varying heights), with each separated design layer printed sequentially by hand on a  (up to 90') long table. The screen is placed faced down on the paper, and thick, water-based inks are applied to the back of the screen and drawn across using a rubber squeegee, forcing ink through the areas of the screen where the mesh is open. This process is repeated until the finished design is complete.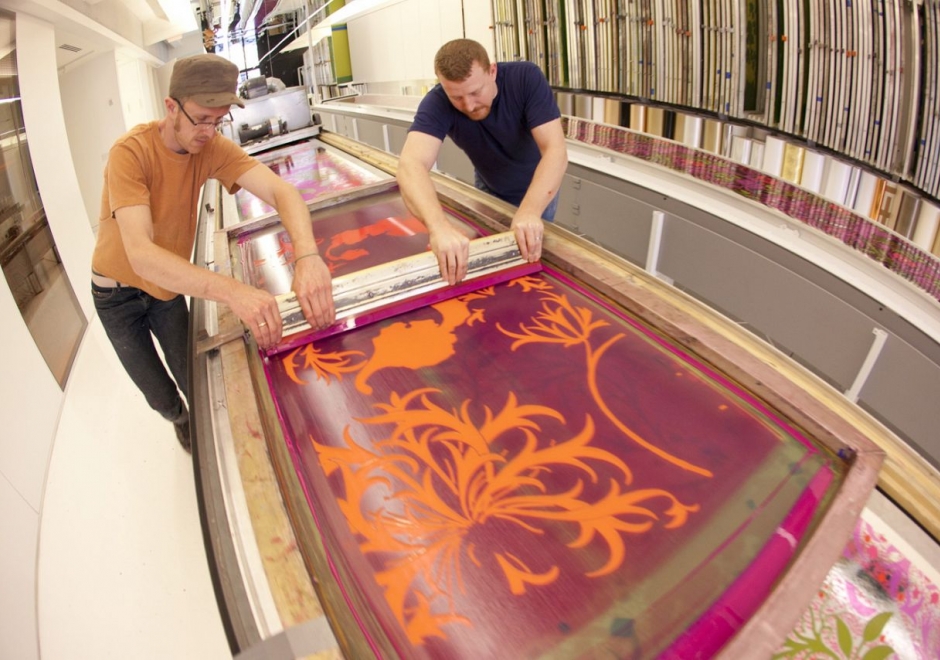 Flavor Paper prints many of its beautiful papers using flatbed printing. 
Rotary screen printing, developed in the 1950s, involves a very similar concept, but is printed using a roller. The mesh screen covers the roller's exterior, with the squeegee located inside. Paper (up to 3000' at a time) feeds through the machine, and the design is "squeezed out" of the roller, and then to a hot-air drying station before receiving it's subsequent print color. Because the machine requires quite a bit of paper, continuously fed through the machine, it's also an expensive process.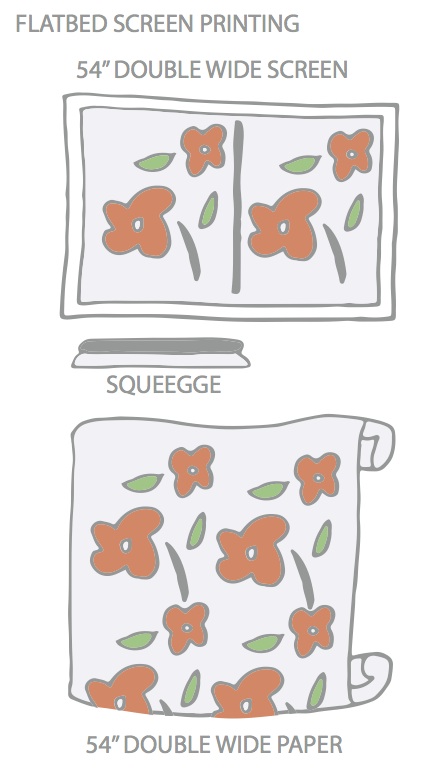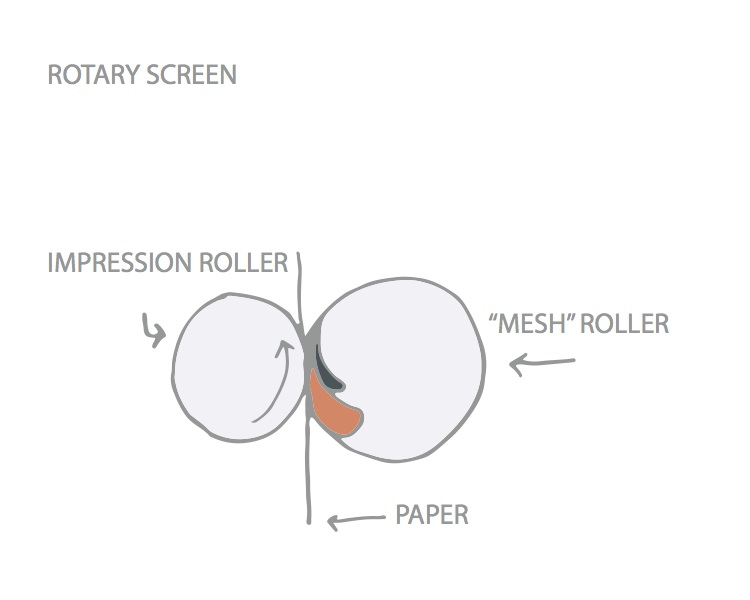 FLEXOGRAPHIC PRINTING
Frequently abbreviated to "flexo", flexographic printing was developed in the 1960s, and is similar to surface printing. It uses a relief print process (a roller with designs elevated above the surface, similar to a rubber stamp). Developed initially for use in the wallpaper industry, flexo printing is now used extensively in the packaging industry. Unlike other printing methods, flexo printing can use either solvent or water-based inks. To create the papers, ink is transferred from a tray onto roller via an 'anilux' roller, which both evens out the ink and determines the ink transfer amount (similar to the wool blanket in surface printing). As the roller rolls, ink transfers directly onto the paper.
GRAVURE
Gravure printing (sometimes referred to as rotogravure) developed in the 1950s and revolutionized printing. Of all printing methods, it remains the least expensive, and can create very beautiful effects (translucent, watercolory images, three dimensional surfaces, as well as more opaque patterns, similar to screen printing). The printing requires highly polished steel rollers engraved with a very thin (only microns deep) copper coating. To print, the engraved roller sits partially submerged in an ink tray, and the engraved cells "fill up" with ink before rotating onto the "doctor blade" which removes all excess ink from the roller immediately before the roller meets the paper.

DIGITAL
Initially developed in the mid 1980s, digital printing has forever altered printing in almost every industry, wallpaper especially. Since it's invention, digital printing has made steady advances in the cost and quality of the production. Today, digital printing is better and more affordable than ever before, bringing highly detailed, vivid wallcoverings to a wide range of customers. Most all digitally printed wallpapers are created using water-based inks and a UV curing system. Traditionally printed murals (like the exquisite French scenics) were so expensive only a small handful would ever sell. Today, digitally printed murals can appear anywhere: restaurants, hotel lobbies, and your living room. In addition to large, non-repeating murals, digital printing allows companies to create very small production runs, enabling designers to reach, and profit, from small niche markets never once accessible.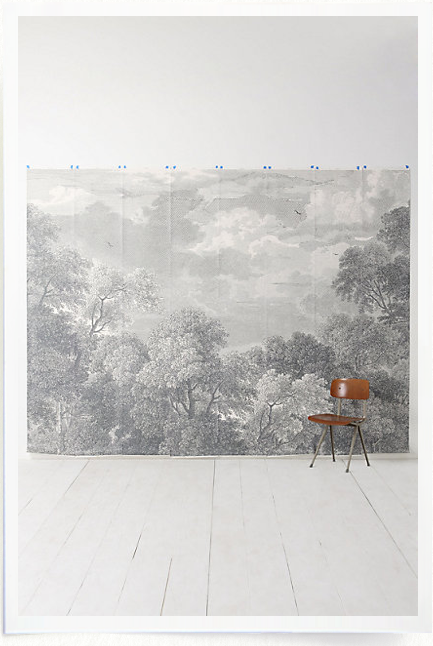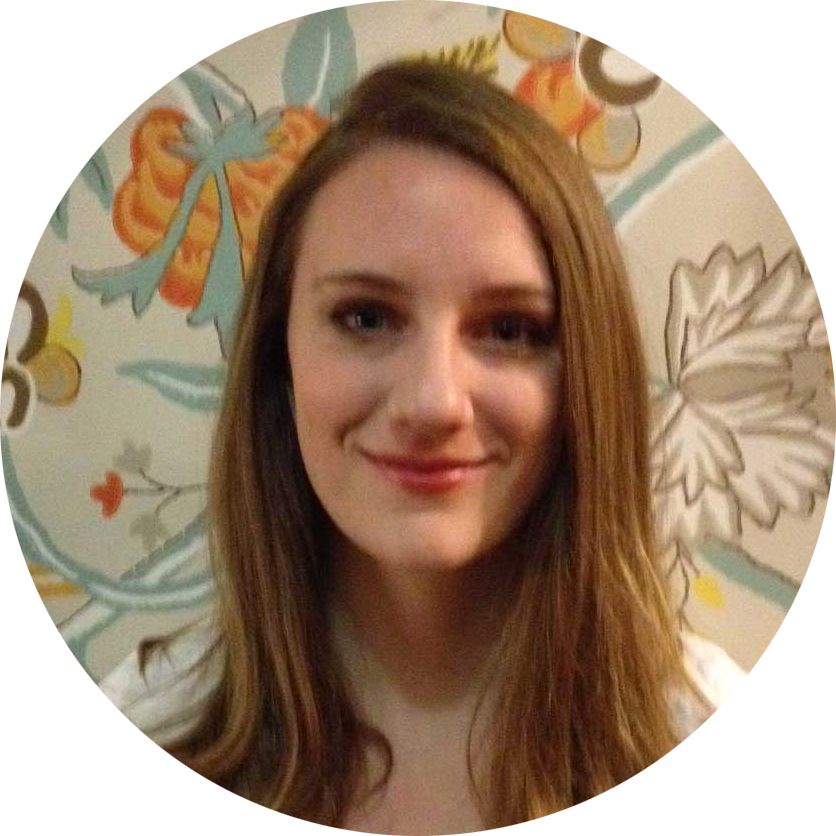 Tennyson Tippy lives and works as a freelance artist and designer specializing in artwork and patterns for interiors. Her clients include national retailers like Anthropologie and Free People as well as numerous restaurants throughout the East Coast. She passionately collects wallpapers new and old, finding inventive ways to store and display them in her tiny Philadelphia row home.