*Post by Tennyson Tippy
Throughout the centuries, we've developed several ways of reproducing artwork to adorn our walls. Remarkably, some our earliest methods are still in use today. In this primer, we'll outline these processes chronologically. Not surprisingly, as we journey through the centuries, each manufacturing technique becomes less and less expensive, ending with digital printing, currently one of the world's most affordable printing methods.
BLOCK PRINTING
Block Printing, the process of transferring an inked image from a carved block onto paper, is our earliest, and most hand-crafted printing process. Even with modern technology, no other print method can reproduce the tactile look and feel of block printing. Because of this, some manufacturers continue to use this labor-intensive process to create truly unique, luxurious products.
The printing process involves a craftsman lowering a carved block (traditionally made with the wood from fruit trees, but now often made from linoleum, which doesn't warp or break as easily) onto a tray filled with ink. Once the block is saturated, a mechanical lever system maneuvers the block (they're big and heavy), onto a table lined first with blankets, and then with paper. The craftsman aligns the block into perfect position, then uses their discretion to determine the amount of pressure to apply to the paper (which influences the saturation and "inkiness" of the product.
After each color is applied, the paper is "festoon" hung for a half day to allow the water-based inks to dry before applying the next color (manufacturing can't really get more labor intensive than this, which is often why block-printed wallpapers are just two colors). Flocked wallpapers (three dimensional velvety papers) are often manufactured using this process.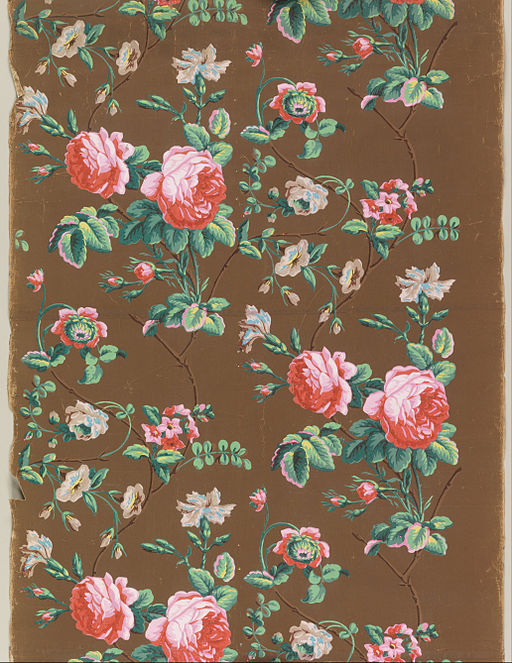 Circa 1800 Block Printed Paper
SURFACE PRINTING
Developed in the 1840s, surface printing continues to be manufactured today. It's incredibly distinctive appearance (very painterly, with crisp, darker edges, and some bleeding between colors) was once the most dominant printing method in the world. Manufacturers today use antique machines, (often more than a century old) to create this look. Nothing modern can quite replicate it's tactile, handmade quality.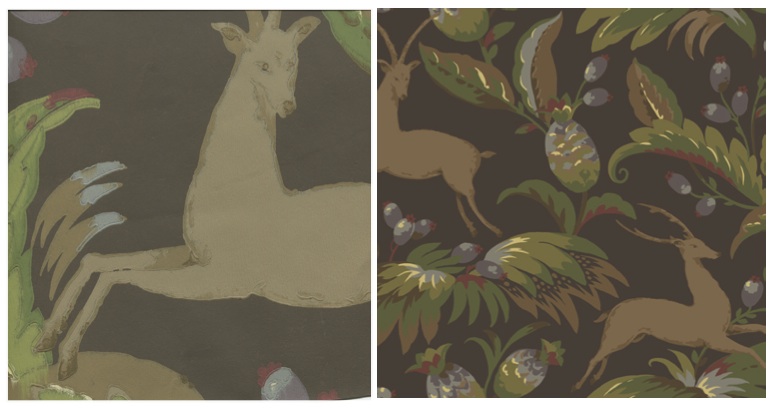 The printing process involves cylinders (frequently called rollers) engraved with a design (usually 27" wide and around 20" high). The design, as with block printing, is raised above the roller, in relief. The printing process involves using a wool blanket, saturated with ink, which then transfers it's color onto the roller, and from the roller, onto the paper. Surface printing machines were often designed to print up to 20 colors, but today, most manufacturers will only print up to twelve.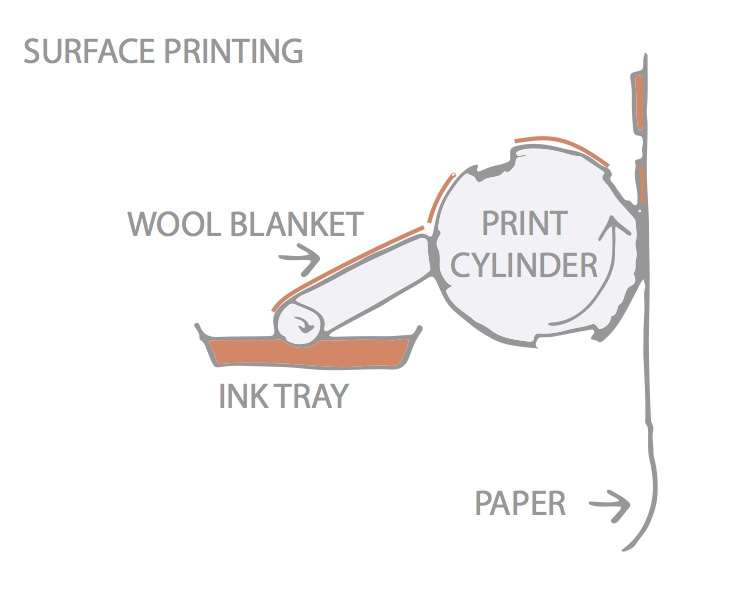 In Part II, coming next month, Tennyson will cover screenprinting, flexographic printing and digital printing of wallpaper. Stay tuned!
Tennyson Tippy lives and works as a freelance artist and designer specializing in artwork and patterns for interiors. Her clients include national retailers like Anthropologie and Free People as well as numerous restaurants throughout the East Coast. She passionately collects wallpapers new and old, finding inventive ways to store and display them in her tiny Philadelphia row home.