Each month Sherry London brings The Textile Design Lab an in-depth post on how to improve our design process by using technology to its fullest capacity. This is an excerpt of a longer post available to members of The Textile Design Lab. Join us to access the full post!
*June Tech Talk by Sherry London
If it weren't for Spoonflower, I would not be here writing this article today! I found out about the existence of Spoonflower at the 2012 CREATE NJ retreat. Spoonflower is a US company which prints your fabric design on one of their fabrics.
Knowing that it existed was a revelation to me and got me back into pattern design after a long detour working only with graphics software—and not with an end product. The company has been ground-breaking in that it is the first one to bring custom fabric printing to the masses.
It took a lot longer for me for actually have some fabric printed, but I wanted, this month, to give you an overview of the process.
Let's talk first about what Spoonflower offers for sale—because this affects your design.
Spoonflower: The Company and its Products
Spoonflower is located on the Web at http://spoonflower.com. It is physically located in North Carolina, but will ship world-wide. They offer three main categories for sale: fabric, wallpaper/decals, and gift wrap. Each category offers different options as well. Their line of fabrics is always expanding. From the basics of cotton and Kona cotton for quilting, they have expanded in knit jersey, upholstery fabric, and faux suede. Each fabric takes the colors of the print a bit differently and has different width requirements.
They offer both shiny and matte gift wrap and self adhesive wallpaper and decals.
They give a very handy list of products and prices as well as sizes for each on this page. For example, wallpaper rolls are 24 inches wide and their widest fabric is the Heavy Cotton Twill at 58 inches wide. Why does this matter? If you wish to print fabric, you don't need to worry about even repeat sizes from selvedge to selvedge but if you want wallpaper, you need a repeat that is exactly 24 inches or is even divisible into it or you get a very odd-looking and non-matching wall!
Spoonflower lets you buy pre-designed products on their site, or you can upload designs for your own use or to sell. If you choose to sell your designs, you get a commission on every yard or product sold.
So, let's look at how you can design a pattern to print at Spoonflower.
Making Patterns for Spoonflower
If you wish to produce your work or sell it on Spoonflower, here are some things you need to consider:
What product will the pattern appear on?
Spoonflower has no technical repeat size requirement because of the digital printing. However, especially if you wish to sell your fabric, you need to know that many quilters like to purchase "fat quarters". A fat quarter is one quarter of a yard of fabric but it is half the fabric width and 18 inches along the selvedge. You might want to make your pattern repeat at least once within a fat quarter to let your purchaser get an entire repeat.
Whilst it isn't necessary for fabric to make the repeat divide evenly into the fabric width, it is for wallpaper. So, if you wish to make a pattern suitable for wallpaper, you need to make your repeat 2, 3, 4, 6, 8, 12, or 24 inches wide. Otherwise the paper won't match when it takes multiple rolls to paper a room.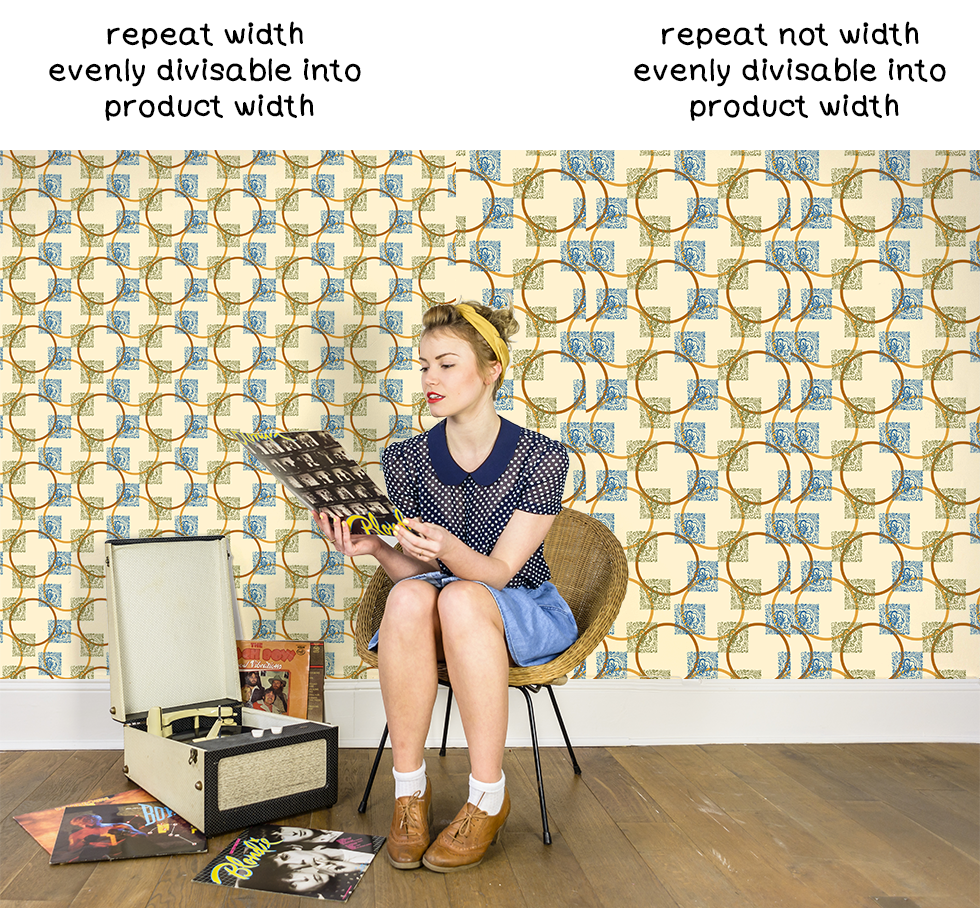 The good news here though, is that Spoonflower automatically recomputes the size of your pattern t0 24 inches by raising the ppi if you order wallpaper. If you upload a pattern specifically for wallpaper, however, you have much better control of what happens to it.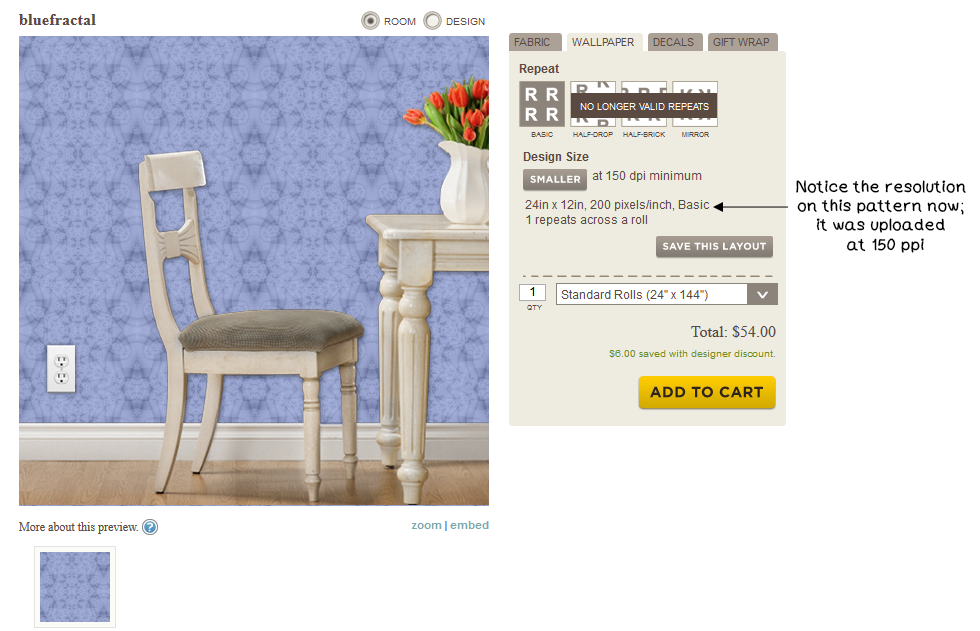 What repeat system do you wish to use?
Spoonflower allows you to alter the repeat you upload to make a half-drop, a half-brick, a centered placement print, or a mirror repeat. You can certainly take advantage of their software and technology. However, I am a total control freak. I want to do it myself! I feel much happier if I create the half drop or the mirror repeat and upload a set pattern that Spoonflower just needs to repeat as it prints it—no thought or choice on their part!
I would be especially careful of asking them to do a half-drop or half-brick. If any of your elements are only partially within a single tile, the half drop/brick pattern is likely to be a disaster with parts of the pattern left out. The image below shows the recipe for disaster: taking a tile prepared for a set repeat and asking for it in half drop. It has elements that wrap top to bottom in the original tile.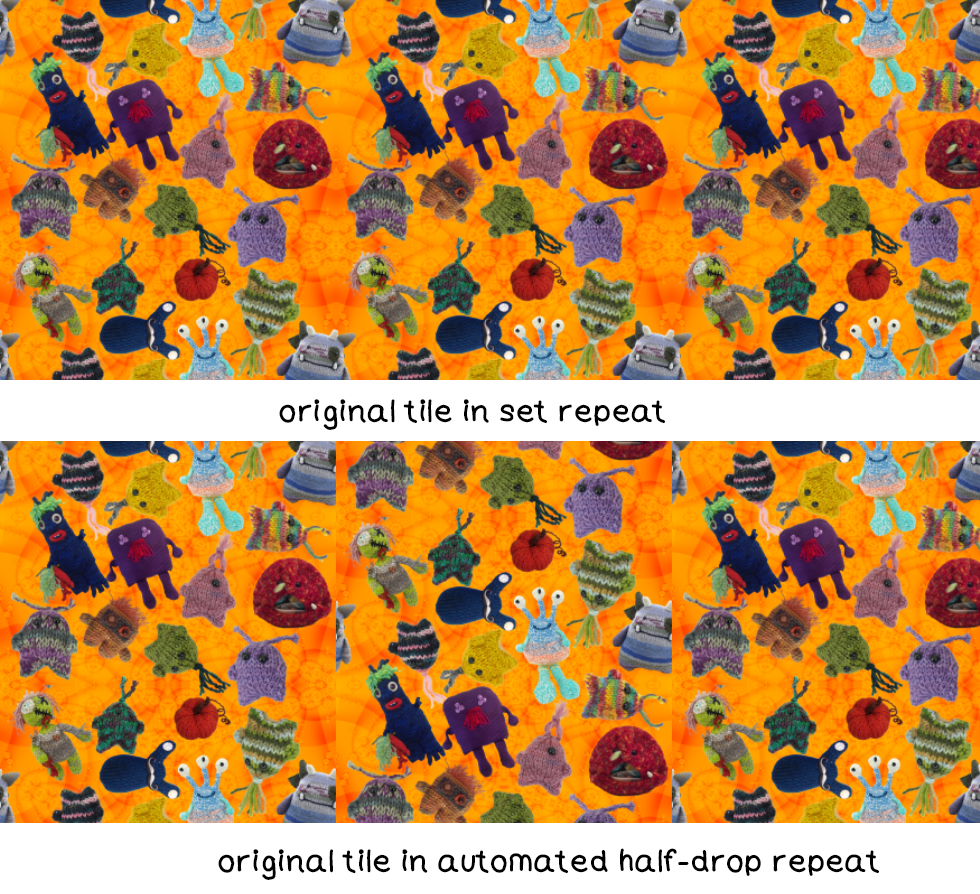 What size repeat should I make?
This is an add-on to the first question of which product, but once you've answered that question, you also need to think about the resolution that Spoonflower uses for printing. It is only 150 ppi. Most of us are used to printing at 300 ppi. Spoonflower's printing is at half that resolution, so you need to design with that in mind (or reduce the pattern to that res when you are done).
If you design an 8 inch repeat at 300 ppi, then your repeat actually contains 2400 pixels (8 inches times 300 ppi). If that is printed at 150 pixels from the original file, you actually have a 16 inch repeat (2400/150). So you need to either resample your pixels to get 150 ppi on an 8 inch repeat or set the ppi to 150 without resampling (Resample checked OFF in Photoshop's Image > Image Size dialog box) and get a 16 inch repeat.
If you're preparing your file in Illustrator, then you need to set the Document Raster Effects setting to 150 ppi before you save the file.
Saving your Tile
Spoonflower wants one tile for your pattern and you then tell them if it is a set repeat or how to manipulate it. But how do you send them the tile? The obvious answers would be as the PSD or AI file. That is, however, not the way the want to get the files.
They will take an EPS or AI file (or TIF, SVG, or GIF) but their preferred formats are JPG or PNG. In Photoshop, choose File > Save as and save as JPG or PNG from the drop down list. I would use as little compression on either option as possible—so long as you don't create a file that is larger 40MB, which is the maximum that Spoonflower will accept.
In Illustrator, you need to choose the File > Export command and use that for PNG or JPG to keep your 150 ppi setting.
So, which should you choose? JPG or PNG? Read the answer to this question in the full post, available by joining the Textile Design Lab. Sherry also goes into detail on choosing colors, comparing the print quality of various fabrics offered by Spoonflower, and how to upload and test your prints. Learn more about membership here.