Jamie Anderson the founder of Fort Design Studio, based in British Columbia, and is "passionate about the creation of unique projects that bridge the natural world and technology."
"Since I was a child, I knew I wanted to be an artist but was never able to narrow my focus to just one discipline. I was interested in photography, painting, screen printing, pretty much anything that allowed for an exploration of the world through creativity. As an adult, I haven't lost that childhood curiosity with art and nature. I took courses in interior design and visual display but ultimately found that my heart belonged to graphic arts. My first jobs in the industry were at offset print shops, which proved to be invaluable as I apply that knowledge to most of what I do today.
One of my first clients was Obakki, an international womens clothing line focusing on modern luxury. In collaboration with their design team and creative director, together we have produced some beautiful and innovative prints which have been essential in defining collections.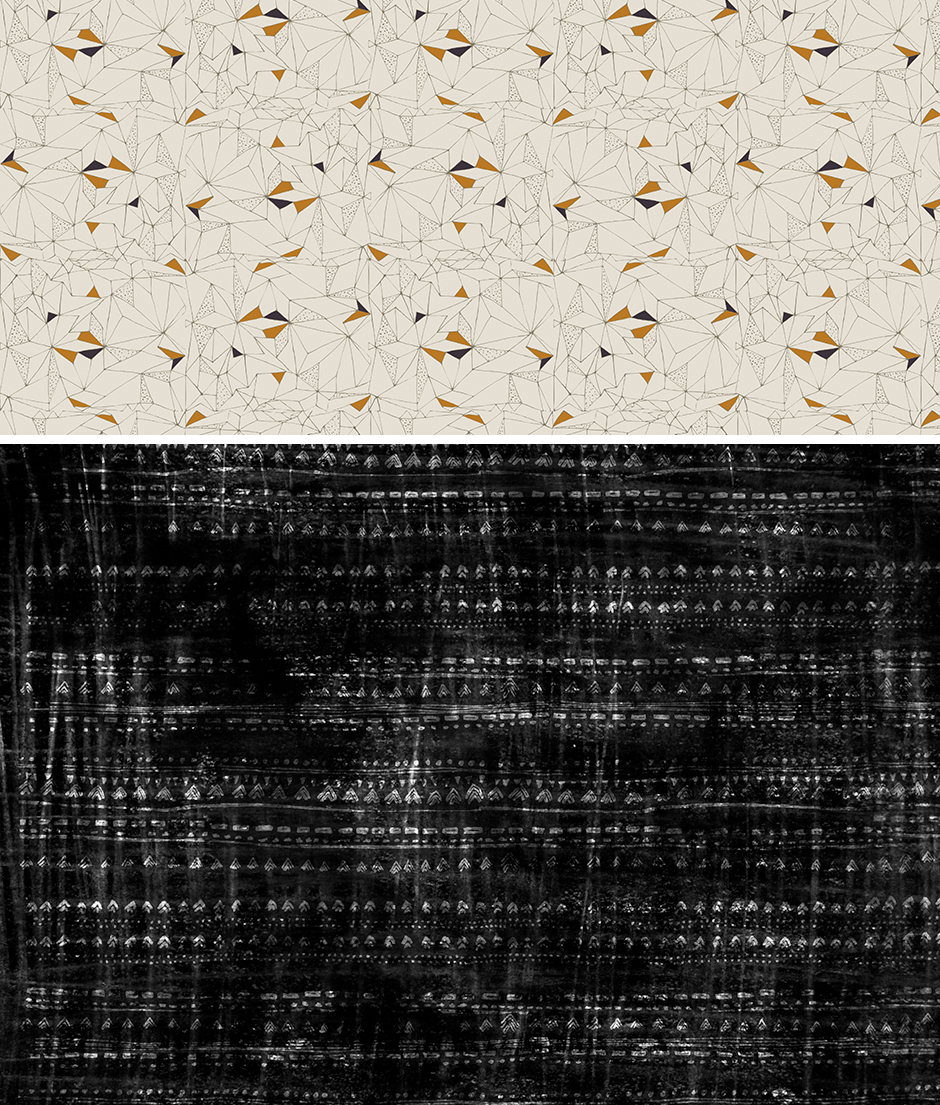 My main tools are inky pens, paint & brushes, a camera, and Creative Suite. I love exploring different line qualities and textures with found objects/tools like flowers, leaves and interesting brushes. My style is definitely organic – both in the process and the outcome despite inevitably being digitally manipulated. I find most of my creative resources outside my house, away from my computer. I believe there is something more thrilling and authentic about finding things unexpectedly and being inspired outside of the masses.
I'm hugely inspired by simply taking a walk around the neighbourhood and being in green spaces. The patterns found in nature, especially all types of flora are endlessly inspiring to me and have been key to my development. I love kaleidoscopic patterns and am excited to see that there are a lot of people out there who enjoy the same and are doing them really well. I hope we keep evolving those patterns that are working and moving forward to keep good ideas fresh. Brands like Kenzo, Opening Ceremony, Proenza Schouler etc. keep me motivated and inspired to think differently and remove boundaries.
I like to have a couple of juicy projects on the go at all times – currently I'm working on custom prints for Obakki's S15 line and have been commissioned to produce five seasons of on-body graphics and patterns for an exciting new line. This is especially exciting for me, to collaborate with a creative team and explore ideas together. I just wrapped up a project designing Sarah McLachlan's new album art and tour merchandise and will begin work on her latest tour book at the end of July. New patterns are always in development and I've always got a large catalog of stock patterns on hand. Inquiries and catalog requests can be directed to me at jamie@fortdesignco.com."