Today we are delighted to share a short interview with Twofold founder Jessica Warner Stites. Twofold is "the online destination for textiles, pillows, throws, scarves, table runners and other textile pieces, created by Australian native Jessica to channel her passion for textiles and showcase the designers she's discovered, especially through her travels.
Jessica grew up in Canberra, Australia's capital. After graduating from the Australian National University, she moved to New York, where she worked for the Guggenheim Museum and the Brooklyn Academy of Music. She also nurtured her longstanding interest in textiles with classes in surface design and weaving at the Fashion Institute of Technology. In 2007, she moved to Asia with her family, spending time in Tokyo, Hong Kong and Sydney before returning to the U.S. and settling in Boulder, Colorado.
On Twofold, Jessica offers a carefully edited selection of scarves, bags, table linens and fabric goods from designers who stand out for their inventive patterns and old-world craftsmanship. They come from all over the globe, and their work is energized by cross-cultural collaborations and a meticulous attention to detail."
Jessica was kind enough to answer a few of our questions about her company and the amazing brands she carries. Enjoy!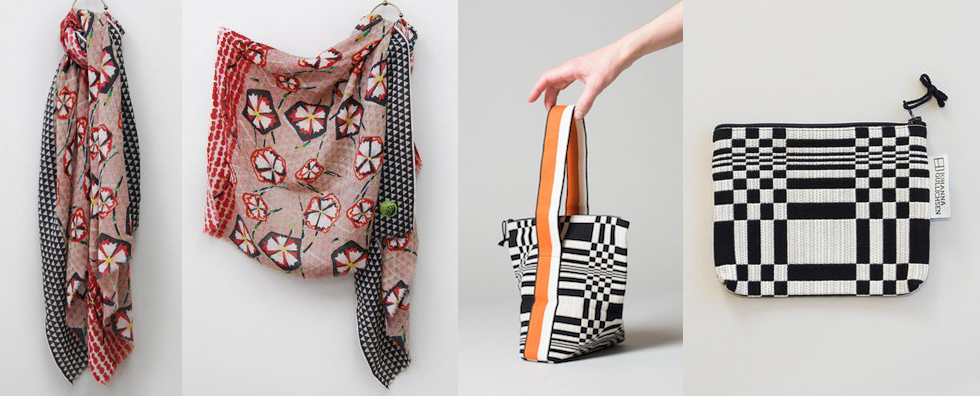 (left) Kusa Kanmuri (right) Johanna Gullichsen
What are your methods for selecting artists/brands for Twofold?
The idea for Twofold started when I lived in Japan in 2007 – 2008. I really enjoyed learning about traditional Japanese textile design techniques. I also enjoyed discovering designers who are making contemporary products using these old techniques. At first the idea was to sell Japanese designers to customers outside of Japan but then I expanded the idea to include designers from all over the world who are making beautiful, contemporary products that employ age-old textile-design methods of dyeing, weaving, printing, etc.
What are some of your favorite artists/brands you carry on Twofold?
My favorite designers are from Japan, who have such a unique design perspective. I love how they translate old Japanese traditions into new designs. My bestsellers are the Azuma bag from Kyototo and scarves from NUNO. Interestingly, Kyototo is a new, young brand whereas NUNO is an established brand, known since the 80s for their cutting-edge fabrics.
I also keep discovering young, entrepreneurial couples that have launched textile design businesses. These include Safomasi, an English/Indian couple based in New Delhi; Rouse Phillips, a young Australian couple based in Sydney; LuRu Home, a pair of American friends based in Shanghai & New York who make products using traditional Chinese nankeen fabrics; and Walter G (not yet on the website), a couple of Australian friends who design and develop new fabrics in India.
Tell us a bit about your travels–how have they influenced/informed you and your business?
My experiences overseas have had the biggest influence on my business and my interest in design. I grew up in Australia butas an adult I've lived in New York, California, Washington DC, Tokyo, Hong Kong, Sydney and Colorado. I've enjoyed discovering new designers in all of these places (and during other travels) and seeing the similarities and differences in design techniques and styles. I've lived in Colorado for the the past three years and I've enjoyed exploring textiles of the American southwest, including the Navajo and Rio Grande weaving traditions. For instance, I've enjoyed visiting remote trading posts that have been selling Navajo rugs for decades and also attending a monthly rug auction that takes place on the Navajo reservation. This is a great opportunity to buy rugs directly from the weavers.
How would you describe your design aesthetic? What are you drawn to?
I love color and pattern! I like bold, geometric designs and strong colors. I also like texture – for instance, I love how Suki Cheema and Seema Krish add embroidery to their printed designs.
Do you design yourself? If so what do you like to design?
I grew up sewing with my mum (she's an excellent quilter). When I lived in New York I took surface design and weaving classes at FIT and Parsons. I like to do periodic textile design workshops — most recently I did a weaving class at Weaving Southwest in Taos, New Mexico. This month I'm taking a natural dyeing workshop at Tierra Wools in Los Ojos, New Mexico. When I lived in Tokyo, I did workshops at NUNO Works and Avril. Last year I took a group of women on a two-week textile trip to Japan where we did an intensive indigo and shibori dyeing workshop, in addition to other workshops and studio tours. I'm planning another tour for 2015. I always wanted to pursue a textile design degree but we don't live near a university that offers one now.
Anything else you'd like to share that will allow our readers to get to know you and Twofold better?
I really love the connections I've made with various textile designers through Twofold. Building these relationships is really satisfying. In the future, I would like to have a bricks-and-mortar store in addition to the online store. Its a lot more fun to interact with customers in person and it helps for customers to see the products in person. I also plan to continue organizing textile/design tours to Japan in addition to other destinations, including Australia.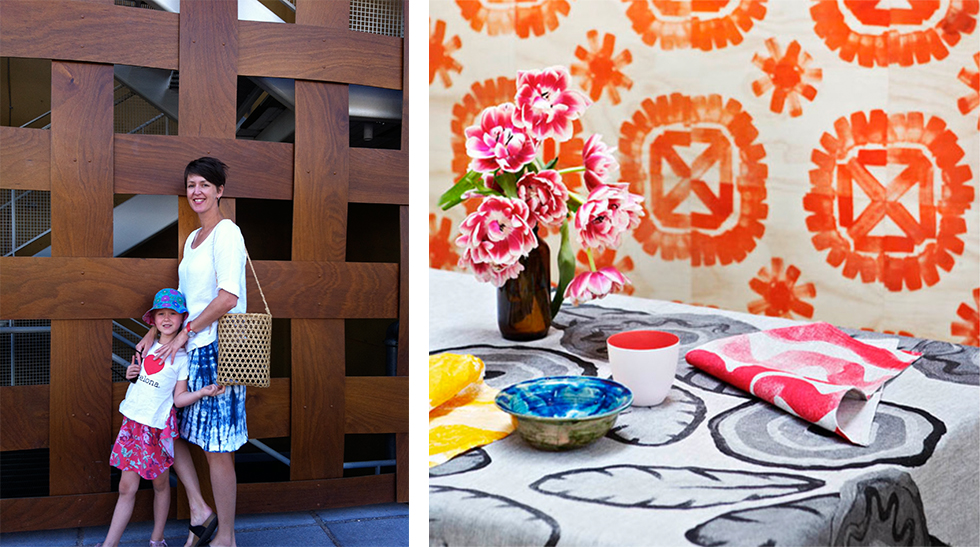 (Left) Jessica and her daughter outside the new Aspen Art Museum. Designed by Japanese architect Shigeru Ban, it features a woven wooden screen (seen in the photo) around the outside of the building.  Jessica is wearing an indigo-dyed skirt, which she made in Japan last year when she led a textile tour there. She's also carrying a woven bamboo basket, which she bought from the maker in Japan last year. (Right) Bonnie and Neil