To wrap up the week we are delighted to share these vibrant, energetic prints created by Robin Zietz of
Robin Z Studio
. 
I've always loved finding overlaps in science and art, and found Robin's explanation of her inspiration so intriguing: "Humans are enormous. We are surrounded by objects rooted in nature, science, and biology that are too small to see. Using a microscope to make the invisible visible reveals an unseen world, sparking curiosity and wonder, and transforming our perceptions.
I am fascinated by these unseen worlds, and amazed at the diversity and endless inspiration. I take something common, which normally arouses no more than a passing glance, and begin the process of exploration and research. Following that is sketching, deconstructing, and finally reassembling into patterns.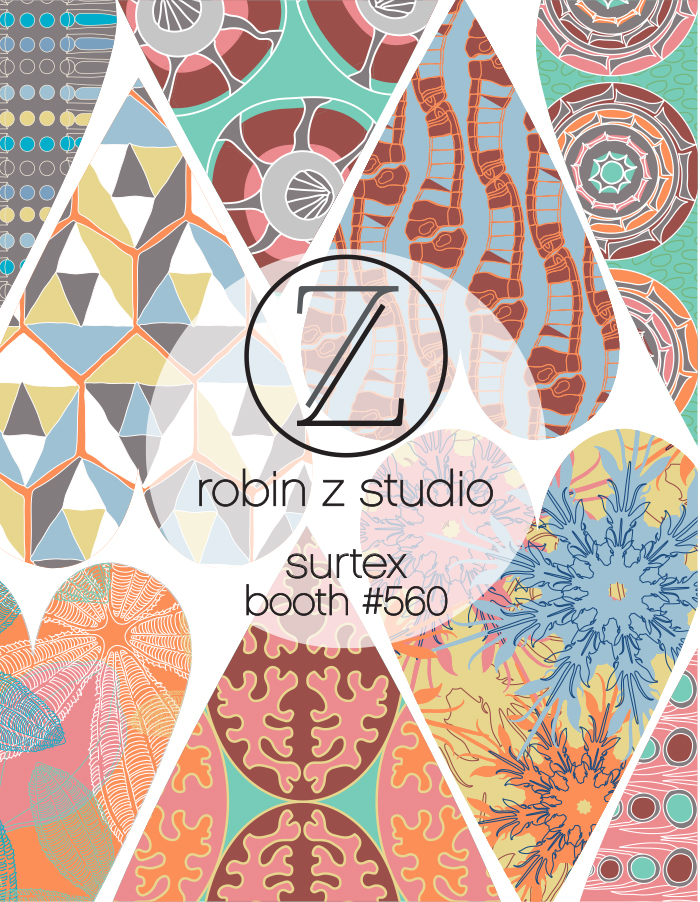 Robin Z Studio prints are hand drawn original designs inspired by taking a closer look at the seemingly ordinary. I find beauty and natural pattern in things that may be characteristically off-putting, such as insects, viruses, fungus, etc.
Taking a cue from Mother Nature, there is more to each pattern than first meets the eye. Take a closer look, and you will see that each pattern is more than the sum of its parts.   Some are combinations of individual cell structures, while others are isolated portions of a particular subject. Behind each collection is a story, and through my work I hope to inspire the process of discovery."
Robin Z Studio currently licenses prints to the home and paper goods market, and welcomes the opportunity to collaborate on new projects, explore new markets, design custom prints, and help clients fulfill their pattern needs. Robin Z Studio will be exhibiting at Surtex, Booth #560 in NYC, May 17 – 19, 2015. Learn more at robinzstudio.com or find Robin on Instagram, Pinterest, or Twitter.
P.S. Robin is also an alumni of our Sharing Your Work workshop! She wrote, "The SYW course has been so incredibly productive for me- and being involved in social media is something I never thought I would be able to do comfortably. You have made it fun and approachable, and I am really glad I was a part of the class." Our next four week workshop begins May 26th. You will present your artwork to buyers, expand your network and build a marketing plan tailored for your business. Only 25 designers are accepted so grab your spot today!