Mel Smith is "on a mission to bring bold colour and energetic pattern to people's homes!" Much of her work is based around her travels and holidays, to places like Marrakech, London and Amsterdam. 
"I am passionate about pattern and my designs are inspired by the world around me …colour combinations that stimulate me, shapes and lines that excite me. My designs have a modern retro edge with a playful twist.
My background is in Interior Textiles, with my degree focusing on surface pattern design. After moving to south west London I started my career designing for a greetings card studio, with products sold to quirky boutiques and popular high street stores including Paperchase. I began by working freelance, producing patterns that have sold to brands such as Marks & Spencers and John Lewis. After completing a business course, I launched my own brand officially in 2014, with the creative vision to expand and develop my ranges in 2015.
It all started when I was about 16,­ the time when the interior decorating shows were taking over the TV schedule. It sparked my interest for interiors and people's lifestyles. That coupled with my parents constant decorating of our own home and it seems I was destined to work in the interiors industry!"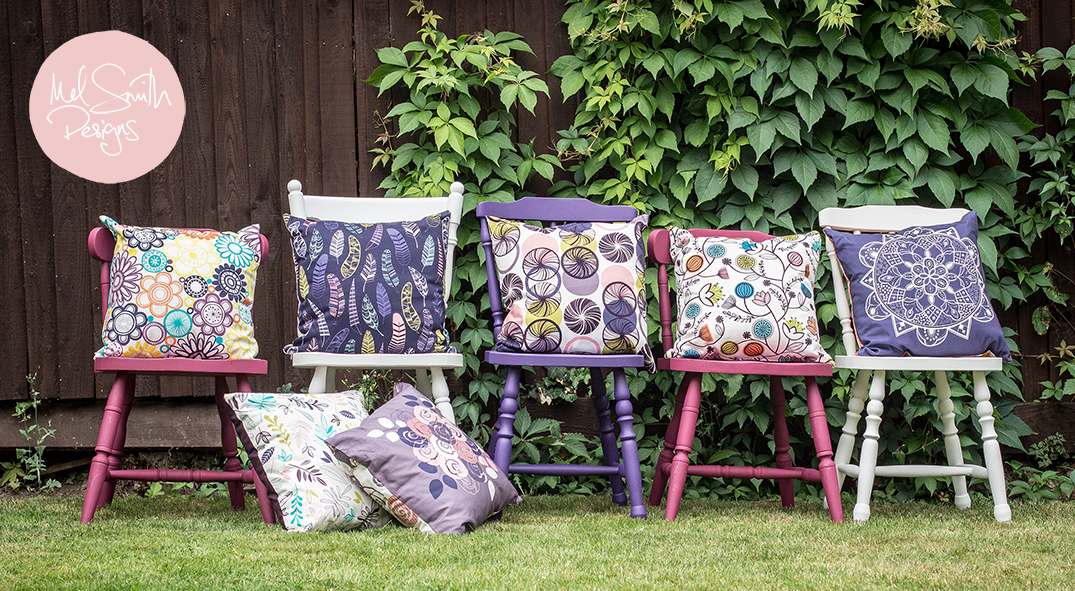 "It has been very exciting to launch my own products. My interiors range is growing and with my tableware collection just starting out I can't wait to expand further. However, I feel I can currently only touch on a handful of products, therefore I am also working on collaborative projects and am keen to welcome discussions for licensing work. I take great enjoyment in designing for a wide range of products and am enthusiastic to venture further in this area to broaden my scope.
My relaxed and playful style appeals to people who are keen to introduce colour and individuality to their home, whilst the vintage and retro influences appeal to the key trends in interior design at the moment."
Learn more about Mel's work at www.melsmithdesigns.com or visit her on etsy, Facebook, Pinterest or Twitter. Have a great weekend!!
Interested in textile design but not sure how to start? We've created a FREE video training just for you! LEARN MORE