Guest post by Angelina Rennell. Images in this post are all works done during Angelina's daily journaling, as well as her "image" inspiration collecting.
If you're a pattern designer, no matter your level or experience, you're a visual person, always on the hunt with your eyes, eating the visual world around you. With a little organization and awareness, you'll find that you've already started your "next project". Often inspiration comes naturally, when it does run with it. But what about when it doesn't? I say take a practical, unromantic approach. Here's a variety of tools and my basic formula that I count on to get me moving from point A to point B.
One, have a location, a regular place to work that is all yours, as well as a regular time that fits into your schedule. It's about building a habit and creating space, and yes daily journaling. In that location keep things like marking tools, paper, books filled with images you love, and perhaps little visual objects that speak to you.
Keep in mind that daily journaling is a loose term that can mean many things. Most importantly it simply equates to the routine of making. At minimum it's 15 minutes of "art time", a wide and general term that is kind of like a preschool teacher who just wants you to play with your markers, or look through nature books. Journal time is not an activity to confirm how great your work is, or confirm your talent. It's adventure time; it's fun and it has few rules or expectations, other than to keep a record of the journey.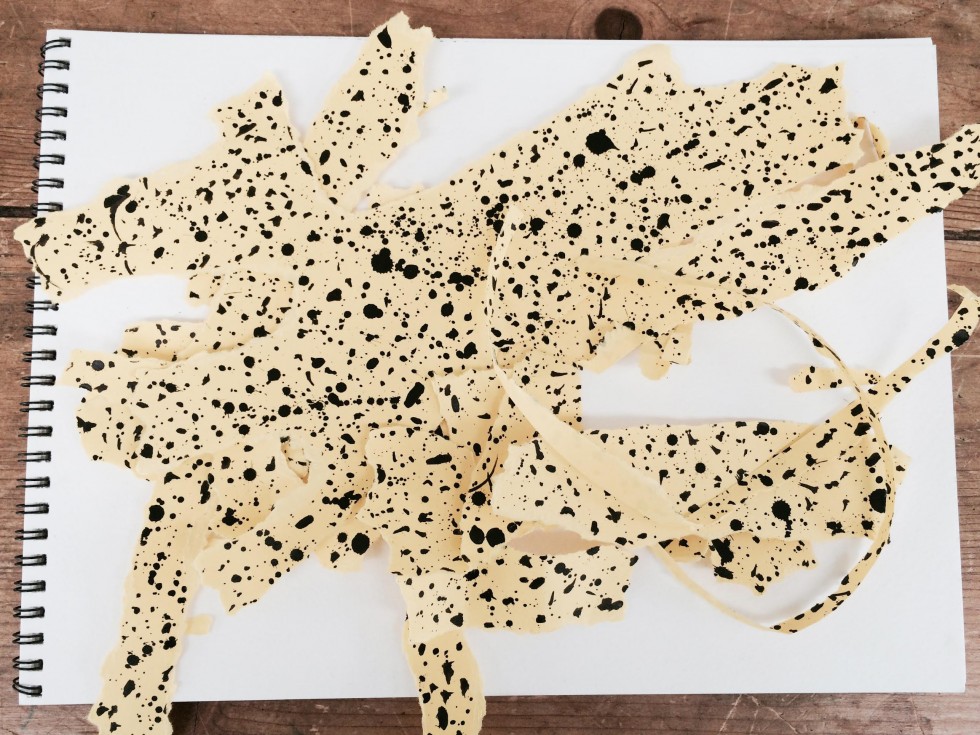 Two, when you're not working, keep working, in your head. Go about your life and pay attention to what catches your eye, and keep track of some of it, via photography, notes or collecting, and yes some social media platforms like Instagram & Pinterest. These records are valuable resources to go back to later. Not to mention the daily journaling that builds over time. This is precious, precious fuel you're making, that will be returned, maybe not as finished work, but at minimum sparks for new work.
Three, it's easier to find inspiration in other people's work, nature and life, than it is to sit down and try to pull it out of thin air with a pencil. When the ideas aren't flowing on their own, turning to other people's work that I admire is a great starting place. Keep in mind, that doesn't equate to seeing something beautiful and copying it. Instead it's finding a part of that thing that draws you in, and then playing with that idea or thing, a starting point. For example, look at a favorite print and just use the colors, or work with the repeat, or the style, find the one thing you really love about it, and play with that. Pull it out and manipulate it in new ways, or see if you can take two favorite prints and merge them.
Another smart place to look to is your old work. Look for things you wanted to continue to explore but ran out of time. When going through other people's work, try to figure out the individual parts you admire and then try to replicate. Locate something you love, from tea cups, to time periods, to monkeys to collages. Give yourself a theme to work with and explore. Take old work and bring it into the context of new themes. Keep notes of ideas that can be used when you feel empty of inspiration, as well as notes on your entire process.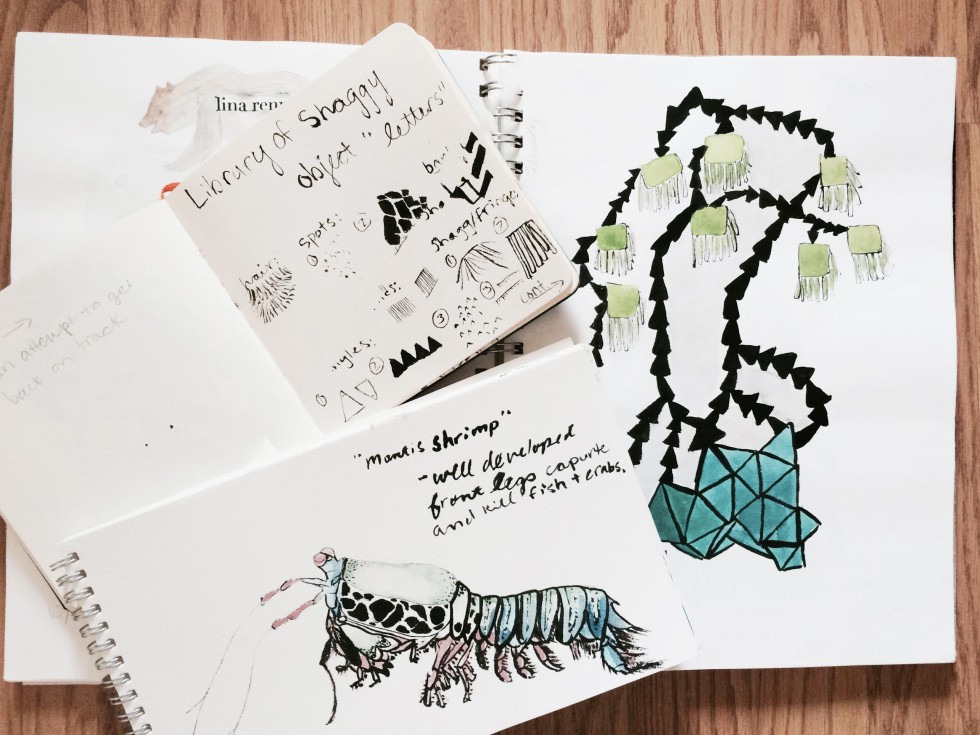 I've never thought of myself as a natural drawer. I can be impatient and easily frustrated. Years back when I started keeping daily journals I gave myself realistic doable daily drawing projects, and mediums that were friendly to imperfections, like pastels and black ink and brush, as well as a framework or theme, like animals, grid work, circles or other single objects. Once I came up with an idea to make an image vocabulary, titled "Shaggy Objects" which was mostly a sincere love of fringe, in all its forms. (See above sketch book image.)
Some of us are natural drawers and illustrators and this is how we ended up in pattern work, but many of us are not that at all. We love images, color, texture and have a deep passion for textiles, or surface design, etc. and we do speak the visual languages, but that doesn't equate to being trained in classic arts. So please do yourself a big favor and leave that baggage behind.
All that, and a strong cup of tea!
——————
Angelina Rennell designs her eponymous line, Lina Rennell, an art brand with a heavy focus on original print work and USA production. She also owns the online boutique Beklina, filled with like minded independent designers and dense with patterned textiles. You can read more about her in our recent feature!
Interested in textile design but not sure how to start? We've created a FREE video training just for you! LEARN MORE