I was so intrigued when Maria Ogedengbe wrote us to share the news about a public commission of hers that was recently presented on two billboards in Kansas City, entitled Painting Contest: MO real. The overlap of textiles, fine art and design is such rich ground and it is always surprising and inspiring to find textile-inspired art outside of a usual textile-specific space like fashion or interiors. Billboards…who would've thought!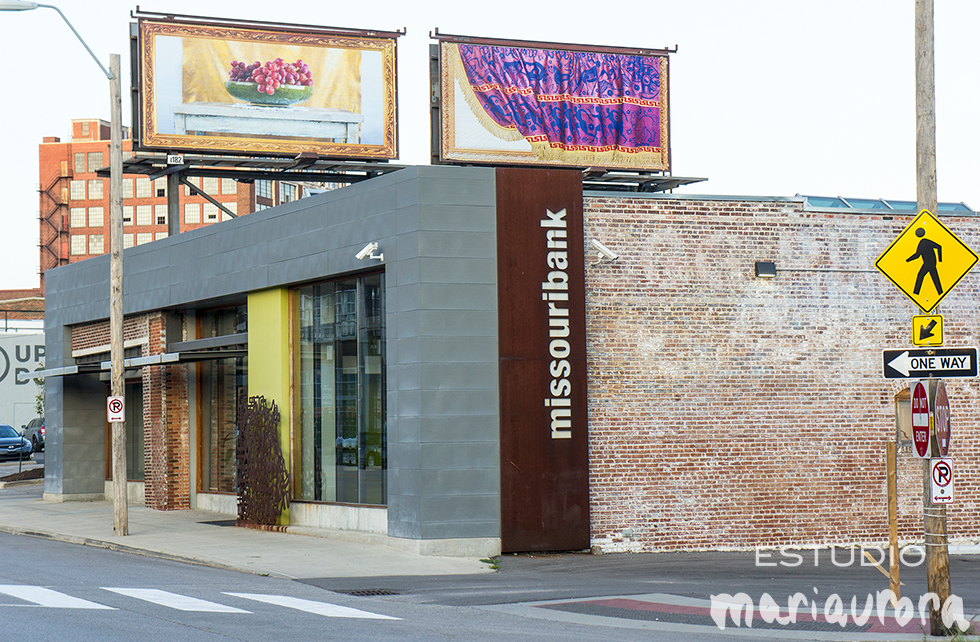 view of the billboards from the west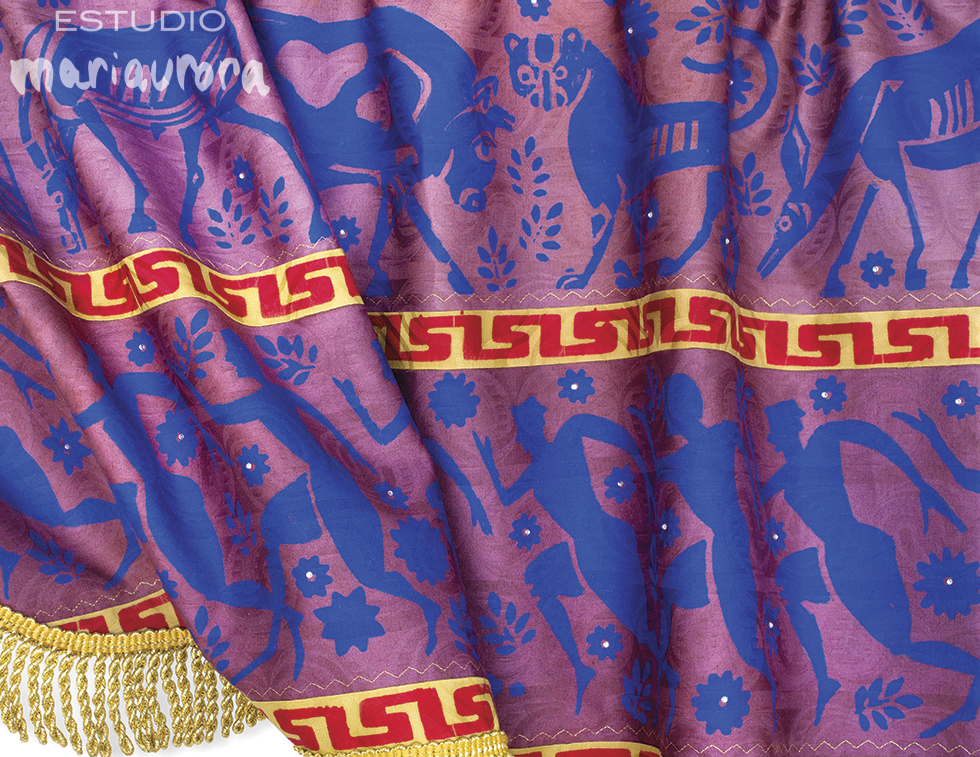 close view of the curtain Maria dyed for Painting Contest: MO real (right side billboard), batiked damask   
About Painting Contest: MO real and related work:
Through photography and textile arts I'm recounting a tale from Socrates' time about famed artists Zeuxis and Parrhasius who competed to see who could produce the best painting. According to Pliny the Elder, Zeuxis' painting of grapes was so realistic that birds flew down and pecked at it. Yet when Parrhasius' painting was presented, Zeuxis attempted to draw back the drape covering it – only to find that the drape itself was painted. Though Zeuxis had fooled the birds, Parrhasius fooled his competitor and was declared the victor. For the drape's dyed motif I looked to Greek vases – vases with tiered designs from ancient Corinth, in particular. Rhinestones stand in for the dew strewn over creation at the end of each night by Aurora, or Eos, whose painted image appears on a Greek vase in the holdings of Kansas City's Nelson-Atkins Museum of Art.
I developed this concept in response to a call for proposals for imagery to go on a pair of billboards that sit side-by-side in Kansas City's Crossroads arts district. The work was commissioned by Missouri Bank, and it will be on display through November this year. (You can read more about the project here and see some of Maria's other textile-inspired billboard projects here.)
I did my MFA in painting, and I'm interested in translating painters' concerns into a dyed format. I dyed the subject for the right side board by adapting methods I learned during 3 residency projects in Nigeria.
When in Nigeria, I learned to use a foam rubber stylus for drawing with hot wax on cloth – you make your own stylus by shaping a chunk of foam with sharp scissors. For this project, I also experimented with laser cut foam and wood blocks for printing.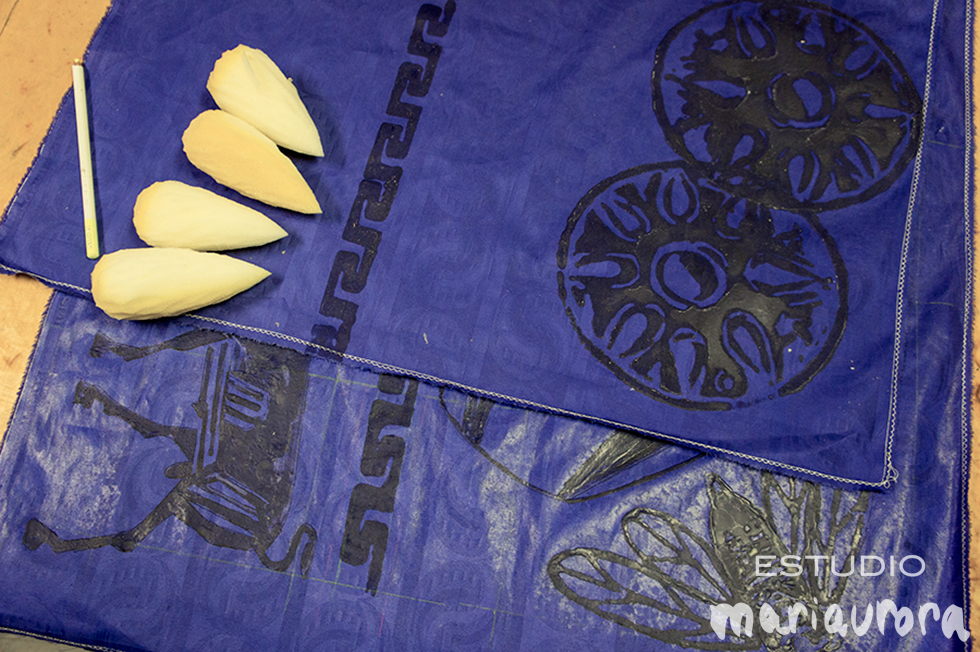 foam styluses and blue damask fabric with designs in wax (before dyeing)
For an earlier work, the Sir Barton suit, I used a wood block carved with a dremel for printing hot wax. The suit was one look in a collection for a fashion show with the given theme of Triple Crown Summer; applicants were encouraged to include things such as hats and seersucker with their proposals. In Nigeria there is a tradition of portraying European-style royals in stenciled textile designs. So with this work I printed images of a royal threesome on seersucker, following up with a horse shoe drawn freehand around each imprint.
In Nigerian textiles, you often see dyed designs over a factory produced pattern (that really excites my eye!). You can see that effect with sheen of the damask fabric in the right side billboard, with the green seersucker used in the Sir Barton suit, and the checked viscose rayon used for the scorpion dress (part of a larger project I am working on).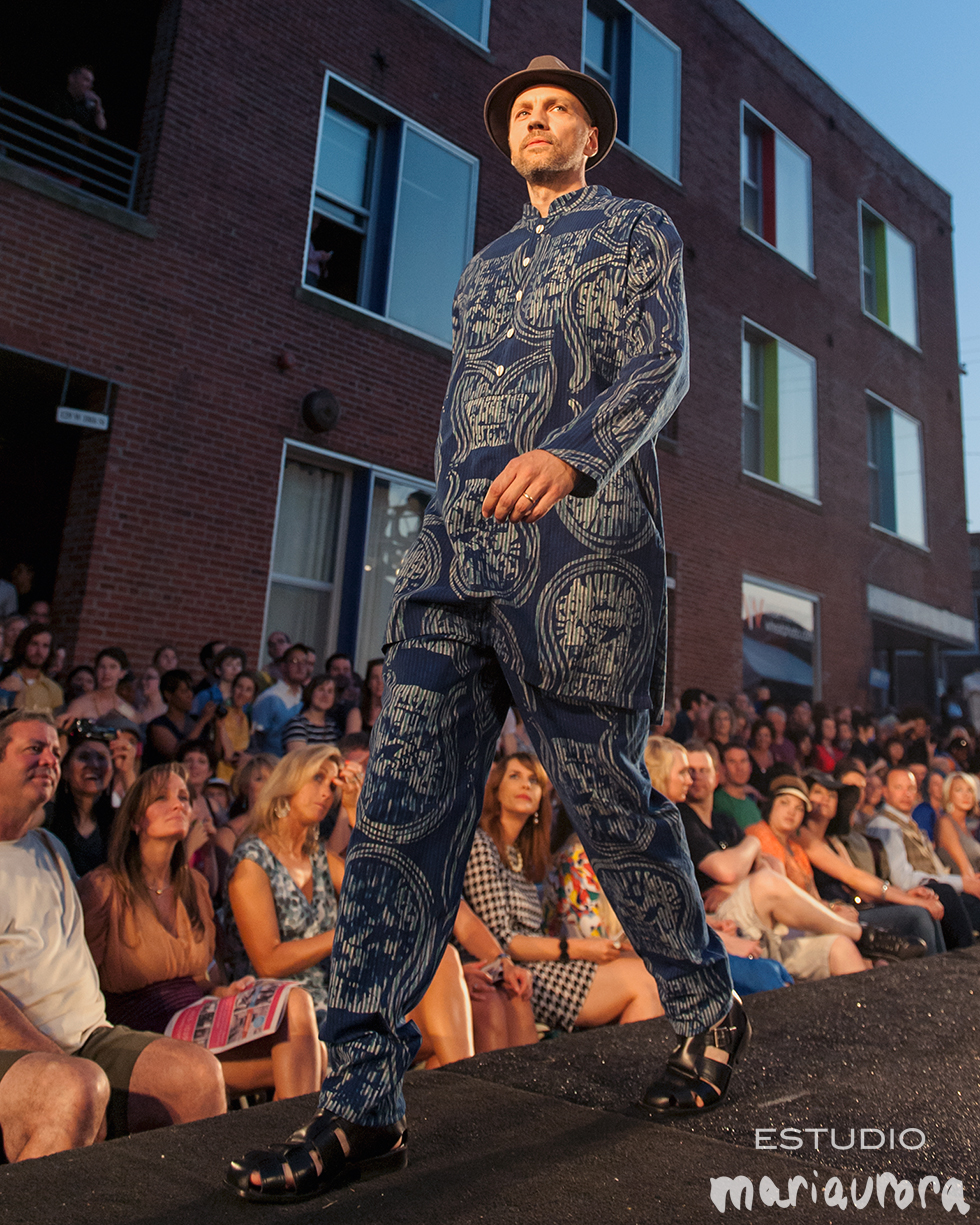 Sir Barton suit, batik design on seersucker, original clothing design (photo credit: Simon Kuo)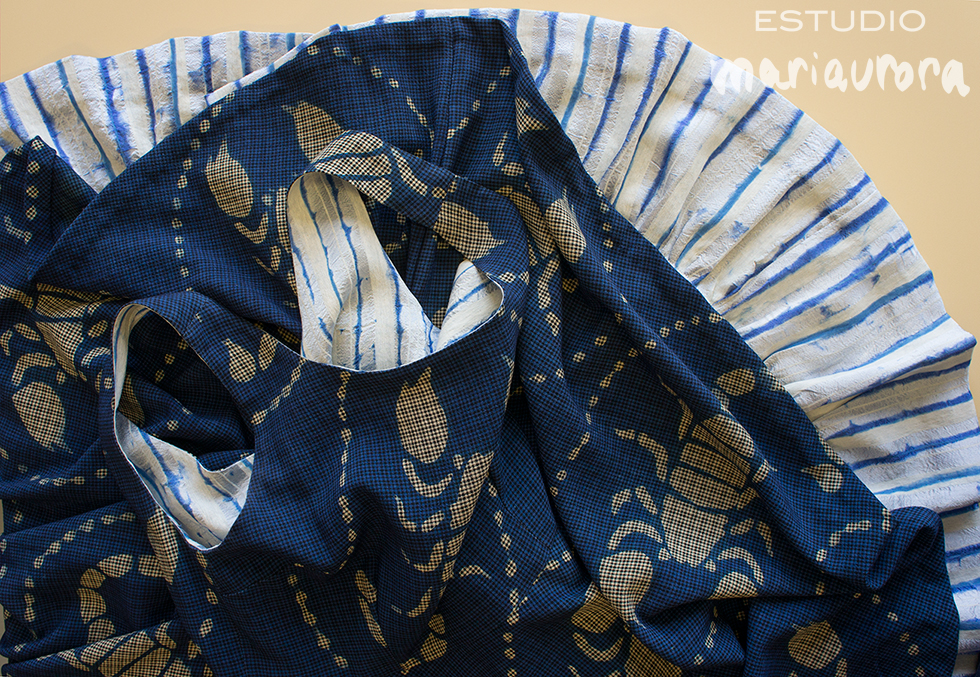 scorpion dress, paste resist design on checked viscose rayon
About Maria
Maria Ogedengbe works across a range of disciplines, most often with projects that unite textile arts with a painter's concerns. Ms. Ogedengbe earned her MFA from Yale University School of Art in Painting/Printmaking, and her studio, ESTUDIO mariaurora, is located in Kansas City's West Bottoms. She has completed projects and residencies in Mexico, Spain, and Nigeria – including hands-on research in textile arts in Lagos and Abeokuta. Solo exhibitions of her work have been held in galleries at the University of Lagos, Fairleigh Dickinson University, and Centro Fotográfico Manuel Álvarez Bravo in Oaxaca, Mexico, among other venues.
Learn more about Maria's work at http://www.mariaurora.net/ or follow her on Instagram @emariaurora.
Is your eye drawn to the colors and patterns you see on clothing or in home decor? Do patterns fill your doodles, drawings and artwork? You could make money in the textile design industry. Get our FREE video training today!