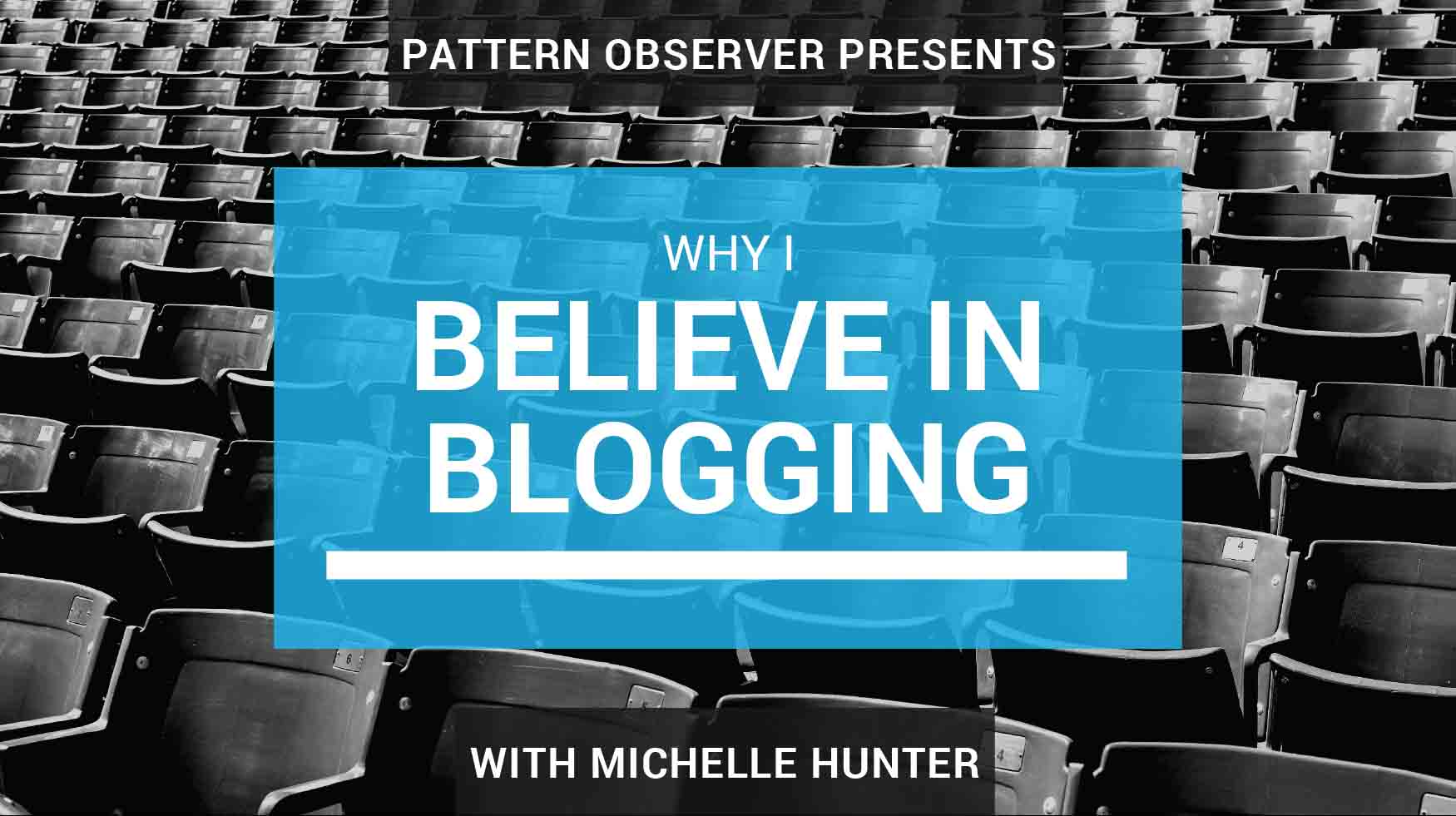 We are proud to present this guest post from Michelle Hunter of Michelle Hunter Creative.
Blogging… Ugh.
If you're like most creative business owners, the LAST thing you want to do is blog for your business. I understand… believe me.
But you clicked on this post. And you're hoping this isn't another guilt producing post judging you for creating beautiful artwork instead of grinding out a post or two for your blog. Trust me, it's not.
I'm a writer, so you might think I just love this blogging thing. That I can't wait to just open up a journal and pour out my latest thoughts so I can share them with the world. Um…no. It's not like that for me either.
Here's a dirty little secret writers and online marketers often leave out of their blogging how-to's – blogging is work. And unless I am intentional about it… meaning schedule it into my work week and plan to do it… it never happens.
So why do I do it? Even when it's hard? Because I believe blogging is just about essential for marketing my business (and yours) online. Here's why…
1. Before I can buy from you, I have to find you.
I live in a tourist town in Michigan. People vacation here all year long, and many visitors are here for the first time. That's why the cute shops and trendy restaurants are clustered around attractions and places people like to explore. The business owners know being seen is the key to getting sales.
Well, the internet is one big tourist destination. Oh sure, we all have favorite websites we often visit, but for the most part we are out there in big wide web exploring. Some sites get noticed. Others are invisible.
What makes the difference? Lots of things, but one of the most important is a blogging strategy. A blog is like a neon sign attracting attention to your business. Well placed, consistent blog posts get you noticed. And that gets you business.
2. I need to understand what you're offering before I purchase.
I'm a writer. Every blog post I publish is a real life example of my writing ability. And it helps potential clients understand what I bring to the table. Stick with me here…
As a creative entrepreneur, you have talent to showcase. Your work has a style and personality all it's own… one people need to see to understand. A professional portfolio is essential, but how will you get buyers to request access? How will you demonstrate that your work is worth their time and attention? One great way is through your blog.
Think of your blog as a way to share your work and stay in front of buyers. Fill your posts with images, sketches, and stories of your work. Write about inspires you, the creative challenges you enjoy, and the types of designs you love. Help a potential buyer understand your brand.
3. Trust is essential. I need to KNOW YOU before I buy from you.
There was a time when people met together over coffee to discuss doing business together. Back then, a friendly smile and firm handshake built trust and opened the door to profitable collaboration.
Ok, that still happens…but not as often as you think.
Your blog is your online warm welcome. Your website is the coffee house or conference room where potential buyers evaluate your professionalism and your character before they move forward.
Your blog is the place to start a conversation, share an insight, and build a relationship… so you can move from an acquaintance to a trusted partner. And it's so worth your time. And mine.
I keep blogging because it generates leads for my biz. It builds relationships with potential clients. It helps me stand out in a crowd of other online entrepreneurs who have similar skills. And it's worth the effort.
So, what if I told you blogging could be relatively painless? What if I said I have a proven system you can use to blog effectively for your business? No drama. No pain and suffering. No panic. No kidding…
You're invited to a FREE webinar on Tuesday, November 3, 2015 at 1 pm Eastern / 10 am Pacific. Michelle Fifis and the Pattern Observer team have asked me to share my blogging system with you.
I created this webinar just for artists and designers like you… people who don't feel confident about writing… to help you get beautiful results for your business. Space is limited, so you'll want to click here to register.
Not only will you get all the details on my blogging system for FREE, you'll receive an exclusive invitation to my new group blogging workshop that's beginning just a few days later. I'm super excited!
Can't make it on November 3rd? Sign up anyway so we can send you the recording. I hope you'll join us!