Stefanel
 is an Italian fashion brand with a "passion and know-how for knitwear," and this fall they presented a collaboration with 
Eva Geraldine Fontanelli
for a "sweater couture capsule collection inspired by an eco-friendly mood."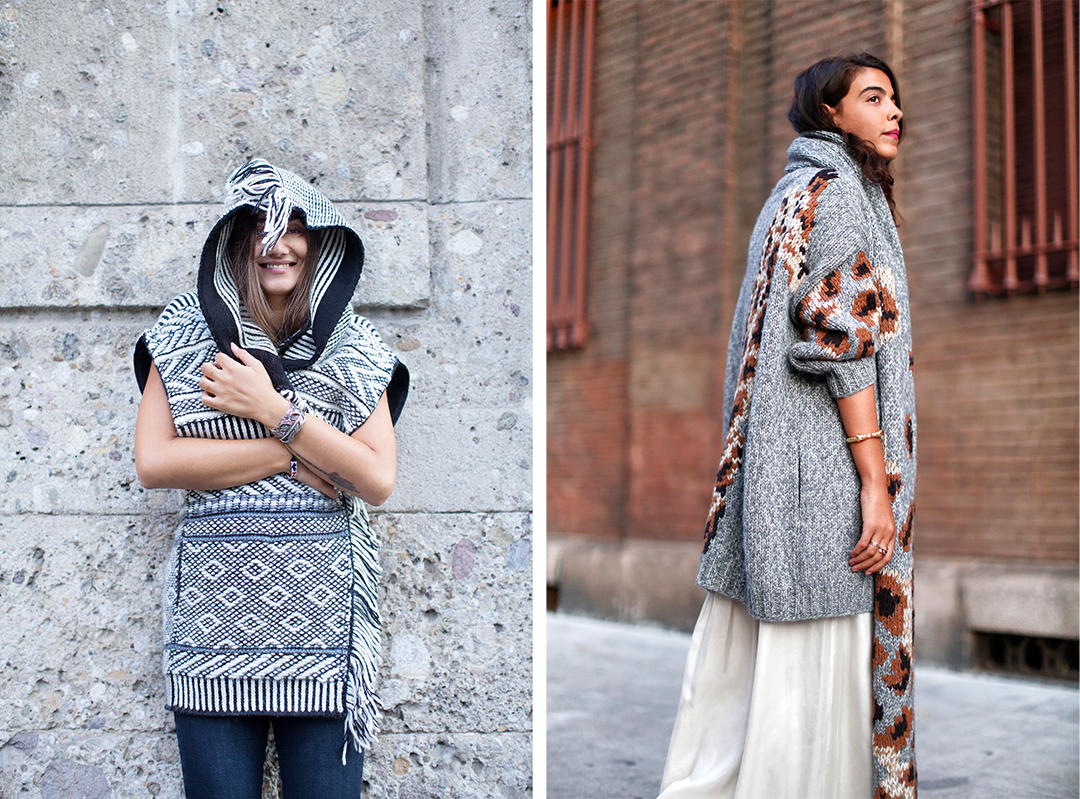 Left: SWEATER ZEBRA, alpaca maxi gilet with kimono sleeves inspired by ethnic carpets. Fringes embellish the wide hood and the closure. Worn by Margherita Cardelli, she manages her own PR and Communication agency in Rome, where she works with some of the most influential fashion brands. During a travel in Nepal and Bhutan with Eva Geraldine Fontanelli, they had the inspiration of the zebra gilet. Right: SWEATER GIRAFFE, wool and alpaca cardigan with a three quarter length. Shoulders and back are enriched with a hand-made embroidery featuring a giraffe. Worn by Georgia Tal, born in Athens, she is a stylist for Vogue Gioiello and Vogue Accessory. She moved to Milan to study Architecture but, after the degree, she decided to work in the fashion system.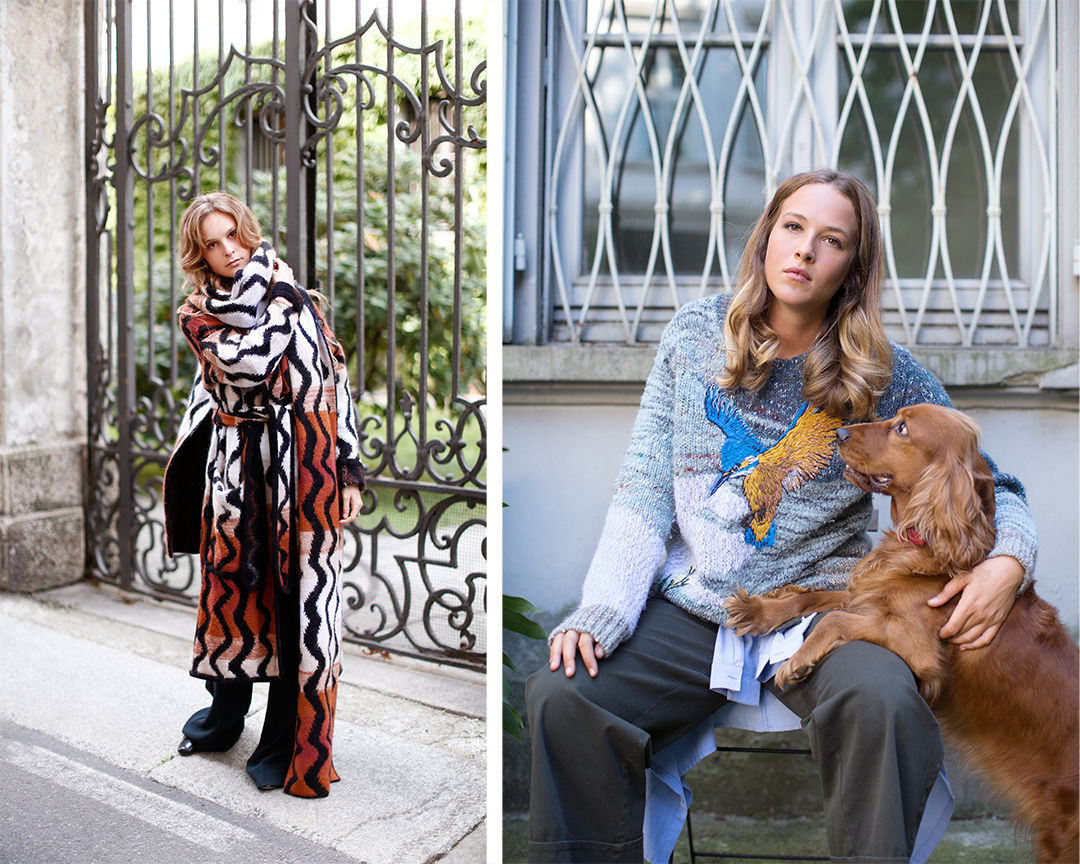 Left: SWEATER SAVANA, mohair jacquard maxi coat. The pattern figures the fleece of a wild animal, created by the shades of colours and yarns, with black stripes in contrast. Worn by Giulia Pivetta, writer of Costume History. A trends and style researcher, she analyzes fashion styles and habits from a contemporary literary point. Right: SWEATER SNAKE, wool and alpaca oversize coat woven with black and white stripes. Worn by Arianna Cattarin, an international make-up artist who works for fashion shows, ADV campaigns and fashion magazines.
About the Collection
"Nature has a leading role in the collection. This topic matter is dear both to Stefanel, which for over 50 years has produced knitwear items with natural yarns, and to Eva, Art Director of the project, who had the idea to gather Stefanel's heritage and to combine it with flora and fauna themes.
Eco-wardrobe is a collection of six special sweaters in wool and alpaca, each of them characterized by a natural subject and embellished by hand-made embroidery. Degradé marquetries generate colourful birds, fleece of savage animals, spotted coats and floral garnishes with a precious twist of shades.
Testimonials of the collection are six personalities which belong to different backgrounds, from fashion to art and design (see captions.) They are all united by an awareness of environment combined with a sense of wilderness, shot by Tamu McPherson, a well-known American street-style photographer and fashion trend catcher.
Eleonora Stefanel, Creative Director of Stefanel, says: "the Eco-wardrobe project is the first of a series of collaborations that we are planning to develop in the future. Eva contributed to give a couture-touch to our brand's soul and to meet the needs of the Stefanel woman, who is very careful to the ecological topics ".
Eva Geraldine Fontanelli, Art Director of the project, declares: "nowadays a lifestyle in harmony with nature is a new luxury. Since the beginnings there has been a great synergy with Stefanel that I really appreciate for the use of natural yarns in their collections. Wool is the most eco-friendly material, as well as the organic cotton used for the packaging of the sweaters. I tried to mix the heritage of the brand with my love for animals and a touch of irony".
The collection is now being distributed in a selection of 100 Stefanel stores in Italy and Europe.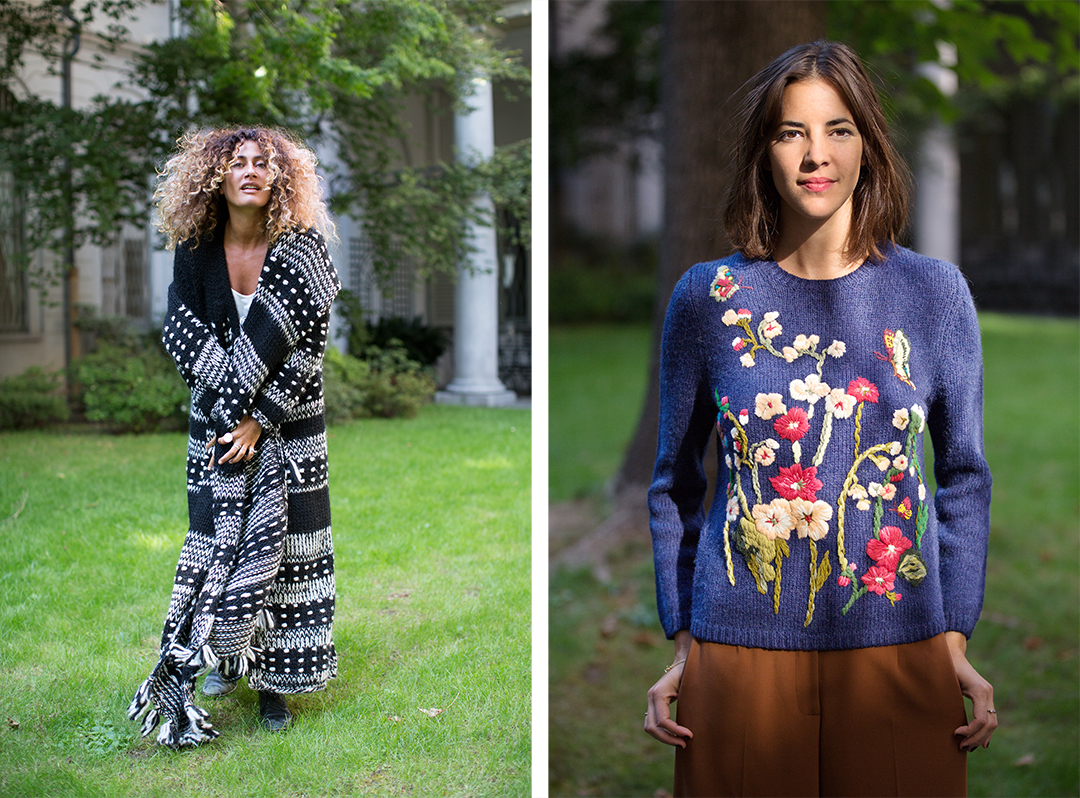 Left: SWEATER BIRD, wool and alpaca yarns pullover. Degradé marquetries of colours and texture are the background for the embroidered landscape with a flying hummingbird. Worn by Chiara Radice, stylist at Italian Gioia! Magazine, which she joined after a communication degree and styling experience in the Max Mara Group. Right: SWEATER FLORA, shaved wool round-necked pullover with hand-made embroidery featuring flowers and butterflies. The feminine proportions give the sweater a vintage silhouette. Worn by Emilie Fouilloux, born in France, she is a classical ballet dancer performing at La Scala in Milan and L'Opèra in Paris. She also collaborates with fashion magazines and has a column on Marie Claire.
Find Stefanel around the web at: