We could not be more thrilled to welcome back Sew Heidi to the blog (check out her fabulous recent guest post) and to announce that she will be joining us this month as our guest expert in the Textile Design Lab! Sew Heidi has been teaching designers how to use Illustrator specifically as it relates to fashion for 5 years now via http://sewheidi.com/ and her YouTube channel http://youtube.com/sewheidi, and she has tons of great tips and perspectives to offer in this area of the industry. Later this month she will be sharing a tutorial on tricks related to patterns in AI that many designers don't know – above and beyond just creating your repeat. Keep an eye out for an excerpt here on the blog, and in the meantime we hope you enjoy getting to know Sew Heidi in this interview.
Please tell us a bit about your design background and career path. What led you to founding your Sew Heidi brand and entering the world of teaching?
I studied graphic design in college but I always had a love for fashion – it just never seemed like a viable career path.  This decision actually worked to my advantage as it wound up being a combination of my Adobe Illustrator skills (which I learned from my graphic design degree) and my love for fashion that got me my first job as a fashion designer.
Immediately once I started working professionally in the industry, I discovered that fashion graduates were not learning Illustrator in school, and were leaving college unable to find a job. I also saw many of my coworkers doing things very tediously in the software – they had figured out one way to do a task, but simple projects would take them forever. If fashion school wasn't going to teach them, and there weren't other resources available in the market, I knew I had to share my knowledge. I had discovered so many tricks and shortcuts to use Illustrator for fashion, so I started making short YouTube tutorials, and people loved them!  From there, my teaching career grew into live workshops and recently, online courses.
In addition to teaching, I run a small design agency (The Fashion Element) and work with clients in the lifestyle, golf and activewear markets to do everything from initial concept and design through spec, sourcing and bulk production management with overseas factories. I think one of the reasons I have had such success with teaching is because I've continued to actively work in the field and use the skills I teach on a daily basis in my own workflow.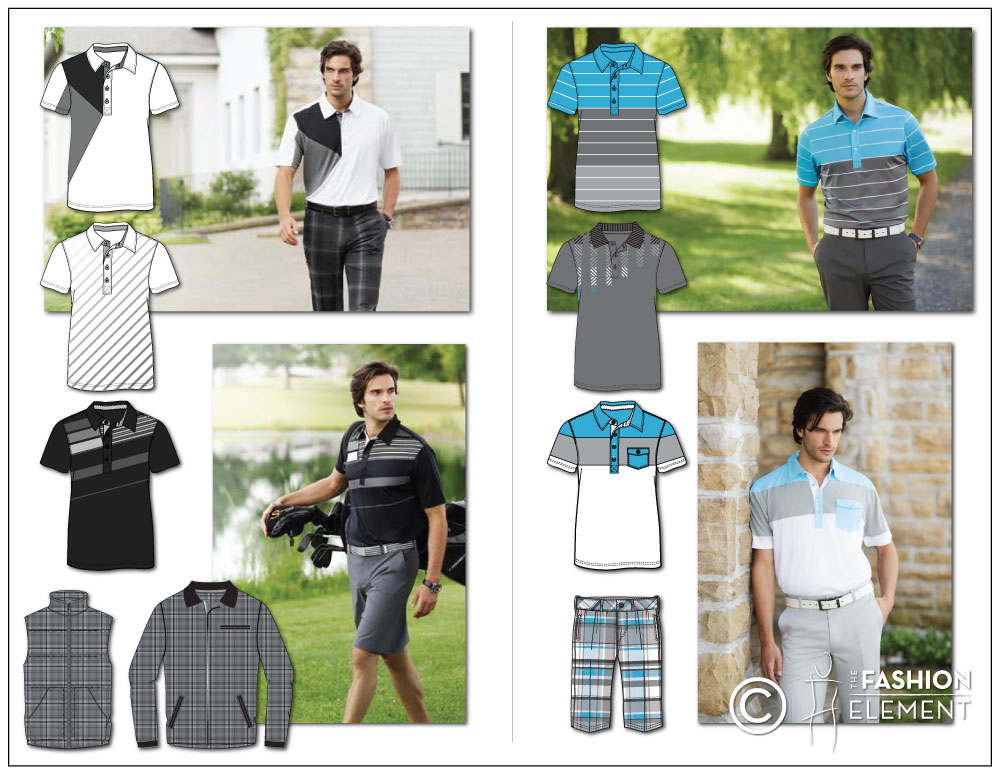 Tell us a bit about your site. What are some of the skills students can learn there (in particular those that apply to textile/surface design)?
I give away about 80% of my educational material for free, and my Sew Heidi site is where designers can find all of that.  My content is pretty focused and consists mostly of tutorials on how to use Adobe Illustrator for fashion design – but I do periodically write about my experience in the industry in general, from working with factories overseas to photoshoot planning and production.
Throughout the fashion design cycle, I work on everything from silhouette through textile design, so designing and creating repeating patterns is a huge part of what I do.  Luckily, this is something Illustrator does beautifully, especially with the recent release of the pattern making tool (introduced in Illustrator CS6).  From creating the actual repeat, scaling the size or rotating the direction, or creating colorways of patterns, I have a variety of pattern and textile design related tutorials on my site.
The skill level ranges from the essentials such as how to create a simple patterns, to more advanced tricks such as warping patterns inside objects. I try to focus on creating small and easily digestible tutorials on how to do one specific task instead of overloading people with full length tutorials that can take hours to complete.  My audience always tells me that they love my format – the tutorials are simplified, clear and easy to follow – so the "bite-size" content approach has worked well for me.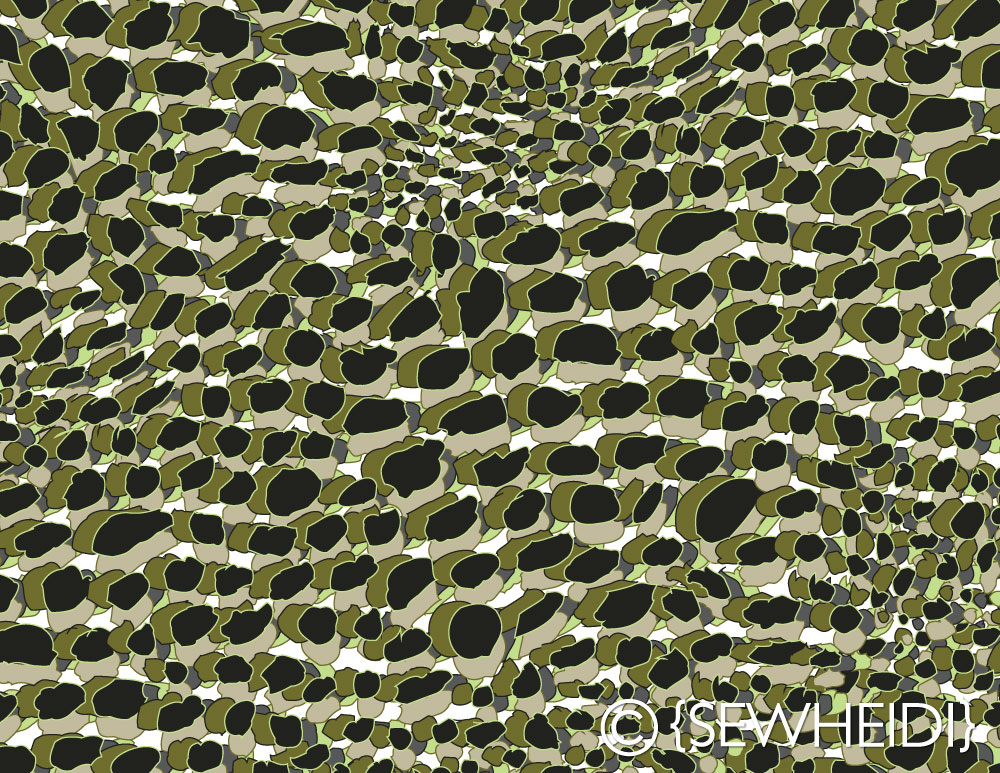 Tell us what you love about Illustrator! What do you feel are the greatest benefits of working in this program?
The biggest thing I love about AI has to be that it's vector, meaning everything is infinitely editable, scaleable and nothing is ever permanent (unlike in Photoshop). For me, being able to change anything at anytime and forever is a huge benefit – I hate feeling like I have to save multiple versions or that if I make an edit I may not be able to go back (which is how Photoshop can feel sometimes!).  Of course there are certain tasks that really must (or at least should) be done in Photoshop, but I use it almost exclusively for photo editing and stick to Illustrator for all of my designing.
I also love the ability to mock up and edit ideas up so quickly in Illustrator. I'm the first to admit that my hand drawing skills are lacking, and even if you are a good hand sketcher, there are things that just simply take longer with pen and paper – like making colorways, manipulating the scale or direction of patterns, or getting them into repeat. These things are done so quickly and easily in Illustrator – it seriously feels like magic how quickly you can complete these tasks with a few clicks.
Where do you notice designers tend to stumble the most in Illustrator? Do you have any words of advice for designers who are new to the program or feel more comfortable working in Photoshop or traditional media?
The biggest stumbling blocks can vary quite a bit depending on a designer's experience and background, but by far the one I see the most is simply not practicing or falling back on old / bad habits. Over the years of teaching, the excuse from designers I hear most often is "I just didn't have time to practice / I am so comfortable doing it the way I know and I didn't have time to learn the new method".  I know we're all busy, so I try to emphasize that spending a little more time learning a new trick up front will actually save tons of time in the long run.
I also see many designers struggle with feeling like they can't organically or naturally design on the computer and that it can feel very mechanical. I always suggest starting with the medium of choice and transferring to digital when the time is right (like when you want to start making a ton of edits that would be easier on screen, or you want to create colorways, change the scale, etc). There's always a medium that works better for one thing than it does another, so use each for its strengths and combine and conquer. For many people who are more comfortable with pen and paper, working with a drawing tablet (like a Wacom) can help make the digital creation process feel more natural.
What have been some of the challenges you have faced in your design career? How have you overcome them? What actions or decisions have made the biggest impact on your business?
One of the biggest challenges I think we all face is being stuck in a job or working on a project / with a client that doesn't serve us or make us a happier or better person. I'm always up for challenge and think that working through tough situations makes you stronger, but there's a fine line between what you put up with and fight through and when you finally just say "no, I am not doing this any more." Putting my foot down and saying no, whether it be to tolerating an unhealthy work environment or putting up with an abusive client, has proven for me to be a good decision with positive impacts.
My first job out of college was as a receptionist – and I was bored, unfulfilled and very overqualified. I finally quit after I couldn't put up with it any more, and left to pursue running my own fashion brand full time. It was risky and very scary, but I learned so much about myself and working in the fashion world as an independent designer. The decision to leave and design full time was one of the reasons I was able to get my first job as a fashion designer – my new employer had been impressed with my drive and passion (in addition to my Adobe Illustrator skills).
Once in that job as a fashion designer, I learned me so much about the industry and what it was like to create apparel on a large scale, manufacturing with factories overseas and distributing product globally. It gave me a really solid foundation on which to grow, but was an insanely stressful environment and I was being overworked to an extent that didn't feel right. After I couldn't take it anymore, I finally said "I'm done" and left that position. Along with my former boss at that company, we launched our own fashion design agency, The Fashion Element. For the second time, I had left a steady paycheck and some form of stability to pursue something bigger and better – something that I knew I would be happier doing. It's been almost 5 years since I made that leap, and I can't imagine ever going back to working as an employee again.
The freedom and control I've gained by taking these risks – quitting a job to try and do something more fulfilling – has proven twice now to be the best decision I could have ever made. It opened up new opportunities and allowed me to create my own path to success.
I've done my best to continue using this strategy of quitting or saying no in my current business when faced with challenging clients. Whether it be firing an abusive client that is never pleased or simply saying no to a project that isn't a good fit, I've found that saying no when I need to say no has allowed more room for better opportunities to come along and has ultimately made me a happier person.
It's ok to quit or say no – and I think it's important to know when the time to make that decision is (and know the difference between challenging yourself – a good thing – and being in an unhealthy or abusive situation – a bad thing). It's a hard and scary thing to do, but for me personally has almost always had a positive impact on my success in the long run.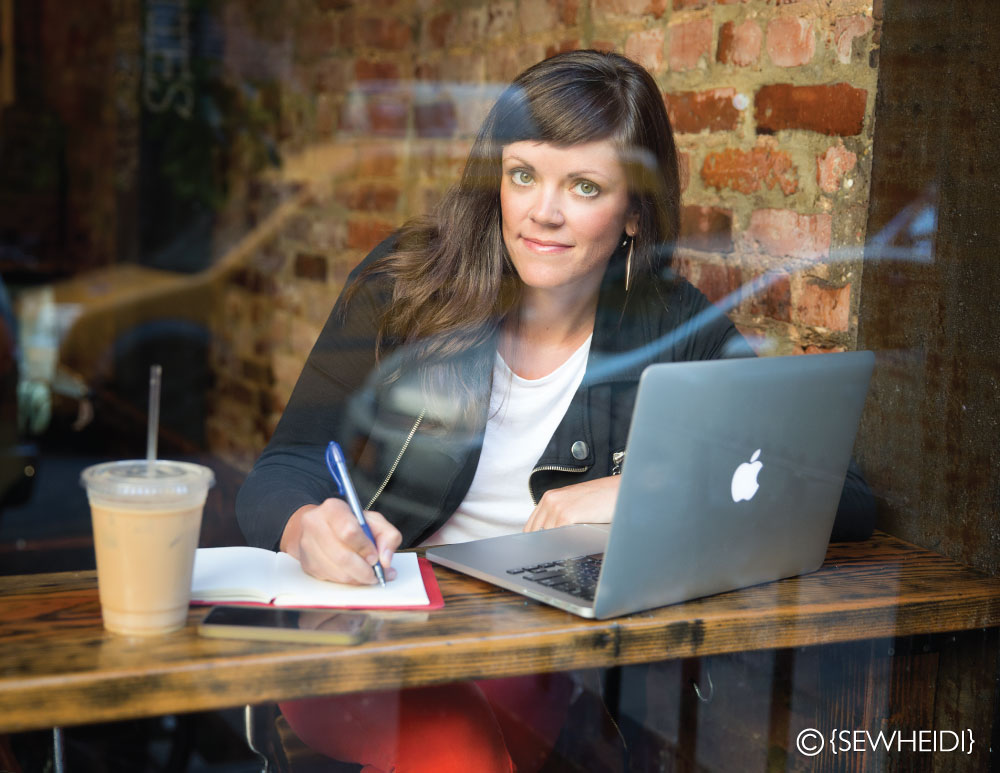 What would you consider to be your most proud achievement or greatest success so far in your business? What are your goals for the future?
One of my most recent and most proud achievements was finally getting my Illustrator workshop (the one that I've taught live for years) produced in a digital format so I could offer it as an online workshop. This has been a long time goal but one that's been a bit daunting to tackle, so getting it completed was a huge milestone for me. After months of recording, editing and producing 12+ hours of video content, I launched my Illustrator Masterclass for Fashion Designers at the end of 2015. My audience has been very excited to finally have this available, and I've been very lucky to have reached designers around the world from Russia, Hong Kong, Germany and beyond – something that would have been much harder to do with in person classes! The feedback and positive response has been outstanding, and one of my goals for 2016 is to offer additional courses about other aspects of working as a fashion designer with a focus on digital tasks.
Another goal I've set for this year is to grow the fashion vector site I run, www.IllustratorStuff.com.  It's an online marketplace for designers to buy and sell fashion vector files – specifically fashion flat sketches, croquis, pattern brushes and fabric textures. I launched the site a little over a year ago, and the community of designers has grown quite a bit, but I haven't been able to give it the attention it deserves.  The feedback has been amazing since the benefits of this platform are two-fold: it gives designers access to vector sketches so they don't have to create everything from scratch, and it allows designers to sell their sketches and create passive income, so I know the potential for growth is big and I'm excited to see where I can take it this year.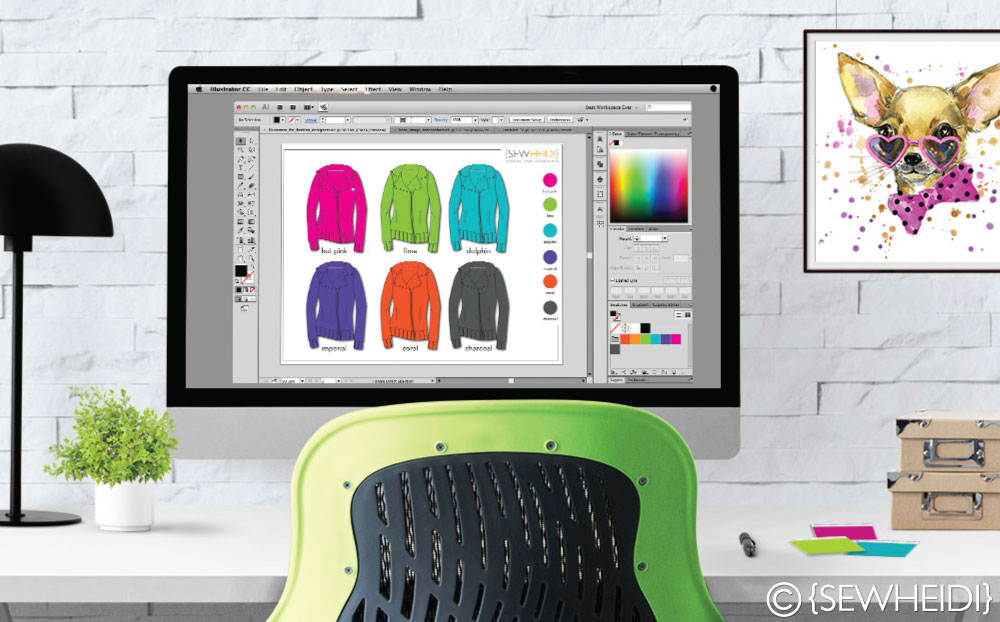 Who are your favorite designers (past or present) and why? What about them has inspired you or influenced your work?
I keep an eye on www.notjustalabel.com for continual inspiration from up and coming designers – it's a great pool of creative talented fashionistas who have a fresh and untarnished take on design.  Two of my current favorites from NJAL are Metrika Brand By Galina Drozd for her large engineered prints and beautifully draped silhouettes and Jessie Liu for her organic prints and creative use of colorblocking.
I've also been inspired by Yohji Yamamoto, who I think does a really nice job of working with solid neutrals and relying on draping and details for to speak for the design. I've gone through different phases in my career, and there are times when I have relied on prints to speak for the design, and times when I have relied more on trims, details and styling – and I think there's a happy medium between the two when it comes to being a well rounded designer.  It's about knowing when to use one versus the other, or how much you let that design element be the voice the piece. If I need inspiration on style lines and silhouettes, I find I can often pull little pieces and parts out of what he's done to reinterpret it into something appropriate for my clients' markets.
What advice have you received in your career that has stayed with you or influenced you? Do you have any words of advice for aspiring designers trying to build successful careers of their own?
We're all good at giving our opinion, so I'm happy to share what I think is some great advice:
Do exceptional work. I know it sounds obvious and simple, but it's essential to success and I think that many people don't do this. Whether it's for a client, an employer or even in their own business, the truth is that the majority of people do just an average job. I will admit I've been guilty of "pushing something out the door" just to cross it off my list, when looking back I know I could have done a better job. Even if you have to decrease your output to do a better job, I truly believe it's worth it. If you hold yourself to this standard, you will sky rocket ahead of everyone else who's just average and I promise that you will be the one who gets noticed.
Say yes to things that scare you

, are a bit outside of your skillset, or that you feel you aren't ready for. Getting in over your head is the best way to learn, challenge yourself and become a better designer.  Stop worrying that you won't get it done or that you can't get it done – if you sign up for it, you will figure out a way to get it done. I recently listened to Amy Poehler's book

Yes Please

and love how she puts it: 

"

You do it, because the doing of it is the thing. The doing is the thing. The talking and worrying and thinking is not the thing…Because what else are we going to do? Say no? Say no to an opportunity that may be slightly out of our comfort zone?

"  

Thank you, Amy, for your wise words.
Become a Textile Design Lab member to gain access to Sew Heidi's Illustrator tutorial when it becomes available later this month, in addition to all of our past guest expert tutorials and the other helpful e-courses and features of the Lab. Visit textiledesignlab.com to learn more!