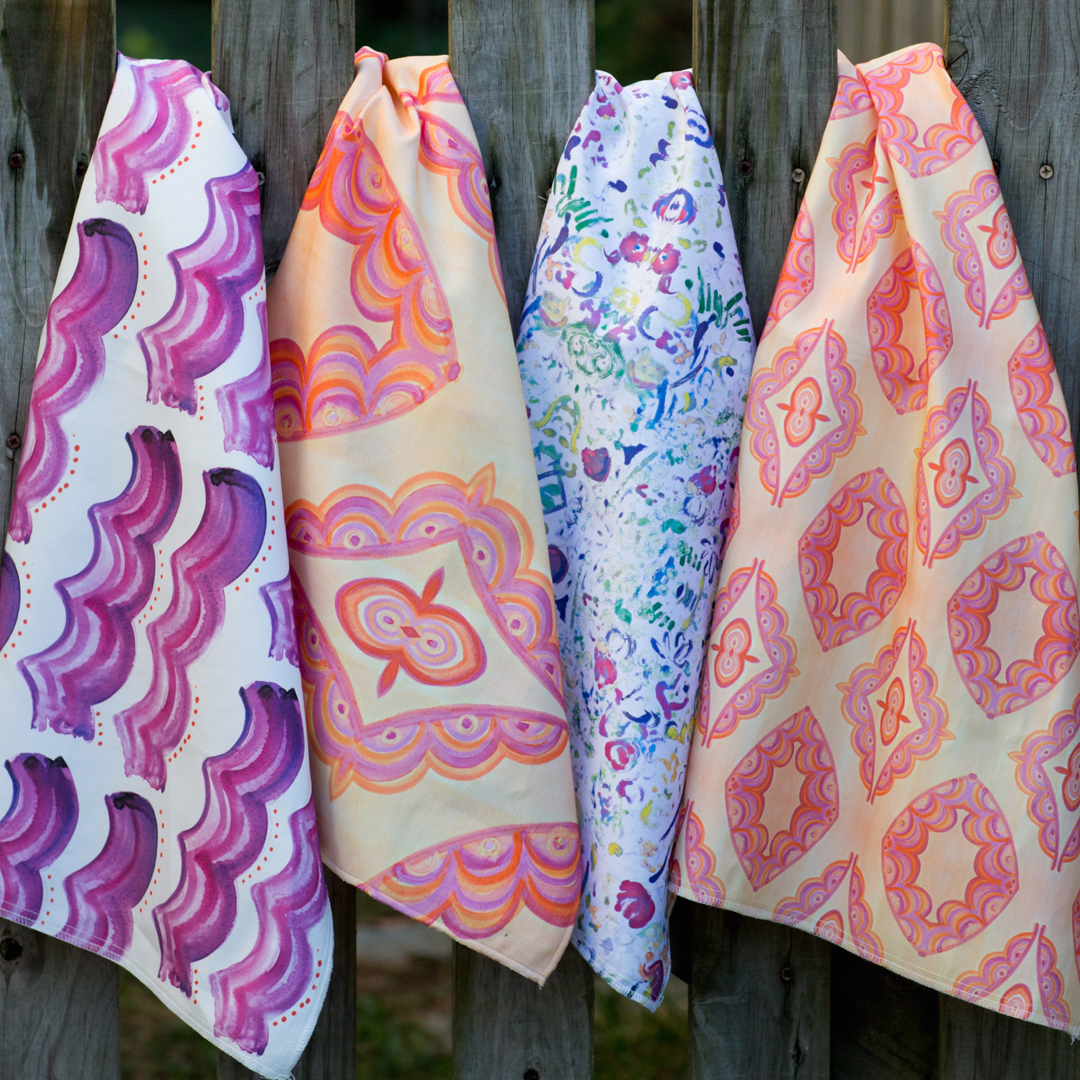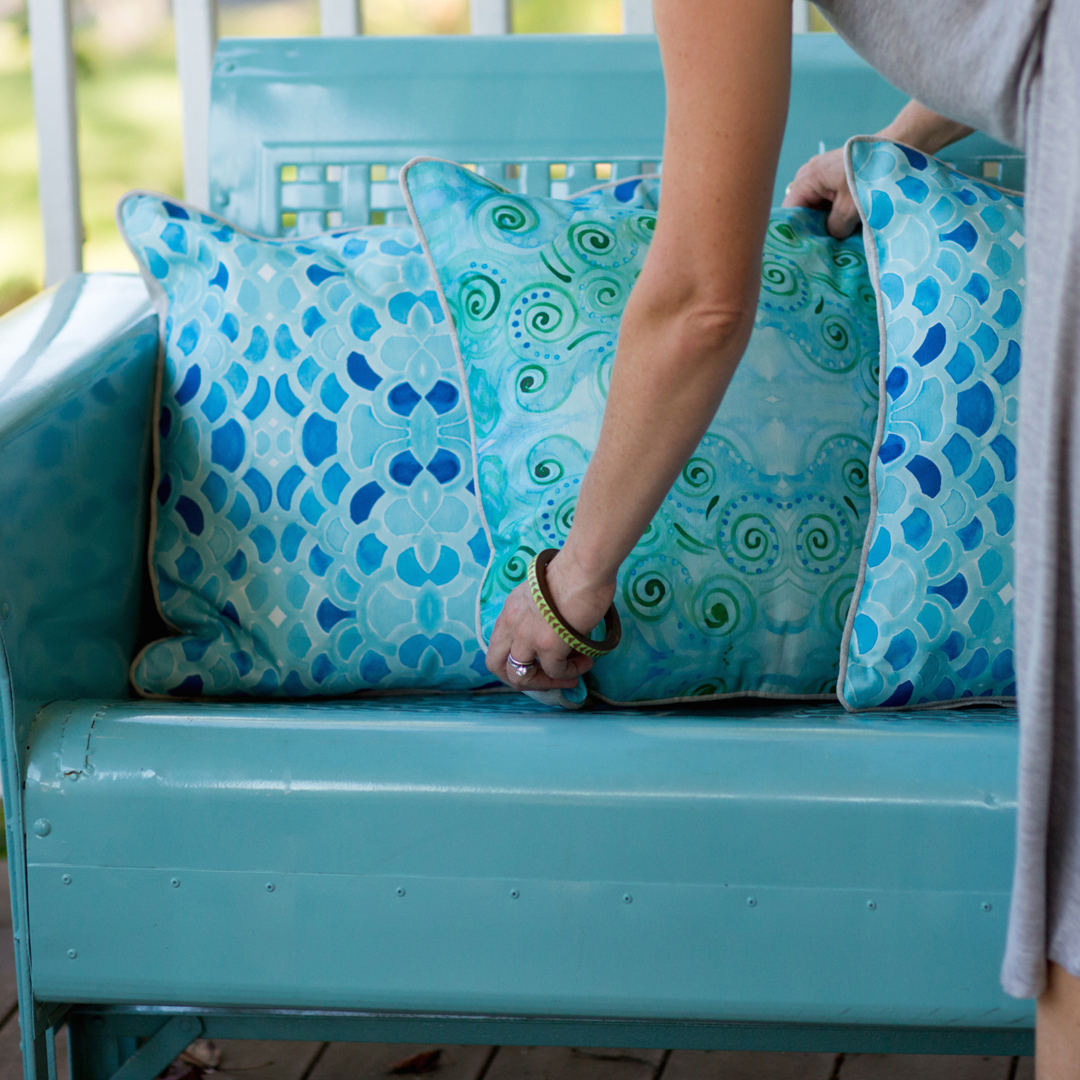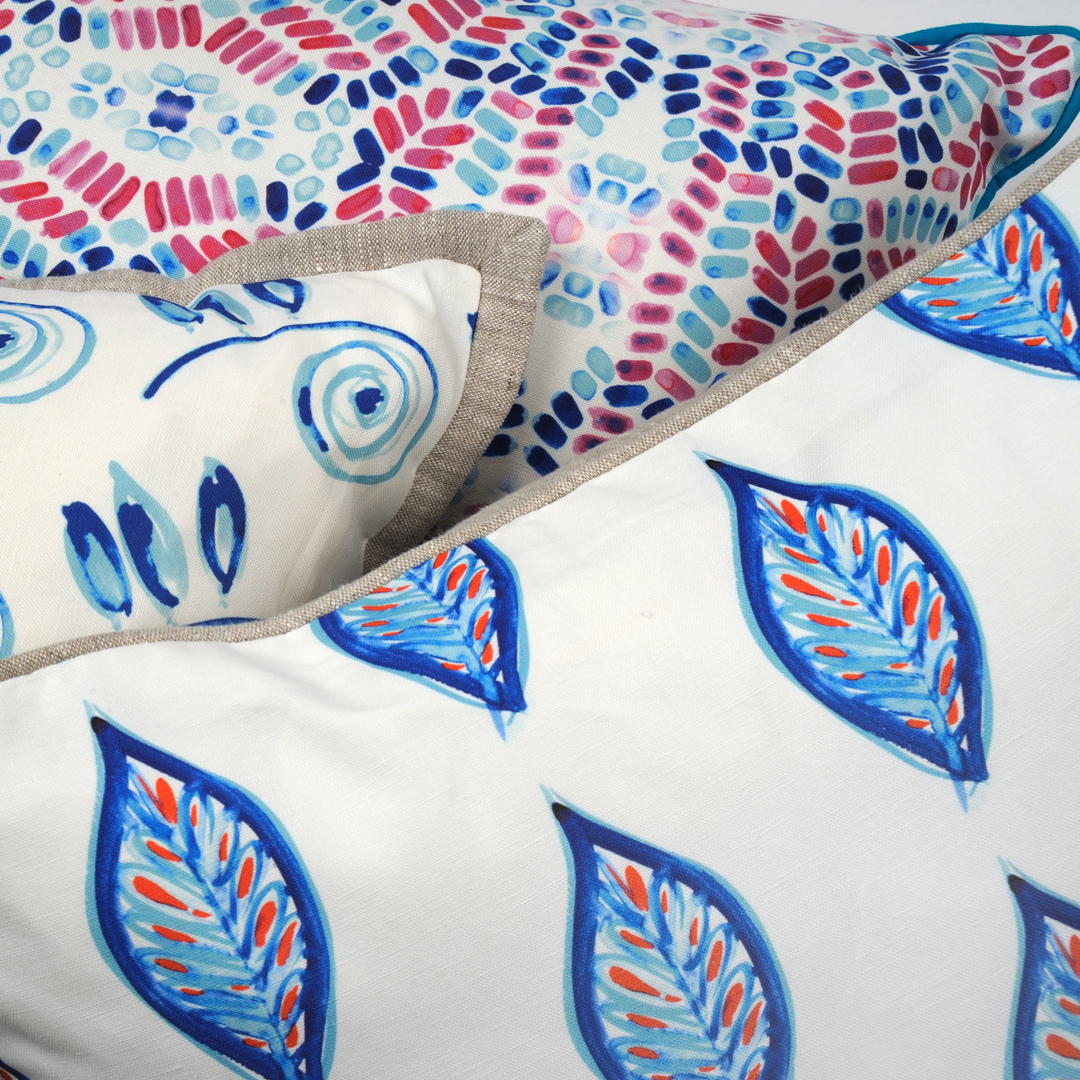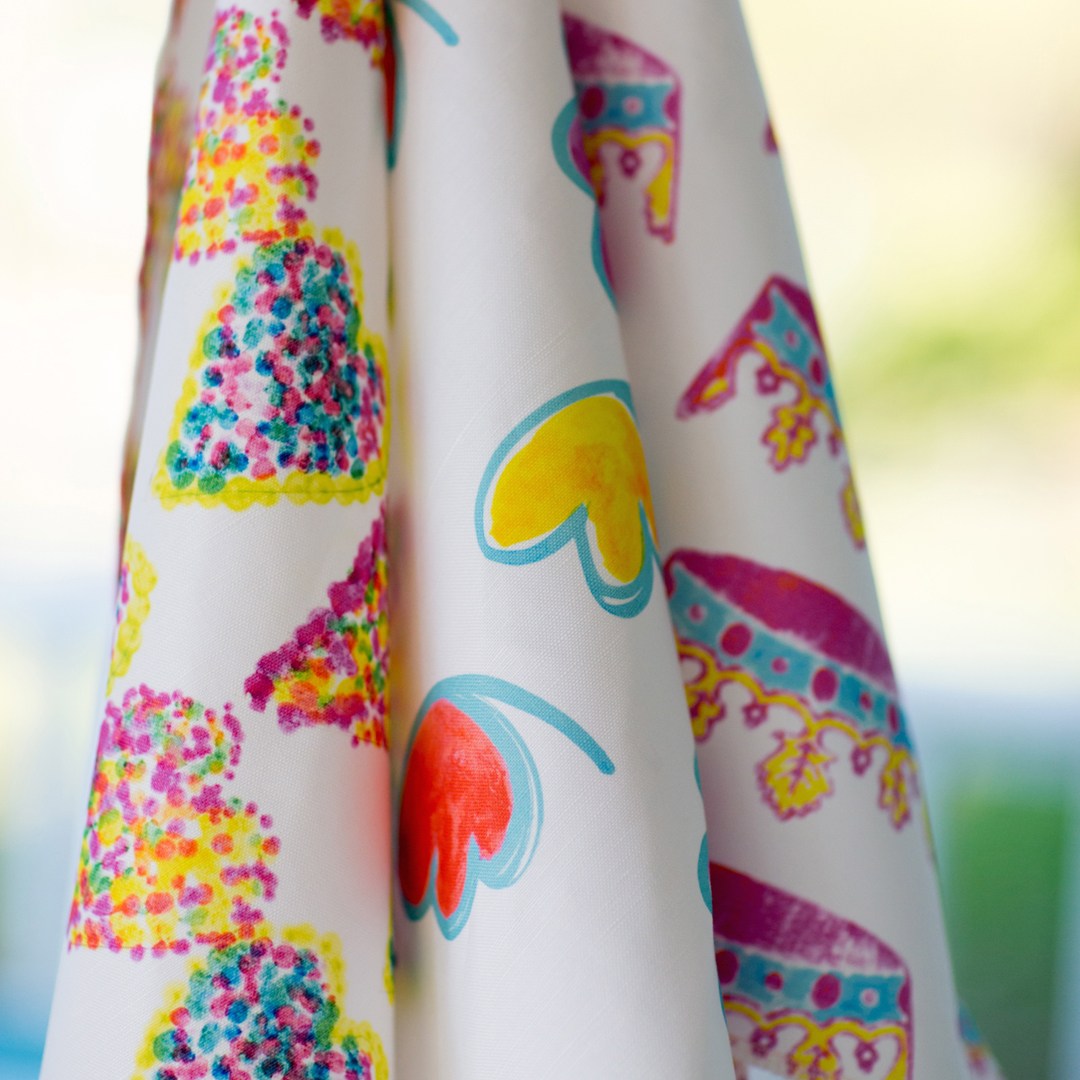 Photo credits: MiraJeanDesigns and Shelly Han Photography
Kate Hougen is the owner and designer behind the "colorful and coastal" MiraJeanDesigns, whose mission is "to make homes brighter via art-inspired and sustainably-designed textiles and home decor."
A self-taught textile designer, Kate writes that she feels like she "was born to design textiles!" Kate sells her textiles by the yard (printed on select natural and organic fabrics), as well as decorative pillows and luxuriously soft, 100% organic cotton throws. Each design begins with a watercolor painting. She also does custom repeat designs for clients, "a wonderful custom or Mother's day gift."
About the MiraJeanDesigns process and fabrics
Every textile design begins with a watercolor painting. My background is in the Arts (I have a Studio Arts degree) and for as long as I can remember, I have loved to paint. Sources of inspiration include nature, the beach and my children's artwork.
Today, I tend to work on 9 x 12″ sized paper and cold press paper. Once I am happy with the watercolor painting I photograph it, upload the image to my computer, and begin work to turn it into a repeat design. Once I am happy with the repeat design, product testing begins.
I print on only a handful of natural and GOTS-certified, 100% organic fabrics. (You can read more about this and my commitment to sustainability 
here.
)  Because of the natural fibers in these materials, colors and saturation levels vary depending on fabric type, so test print runs on each is a must.
The designs are meant to work well independently, and as a collection; you'll see many of the same color hues in each 'family' of designs. Designs available today fall into three main categories or collections: Summer, Kids & Coastal.
Here is more info on the fabrics I work with and recommended uses:
The 100% organic cotton knit is a luxuriously soft cotton; wonderful for baby and crib bedding, and throws.
The linen & cotton canvas blend I work with is probably the most versatile of the fabrics. It's wonderful for draperies, roman shades, decorative pillows, light upholstery, headboards and more.
The soft, Kona cotton I offer is wonderful for quilters and table linens.
The cotton poplin is a great, durable fabric that also works well for table linens, as well as clothing.
The 100% organic cotton sateen is heavenly; not only is it 100% organic, the colors printed on this fabric are incredibly vibrant and it has a wonderful, luxurious sheen to it. It is wonderful for duvets, fashion, and projects seeking a truly light and elegant fabric.
In addition to my website (www.MiraJeanDesigns.com), I also have a blog where you can learn more about inspiration behind new designs and 'behind the scenes' info on my day to day.
I am active on social media (@MiraJeanDesigns), below are links for your easy reference. I also have a goal of sharing one new design in the works via social media every week. I call it New Fabric Friday; you can check out past posts by searching #newfabricFriday. It's a way of keeping me disciplined in my work and I enjoy sharing the process.