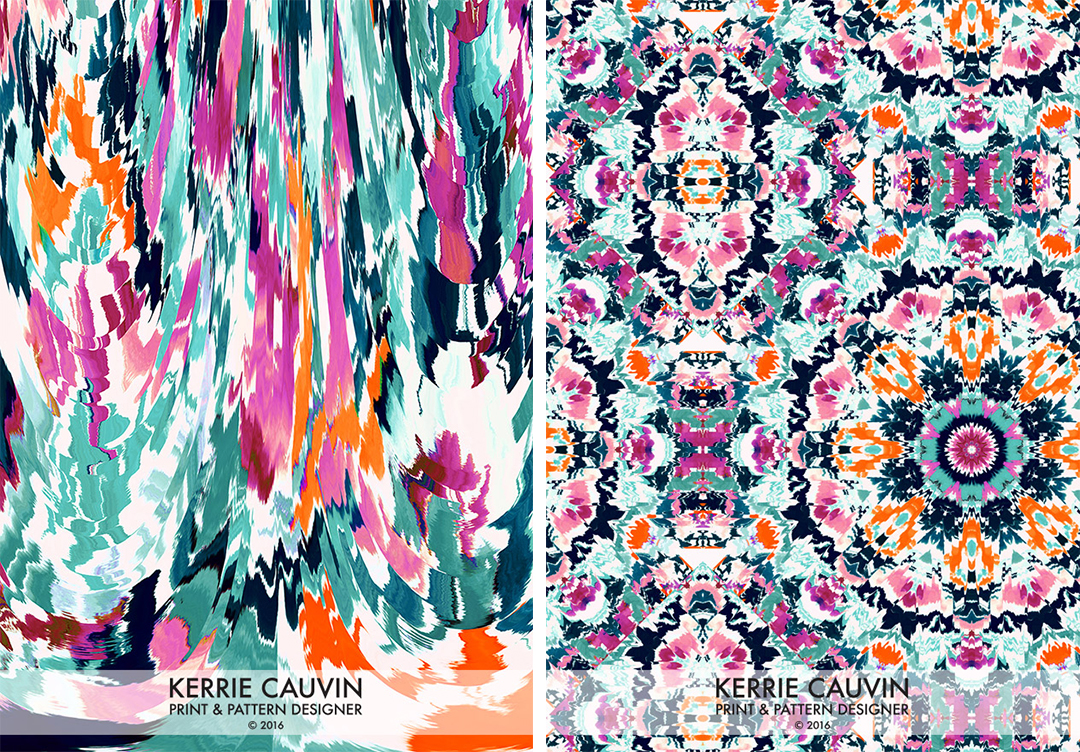 Today we are delighted to share the work of Kerrie Cauvin, a Textile Designer from Sydney Australia. Kerrie studied Fashion Design at East Sydney Tech but later realized that Graphics and Textile design were where her passion really lied. For the past 13 years Kerrie has been working in the fashion industry in Sydney and Melbourne as an in house designer for womens, kids, swimwear, lingerie and mens plus a little bit of homewares. Highlights include working with Colette Dinnigan on her lingerie range "Wild Hearts" for Target Australia."
Kerrie now works in her own print studio where she designs exclusive prints for Fashion – Womenswear, kids/babies, Activewear, Swimwear and also Homewares.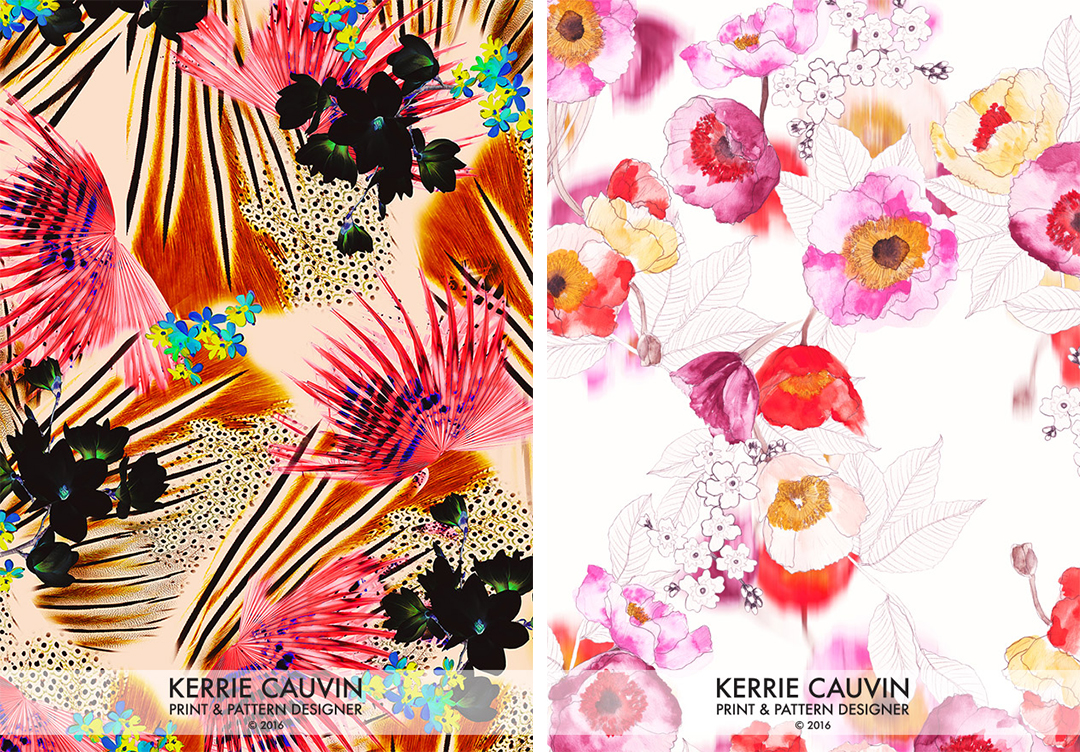 "I'm a versatile print designer and I love designing across an array of categories and styles. I love learning new creative skills and I am constantly inspired by other designers and their work too. I love having the freedom to choose my own hours and to be able to go out and get some inspiration when I need to, including going to galleries, vintage shops or just working outside in the fresh air. It's great to mix things up and to work in different spaces too. Variety is the spice of life!
 In the studio I love to experiment with all kinds of techniques – photography, watercolour, gouche & ink, Copic markers, fine liners and then scanning them and taking them to a new level with Photoshop and Illustrator. I love mixing the hand made with digital and love playing with interesting colour. I'm inspired by the trends and I love looking at the catwalks, but I also love to mix up new creations which I guess come out from all the ideas I absorb whilst researching new ideas. Pinterest is a huge resource as is Instagram and I also love rummaging through old books for inspiration. I've always been very partial to Vintage anything, and love the Mid century modern aesthetic mixed up with modern, particularly in Interiors. Also a big fan of Dries Van Noten, Marc Jacobs and I loved the Spring 2016 RTW Gucci collection. Nature is also a huge influence and I visit the flower market here in Sydney regularly to pick up flowers and foliage and to soak up the colour and visuals of the market itself. On a gorgeous sunny day its the best way to start the day..along with a good coffee that is!"
All of the amazing work that you see here is available to purchase through her private portfolio. Learn more here.